Windows 10 build 10586.122 changelog reveals power fixes, improved performance and much more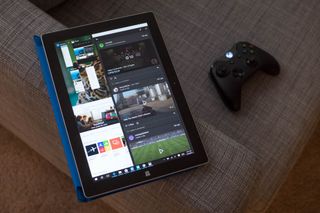 Earlier today, Microsoft released a cumulative patch for Windows 10 for PC (non-Insider). The update is part of the routine program where the company keeps Windows 10 fresh with bug fixes, security improvements and overall enhancements to OS performance.
Build 10586.122 (up from .107) is now documented in the Windows 10 Update History page and we are publishing the changes here.
Windows 10 build 10586.122 changes
Improved reliability in numerous areas, including OS and Windows Update installation, startup, installing and configuring Windows for the first time, authentication, resuming from hibernation, shutdown, kernel, Start menu, storage, Windows Hello, display modes, Miracast, AppLocker, Internet Explorer 11, Microsoft Edge browser, network connectivity and discovery, and File Explorer.
Improved performance in video thumbnail generation, NetLogon, Windows Store, and standby power consumption.
Improved support for devices including some wearables, displays, and printer scenarios.
Reset app default when a registry setting is deleted or corrupted and streamlined notification about the corruption.
Fixed an issue causing favorites to be lost after updates are installed.
Fixed several issues that individually could cause certain apps to fail to launch, update, or allow in-app purchases.
Improved quality of Cortana voices and translations of multiple languages of an Internet Explorer dialog box.
Improved support for apps, fonts, graphics and display, airplane mode, Group Policy, PowerShell MDM, Windows Journal, Microsoft Edge, printing, touch display, roaming credentials, Push-Button Reset, Windows UX, local and streaming video, audio quality, error reporting, USMT, and VHD creation.
As you can see, this update is a rather significant one with many performance improvements, fixes, and improved support for devices.
Let us know in comments if you are noticing anything different for the better (or worse).
Source: Microsoft (opens in new tab)
Windows Central Newsletter
Get the best of Windows Central in in your inbox, every day!
Daniel Rubino is the Editor-in-chief of Windows Central, head reviewer, podcast co-host, and analyst. He has been covering Microsoft since 2007 when this site was called WMExperts (and later Windows Phone Central). His interests include Windows, laptops, next-gen computing, and for some reason, watches. Before all this tech stuff, he worked on a Ph.D. in linguistics, watched people sleep (for medical purposes!), and ran the projectors at movie theaters because it was fun.
Wow this is pretty big update. I know some people that are going to love these fixes that I'll be applying to their devices right now. Great work Microsoft, keep it up!

Just got an update for 950XL USA non-insider

Care to be more specific?

The article is about desktop Windows (unfortunately). I have no issues with my desktop but am anxiously awaiting bug fixes for mobile.

Seems faster - Sent from Mars

Hi Mark Watney we are coming for u.

But what about Black Watney?

Sorry, we had to cut the budget and can't make it. Eat those potatoes

Stay away from the rtg! :P

Might roll back my surface to this update from insider fast because of how good this update is

The Insider build could, in theory already have these improvements in, or they could merge them into the next Insider build

Cool. Just updated.
Also, I'm first...yay....although no one cares. ~ Sent from Windows Central App for Windows 10

No you're not Posted from Windows Central for Windows 10

Ha-ha.
You are not. Try again:)

Yeah you're not, and still nobody cares

You were right about one thing...

Hoping for these improvement to come to Mobile as well Posted from Windows Central for Windows 10

What About the mobile? I'm tired of Waiting. Actually No redstone build for general insiders? Are you fu**ing kidding me? *** but this is over the limit i mean holy s#!T that's insanity. Doing a mistake again again again and again. Thank you Microsoft for a good part in the destruction of a beautiful platform that is *was Windows 10 Mobile 2015-16 RIP Posted from Windows Central for Windows 10 on a
Nokia Lumia 730

I mean Mister Rubino since 5-6 months we are waiting for the update a stable one but there isn't any news on the date of the release. If they even confirm even one day even it's months after then it'll be fine but flling the consumers isn't best for business and good will.

Ohk, so the 'stable' build comes out in 2017 Q4. Till then, cut the whine. And do realize, that ranting here does not speed up the making of the OS at all.

How can you be so sure about that? End of 2017! To get a stable build? This is ridiculous. It's not possible and I ain't gonna wait till 2017 for a stable build. Even though I love this platform but still that a long time for a os to get stable even apple build next version of their os in an year why can't Microsoft they're a software giant. They're degrading day by day. Posted from Windows Central for Windows 10 on a
Nokia Lumia 730

You have heard of priorities, correct? The same team works on Windows 10 desktop and over 200 million people on that vs. a small group of people that use their mobile platform. Desktop is more important and more visible to more people. Just take a deep breath, use the insider builds if your that impatient.

I'm using insider! Posted from Windows Central for Windows 10 on a
Nokia Lumia 730

You know he was kidding right?

Build 107 is stable on my 630 & W10M is running smoothly on my 650.

How about put your money where your mouth is and buying a 950.. It's what I did to support the platform I love.

Are you serious???? What s wrong with you? ok let me explain something to you. EVERY OS out there on earth, has some kinda issue and its NOT ever finished. If you think CrApple's OSX or iOS or Android or,..........is 100% finished and its 100% stable, you better get your head examined. That is why EVERY OS gets """UPDATES""", if that was 100% finished, you would NEVER see any updates or versions, just so you know. For exp, how many iOS 8 update did iJUNK phns received before it went to iOS 9 , which broke millions of iJUNK4/4S phns and now there is class action lawsuit against CrApple on that(search BING and see)??????????? Do i even need to talk about Android, and how many times Android users have to reset their products a day(sometimes several times a day)???? So why should Win10 be any different, as receiving updates, here and there????????????? We know MS is working on them, and getting it to us as soon as they can, once they have tested it(its NOT easy you know). ALSO, when you say stable, you need to understand, hardware plays a big roll too in conjunction with the OS, OS is NOT the only thing on a Windows device, that may cause stability issues in YOUR case. People like YOU, LOVE to immediately blame EVERYTHING on the OS/MS, since YOU don't understand there are millions of things going on in the hardware area as well. As a tech, i have seen many people like YOU playing the blame game, and once i have proven and educated them that's NOT the OS that they always thought it was the issue, and fixed the hardware, and they never saw the same issues again, they say OOOOHHH. In any case, I own a 950XL running Win10 and I'm on the "Windows Insider" programs(Slow Ring), and since Nov when i bought my phn, its been working PERFECTLY fine with -0- issues. I have already received """several updates""" since Nov, and again, no problems. Even my Wife's 950 received same updates as mine. As matter of fact, we both got Camera, and Photos's update 2 days ago, and a firmware updates about 10 days ago. So I'm not sure what you want MS to do for you, they are doing great IMO and getting things done, yes they could work a little faster in the App sector, but i don't have any issue. I'm getting updates and works for me. So i suggest, you check your phn, and see if there is anything might be wrong with is hardware first, before you play the blame game. Also, there might possibly need for a factory reset on your phn, as it also suggested by every manufactures here and there. Believe it or not, in many cases, doing a factory reset fixes all the issues and also gets the latest updates for some reason. So you may want to try that, what do you have to lose. Just make sure you backup everything in the setting, BEFORE factory reset. Sometimes there are bunch of crap software is running in the background that you may not aware of, and may cause issues on your phn. Factory reset is not a bad thing on ANY devices. If you haven't sign up for Windows Insider program, you may want to do that, and enjoy the quicker updates. Its up to you. Last, if all fails, you may want you exchange or if its old device, you may want to buy a newer device that can handle more tasks, with better features and options. Jusy some pointers to help you.

You are retard or something? Go to YouTube, search all the reviews from every channel about lumia 950 XL. So many disappointments, it's not even worth for $200. Ahaha you are comparing this OS to iOS and Android again? Sorry but you have no idea what you are talking about •Lumia 930•

Did you find Mark Watney? Posted from Windows Central for Windows 10 on a
Nokia Lumia 730

No, but I did find his autograph on the wall, amongst other things as well ­­- Sent from Mars

Lol. How's the weather I've heard that it's kind of stormy!

"Kind of stormy" is an understatement. It's CRAZY here. But once in awhile, i'll get a good tan ­­- Sent from Mars

Actually the storm in the beggining of the movie is about the only thing that does not actually weaker or mars (they do happen but they are much weaker) the author is aware of that but needed something to start the plot

So much wine. Posted from Windows Central for Windows 10

He wants some cheese probably that will fix him +640/Win10

Shut up bro you're annoying!

I'll pass on the wine and his whine but I'll take some Ritz crackers with that cheese!

Mr. Rubino where do you get your wallpapers? Because your phone and pc always looks fresh

Yikes Dan this comment thread reads like a daycare center,,,, you may need to up the age limit?

He should try some of the Brie to go with it

I think someone needs to call suicide watch...

Why don't you go on to twitter or the Microsoft forums and POLITELY ask them where the update is. That is instead of demanding where the update. Because unless you are a major shareholder in the company, then I don't think they will take any notice of your demands. I have noticed from my various discussions with Microsoft (and other companies) that if I am demanding and rude, then I will get fobbed off. But if I am polite then most times I get civil replies and quite good conversation - also on the odd occasion a rebate or gift. So motto of this is take a deep breath, relax and remember this, someone somewhere in the world is always in a worse situation than you and life is to short to complain about things outside of your control. Posted via the Windows Central App for Android

What gift..? Where is the gift..?
I need an upgrade..!! :P

I'm no fan of W10M but that's got to be sarcasm, right?

Wow... just.... wow... Windows 10.0.10586.104 for Desktop was released Feb 9th, and Mobile already has 10.0.10586.107 as of Feb 5th (earlier than Desktop!). This is 10.0.10586.122 - released today. Mobile is not that far behind Desktop - give it a few weeks. Sheesh...

Man, read the indepth articles from Jason here on this site, as you seem not to know what you are talking about.

Chill out, dude. It will come, April 1st. Thou, not sure which year.

Well if you think about it, although it is taking long, at least we get to be somewhat part of it and we do have Windows 10 Mobile on our phones albeit not official release. So stop whining

W10M hasn't been officially released for the 730 yet, so I think whining about pre-release beta versions is a bit crazy. Honestly, when it is finally released for older phones, angels won't sing, cancer still won't be cured, and after about two weeks or so the more mundane parts of life will become more important as you wait for W11M (if there is ever such a thing).

Waiting for mobile version.

+3,4,5,6,7,8,9,10.......!

You know....these can goto 11, right??? lol

I could, but nah....I'm just trying to make a black hole. :P

Hey why don't you guys get the Windows 10 WC app? You know, you can actually like comments, rather than putting +1 or whatever Posted from Windows Central for Windows 10

We can't because we're on WP 8.1 and waiting for the official W10M release. Or maybe that's just me. :)

Best comment ever! Ownage I could say

I do have the app on all of my Windows devices. I'm just joining the fun, because why not? ;)

Actually you can do endless likes with the new app

Gave you 10 likes. Not sure whether all of them are counted though

Seems like they are not saved. But thanks

I don't think it's counted. The app only seems to have it but the actual backend for the comment system don't do that.

Nice Posted on Windows Central's Universal app Windows 10

It says the update is not applicable to my computer.. I'm stuck at 10240 pro since ever... Updated from original 8.1 pro to 10240 pro and after that ... nothing more

That is very strange, I have you reached out to Microsoft Support and check if they can help, they normally are quite good and update/os installation is free of charge. Posted via the Windows Central App for Android

Download the ISO creation tool to get the ISO file. Just run setup from file explorer. It will at least get you to 10586.xx Then run Windows Update to get all the way. Bit of a pain but should work.

Use the media creation tool. It should update your pc to the latest version. https://www.microsoft.com/en-us/software-download/windows10

Looks like you have a hardware problem. If the update starts and you're rolled back after the first attempt it must be a hardware issue. Before starting an update remove all of your connected USB devices excpet mouse and keyboard. If that doesn't help check your disk for corruptions and check your memory for any possible faults. Or it could be your graphics hardware that has a problem as well.

I have a SFP3 that got stuck in 10240, WinUpdate says it's got the latest. I ended up downloading the 1511 ISO, install it, and do WinUpdate after that to the latest 10586.

They should add more support for smartwatches for windows 10 mobile

Impressive update. I'll make sure to take advantage once I get home. Windows Central Universal Application for Windows 10; Nokia Lumia 830; Microsoft Lumia 640

If people with red stone builds are not going get this update (because they are already in a new branch), are they going get these fixes?

Yes. In fact, they usually get a separate patch release that contains the same fixes but is targeted for Redstone builds. We just haven't/aren't documenting that.

When can we expect a new mobile build? Eagerly waiting with a Lumia 1520 whose strengths aren't taken into consideration/ utilized with Windows 10 :/

Still waiting for the official WP10 update for my 640 in UK When r they doing it anyone know

Same here dude im on a 640 not herd any news considerin 640 was on the list for the update lol

I guess we will wait much for this. Back in 2014 they release technical preview of 8.1 in April and on August or September if I remember correct they release the update to other users. Release preview works good on my Lumia 535 and on my Lumia 520 but both of these phones are not my daily driver. So I think I will download it to my 640XL as well...

Yeeah thats good been brilliant on my 640 (not xl ) had no major issues tbh get the odd glitch every now and then but perfect and i use this as my daily driver but could be doing with the proper release tbh lol

Only pc lol Posted Via Samsung Galaxy Note 5 Platinum Gold & Microsoft 950 XL Black

Not only.....got an update for non-insider 950XL USA a few hours ago.

Im guessing mobile will be next ;)

This update got a tons of fixes and improvements! Hope this will make my Windows 10 rock solid as the previous version of Windows! :D Gotta update later when I got time.

Hmm... Wonder if this will finally allow some games to work on my laptop. It would make my daughter super happy if it does.

Good news as the mobile phone equivalent will be coming very soon. Posted from WP10. L920

Great Job Microsoft, but when will the windows phone 10 update will come for 8.1 Devices ?

I've never used the insider thing so don't know what it'll do so have to wait for it

The update is for non-Insiders!

Feels like Edge is still in early beta though, getting really tired of favorite bar not working... Oh well, you can always use chrome instead...

I'd rather use a text-only browser from 1995 than Chrome.

Opera is a good browser - Sent from Mars

With those compression technology that Opera have sure would be handy for Mars internet needs. :P

Weird, maybe I'm an exception but my favorite bar works great (except shifting the favorites around) Posted via the Windows Central App for Android

From the picture I was hoping this was a W10M update fixing power (battery) issues. My 1520 on the latest build has spectacularly Hugh discharge rates which it's never experienced before on W10M. I've disallowed Edge on bg apps and other things but I'm getting discharge rates over 30% per hour.

User in insider slow get this update?

This is a Production push.

Finally something addressing the battery drains now we need one for WP10 mobile my poor 1020 only gets 2 hrs of constant use

Your 1020 is old, has a small battery, and an inefficient processor. You can't expect for a software update to fix what's degrading beyond repair.

Try logging out/turning off Skype in Messaging. It made a noticable difference on my L925.

Update Keeps failing 52% for me. Third time now. Anyone else getting this? Or it's just an Anatoly on my SP4 and I'll have to find another way to update.

If you have an SD card in the Surface try removing it first. There were early builds that had these issues.

Forgot about that. No SD card in my surface though. But good thought.
Trying resetting windows update (because running random cmd line files off of the internet is always a good idea). Will see how it goes.

You might also be able to use the media creator to download the iso and do it from that.

That's another option, since the other failed. Figured it would take some time before media creator is updated for new build.
Getting really tired of resetting my surface. And my desktop. And this is surface #2, and it came with dirt under the glass. $2000 of quality. Sigh. I need a vacation Thanks for your help, it's appreciated.

So running the media creation tool and "upgrading windows" put me to the newest version of the OS, for anyone who has the same problems as me. Seems to have fixed everything.

Man, i love reading these win central comments:'D Posted with all the power my fingers have, 1520.

im just glad to see all my network computers show up in explorer. its been a long time coming for windows 10

Weird. They were showing up for me.

Well it's just one of the weird Windows 10 bugs out there. I don't have such issue but I do have HomeGroup issue sometimes, I hope this will fix it. Even my cousin's new ultrabook Network icon on the Taskbar sometimes missing and can't be reactivated on Settings for no reason.

Still waiting for the first WP10 official update in UK for my 640, as this is my only phone & have never used the insider app, I don't want to mess this phone up

Still not fixed store on my toshiba click 2 mini just shows a blank tile and dosent even open when you click it Posted via the Windows Central App for Android

Windows as a service is such a great thing for users and developers, Windows 10's biggest and best feature

Great, now I have to borrow a windows 7 disc from someone... #InPieces
#Broken Ishan

No more lag in photo app before I can start a local video! Microsoft definetly listening.

"Improved reliability," "improved support," "fixed an issue," "fixed several issues..." It's pretty sad that we get excited about these updates. I wish they were adding features/functionality instead of having to fix things that we already expected to work.

i hope they are working on bringing back features they have removed on W10M as well. there are certain features that are available on Android that shouldn't be lacking on W10M.

problem after update, pc slows down, all modern apps no longer working so i cant go into modern setting to reset the pc. had to create installation media and start fresh.

Still no updates showed in the windows update yet.... I can't understand why ?
I am in the fast ring of course

The Update is NOT for INSIDERS. Posted via the Windows Central App for Android & Windows at the same time.

Not getting the update here! Philippines

Hello. I haven't used Insider since the Windows 10 beta and i'm considering activating it again. Can anyone tell me if anyone has had issues with the builds since it came live? Thank you. :)

everything seems okay thanks Microsoft. I have one small annoying problem is that after this update, my USB hub is not properly recognized for the first 2 -3 times.

Estava quase deixando o 10 de lado e voltando para o 8.1 por causa das falhas ao abrir apolicativos, reconectando, carregando, etc... os icones ainda estavam sumendo da lista de programas ficando somente a cor, e desenpenho da bateria não estava mais o mesmo, espero que com estas correções esses problemas diminuam.

Since my upgrade 3 days ago I am totally UNABLE to open SETTINGS. I did a reset to no available. Anyone advice?

That is so weird. Was it from 8.1 or from .107
Windows Central Newsletter
Thank you for signing up to Windows Central. You will receive a verification email shortly.
There was a problem. Please refresh the page and try again.