Windows 10 build 14371 for Surface Hub has leaked online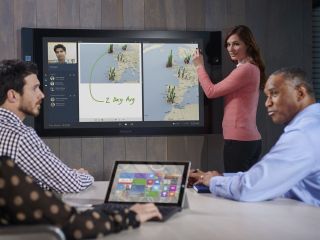 Outside those who physically own a Surface Hub, not many have had the chance to try out the edition of Windows 10 that the Surface Hub is shipped with. It's an altered SKU of Windows 10 designed for the big screen, with productivity in mind and hooks up directly to business domains and azure.
If you've been looking to try out a build of Windows 10 for the Surface Hub, today's your lucky day. A partner build of Windows 10 for Surface Hub has leaked online in ESD format, meaning it'll need to be converted into ISO format before being install-able. The leak appears to have originated from Microsoft's own Windows Update servers.
The build in question is 14371, which isn't exactly the newest of builds. It's from the 'rs1_release_prs' development branch however, which builds usually don't come from for Insiders. The leak includes pretty much everything Microsoft has demoed regarding Surface Hub so far, including the altered Start Menu, UI and apps list.
We recommend you do not install this 'leak' as it is pre-release, and you probably don't own a Surface Hub anyway. Although this can be installed on normal hardware, you may encounter issues as expected. And of course, don't install this leak over your primary machine.
Windows Central Newsletter
Get the best of Windows Central in your inbox, every day!
Zac Bowden is a Senior Editor at Windows Central. Bringing you exclusive coverage into the world of Windows on PCs, tablets, phones, and more. Also an avid collector of rare Microsoft prototype devices! Keep in touch on Twitter: @zacbowden.
Does anyone here actually own one?

I have one but will not install this leaked version. Don't want to waste $10 000 of hardware

My company has shipped and installed almost $1,000,000 worth of them so far. Demand is far exceeding supply however and Microsoft is working on that but it is taking time.

Yes, we have multiple units in our organization already as a trial. People talk about these units being super expensive, but by comparison a polycom unit with the same HD camera equipment is $7K without a television, and it's not touchscreen and doesn't have computing capabilities already built in. So really, it's actually a really good deal for what all it provides. Just sayin'

So, how do you handle security?

I see a surface running windows 8.1 before that surface hub.

Me too .. I Missing my win 8.1 start screen with moving background

I dont think , Any one have surface hub :p

Oops, this build just got installed on my tablet which is not a surface tab. Do I've to roll back or just wait for another update? There is no bugs in this build so far but some icons on app list are not showing.

I believe you are joking since you would then need another device to wireless connect to your Hub. Then you can use the apps and stuff

Nope I would be happy with just a new build for pc and mobile tho hehe one should be rolling out soon I hope unless there putting the final touches to build 14379 as the anniversary update.

The next build will be 14383 and will probably come today.

Surface Book HUB here i come!! haha

One note need. Serious work, I can't synchronize my now mostly the one I save from tutorial in
windowscentre

MS has some help pages for synchronization. Just do a search. The steps work.

Hey Zac, did you leave Winbeeeta?

Yes obviously. He left when he signed off on WinBeta Podcast 69. Now he works with Mobile Nations @ Windows Central.

Can this be loaded on a VM?

Probably. The article seems to suggest so -- it mentions that it can be installed on "regular" devices, so yeah.

They could have at least made 10 RT

I would NOT reccomend installing this on any non-Surface Hub devices. Surface Hub is running a version of Windows 10 Team, but it is highly customized for the Surface Hub experience. You won't gain any sort of new functionality running this build. There is Project Rigel, which will allow the Surface Hub software to run on a Surface Tablet, or other touch enabled device to give a similar experience, but there are things that you just won't be able to replicate without the PPI capacitive touch technology, which is really what makes the Surface Hub superior to ANY other ink and touch display on the market.

This customized environment is a stinking pile of dung; it converts the Hub into a retarded appliance. We use the replacement-PC option to allow local domain logins, access to the desktop including our PDM system and to access plain Skype.

Seriously why would I buy this instead of a $199 HP Stream? Typical MS idiots.

why do they let your parents breed @Migi2015 ? "typical MS idiots"? its a hub for enterprise users. you are too poor if you compare this to an hp stream anyways.

without the right CryptoKey, the ESD is useless

Yeah! Downloading now! Oh wait... I didn't have 20k to spend

Okay so day 2 we might get a leaked version of Windows 10.1 "that was meant to be a Christmas surprise" yo-yo! Keep us updated.