Windows 10 build 14393 now available for Insiders on PC and phone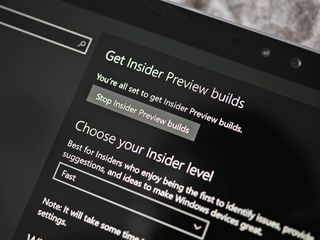 Microsoft is pushing build 14393 for Windows Insiders for PC and phone today, featuring a whole batch of new bug fixes for you to enjoy. I've heard whispers, alongside other reports that claim this build is the one that'll roll out to the public on August 2nd.
From today's announcement:
Improvements for PC
We have improved the reliability of Start, Cortana, and Action Center.
You should now be able to mount iPods as USB mass-storage devices.
Improvements for Mobile
We fixed an issue resulting in rapid battery drain when Visual Voicemail syncs voicemail messages on Dual SIM devices like the Lumia 950 XL.
We also fixed an issue causing some battery drain on older devices like the Lumia 535, 640, 735, 830, 930 and Icon.
We fixed the issue causing Voice Recorder to not show up consistently as an option for Call Recording. A app update was released last Friday that fixes this issue. Make sure you have the app version 10.1607.1931.0.
We fixed several issues impacting Dual SIM capabilities. Using a device with two SIMs should work as it should.
Known issues for PC
We are aware of certain cases in which Surface Books and Surface Pro 4's may bugcheck (bluescreen) due to a camera driver issue. An updated driver will roll-out via Windows Update soon that will fix this.
Known issues for Mobile
We are continuing to investigate W-Fi issues on certain devices.
Turning off Bluetooth can sometimes result in freeze, crash, or reset. See this forum post for more details.
Wallet users are prompted for a PIN twice when using tap to pay from a locked phone. You can enter their PIN twice and tap as usual once the phone is unlocked. A fix for this will come as a Wallet app update via the Store.
REMINDER: We have changed the backup format for Windows 10 Mobile devices to reduce the size of the backup stored in OneDrive. As a result, if you do a backup on a device running the latest Windows 10 Mobile Insider Preview builds and move back to the released version of Windows 10 Mobile (Build 10586) and restore from your backup – your Start screen layout won't restore and remain the default Start layout. Your previous backup also gets overwritten. If you need to go back to Build 10586 temporarily, once you are on Build 10586 you should disable backup so it doesn't overwrite the good backup from Windows 10 Mobile Insider Preview builds. We will stop noting this going forward.
We're just 2 very short weeks away from the official launch date for the Anniversary Update, so it makes sense for Insiders to start testing the final bits now. Over the next couple of weeks, Microsoft will be flighting a number of hotfixes and patches to build 14393, all in preparation for a day-one patch that the public will download on August 2nd.
Zac Bowden is a Senior Editor at Windows Central. Bringing you exclusive coverage into the world of Windows 10 on PCs, tablets, phones, and more. Also an avid collector of rare Microsoft prototype devices! Keep in touch on Twitter: @zacbowden.
Downloading already... 15%

Outstanding. Keep us updated. We need to know how this ends up!

So far so good for me. I though 14390 was awful though. Blue Screened at home desktop and work desktop. Hopefully this one wont.

Been exactly two hour's, and this dude is still at 15%.. SMDH

What!? Mine is only at 14%. Something must be wrong!!!!!

Well, It's been 4 hours, and he's still at 15%, so you're doing better than him.

Skype preview for mobile released!

And every time i open the app, camera gets blocked.

Skype preview mobile released

Still no fix for Maps not opening?

That is your problem, not us

So, you're saying I'm the only one? And, how does your unnecessarily rude comment help?

Rude comment aside, you are probably the only one.

Lol No. I guarantee it. Thanks though. :D

I had the same problem with Maps. Rebooting the phone would solve the problem temporarely. Doing a Hard Reset seems to have solved the problem.

You are the only one! and I am serious.

Your rude comment should read "not ours", genius.
......
But, looks like proper grammar is one you have. Hahaha!

sorry if you feel my reply is rude, but I think that is the fact which the problem you have is very rare case.

Civility on the internet is becoming a rare case.

What do I care if it is rare?. You think it's still not a problem to me, and anyone else that has it? IOW, what's your point? What are you hoping to achieve with your comment?
....
Dude, I, and everyone else already knew it was rare before your pointless post.

That isn't a common problem.

Yeah, it's not a common problem.. Nevertheless, there are users (besides me) that are having problems opening certain apps. So, it is a problem. I might try a hard reset, see if that works.

Rodney, you will need to do an hard reset. I didn't have the problem with Maps, but I had the problem with Netflix and Phonly, also the lock screen would take 11 seconds to appear when trying to wake the phone. I finally bit the bullet and did a hard reset and the apps and lock screen are working fine now.

Yes! Thanks. I will definitely do one tonight, sir.

I thought they fixed that bug in one of the previous builds? A few people (including me) had problems with various apps and then an update fixed those issues for all of us. Maybe you've just been very unlucky, because I'm guessing you have been updating to every latest build.

No problem with maps here...

Well, good for you, Irving. Lol. Way to rub it in.

works fine for me too...lol

Lol... I wish we could do those fist emoji up in here.

Why do you think it is rubbing in? If everyone is having this problem, then it is systematic and probably the OS is the culprit. Other people are helping you by telling you that it is not a common problem, you should be looking somewhere else and not complaining about the OS.

Lol. I'm joking with the dude. Geeze.. Nobody is complaining about anything. Just asked if it was fixed. Yes, or no question,,, but definitely doesn't require you whining like a child about nothing.. It's not that big a deal.. If you don't have it then disregard the comment, and move on... A lot of y'all need to learn that.

Do you have offline maps? If so plug the device to a PC and explore the SD card (if you have the maps on there). Make sure you have show hiden files or folders and then delete the maps folder. See if it works then...

Ok, thanks. I will try that.

Sorry for the side question on Maps . . . How do I get the map to not always show North at the top when driving?

There's no orientation option in settings, like with Here?

Strange, Maps app works just fine here. The last time I had trouble with it was on some of the 10586 builds, with maps v 4, on my PC.

I've also heard a few others say the same thing.. With various apps. It (they) just won't launch. They immediately force close. I used to have the same problem with the "My ATT" app.

I had similar issues after I joined the fast ring not so long ago. Many apps crashed on the splashscreen, or couldn't even be downloaded from the Store, but the Maps app was working :D Anyway, a hard reset fixed all of these issues, so maybe it's worth a try for you as well.

Yeah, definitely trying a HR. Thanks!

Hard reset with no restore point Rodney. It's better to have a clean slate and them reinstall all your apps.

Yes! I've noticed that with previous builds.

Works wonders. Seriously dude. Working great here after doing it a few builds back.

Yeah, especially after all these damn builds. You're right.

I have had some issues - even today.

Haven't had that problem. Have you heard of anyone else having the same problem.

No issues here with maps....ever...seriously.

What device are you using? I haven't had this issue. Yours sounds like a rare one.

There are roads in Greenland?

Amazing. This community can be so annoying. Of course there are other people experiencing your problem. There are still a lot of bugs and stuff that are not fixed. And some of them since Windows 8. Quantity over quality heh?

Opens fine here, also on last builds...

Rodneyrej if you have done lots of updates without doing hard reset then it cause problems. Do a hard reset it will work fine.

The "RTM" build, right ? Bit so scared to get because the last build finally has my Lumia 950 XL working with my Microsoft Band 2 as intended for the first time in ages.

Lol. Are you scared this one might break it?

Yes. They get it wrong more than they do right.

Like the ability to paste phone numbers that they finally fixed is no longer there. Hoping this build fixes it again.

What? You can no longer copy / paste a phone number?

What? You can no longer copy / paste a phone number?

I know that feeling. Everytime I updated my WP8 (to Black, Cyan, Denim and all other updates) my internet sharing would break and it took me whole day to fix it trying different guides :)

Yeah, I bet we get 2 more this week.

Ive had 0 issues with 14385+ on my 640, My dell tablet on the other hand...

Nice. Some people will be happy to hear the dual sim issues have been sorted out

Yes, this explains my rapid battery loss switching between sims!

Nice Posted via the Windows Central App for Android

Downloading now on spoofed 920!

How's well does 10 run on that device?

10586 runs like a champ. Not sure about the RS builds.

Wait Lumia 920 still gets Redstone builds?

Only if you mess with the registry.

Keep us updated if everything works ! (of course, without the Extras+Info)

Extras + Info has never given me any issues. The only things that don't work are Glance and manual brightness (which have never worked on unsupported phones using RS).

He probably means that recent Extras+Info update blocks phone interop unlocking/rooting (which exploited its library to gain root access), so it is common to block it from updates.

Yay! Now all I need is a Surface Phone!

Anybody having brightness issues on their device? My 640 XL display brightness has been dodgy. Not consistent...

Screen brightness has been a nightmare on my 950xl especially after coming off lock screen while charging . The display is so dark you can't see anything and the brightness toggle says it is changing brightness but does nothing. Other problem experienced are edge address bar stopping working, you can click on suggested links, just not in the address bar

Deactivate the glance screen and your brightness will be normal the toggle are not working but it will be normal

Thanks for the heads up... Omo naija

Yeah, on my 1520 with brightness set to Automatic the brightness is always very low forcing me to set it manually. It's been that way for the last 2 builds or so.

Deactivate your glance screen a and your brightness will be normal

I had some brightness issues with my 1520 as well, but they were all fixed after moving the brightness levels in the settings. You can leave them right where they were before moving them. I hope that works for you too.

Hard reset or maybe sensor is screwed.

Automatic brightness works well on my 535. But if I switch between low med and high with the brightness toggle, and come back from high to low (fast), the toggle says it's on low, but it's actually on high. But it works from the Settings app.
This bug was there in many 10586 builds too for me, but got sorted out, and now came back on redstone... :D

Ive waited this long I might as well wait for the official to drop with the fixes in 2 weeks

Not for slow ring on mobile? My l830 don t get it..

Just jump on fast ring. It's better build than one on slow.

Please fix the bluetooth. That and the IRIS not working all the time is very frustrating. When tapping the power button to unlock the Iris sometimes the screen just stays black. And the bluetooth freezing is just wack. My 950XL dual sim still does not have vsiual voicemail. ATT Bay Area. Anyone else not have VV?

IRIS not working? First time I have heard about that one.

Call your voicemail, check your messages and disconnect. Visual voicemail should show up shortly after. Iris scanner works but sometimes it does not turn on like you said, but that doesn't happen a lot.

I have VV but only on the SIM with data, I believe I've read that it can't do both. 950XL ​on ATT (both SIMs)

I have had the same issue with tapping the power button and the screen staying black. The IRIS scanner turns on (red light goes on), and it will unlock the phone, but it stays black. Sometimes it takes 10-20 seconds for the screen to turn on. And when it does turn on, its usually dark. A restart fixes these issues, but its an extreme pain in the ass. The dual sim 950XL does have Visual Voicemail though.. though it didn't ship with VVM, an update to the firmware many months ago brought it back.
I'm on AT&T, 20 miles south of San Francisco.

I have the black screen issue as well, on my 950 DS (not insider, no new firmware yet ><) ... fixes if I put it back on the charger.

My AT&T 950 did that for months over various releases. But I haven't noticed it with the previous update. I am downloading the new version now and hoping it's not a problem. The one thing very frustrating for me has been the camera app taking pictures, then they disappear after a few hours. The pics aren't saved to the cloud and they show as an image that will not open on the phone ... same with video. I lost some great pics and videos of Boston (the band) because of it. I am hopeful it is fixed now. I haven't done a hard reset in a few versions, so maybe that's in order ... though I hate that!

I was having the same problem until I disabled the Glance screen.

I hope this build is gonna fix battery drain in my lumia 640

I was happy to see it was addressed in the "fixed issues" section. My 640 and I will give it a though testing tomorrow.

My 640DS will love this! I was wondering if the battery was lasting less or if it was my mind playing tricks on me. Glad to see it addressed.

Soooo close to being ready for prime time! Will download this version and thoroughly test! So close to saying bye bye Verizon!

Why not battery drain issue on the old L1520 ?

I still haven't gotten Windows XP... :-( Posted via the Windows Central App for Android

We are continuing to investigate W-Fi issues on certain devices. Turning off Bluetooth can sometimes result in freeze, crash, or reset. See this forum post for more details. have these 2 fixed and i think for my lumia 535 there is no problem!

Wow this is great! I didn't know there was a battery drain issue regarding visual voicemail but glad it's fixed.

Didn't know my 640 had a battery drain issue, but I'm glad they fixed it. :D

Hi all, just got in my 535 all is well but still now call recorder is not available as informed.

I don't think that's supported on that

I recently did a combination of rolling back to 8.1 and a hard reset (different reasons) and that fixed the Wi-Fi issue for me. Not that I necessarily recommend people do that. The one thing it didn't fix is Edge text scaling. I now keep text scaling pinned to start so I can easily turn it off when I get to pages that don't work with it. But I shouldn't have to.

The battery life on my 535 was quite good, but it's always nice to see improvements in this area. And it's also good, that they noticed the bluetooth toggle bug, and are working on it. But sometimes, when bluetooth is turned on, it feels like, that the Wifi on my phone is actually slower. Maybe bluetooth slows down Wifi in some very strange ways :D Is anyone noticing similar issues?

And yeah, I almost forgot. The camera app sometimes can't start and throws an error, asking me to restart the phone (like 1 out of 50 times). Hope it will be fixed. And yeah, after a restart, the phone always forgets my Caller ID settings, so if I don't set it back, my calls will be sawn by others as "private number" :D

Having this camera issue on L535 everytime i open the Skype Preview app, just like it used to when opening the Skype Video App back in time.

Hopefully they fix the Edge scaling bug soon.

Zac, you can't say this is the one that will roll out to the public knowing that there are still a few but very important issues left to resolve!

I would have to agree! But it's close! ;)

You can't say it isn't...do work at MS? Lol Just saying j/k...I do agree with you though on there being a couple issues still. We will probably see a build or two before release

Is there way to stop queued updates from downloading, on PC?
I have build 14390 on queue and I want 14393...

There's a folder whose contents you need to delete. Can't remember the name, but Google can help.

Tried google but I don't know right search terms. I get result for stopping auto updates, stopping win10 from DL-ing etc. I tried restarting WU service, no luck, system clean up, no luck too!

Clear out the C:\Windows\softwaredistribution\download folder

Let it completely download it, once it has been downloaded, delete the temporary windows installation files using disk cleanup. Then press the 'restart now' button on WU settings page. It will restart your PC and will start downloading the new build

Cool! We were all wondering when you were going to download it.

Glad I could help you out. Keep up the good comments.

L1520 had wifi problem and battery timing is good or still draining???

No issues at all in previous builds aa well

No fix for dead live tiles.

There's a dead live tile issue? Did you try uninstalling and reinstalling apps? Did you try a hard reset with no restore point?

Pull your battery or soft reset

Still no fix of WiFi issues on my 950, but at least I see a recognition of the problem for once. Fast download of this update. Hope the install is as quick.

"I've heard whispers, alongside other reports that claim this build is the one that'll roll out to the public on August 2nd." heard that one before lol. No worries tho, still can't wait to try it!

So happy with these RS builds on my Fierce XL. Battery life and performance are off the charts! Only issue I have is the device will occasionally freeze for a few seconds when turning off Bluetooth in action center. So for me that's minor...but some freak out at that sort of thing. Hopefully we get one or two more builds before release.

Windows 10 Mobile = battery drain!

950 dual sim: After install my 2nd sim won't work. Anyone else have this problem?

What about being able to send MMS on Dual Sim 950 XL? I can only send it on one. In order to send on the other, I have to manually switch the data over to it. Then you have to switch it back again. Annoying. Is this just the way it is?

Go to Messaging, Settings, more settings, click on the second SIM from the list, and enable the "Allow MMS if cellular data is off" option. See if that fixes the problem.

No way this is RTM with the Bluetooth and wifi issues

Wifi fix is in a separate FW update recently. Don't know if it worked... But I agree they need to get those sorted out for RTM.

I have a 640 so the WiFi issues won't be solved with firmware soon.

Another update is nice & all but.... where the heck is the firmware update that brings DTtW to 950/950XL????? #DTtWMatters

Whispers and other reports? Just read the last paragraph. "makes sense for insiders to start testing the final bits now" This build *is* RTM. The public will get 14393 plus a bugfix rollup.

That would be one big rollup, lol.

I just looked at the last paragraph again. I thought it was a quote from Dona Sarkar's blog but it's the author's own words. I read Dona's blog announcing this build and she says nothing about this being the "final bits." My gut feeling is still that this is RTM but not 99.9999% confident anymore.

There will be another build....

All I wanted for now is to fix the scrolling issue on older devices like l830. Not really smooth.. Posted via the Windows Central App for Android

We now consider the 830 an older device? Heck, there is what like one device after that, the 950?