Windows 10 build 14393.103 is live for Release Preview on Mobile and PC (Changelog)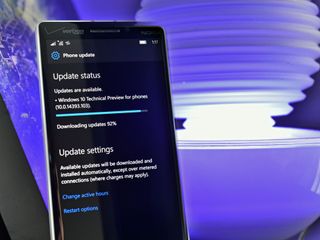 Although Microsoft has stated no new builds today for Fast Ring, it looks like those on the Release Preview are getting an update to Redstone 1 aka the Anniversary Update. Windows 10 build 14393.103 is now available an increase from build 14393.82 from August 18.
For those on Windows 10 Mobile, the update will come through as a "Technical Preview for phone". For those on PC, the update is listed under cumulative update KB3176938 (opens in new tab).
Changelogs have not yet been posted for the update, but it is assumed it will be a forthcoming cumulative update for the Anniversary Update for all PCs and phones in the next two weeks or so. While no new features are expected it should contain many bug fixes and improvements as more and more users install the update and find issues.
Update: Some users are reporting that the Slow Ring for Insiders is also getting the same update.
Update 2: Full changelog is now available and reposted below:
Windows 10 build 14393.103 Fixes & Improvements
Improved reliability of the Windows Ink Workspace, Microsoft Edge, File Server, Windows kernel, Microsoft Component Object Model (COM), Cluster Health Service, Hyper-V, Multi-Factor Authentication (MFA), NTFS file system, - PowerShell, Internet Explorer, facial recognition, graphics, Microsoft Store and Windows Shell.
Improved performance for the speed of purchasing Store apps.
Improved battery life of wearable devices (such as the Microsoft Band) while Bluetooth is connected and idle.
Improved compatibility of using Xbox One controllers with various games.
Addressed issue with incorrect character mapping between Japanese and Unicode for the question mark (?) symbol.
Addressed issue that prevents the download and initialization of .NET objects in Internet Explorer.
Improved support for new near-field communication (NFC) chips for Windows 10 Mobile.
Addressed issue with game or app audio not resuming after ending a call on Windows 10 Mobile.
Addressed additional issues with compatibility, Remote Desktop, BitLocker, PowerShell, Direct3D, networking policies, Dynamic Access Control (DAC) rules, Microsoft Edge, Connected Standby, mobile device management (MDM), printing, Fingerprint logon and Cortana.
We'll update this article as more information becomes available.
Thanks, Joseph C., for the tip!
Daniel Rubino is the Executive Editor of Windows Central, head reviewer, podcast co-host, and analyst. He has been covering Microsoft here since 2007, back when this site was called WMExperts (and later Windows Phone Central). His interests include Windows, Microsoft Surface, laptops, next-gen computing, and arguing with people on the internet.
I was just going to tip this.. Guess I got late.. :D

No build for fast its been a week.

I guess you're eager to test those bugs and post feedback, right?

Ok then. We're trusting in you to find those bugs! :)

Like crabs from an uncleaned cootch!!!

You do understand that this release is for RS1 not RS2. The release schedule for any new dev cycle has been slow in the beginning where it could be weeks before a new fast ring build comes out, and then as the deadline nears they updates come much more frequently. So hold on and wait.

Sorry if this is already common knowledge, but has the Anniversary update been officially released for Lumia 950XL? I'd like to opt out of the insider once that one is released. Thank you in advance for your replies.

Which world are you living in?

Thanks for the info. I guess I'll use the restore tool on PC to put it on the official build and let it live on that. Cheers,

Thanks for the info. I guess I'll use the restore tool on PC to put it on the official build and let it live on that. Cheers,

And the release preview is now 2 builds ahead of Production

And much more stable and bug free. I've climbed down from Fast because it's gone crazy bad for my 950XL the last few builds. Wiped clean and started again with DTTW on Release. V happy again.

Hopefully it brings double tap to wake. Eagerly waiting for it....

That is firmware and has nothing to do with OS updates, sorry.

Hi Dan. Can the 650 get DDtW with a firmware update or is this an hardware issue with the 650 itself ?

650 can get double tap to wake with firmware update. Double tap to turn off screen is already available for 650 (navigation bar settings). There is no "hardware issue".

Thanks for the response and making note of "hardware issue" ...i probably shouldn't of said that as I'm not tech savvy.

Totally different systems, mate. Double-tap-to-wake requires firmware, as the screen itself is listening for this event. Double tapping the on-screen nav bar to turn off the screen is 100% in the OS, which is why every win10 phone with on-screen nav bar can use the feature.

I would argue dd to sleep is different then dd to wake e.g. Screen is already on and registering input vs screen is off and not setup to register input. I do think it is likely MS could add feature to 650 if they wanted to but there very well could be a limitation hardware wise preventing them from doing so.

I didn't know about that, thank you.

if you talk about the 950 it has already been updated tho a firmware update!!!

Not for carrier-branded 950 owners (specifically AT&T in the US).

I double tap to wake my 1520 daily with an issue!

Been double tap to waking L820s and 520s since 2013.

I waited 1 year for gestures speakerphone on to be reintrodued to the windows phone but its still not on windows 10 mobile,shame cause its one of those small things i love that made the phone feel like it had something iphone didnt offer. Now im on a s7 edge i i have it along with all the google apps like you tube and maps, herego and paypal. I really hope that microsoft can stem the app leakage and improve on it this year cause as much as i love all the apps and like touch wiz i still think windows tiles, notifications and get=neral ui method is the best on mobile, its just a s7 edge or a 950xl, well it wasnt really even close, the 950xl looked budget anfd looks counts for something too. One thing i now know for sure after 3 weeks, we need google apps on windows mobile, metro tube and tube cast were great but the last few moths their reliablility has been spotty at best. Just get googles you tube app, well put up with the adverts, honestly.

Mytube beats all that. As for PayPal etc. I like the browser experience. Except Snapchat I don't see an app gap. What I see is the quality and feature less app. Like Spotify or messenger. I wish I had android Spotify here.

This will pour down cold water on whatsapp news, for sure. :-)

What does this gave to do with WhatsApp?

More fixes and still no firmware from AT&T! #FAIL

Should have waited for the unlocked version.

I wanted the unlocked XL from the MS store but ended up getting the 950 for $62 from AT&T/Asurion!

And now you get to enjoy the rewards, slow carrier updates!

Asurion insurance deductible to replace my 830.

That's how I got my 1020 years back replacing a Focus S. I love that Insurance.

Firmware is critical thing mate. They need to be sure before pushing it to public, that it will cause no harm.

i prefer fixes than firmware update. the OS has to be stable first

Freezed on14905.1000. Will change to slow ring after one update..

I'm going to the slow ring after the patch the app update problem and hopefully Cortana's text to speech. Thought I could ride the RS2 wave but its a bit challenging on the cast ring.

Okay now I'm confused. My 950 is pulling down this update now but I removed myself from Release Preview last week. At least I thought I signed out of it in settings.

It will take some time to reflect the rings status, similar to once you registered to a ring, it will take some time to get the ring build. I do had the similar experience. But eventually it will stop after few days. May be there is registration and de-registration list which takes some time to reflect whenever we make changes.

does this version resolve the issues described on the link below: http://windows-news.com/microsoft-office/3228-windows-10-mobile-annivers... still stuck in 10586.107 and deferred the installation of downloaded 14393.82 hope MSFT have seen and resolve this issues...

See the changelog posted above for what's fixed. Just updated!

thanks! Daniel... appreciate it!:)

I just got windows 10 on my phone. If i update now will it be the RTM version or Aniversary update.And please how my Gigabyte will it take to update my lumia 640 to windows 10 mobile. Thanks.

I was too busy posting about it in the forum, forgot to send a tip.

Which 0.000003% of devices are actually getting this update? These update posts are tantamount to being clickbait, and yes I said tantamount so deal with it

You don't understand the definition of clickbait, which is a misleading headline that pretends to answer a question, but doesn't. There are at least 8 million Insiders according to Microsoft so yes, probably a couple hundred thousand at least on Release Preview, to better answer your silly question. Quit playing the victim here, you don't have to read articles you're not interested in. Man up and scroll past things you are not interested in instead of leaving a comment and whining.

Serious question though: On Redstone 2 we should only see Fast and Slow rings... no Release Preview yet, right?

Legit, but tough question ;) Right now, it's just Fast Ring for RS2 because it is super new. Once they go through a few RS2 builds with new features, etc. and it is kinda stable it goes to Slow. RS2 won't hit Release Preview until literally two weeks before the public launch (so sometime in 2017). So right now, it looks like this: Fast Ring = RS2 Slow Ring = RS1 (plus cumulative) Release Preview = RS1 (plus cumulative) I'd expect RS2 on Slow Ring probably not for another month or so at least. You can better think Release Preview branch as a test ring for the current build, rather than what's coming next.

It's people like him that should just move on to whatever platform he/she says to outside of WP and stop coming in here to whine all day. WC should start selling baby supplies; they'd make a killing!

Is he related to Captain Underpants? Just curious.

Yup clickbait.. I clicked and now im baited into downloading.. Sheesh dude what's your problem??? I think some people just compete for the most down votes for amusement... They are busy children, forgive them

Simple, yet effective. Upvoted.

You don't know much, do you?

im on a s7 edgew and im gutted windows isnt biger cause after 6 years on iphone and i loved that, 3 weeks on android mashmellow i like it too, windows 8.1 was fantastic and although windows 10 mobile isnt the slick 8.1 i loved it still beats the other oses for my tastes, i really hope more people are drawn to windows mobile and realise that so we get a proper third mobile os race and beter competative prices all round. Updates were made very cleat almost a year ago, so poeple with budget handsets with very little ram havnt really lost out cause well you pay for what you get. In android ill get the big updates in 5-7 months time thats actually alot slower than my windows mobile experience so microsoft are doing somthing right, hell if you used windows mobile and then android thers alot of apps that are better with more options on windows and theres alot of apps better on android too so its kinda a bit like, what ever fits your needs and usage. Sadly for me the apps which wasnt a ssue in 2015-2015 has become a issue in 2016 so i had to go but ill be back if they return.

Downloading now on my unlocked 640XL. I'm hoping there are fixes for live tiles. That is my biggest complaint right now with RS1. The live tiles for Outlook Mail/Calendar and even Bing Rewards don't update. I have to resize the tile to get it to update. I'm guessing this clears some sort of cache that is not clearing on it's own as it should. I never had this problem on Threshold.

got this exact problem, but only for the Outlook mail . . .

Same phone, same problems :( but I think it's more about the apps itself than OS.

You have a very skinny neck.

Same here. Outlook live tiles are dead on my L640 for a few months now. It's really testing my patience.

A restart always fixes the live tiles for me.

Make sure you report the bug or upvote other previously reported feedback.

I like how their latest releases are now the same day for mobile and pc, I hope they can keep doing it this way.

Is anyone experiencing issues with their 950XL where when you double tap/press the display button, it takes like a good 04-05 seconds for the display to light up? It's quite annoying :(, and I suspect a faulty app update or something ....

Are you on the RS2 fast ring build? If so, yes, I am experiencing the same issue.

Nope. Not on any build; absolutely refused to get back to the insider programme on my new Lumia 950XL. ;) Guess it's caused due to the anniversary update then ...

It seems this issue is only happening with Lumia 950XL when you turn on audio routing option from Phone settings and double tap to wake up at the same time
I had this issue and I have got a solution for It. Turn off Audio Routing and keep the Automatic option, turn off Double Tap to Wake Up as well. Now reset your phone pressing volume down+power button. After restarting you can turn on the double tap to wake up, it doesn't cause the issue again doing so. But don't turn on the audio routing before a solution comes with app or OS update, otherwise you will face same problem again.

How do you disable audio routing?? What is audio routing first of all?

This function was in beta form called "gesture" app in windows 8. if you turn it on your call will go loud speaker when you take away your phone from ear and vise versa. Flip to silence a call is still missing though.

Actually I see flip to silence call in extras/touch

its one of my bigest complaints about microsoft. they release a fantastic app on 8.1 called gestures that gave my speakerphone such fantastic functionality then they dont bother reintroducing it into windows 10. its a small thing but its such a great simple function, how many people put the phone down on the table and press speakerphone, im guessing alot like 90% so the gesture to automaticly bring speaker phone on was to me genius. 12 months later and im still moaning about it. Doesnt anyone think that feature is worth having anymore. Also and soz its another little moan, dont have gestures beta in the windows store and have it advertise windows 10 on it cause its never worked on windows 10, thats prety bad when its actually a microsoft app even now it says works with windows 8 or hiugher, at least remove intal on 10 windows 10 machines cause it doesnt and never has worked. its this kind of thing i moan about hoping one of the many thousands of microsoft employees or someone here can mention caus eit makes microsoft look bad, even someone on here caus einsider hasnt done anything to bring it to microsofts atention lol. Does anyone here agree with me. I want a windows 10 eco system i do but plse. My windows phone was a 930.

Hwey. figured it out. did a soft reset, and the problem seems to have gone

What all the new things is arriving on this update plss let me knw any one??

I stated there are no new features. Cumulative updates are fixes and improvements, not new features.

Hopefully calendar live tile and Bluetooth toggling fixes. Hard to tell when BT is actually off, even with last update.

For which mobile devices??? Inform me

...any phone enrolled on the Insider Release Preview Ring.

Hi Daniel does this resolve the scaling issues describe on this link: http://windows-news.com/microsoft-office/3228-windows-10-mobile-annivers...

No. They are aware of that issue, but there is nothing new to report.

anychance you can mention gestures app and remove the install on 10 windows 10 machines cause it doesnt work on any of my machines with windows 10, also be great if you could hint at the speakerphone functionality, id love to have iot back on my lumia 930.

Is it available in lumia 925 , with insider

You can hack it to install like I did on my L1020. Check WC forums.

I'm getting it on a Lumia icon, there's one

Inform me. I command you. Now. Pronto. Immediately! Avada Kedavra!

I received a build yesterday for phone and pc... 14905.1000 and I'm on fast ring on both. Can anyone chime in?

Sure, there's a forum where that exact thing is being discussed.

Pro tip: 14905 > 14393. Chimes now silent.

Redstone has made good improvements to the windows 10 OS,i downloaded build 14905.1000 and its working ok on my Lumia 535.

yes, ive noticed performance is definitely good on this one. Almost to the point that its scary.

On a slightly different note, I was in the 02 store today, (UK), they have officially stopped stocking the 950, several reasons mostly negative and not worth spelling it out. I was informed that there's a new one in the offing but probably not until next year, so they are stocking one Windows Phone only, the 650. 3 sold in this branch since January.

100% off topic. Go start a topic in the Forums.
Actually it would be great since that would confirm Surface Phone.

KB artlcle link doesnt work

They never do for the firs 24 hours. Article is updated with full changelog.

Hmm about the part improving reliabilty on "NTFS file system". Does this fix the bug external HDD being shown as inaccessible? Can anyone on Release Preview confirm that?

Can't say I've had that problem at all since Anniversary update

My L950 is currently on 14905.1000

That's Redstone 2 fast build.

Fingerprint logon issues fixed - sounds like they ARE working pretty closely with HP. :-)

Is it possible to downgrade from the Redstone2 fast ring build yet with WDRT?

I was going to do this on my 950. Can we not?

Yes but, it's a hard reset of your phone to do so. So back up everything first.

I just remember reading that WDRT isn't updated yet to roll back to RS1. Just needed to be sure. It's not the first time, so the backup is done. I'll wait for the next fast ring update just in case theese changes are also included in that one.

So cool. Just when I enrolled in the Insider Preview (for the first time) opting for the Release Preview, wondering what will be of this ring, and then this comes up. :)

Installed on my Lumia Icon, Bluetooth togge from action center is still a pain! I really hope they fix this issue in the next build.

Running 14383.103 and well i have to test a couple things. Looks good so far!!

Minion Rush is lagging on my lumia 640XL. Build 14393.82

F*** me hey Cortana is now available to train on my 1520 with this build

Do you want us to buy you a drink first?

Hahaha hahaha at least dinner and a movie

Well I'll be damned! Good news!

Just to clarify, are you telling Cortana to **** you?

When is the latest firmware update for AT&T Lumia 950 going to be released? Was supposed to be around the anniversary update.

"Improved battery life of wearable devices (such as the Microsoft Band) while Bluetooth is connected and idle." I hope this gives me the 48h Band 2 battery life back as I've been only getting 8-16 hour battery life in the latest builds.

I hope that also equates to better phone battery life!

I hope so too! I will monitor the battery life of the Band 2 and my Lumia 950XL over the next few days.

Good thing is on rs2 battery life of the band2 has returned to normal

Can someone guide me about the insider preview? I'm thinking for getting enroll in release preview which is the safest I think but is it safe like the released official version because my 950 is my daily driver.

Can anyone pls tell me the download size for pc

C'mon guys, size matters. Noone knows?

EDIT: Nvm. I'm an idiot that should learn to read.

Dang! My bad! Question was for PC and 36 MB isfor mobile

Does anyone know when the ota firmware will be available for unlocked UK 950 xl. It is available on the recovery tool but I dont want to reset my phone .

Downloading it now on my no-status (non-insider) L950....

My phone work 10.0.10586.545 10.0.13384.0 Lumia phone 1020

Please tell how to update

Your phone is not eligible for Redstone builds.

I am missing preview release, I only have fast and slow as options. Anyone else having this issue?

It's because you are on Redstone 2? That branch doesn't have release preview yet.

I am on build14905.1, Lumia 640 XL. MS store I'd not updating or downloading apps

one of the major issues in these builds are Photos app, when u zoom a pic and try to slide it to left and right, it get stuck or app crashes.... but now with this build it is working little okay.... i did for 5 mins and later the pic got stuck and stopped responding...

Hoping this will fix Edge constantly crashing on every web page and having to recover when they push it to full release. Worst offender is twitch, so I thought it was something on their end, but now it's happening with more websites. Although only my SP4, not my desktop. And only started happening with basically the final AU build, not any of the early ones when I was running preview. Convinced it has something to do with skylake chips, although who knows. Hoping it gets fixed soon otherwise to the feedback hub I go,

http://www.howtogeek.com/237527/how-to-reset-microsoft-edge-in-windows-10/

Thanks for the thought, but I'm not sure if it would help. I got so fed up with the issue that I did a clean install of windows 10 on my surface, and the problem still wouldn't go away. However, I will try your suggestion and see if there is any affect.

Well if you did a clean install then it sounds like it won't help :(

voice dictation and trying to speak to Cortana is broken for me

You're on fast ring? If so...everyone knows...its a known issue with the last fast ring build

Can you use xbox one controller on Windows 10 Mobile?

by the time I read this my phone is already on spinning gears, I predict you wont have to publish such articles in the near future since we dont have any say in the matter anyway

You more have more flexibility than even on W10M in choosing when to update.

No true at all. You need to change your active hours and turn off auto updates so your device doesn't do it by itself.

The Store recent activity icons are still small in this build on L950. Is this because of screen resolution?
Also the Sim1 still shows 2G speed when Sim2 is set to cellular data. Should it be 3G when Sim2 is LTE?!

Says it fixed the store but it did nothing of the stort. Non stop "something went wrong on our end" and having to click install twenty times to get it to actually start to install.

No issues like that on my pc or mobile

updates to sticky notes and Skype preview also now downloading on PC release preview

System freezing issue on PC when apps are installed on a non-system SSD drive has not been resolved yet. This issue should be top priority, IMO.

Agreed. Very sloppy from Microsoft and very disappointing. Posted via the Windows Central App for Android

I wonder if the keyboard covering input box at the bottom of the screen has been addressed.

I'm switching to this preview from fast ring until the next fast preview comes out. I am ok with bugs but the share function disabled and Cortana not having a voice are too much at this stage in the game.

You can't switch if you are on RS2 already. At best you can switch to Slow Ring.

Got this on my 950xl. My wife's Blu Win HD LTE doesn't seem to be getting release updates. Anyone else with this phone seeing updates?

It's a release PREVIEW. You have to opt in to get it.

Ok so i am now really confused by this. I am on the fast ring and i have 10.0.14905.1000 and they just released this on the release preview 14393.103?? Why is the release number going backwards?

Its not. It's on a different branch but still moving forward on its own branch. Fast ring (RS2) is ahead of Release ring (RS1) and is moving forward on its own branch as well

You're on Redstone 2, this are cumulative updates for Redstone 1 (Anniversary Update).

Gotcha. Thanks! So RS1 and RS2...are they eventually gonna be brought together at some point? I am a little confused whats the difference between the two branches

Man, go back to production builds. Preview builds are not for you. Especially the fast ring that you are now on.

When Redstone 2 is deemed ready, it will go out to other users (first with you in Fast, then to Slow, and, as Daniel said, just before release to Release Preview). Because that's not for many months, users on Redstone 1 also need updates in the meantime (bug fixes, security updates, etc.). Those updates fall on the Redstone 1 branch. Redstone 2 had a big version number bump, leaving room for updates to Redstone 1 versions that are still all below Restone 2. Redstone 1 updates are still at a higher version number than prior Redstone 1 releases, but below Redstone 2. If it helps, think of RedStone 1 as Windows 11 and Redstone 2 as Windows 12. Fast ring people are currently testing Windows 12. You will get 12.0.1, 12.0.2, etc. Meanwhile, other users with Windows 11, are getting 11.0.1., then 11.0.2, and so on. Eventually, when 12 is ready, Windows 11 updates will stop and users will move over to Windows 12.x (whatever that final version is at release). Except that there is no Windows 11 or 12, instead it's 10.0.14393 and 10.0.14905. Does that help clarify?

Release preview ring is not on Redstone 2 yet. According to Daniel it won't be right until it's ready for release early 2017. So, we only have fast and slow that are on Redstone 2. Slow will be on redstone 2 after Microsoft gets out a few stable builds.

Does this fix the reply/forward/backspace problem in Outlook Mobile? It is really getting frustrating!

Nope, at least not for me.

Well, it seems only to affect my Gmail account in OM not my main MS email account... How strange.

It would be nice to release .82 for Production. Though maybe they're skipping it?

Guys I have noticed that the vibration icon has disappeared from the glance screen.Is that the case with you?

Vibration from Glance? What?

Yes, and the battery icon is gone as well. Including the ability to turn off glance during certain hours (you can now only set it to a "night color" (red,blue,..). The reason for these changes is that some developers at Microsoft had too much time on their hands and have decided to remove "less used" features of glance. That's according to a support engineer on the MS forums.

I have noticed that my battery life is marginally better, but more significantly, my Lumia 950 operates at a far lower temperature when running large apps such as Age of Empires: Castle Siege.

2 days ago when I tried pausing or stopping a download, it wouldn't. I hope that is fixed. I think VPN is also not working on RS1 builds.

I have a T-mobile Lumia 925. Best phone I have ever owned! But, I can't get the latest builds anymore and getting pissed about it. Done with Microsoft and their hardware. I have supported them far too much and have grown far too tired of their B.S. The new man in charge needs to find new employment!

So go android then, get a nexus 5, where you can get all the latest upda.. Oh wait, previous latest updates.. I.e. Buy. a. new. phone.

I'm enjoying my 950XL. The OS has matured greatly since I first got the phone. I'm glad I persevered.

Why does everyone get so upset about their antique phones and the hardware in them not being able to run the newest software???? Neither android or Ios does this but people expect MS to work miracles!

Either buy a phone with hardware not from 2012 or ... hack your phone and put RS1 on it. It's not that hard even.

Has anyone else's glance screen turned into a 2nd glance screen? My 640 will show the time, then a second later it will blink and then notifications will pop up. I saw that the glance screen now provides the detailed notification which wasn't previously available for 640s, but did getting that cause this problem?

Yes, I have the same issue. Now it doesn't move and I can't see the settings under extras since it won't open. Does this update fix that?

Mine still does it after this update. Another thing I noticed is that my screen no longer dims for those few seconds prior to timing out.

How in the world MS releasing big updates? My SP4 stopped reacting on any pen click - single, double, hold!

Action center with SP4 freezes at first start with AU. If you restart it works. Very strange and not yet solved

Yeah..got the update .. slow ring Insider ..Lumia 730..

Is next Tuesday reserved for public release on RS1 mobile?

I am update my Lumia 930 to 14905.10 but there are not a call recorder option ..... What a solution please

And still there is an issue with Bluetooth! Production build was fine until anniversary update. Now I don't get any notifications on my Garmin vivoactive HR. A known issue which clearly isn't on their priority list to sort.

Same here! I was looking forward to this build since in changelog there is mentioned that battery life of wearables is improved but the sync is completely broken. I don't get any notifications and when the connection between mobile and Band 2 is broken I have to reconnect it back manually when I come back...

Go to phone app settings and select "change more settings for phone", scroll down and you will see the audio routing option. select the audio routing option and turn it off if its turned on. otherwise, the problem will show up again. if you are still having the issue, turn off double tap to wake up and reset the phone again.

Thanks for the tip it was happening on my Lumia 650 sorted thanks.

Hi, sorry I don't follow, but I have this issue and I don't understand which setting you're referring to. Please explain where in settings I find this.

After update to 14393.103 L 540 more crash especially Facebook

I got the update on my Surface 3 on the Slow Ring this morning. So far I haven't found any issues.

Mine stuck at 30% . Or I am doing something wrong??

Loaded an update to my 640xl today. Now buggy in Gmail. Back space stopped working and emails won't send

Jump to fast ring insider and get Redstone2. That is better and smoother than the Anniversary Update. I am using 640XL dual sim and my version of Windows is 14905.1000

Known issue for TH2 on older Mail version. Is your app up to date ? Are you running the Anniversary Update?

Any tips for lumia 830 users

Why the **** am i using windows 10 mobo, my L730 is getting slower & slower..lol Posted via the Windows Central App for Android

Is Lumia 520 removed from insider program? Anyone knows?

Should be an official list somewhere on microsoft.com/support :)

Any Windows Phone with the older S4 based Snapdragon processor will not get Insider updates anymore. The performance was simply unacceptable on those devices. Time to move on.

Please guys , how is the battery life of this build on Lumia 730, my battery stat doesn't read 22 hours again, instead it reads 13 hrs. I have tried all the battery saving techniques out there, still no improvement. I bought a new battery and Am still getting thesame stat.
Windows Central Newsletter
Get the best of Windows Central in in your inbox, every day!
Thank you for signing up to Windows Central. You will receive a verification email shortly.
There was a problem. Please refresh the page and try again.