Windows 10 Mobile build 14977 rolling out for Insiders on the Fast Ring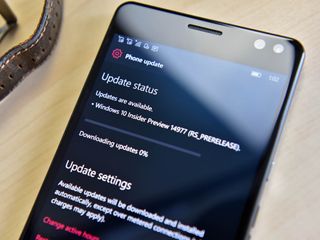 Another week, another Insider Preview build for Insiders on the fast ring. Today's build is 14977 and is rolling out for Mobile and features more bug fixes and other minor improvements over the preview build.
Today's build is only for Mobile as there's a blocking bug on the PC compile that would cause apps to stop functioning correctly.
Build 14977 is rolling out now for those on the fast ring, if you can't see the build just yet, don't worry, the update is still propagating throughout Windows Update and therefore may take a few minutes to show up. Microsoft has posted the full changelog, which is reprinted below.
What's new, improved and fixed?
Read EPUB books in Microsoft Edge on your phone: In addition to being able to read any unprotected e-book in the EPUB file format on your PC with Microsoft Edge – you can also read unprotected e-book in the EPUB file format with Microsoft Edge on your phone!
We've changed the rendering technology used for many types of UWP app content, so please provide feedback through the Feedback Hub if you notice any new visual glitches in UWP apps.
Alarms sent by 3rd party alarm apps will now break through Cortana's Quiet Hours – we appreciate all the app developers who logged feedback requesting this, keep it coming!
We've removed the top-level option in Notification Settings to disable alarms on the lock screen – alarm reliability is a top priority for us, and we've found this setting was frequently enabled accidentally, without awareness that it would stop alarms from waking the phone when the phone was locked. For those who still wish to enable this setting, it's will continue to be available under the per-app notification settings.
Notifications from Settings can now be customized or disabled – option is available under Settings > System > Notifications > Settings
We have enabled OAuth support for Yahoo Mail accounts. This will improve sync reliability for those accounts, and provide a secure experience while browsing your email.
We fixed an issue where disconnecting and reconnecting a wired headset while watching a video might result the audio no longer working.
We fixed an issue Insiders may have experienced where certain music apps would unexpectedly stop playing music after a single song.
We fixed an issue where closing a tab in Microsoft Edge, exiting the app, and then relaunching it would sometimes result in Edge opening to a blank page with the closed tab's web address in the URL bar.
We fixed an issue where the Start Settings page wasn't rendering when opened on external screen while using Continuum.
We've made a number of translation improvements, including, for French (France and Canada) speakers, fixing a grammatical error in the "Don't Forget!" text seen when shutting down the phone so it now says "N'oubliez pas", and for Chinese speakers, fixing an issue where the option to clear the Chinese Input Method Editor's input history was displaying in English rather than Chinese. If you see any other translations that aren't as you'd expect, please log feedback – we're listening! We fixed an issue where, if the setting to show notifications above lock had been turned off, booting the device and immediately checking the Action Center while the phone was locked could result in the Action Center not displaying any notifications after the phone had been unlocked. We fixed an issue Insiders may have experienced where the Camera app might not appear after using the hardware camera button while the screen was off or while on the Glance screen.
We fixed an issue where Bangla (Bangladesh) keyboard text prediction might stop working after entering character followed by a vowel mark.
Known issues
Please avoid attempting to install new languages, keyboards, and speech packs on your phone. There is a chance these downloads may get stuck and not finish downloading. If you have existing languages, keyboards, and speech packs installed – they will carry over when you update to new builds. You can use Windows Device
Recovery Tool to go back to Windows Phone 8.1 or Windows 10 Mobile, install any languages, keyboards, and speech packs you need and then update to the latest build in the Fast ring as a workaround.
Windows 10 phones with 8GB of internal storage such as the Lumia 550 and 650 will likely receive an 0x800700b7 error when attempting to update to this build.
System related notification toasts (e.g. Bluetooth, USB/Autoplay, etc.) do not work.
Windows Central Newsletter
Get the best of Windows Central in in your inbox, every day!
Zac Bowden is a Senior Editor at Windows Central. Bringing you exclusive coverage into the world of Windows on PCs, tablets, phones, and more. Also an avid collector of rare Microsoft prototype devices! Keep in touch on Twitter: @zacbowden.
I don't see "We fixed Live tiles, now they are updating regularly and working as they should" anywhere.

Well if they are not working then i wont download this build

Slated for Red (or maybe Pink) Stone 25.....

That's not something they need to fix which is why you don't see that.

I never had problems with live tiles.

Lets wait for the list of what has been broken in the mobile build 14977

Everything there is to know is posted here already. There is just 'known issues'.

That's Microsoft's error, not ours.

Microsoft has modified it, it's your turn :D

https://www.youtube.com/watch?v=WpE_xMRiCLE

maybe a quick side note on the page telling that the Lumia 650 is 16GB phone will help those who read this article :)

Btw, I hope this 8GB thing won't be permanent. It would be sad if my 535 wouldn't make the cut for RS2. I'll get a 650 in like two weeks (wanted a 950 or XL but not available at Vodafone as an employee device atm :/ ), and yeah, the 535 is 2 years old this month, and it struggles with installing new builds, because I have to uninstall every app from the internal storage every time there's a new one, but... Maaaan, I love that phone, because it's my first Windows phone, has a big screen, performs well, and looks good as hell with its orange back cover :D

It will probably end up with 8GB devices being dropped. After all, you have just reiterated your concerns. If you have to delete stuff to get updates done then I would guess 8GB won't be enough, especially when combined with 1GB ram. This post reminds me of one about 512 devices being dropped. The post ranted about being left behind when the OP said that W10 worked fine and it only crashed 3 or 4 times a day!

It's the old chip sets that are the problem W10M is very demanding and Snapdragon 400 as used by majority of older models just isn't quick enough, multitasking & demand's of W10M. Posted from W10M 650.

On my 535, crashes are surprisingly rare. Like 1-2 app crash every month. And it has a Snapdragon 200 and 1 GB of RAM inside it :D So the only bad thing about it is the 8GB internal storage. And unlike those who complained about being left behind with 512 MB devices, I actually understand that the OS needs to move forward, and at some time in the near future (if not RS2 than RS3), 8 GB internal storage just won't be enough to do anything. I just wanted to put my 535 on the fast ring after I get my 650 and kinda use it as a test phone, so this makes me a bit disappointed. Btw, I think RS3 will be the one that drops support for devices with 8 GB internal storage, because the 550 is just one year old this month, and has 8 GB too. And you know, I'm expecting a bit more update support from MS, something like two new main versions ( 535 - Denim, TH2, RS1, and maybe RS2 because the 550 itself - they're almost the same phone).

4-5 apps carshes atleast 5 times a day is common for me using L730 dual SIM. Apps including Outlook Mail, Contacts & Phone app(rare). Games like shadow warrior, Asphalt, subway surfers, Candy crush used to crash very frequently. Recently I went for 3 days tour and my windows GPS didn't worked properly. Wasted time exploring wrong places. Tried online solutions but it only worked temporarily, after somtime GPS shown wrong. I think App crashes r very common for moderate to high active users

Than I guess I'm lucky :D The only app that crashes and lags more often for me is Facebook, but I didn't include it, because that iOS port is still not good enough. But given how sh*tty it was at launch, it has already come a long way :D

i still use old fb, which is 1k times better than the new one.

I want the old one too. where can i get it from?

535 has a big screen? LOL

isn't that the last section of this article...

Known issues are listed on the bottom of the article.

Noticeable uptick in speed of update process this build. Almost complete on my Fierce XL.

I believe thats due to the rollout of the new update system with the previous insider build!

Still waiting for the idol to be supported on the wdrt

Am I the only one who's getting a little anxious that many major new features of Creators Update have yet to be officially released to insiders? Things like improvements for Continuum for phones, Windows Holographic shell and People Bar. We'll probably only get two more weeks of insider builds for the year and then Microsoft is off to celebrate Christmas/New Year, so I'm getting a tad worried that we'll get little time to test the new features before they release it in March/April as suggested by the version number (1703).

I'm worried that I won't be able to show off any new features when I go back to family over the holidays since some of my brothers and cousins are planning to switch to Android

At this point, WM10 is pretty much down to the fans. There's no use trying to 'keep' anyone from switching. The fans will stay anyways. I'm quite sure anyone still using WM today is genuinely interested in the OS. I seriously wouldn't use an Android phone even if I'm given one for free. Same for iOS. It's WM or I go for a feature phone :-) I'm just hooked on the OS lol!

I bought my missus a Huawei (?) P9 yesterday. Today she is back on a 950! She missed the glance, dttw, proper Cortana that works great, the simplicity of the UI and the general ease of use when on the road. I too had a play with the P9. Great device, couldn't fault it. Android is still a car crash compared to W10M. Considering the ram and processor are nigh on identical to a 950xl, it was noticably slower and no where's near as slick.

The P9 should have had dttw. At least my Honor 7 with EMUI 4.1 did.

Same here. I just like WP UI over iOS and Android.

I'm sure they have some kind of a Christmas present for the insider community :D

I'm speaking about a new build with new features, that they completed earlier, but will release it around Christmas. Not sure why the downvotes :D

Because this is WM community, everything gets downvotes.
Even this post of mine will

That's not how it works. They don't have secret builds that they preserve for some specific time. They produce builds everyday and they release those that are good enough.

Yes, indeed they do! A whole slew of Ms apps are being renamed, again.

Weren't we talking about pretty much the same things last Christmas?

Not likely due to Santa getting lost while using Windows Maps app ;)

Features won't be added until the core OS is stable, so expect things to pick up soon. I guess it makes sense. That's the response I got from someone in the insider team.

Can anyone confirm the size of this update to be 5.10GB? The WiFi available to me rn is very slow (100kbps), but I am able to access high speed 4G LTE cellular data. I tried to update via cellular data, and the warning stated that the download size is 5.1GB, which is almost 3/4 of my monthly data limit smdh

It only took me 3 minutes by ethernet. It did not show me how big it is.

Not sure of the exact size (not sure how to check) but it's definitely not 5gb. Mine downloaded very quickly.

I noticed that too and switched to wifi, but I cannot confirm. It does seem like a very large update, which would explain why 8GB phones would likely error out, as noted. EDIT: Others suggest it is not so big. Must just be my slow wifi? Best of luck to you.

I'm sure there is something about error on devices. It might be the 650 though, or it could be 8GB devices. They got things arse about face

Yep, my 650 is definitely encountering issues, and that's 16GB system storage. Hopefully there's a fix soon!

Daniel, Have you heard if there are plans for the people app to get back the social feeds like twitter and facebook in any future builds?

I wish but they seem to be moving away from this functionality completely. I really wish we still had a "Me" tile.

It's not depending on the OS, but on the actual Facebook and Twitter apps themselves. I seriously miss that integration, and it's sad to see that the what's new tab of the people app is fully blank for me now :/ So let's give fb and twitter feedback about this ;) And btw, an Instagram integration would be nice as well :D

One of reasons I switched back to 14393. FB still populates the What's New. I wonder if there is some coding stuff to work out between FB and the Fast Ring.

Microsoft would like to but the companies of Facebook, Twitter, Instagram would rather have people use their own app versus the People app . There is also a reason why most of the social media stuff don't work on the BB10 Blackberry Hub.
.
The idea that Microsoft and Blackberry had a couple years ago was great but the social media companies don't like it all

Slamx3 - Paul Thurrott believes it is coming back based on the new people hub functionality that is coming. It would stand to reason it would be for mobile as well but it was shown on the desktop. https://www.thurrott.com/windows/windows-10/85927/creators-update-marks-...

I can't no longer download update. My phone is stuck damn it.

I can use Pandora again! The one song and stop bug was driving me nuts!

I downloaded this build last night, early morning :) I tipped Windows central too :)

It wasn't released till today. Dona tweets just before it goes live.

So, no update for my 640XL with 8GB? I'll find out for sure soon!

Love updates but last night while checking storage space I noticed that system data is getting fat pretty quick. I only have the Starbucks app on internal as you can't move it to external storage. Everything else is 'system' and you can't move anything to SD card. I'm on a 640 so I will need to move up to something with 16gb of internal space soon. Cheers.

Yes the hope is that with Redstone 2 release, all new phones will have at least 16GB of internal storage.

No fixes for brightness toggle in action centre.

OMG why? What about notifications and tone alert for the messaging app? They disappeared with the last update

anyone with an old x20 series lumia on the fast ring?how is redstone 2 working so far?

What? I think the old Lumia line isn't supported

They aren't. But their owners like to fool the registry :D

only the Lumia 925, 930, 1320, and 1520 are supported for future builds. All others are stuck on Threshold 2 build 10586.
.
or even some people who haven't upgraded their phones yet are still on WP8

I don't believe it is supported on the 925 actually.

14977 is great on my 1020. Seems faster than RS1 most of the time. Did not encounter any real bugs up to now

none of the x2x devices are supported after threshold 10586 but yeah i live life on the edge and screw with the registry. thanks @milkyway , i might try it in a few days

I really hope this fixes the problem I've been having with text messages. I can't open messaging without it crashing, and opening individual messages shows a blank screen until it crashes. No luck substituting it with Skype either, as the settings app shows nothing under the messaging app drop-down.

Yeah I had that problem and I ended up resetting my phone back to production release. Right now I'm on build 14393 on my Lumia 950.
.
Also the Insider Fast Ring builds causes performance problems for people who use Continuum

How is Windows 10 mobile coming along? Been a few months now since I went back to Android, but I am keeping current on Windows 10 mobile. I enjoyed the OS but my windows phone was having signal issues and Verizon is limited in devices.

So that's why my alarm to wake up for work didn't go off yesterday... -_-

This happened to me today! Thankfully my gf's alarm did go off shortly after mine failed to. I find it odd that it only happened so close to the issue being fixed, what strange luck!

Since the last fast ring update my 640XL my brightness has to be on automatic as low, med and high are all 'high'. Also, the keyboard doesn't auto correct now. 😀 other than that it's generally been very stable. I still need a new phone though, just nit enough internal storage and SD card isn't the answer.

The 650 comes highly recommended from me. As long as you don't need it for games (weaker GPU than the 640 and 640XL), the OS itself on the 650 feels much smoother than my old 640.

There is no update on my lumia 640, Croatia😴

Updated my L640 successfully, Bosnia. 🙂

"If you see any other translations, that are not as you'd expect..." Lol, I'm on Slow ring, and the Settings menu as well as most MS apps are half in English, half in Danish, often mixing on the same page. Not to mention the Store, which is in all manner of languages, even for major apps, and has been since 8.1...

No update yet here NL, 20:25
Is the "need to go forward in time to update, exit fast ring, go back to today, re-enter fast ring" bug showing up again? Okay, update, somehow got on the slow ring... Changed to fast again and immediately found the update. My bad :)

I would avoid the move forward trick! Have you used it for any of the last two builds? If so you need to restore from WDRT before any further updates received. Pain in the butt

Good to see they're fixing issues on the OS, but seriously there's really nothing about improving the current build that we use on production for the 950 line. Occasionally restarts and then there's the dimmed screen bug after using WhatsApp calling. What MS needs to do is make these builds made for daily usage actually worth being used daily.

what? they're not for daily usage

There is speculation by some members here that it may not actually be that large of an update. To be confirmed...(not by me)

I downloaded over 50% in a couple minutes. My speed is not THAT fast, so I think the number is wrong.

I am inclined to agree. Although it did fail with the error mentioned in the article on my 650 :(

Even tho I think is awesome they keep fixing and improving the experience on our Windows Phone I think is time for me to move on, onto another platform after being a loyal Windows Phone supporter since win 6.5. What made me do this change is what Nadella said in respond to one or few of the shareholders of the windows mobile division when they asked what's the future of Windows Mobile.... It was a sad answer that didn't really addressed the question.... No more investment on Windows phone on my part and currently looking for an overpriced iPhone or a highly insecure android with app support that Windows don't have thanks to the wrong management by Microsoft

All he did was reiterate what has been the focus of the company for years now - keep fixing/improving Windows Mobile OS while offering their services to those users on third party OS'. Not sure what he could have said that changed your mind. He also said they are working on new mobile devices and will continue to support WM10 for quite some time. If anything, there has been more reassurance in the past month than in the past year or more.

What you do is your choice, but having used a P9 for a couple of days, I am not going anywhere. I refuse point blank to spend astonishing amounts on an iPhone. Nadella didn't really put a downer on it. W10M will still be developed and made available for 3rd party OEM's. As mentioned above, development of devices continues. Even our favourite lady on the insider team admits to using 'unreleased' devices. Are they Win Phones? One would hope so

I just tried to apply this update to my 950 and got the following error - mobile usa - error 0x08888ffff

I am trying to install it again now.

Just updated mine. No problems. Using it now. No error

Has your messaging app been okay before this update?

When does Windows Capture 3D get released for the Creator's Update? I'm really excited to try it out.

I'd come back to the insider builds if they could guarantee that the band notifications and Cortana worked the way they are supposed to, was sick of getting I'm sorry that feature is not available yet on my band whenever trying to use Cortana.

Not to worry... Just wait until your Band 2 quits charging and you need to send it back for warranty repair/refund. I just spent three hours over a 24 hour period trying to ge the help needed to return my 3rd Band 2 (I have extended warranty). Heck, my Band(s) haven't worked properly with my Fast Ring phone in the last 6 months. And Cortana sleeps more soundly than my wife on all the recent Fast Ring builds. I can yell at her, beat the phone, or whatever. So come on back to the Insider builds -- they make everything else that is wrong with the world seem just a little better.

Still no VoLTE support for India. My 950xl is nothing better than a Redmi note 3 when it comes to VOLTE.

I'm getting a restart error 0X800700aa on my HP Elite x3. Trying a retry now. No dice, still getting "we are having trouble restarting to finish the install."

Same problem here ,UK Lumia 950 😞

. . . . followed by an 0x800070002 error, which seems to have intermittently appeared in Builds before.

Yeah, same error Lumia 930. Did you solve yours?

So, for us 650 owners, what is the work around?

Problem with • Mobile USA - Error 0x800700b7​ ..what to do? :)

"We fixed an issue Insiders may have experienced where certain music apps would unexpectedly stop playing music after a single song." Yes!!!

"We fixed an issue Insiders may have experienced where certain music apps would unexpectedly stop playing music after a single song." Yes!!!


I'm currently attempting an upgrade on my 1020. We'll see if it works.

Up to 32% on my L950, so far so good.

Downloaded and currently installing on L950XL in UK

Mobile USA - Error 0x800700b7
On lumia650

Same here Lumia 650 dual sim

Hate to bring bad news, but from Microsoft's Insider Blog: "Microsoft Forum Moderator Support Engineer Hello Insiders, While attempting to install build 14977 for Mobile, you may hit an error: 8007007B. Unfortunately if you hit this error, you will not be able to install 14977. There is no workaround. You'll need to wait for our next Mobile build release. This issue does not affect all devices and there is no long-term harm from encountering it. The device will simply fail the install and boot back to your current OS build. We're already working on a resolution so all applicable devices may receive the next update.
Thank you as always, Jason"

My Cricket 640 updated without a hitch.

Cricket branded L650, same error here :(

Anyone else lose Bluetooth audio?

i just put my 950 XL on the fast ring last night and my Garmin Vivoactive HR won't sync anymore with bluetooth. I'm wondering if they messed with bluetooth.

"Could not finish the install" with the same error code as the prev comments. Lumia 650, Finnish CV. Now the downloading process started again from the beginning. Luckily I have wifi...

It just finished installing on my hacked 1020. I guess because it has 32gb of storage, it had no issue. I hope they have a workaround for the 650. I don't understand why X3 owners are having issues.

Hi Gamo62 - do you have the instructions on how to hack the 1020? Would like to try RS2 on mine. :-)

Just finished on 640xl and doesn't seem to be issues. 🤓 hasn't fixed the brightness issue though.

It's true! I didn't notice that because I kept the brightness in automatic (and works fine). But low, medium and high values show the same intensity.

HI, i too installed the update in my 640XL. But the apps in the store is struck at 510kb n i dont see any improvement in further downloading. I see this issue in certain apps like store,msn etc., plz help

Oh good, I'm not the only one! 😀

I normally keep my brightness on low to save battery and only put on high in needed situations.

When I'm sent a text message I won't know whether they have reached my phone since there are no sounds nor notifications since 14965. Also the brightness level is LOW for all toggles. Has this update solved any of these.
>Lumia 1520

I need the HP Elite X3! Although I must say that I am hanging out for a Surface THING 😀. I thought that the HP lapdock would be a deal breaker for me on the phone but I don't feel that way. I believe that the next version must have a better battery as that's one of the most important things and needs a touch screen. I don't even take my laptop anywhere now as I just use my 640xl with case/stand and the microsoft portable keyboard, of which I love. The 640xl internal memory and battery is a problem now, otherwise been an awesome phone.

Update went fine on my 735!

"We fixed an issue Insiders may have experienced where certain music apps would unexpectedly stop playing music after a single song" They must mean Pandora at least. That's plagued me for a while. What other apps were affected? The Spotify app and its background service have been woefully unstable. The 3rd-party Spoticast even points out when bugged scenarios occurred and when to restart the phone. I hope this update means better reliability. The Groove app has been rock solid. Even after a work day, the song I paused pulling into the parking lot of the office is still showing up in the volume/currently-playing drop-down screen. I want Pandora/Spotify/Spoticast to be that reliable!

Not showing up for me. Any suggestions?

Is there any one who can confirm me that in this build they fixed the lumia 540 bug that don't allow user to turn their screen on again if its turned on and off simultaneously
That bug kindda made me to ga back to stable build for number of times

Search the forums here. That is where I got the info.

My notifications are a lot better after the download 😀

AppRaisin & Windows Central constantly freezes & crashes on 14977, think is due to the new rendering technology used on UWP apps...

Yeah. I'm getting this too. Freezes when scrolling down, then sometimes crashes.

Did anyone try this update on lumia720?

I can verify that the third party alarm app Realarm now works with Quiet Time enabled on my 1020.

Guys talking of several restarts, I have never encountered a single restart on my low end Lumia 540 which is in the production ring. The only noticeable issues I have seen is a cellular bug which prevents data connectivity even if the data toggle switch is on, and unnecessary battery drain.

Reading emails and scrolling through them is incredibly slow and laggy (outlook app). I´m on a 950XL. I´m sure this is not normal behaviour because if that was the case any other windows phones with weaker processors would be unusable. I didn´t have this problem before the update. Anyone else with the same issue?

Lumia 650 is 16GB not 8GB as written in third bullet of known issues. However, error 0x800700b7 is coming while updating.

Updated yesterday.I only get the mobile version of this site even though I have desktop selected in the Settings for Edge. Is anyone else getting this? Do I need to delete the cache or cookies for this site? On the flip side, I can actually use the rich text editor to post this. I had to switch to plain text editor for the past 5 builds.

Has excel been crashing for anyone else? It's unusable for me.

I'm still waiting for that little app that used to work in 8.1, gestures lol.

I am rather not amused how many things break with each release. When will this ever stop? This OS as a service was a bad idea. I know how difficult software development is. You change one thing and another one breaks. But the amount of (formerly working) things breaking with each release (and this happens in slow ring builds too!) is too high. Here the 650 can't reboot because of 0x800700aa. Without any explaination on why. MS should work on its error messages and those cryptic numbers. Their own product should use the IErrorInfo interface where you can store in process, per-thread error descriptions for HUMANS to read. Error reporting seems to be still in its infancy even at MS.

Man, how many times do people have to say this: This is normal for insider releases since they are development releases. OS as a service is great with things getting patched up fast and features are added fast too. People just don't remember how slow things were.

Bugs are normal. Not being able to install it on a WINDOWS 10 phone? Unacceptable. Who signed off on this POS?

Just switch to Android, life is so much better once you do.

I have try to installing this build but give me this error log on my Lumia 650 brand new.
Mobile USA - Errore 0x800700b7

Try releasing some memory from ur phone. It will work. I have just now resolved it doing so

How much space approximately? Having the same issue.

Won't install on the 650. No work around. Besides waiting until Thursday, these pillars of the tech world didn't even test it on the newest Lumia. Idiots.

In the official windows blog it is stated that "Notifications from Settings can now be customized or disabled – option is available under Settings > System > Notifications > Settings". Can you find this option and, if so, can you provide some details about how it works?

Smooth sailing on my on 950.... Lovin it

Hi! Good to become part of this! I installed this version, but I still have the issue with the music playing, that stops with no reason. I am using Groove music, which, by the way, it very good. Also, I have had some big issued with the alar problem; I already got late to work twice because of this, eve with "normal" releases and not insiders... W10M Rules! Keep the good work! Cheers!

Few apps like WhatsApp, dictionary etc are not opening at all ... Is there any solution of this problem..

I have the same problem, do we have to wait for the next build?

I have also the same problems such as WhatsApp and Telegram can't be opened. This build is strange and we have to wait till they ready spreading the next build :(

Installed beautifully on my 95O and both mine and my wife's 640xl's.. No issues whatever Post the update.. Just goes from strength to strength.. Bearing in mind that I made sure I had the cleanest slate to begin with when going from 8.1 to 10... I.e. Updated then a hard reset then update again... Never ever have the issues (touch wood) that seen to raise their heads Post updates.... Lovin the Windows experience.....
Windows Central Newsletter
Thank you for signing up to Windows Central. You will receive a verification email shortly.
There was a problem. Please refresh the page and try again.