Windows 10 Mobile build 14977 failing with error 8007007B for some users
If you hit error 8007007B installing the latest flight of Windows 10 Mobile, you'll have to wait until the next flight, Microsoft says.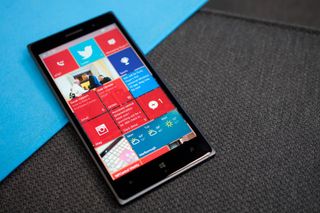 After weeks of waiting, Microsoft is now releasing a new test preview for mobile devices. This time the company is pushing Windows 10 Mobile build 14977 to the Fast ring with a small set of improvements and changes, and Microsoft Edge on mobile get support for epub file format.
However, some phones may get the error 8007007B, which causes the phone to fail to install today's update. There is a Microsoft community forum thread dedicated to the topic, which was known prior to the update going live.
Indeed, the same error was noted in the original changelog notes posted for the build's announcement. Microsoft said this error may be seen on devices with "8GB of internal storage such as the Lumia 550".
Microsoft explains that if you come across error 8007007B you won't be able to install this flight. Furthermore, the company notes that there isn't a workaround, and you'll have to wait until the next Windows 10 Mobile build.
It's also worth pointing out that this issue isn't affecting all devices "and there is no long-term harm from encountering it." In the case, your handset hits error 8007007B; the installation will simply fail, and the device will revert and boot to the previous version of the operating system.
Microsoft is also ensuring that it's aware of the problem and it's working on a solution for those affected devices.
Did you come across error 8007007B while installing build 14977 on your mobile device? Tell us in the comments below.
Get the Windows Central Newsletter
All the latest news, reviews, and guides for Windows and Xbox diehards.
Mauro Huculak is technical writer for WindowsCentral.com. His primary focus is to write comprehensive how-tos to help users get the most out of Windows 10 and its many related technologies. He has an IT background with professional certifications from Microsoft, Cisco, and CompTIA, and he's a recognized member of the Microsoft MVP community.
Yeah I had the same error on my 650

Yeah. Actually it's a 0x80001fff I think

See my newest comment on what I did to get the update. Got there error 6 times and it finally updated with no error on the seventh try.

It's worth a try. It couldn't hurt.

I tried, and it seems, it only downloads ~6 mb of updates and doesn't do anything else

I got the same error on my 950 and just tried a second time to install and it worked fine.

I've tried 7 times. I have to factory reset anyway

8th time is usually golden. Try once more.

With apps being removed from the store, factory reset is no longer an option as you won't ever get them back
Wait for the next build. I couldn't install 14955, so I waited for this one and it worked

I'm trying on the 950 for the second time.

Installed fine for me on 950 but still can't select text in edge sometimes.

I'm so glad I bought the Lumia 640. I have never gotten any of these errors, the update went though like a breeze.

My 640 is still stuck on 14951 even after a hard reset...

Mine is stuck on 14393 because of storage issues.

How dare they release beta software that's not release ready! Pitchfork time? Pitchfork time.

Uh, this isn't even at the level beta software should be at. Hell, even alpha software works.

You haven't developed software, have you? Of course that's how Beta software works..
Alpha = adding new features
Beta = mostly or all feature complete, but existing bugs that might hold it up from being a release candidate. At least, that's how we thought of builds in the videogame industry.

Operating systems are a bit harder to develop than fart apps.

Jesus Christ, my point is that fast ring isn't beta software. Why do you have to make it blatantly obvious you are an idiot?

Actually, the fast ring is closer to alpha so this is totally expected and normal.

Sir plz update the latest version 640xl

Windows 10 .14955.556 and upgrade version lunch plz sir my handset model 640xl

Plz upgrade version launched out of public 14955ya65.......

BETA = Best Effort Try Again.

Don't join the insider program.

But then there wouldn't be anything to moan about....

Installed fine on my 1320. Weird that phones like the 550 (that is designed to actually run W10) could encounter issues.

You mimicked to be 930 or something higher.. So, it worked!

So then wouldnt that be the fix?

I don't have a device listed and had no problem in my 950. Previous 2 builds were a little difficult, but this one was quick and painless.

My l640 does not get any update and i dont get any error...it says my update is up to date...I am on 14965...

Check your insider preview ring settings?

I bought a 650 on black friday sale specifically for testing out fast ring builds. I will have to give it a try after I set it up.

Hold one! Try next build..so many reporting it is not working in 650

Same here. Bought 3 650's one for Fast ring and trwo spares I'll keep in boxes should I have a problem with my 950 down the road.

Do you have two batteries in your car, just in case?

Just roadside assistance.

"Windows 10 Mobile failing with users"​ Fixed it for ya!

The19thD0CT0R failing at humour.

I have the 640 xl and It downloaded fine I think its just and issue if your storage is almost gone.

So. It won't install on my 650 w/16gb, but installed on my wife's 640 with 8gb AND my hacked 1020? Really?

Same errorcode is on xbox when failing to reach internet connection or connect to xboxlive.

I got error code 0x8024001e on my 640XL, which has 8GB.

See my newest comment on what I did to get the update. Got there error 6 times and it finally updated with no error on the seventh try. Give it a try

Have 550 got this error 😡

No problem on the 950 :) I just love this phone

Hoping to get a 950xl for Christmas. Told everyone to give me cash, visa gift cards and ms gift cards hahaha

There is hope. I got this error when my Fierce XL went to restart. 6 times I tried with the same error. On the seventh time it restarted fine and updated! Persistence pays off. I noticed all the times I got the error I let the screen time out. The last time I made sure all apps were closed, the update page stayed open and kept touching the screen making sure it did not time out. Then it came up with no error and hard the restart button. Tapped restart and it updated fine. Might not work for you but it's worth a try.

Tried that. No go on my 650 with 16gb. So, 8gb updates fine, 16 does not. WTF?

That did not work on my 650. Oh well.

Not your fault. thanks for the suggestion.

Now im getting 0x80240013. My lucky day!

Try what I did to get the update. See my other comment.

OK. It's installing now. Here os what I did on my 640XL with 8GB: 1) deleted excess apps installed on "device memory", namely Facebook and Facebook messenger, 2) closed all other apps, that's really it. It looks like I'm in!

I'm gonna have to factory reset my phone

It's insider version,workaround will come,stop whining some of you

950, 950xl, 640xl all updated no errors.

Mad Cabbie, curious, with this Fast Ring on your 950s... do you still have NFC Tap to Pay along with MS Wallet still working?

I got an update today to the slow ring. Haven't seen that reported. Where do I find out what's new?

Got it on my att L640 without any issues...

640xl updated no problem 👍

I HOPE THEY CHANGE EDGE ON THE DESKTOP SO I CAN OPEN NEW TABS TO AT LEAST MY HOME PAGE CAUSE RIGHT NOW ITS FAR TO RESTRICTIVE SO DONT USE EDGE.

Installed, 950XL its perfect, installed it on 535, issues and issues.

Just updated my Lumia 640, Only issue I had was the SD card needed to be scanned for errors. My device is an 8 GB device so I don't believe its just 8 GB that is the trigger. I think it has more to do with anyone who did the time and date trick,

They need to sack Donna for good. She's not doing a good job.

You sir/madam, are an idiot.

Bluetooth is not working on my 950xl and just bought some headphones. I'm tired of wp, I'm about to by the android Alcatel idol 4. Peace out!✌🏾

did you try resetting it?

Forget it, I even factory reset my phone, and now i got that error message

Why did they release it, if this was a known issue, before going live?

Because it's an Insider build and they all contain bugs. Why should the rest of us wait, and Microsoft wait for our feedback, just because some users can't install it, especially when they don't know how long a fix will take?

That's what happen when you bug the engineers to release new build. They get to release build with bugs. Give them their time to work people.

I have both 950xl & 1520. I get a message saying that your phone is not connected to wifi. Please connect to internet & try again. Although when I connect through mobile internet i can see the update download message but unable to do so since it requires wifi. Caught between a rock & a hard place. Anyone else experiencing this? I can browse the internet, though.

Nokia Icon No issues, two Phones.

Same here on my Icon. Needed a restart before Wifi or Map app worked, but after that, just fine.

If only the internet existed so you could search for information like that.

I take it, you are an avid reader of books.

Many apps that weren't able to move to sd card, now move "except Microsoft" gave me 2.8 gigabyte available space. Lumia 640xl download problem free.

Lumia 540 Wi-Fi not working properly.

Did your lumia 540 updated to 14977? Without any errors?

I've been stuck on 14946 with the same error code. I gave up.

Started right up on my 950.

Why the size of update is 5.10 gb

Luckily, no issues on my phone, 950xl

It works fine on my Lumia 640.

Error also on my 650. Little unhappy because previous build is instable with lots of randomly crashes started almost week ago. Didn't install new apps, only added pictures in people which were gone since a few updates ago, and marked photo's as favorite so they would show on livetile.
Considering leaving fast ring unfortunately.

L640 0x800700aa error here :|

No installation issues on my L950, camera bug seems to be resolved (the one where pressing the camera button launched the camera app, but didn't unlock the screen). Another bug is still present, and that's the one where pressing the unlock button brings up the lock screen but the screen is unresponsive, so you can't unlock the device, you have to lock and then unlock it again, then the screen responds to touch normally.

Free your space. Uninstall WhatsApp,Instagram, Facebook and other heavy apps and re download. I have L640XL. The update is running well on it

I have this error since 14951 and so forth...lumia 1520

Strange how when I'm stuck at an airport yet again that I think of Microsoft, "fixed, broken, wait". Those 3 words resonate through these forums constantly. This is the very reason I decided enough is enough. To quote from Microsofts recent questions and answers session "we recognize other platforms in mobile that have higher shares and we want to make sure our software is available on that" A very weak answer and one that holds endless boundaries, alongside admittance that perhaps we have blundered into our own territory with our own products with our eyes firmly closed, however, we are sure our products will live on elsewhere and we will endeavor to make sure that they work in the future. Indeed this is so, all apps made by Microsoft work exceptionally well on Android and Apple. They are updated regularly and work as they should. There are those who can't wait to reply to this by saying there's no security on other platforms and that Windows 10 shines through, nothing digital is secure, nothing, it's by its very nature that its vulnerable, if you need security you pay and download the best you can find and hope that it's enough, there's nothing more you can do. If you miss the windows ecosystem, ie, live tiles, simplicity etc, on Android you download a Windows launcher, the one I use is much more customizable and clever than their own rendition, furthermore, the tiles update to the here and now, not something that happened weeks ago bearing in mind that this is their own creation. Windows 10 will always be beta so expect the unexpected.

Glad to have that off your chest?

My mobile Lumia 630 never shown such error because while I am installing windows 10 in the phone update it shows that my phone is upto date and last checked 2 seconds ago

What is the problem with u guys why don't you fix such problems I am bored with this outdated mobile Microsoft always sucks in such problems I want my mobile to be updated

Did anyone try on Lumia 720?

Failed once on 1520 and installed on the second try

On my Lumia 730 installed smoothly without any errors

Same with my Lumia 735, no errors .

No errors on the L640 I use to test fast ring builds on.

I was getting an 800070002 error on my HP Elite x3 for several hours yesterday afternoon when it would download and install but couldn't restart and didn't update when I manually restarted. But by last night, it went through and installed fine.

Weren't these updates supposed to be incremental. As in not having to download the entire build, only the fixes? If so, then why a 5gb file for this build?

Yep having to uninstall everything on internal memory each build is starting to really p*** me off

Nope i have updated successful on 730

Me too. Work well for both 950 and 950XL.

It won't install on my Lumia I keep getting the message there was a problem with it and its unable to install some updates

L635 failed.
L640 worked, but skype preview and most apps now crashing on run.

So. Why they wait until Thursday is the question. Release it early in the week, so that there is time to make the necessary fixes.

Build downloaded on my 650 several times but unfortunately couldn't install ☹

I have the hp elite x3 and it wont install it downloads installs it then when I press restart I get the error in yellow writing telling me to try again ive tried about five times still wont restart to install. I did a reset and it went back to downloading and installing but wont restart.

I encountered the errors the first two times I tried to download on my 950XL. it worked on the 3rd attempt.

Nokia Lumia 830 here, no issues installing/running 14977.1000

Hopefully they will fix this load of crap build. Exactly why you don't release them on a Thursday!

I have been out of the windows mobile testing versions and my phone is been running beautifull no issues, my big question is why microsoft do not run windows 10 pro on the phones?

I am still stuck on 14393 because of my 8GB device and the only thing that that is left on it are MS apps and the OS.

Should I be happy the latest update won't load on my phone? Personally, I live in fear that it will after reading these comments, I really like my phone.

After the ****** update i lost all my whatsapp images from gallery,,wtf is dis??? Ny1 else facing same issue ,,plzz reply wid sum help!!

I had the same prob after update to build 14977 on my 640XL. I had to rolled back to W8.1 then later enroll to the Release preview to get W10 with Build 14393. That is the only solution to the Build 14977 prob. Need to wait for new Build release on fast ring. Hope they make it fast.

Big issue in this build for non-UWP apps - they no longer work!!! All the WP8 apps I wrote or have downloaded (which have always run perfectly on WM10) now just get stuck at the loading screen showing a clock icon or 'loading...'. And when they are in loading the state the battery drain shoots up - I left my custom weather app on the loading screen for about 15 mins to see if it would actually start and it used about a quarter of my battery - no exaggeration. Strangely this has only just started happening for me in the last couple of days despite 14977.100 being installed over a week ago.... how can this suddenly be happening?

flashing chinese ffu works for me

Not only did I get the 8007007B error and the update fail to install, but it also buggered my Lumia 1520 10 ways from Sunday! As another commentator has pointed out, 50-80% of non system\Microsoft apps now fail to open (the dreaded "loading" screen). But also the battery indicator is now throughly unreliable. After a Soft\Hard reset some of the few remaining non-system apps that were woking can't even be installed ("this app is not available for this phone"). A lot of the system resources (light auto-light adjustment, installation) are slightly wonky; just not quite working 100% regularly. Until the next update, Microsoft has essentially turned my device into a glorified Feature Phone!

Unable to download on Lumia 650

I've got 800700aa Lumia Anyone know if that is same issue?

Can any one tell me what's the Update Size? I am now on 14965.