Windows 10 build 16362 now rolling out for Insiders in the Fast ring (Skip Ahead)
A new PC build for Insiders in the Skip Ahead ring is rolling out now, bringing with it new enhancements and changes for Redstone 4.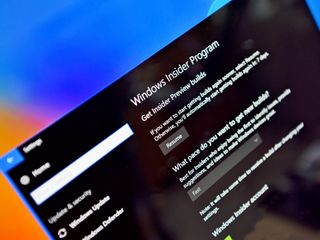 (Image credit: Windows Central)
Microsoft is rolling out its second Redstone 4 Insider Preview build to Insiders on PC in the Fast ring today. The build in question is 16362, and is packing a few new noteworthy changes and enhancements. Let's see what's new.
What's new?
Improved Boot Experience
Use sign-in info to apply settings after a restart or update: Building on our work seen in Build 16251, if you stay on the lock screen for a few seconds before signing in, you will now see your lock screen personalization (such as Windows Spotlight, and/or status information from Cortana, Calendar, Mail, and more). As always, you can customize your lock screen experience using the settings listed under Settings > Personalization > Lock screen.
Opt-out: Under the Privacy section of the Sign-in options page of your Settings, you can disable and re-enable using the option show below:
Narrator Improvements
You can now select the desired audio channel for Narrator speech output! Simply go to Settings > Ease of Access > Narrator and you'll find a new option to do this at the top of the "Sounds you hear" section
Windows Shell Improvements
We fixed an issue where minimized app windows on mixed-DPI monitor setups might end up drawing offscreen after your PC resumed from sleep.
We fixed an issue where if you changed your display language preference to something other than the machine's default then any app which did not take an update while also getting the updated language resource package from the Store would end up continuing to display its tile in Start in that default language rather than the new language displayed within the app and other system UI.
We've updated the Action Center to now use "AM" / "PM" when indicating timestamp with the 12hr clock format, rather than "a" / "p".
We fixed an issue where using the letters in Start to jump to different locations in the alphabet wasn't consistently working in the last few flights.
We fixed an issue where when the People button was present in taskbar, and toast-only banners (for example from Outlook 2016) were sent, the Action Center badge counter would become inaccurate.
Microsoft Edge Improvements
We fixed an issue resulting in multiple apps crashing in the previous flight if you tried to log into the app using Facebook.
We fixed an issue where pasting an image to Imgur.com from your clipboard wouldn't work.
We fixed an issue which could result in uploads failing on some sites, such as Behance.net.
We fixed an issue resulting in drag and drop onto websites intermittently not working.
We fixed an issue where Microsoft Edge would crash after choosing to pin certain websites to Start.
We fixed an issue where a tab could get in a state where it displayed a tab preview thumbnail even though your mouse wasn't hovering over the tab.
We fixed an issue where website tooltips could end up displaying behind the Microsoft Edge window after opening a link in new tab in the background.
We fixed an issue for certain websites where after watching an embedded video full screen then using Esc to return to the page would result in the video controller no longer being visible.
We've updated editable fields in PDFs to now have a subtle color to help indicate that they're editable.
Gaming Improvements
We fixed an issue resulting in Ghost Recon: Wildlands not starting in recent flights since the Easy anti-cheat component wouldn't load.
We fixed an issue resulting in Train Simulator 2017 failing to launch on recent flights.
Input Improvements
We fixed an issue where the Pinyin IME's emoji picker wouldn't load in recent flights.
We fixed an issue where the Emoji Panel's tooltips could become mixed up.
We fixed an issue from recent flights resulting in precision touchpads potentially dropping gestures after coming out of sleep.
We've made some adjustments to address an issue resulting in sudden and brief CPU spikes where you couldn't move your mouse. If you've encountered this, please try it in this new build and let us know if your experience has improved.
We fixed an issue where when using the Chinese (Simplified) handwriting panel InputPersonalization.exe could get into a state where it would unexpectedly have a continually high CPU usage.
Other changes
We've updated the Run dialog so when hold Ctrl + Shift then click OK or press enter, it will run that task or program elevated, just like how it works in Cortana.
We fixed an issue where the Windows Defender Security Center app icon was missing in taskbar when the app was open, as well in Start's all apps list. You will also notice that the icon is now un-plated in the taskbar.
We fixed the issue where USBhub.sys was causing spontaneous reboots due to bugchecks (GSOD).
We fixed an issue where the battery flyout might incorrectly show "PC not charging" while the device was changing in recent builds.
We fixed an issue where fonts using shortcuts would become unusable and disappear from the Fonts folder.
We fixed an issue where upgrading to recent flights would fail if you had a speech for a secondary language installed.
We fixed an issue from recent flights resulting in some Insiders experiencing an issue where Store apps would begin to fail to activate after being launched a few times.
We fixed an issue where your PC might not go to sleep automatically after remoting into it and signing out of the remote session.
Windows Central Newsletter
Get the best of Windows Central in in your inbox, every day!
Zac Bowden is a Senior Editor at Windows Central. Bringing you exclusive coverage into the world of Windows on PCs, tablets, phones, and more. Also an avid collector of rare Microsoft prototype devices! Keep in touch on Twitter: @zacbowden.
No list of what's broken huh? Interesting.

That's the name of the game. Skip ahead at your own accepted risk, but don't know what's broke until you do either.

Looks like I might finally be able to update past 16257 (16273 and 16353 both failed at 11% and rolled back). I won't be able to get onto it straight away though as my place has a planned power outage today.

If it doesn't update, try temporarily disabling non-MS services prior to restarting. That's been an issue for me for some time.

Well it got past the 11% mark at least. However, it still ended up failing at 33% with KERNEL_SECURITY_CHECK_FAILED GSOD and seemingly took my existing installation with it. I could still boot into 16257 but I then started running into one issue after another with modern apps not launching, UAC prompts either not showing up at all or locking up the system attempting to show them and Task Manager oddities (showing 100% CPU while everything in that column showed 0% use). Ended up reinstalling off a Creators Update USB so I can no longer pop into Skip Ahead to check if it was a one off issue. :(

I havent been able to update either it starts then green screen of death and rolls back to 16353 tried it twice. wont try again until i see whats going on

Anyone else having installation issues? Mine keeps failing on this update :(
Windows Central Newsletter
Thank you for signing up to Windows Central. You will receive a verification email shortly.
There was a problem. Please refresh the page and try again.