Windows 10 build 17083 now available for Insiders in the Fast ring
Build 17083 for Insiders in the Fast ring is rolling out now with a plethora of new changes and enhancements.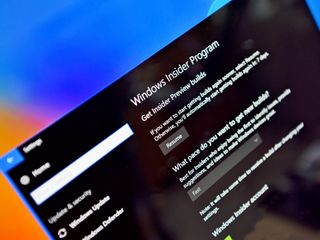 (Image credit: Windows Central)
Microsoft is rolling out a new Insider Preview build for those in the Fast ring today that bumps the Windows 10 build number up to 17083. Today's builds includes more enhancements and changes to Quiet Hours, the Windows Shell and more.
What's new?
Settings
Font Settings and Fonts in the Microsoft Store: Fonts are an important asset for your visual creativity. In this build, we're introducing new experiences for managing your fonts in Settings, and for acquiring additional fonts from the Microsoft Store.
The Diagnostic Data Viewer is a Windows app that lets you review the diagnostic data your device is sending to Microsoft, grouping the info into simple categories based on how it's used by Microsoft. To get started, navigate to Settings > Privacy > Diagnostics & feedback. Enable the Diagnostic Data Viewer Toggle and then click the button below to launch the app.
See your UWP app version numbers: We've heard your feedback, and in addition to the other work we've been doing on the UWP app settings pages in Settings we've also updated them to include the app version number for easy reference. As a reminder, the easiest way to get to the app settings page for a particular UWP app is to right-click the app in Start and select More > App settings
Timeline
You've told us through the Feedback Hub that you want us to make it easier to delete activities from Timeline. We agree that deleting multiple activities is cumbersome, which is why we added the option to delete everything from a given hour or day from the context menu. When you are in the default view, you will see a new "clear all from day" option when right-clicking on an activity. If you clicked "see all" to see activities for just one day, this option changes to allow you to "clear all from hour" instead. Because this option can clear a lot of activities at once, we will ask you to confirm this choice before deleting the activities.
The second change gives you more granular control of the privacy of your activities. A new setting allows you to sync your activities to the cloud for a seamless cross-device experience. You can enable "Let Windows sync my activities from this PC to the cloud" in the settings app, or you can enable it via an option provided at the bottom of Timeline. Until new users enable this setting, Timeline will only show four days of activities. (If you are upgrading from an earlier WIP flight, you may not see this option as the setting is already enabled.)
Windows Shell
Quiet Hours gets a new name and more! With the expanding feature set in this area, we will now be calling it Focus Assist. Speaking of which, you can now also switch between the three Focus Assist modes by right-clicking the Action Center icon in the taskbar.
Making Windows Hello setup easier: We've made it easier for Microsoft account users to set up Windows Hello on their devices for faster and more secure sign-in. Previously, you had to navigate deep into Settings to find Windows Hello. Now, you can set up Windows Hello Face, Fingerprint or PIN straight from your lock screen by clicking the Windows Hello tile under Sign-in options.
As always, you can check out the complete changelog at the Windows Blog!
Windows Central Newsletter
Get the best of Windows Central in your inbox, every day!
Zac Bowden is a Senior Editor at Windows Central. Bringing you exclusive coverage into the world of Windows on PCs, tablets, phones, and more. Also an avid collector of rare Microsoft prototype devices! Keep in touch on Twitter: @zacbowden.
Focus Assist is such a horrible name wtf

From the same people that thought renaming the photos app to story remix was a good idea :facepalm

Those same people obviously thought that the name Quiet Hours was stupid so they gave it a completely different name that actually is stupid.

Quiet Hours was such a good name and even Blackberry and Android are renaming their's to that name as well. Too bad MSFT doesn't want to make features easy to understand for basic people.
.
Focus Assist will only add to the confusion when Quiet Hours/ Silence Mode is on Android and then you can't find that on Windows (in the future)>

Eh. I don't like it, but I'll get used to it. "Quiet Hours" wasn't that great either.

It is right in on track with MS' 'rename something perfectly fine to something stupid every quarter' project

It does line up with O365 and the My Analytics stuff though. They make a lot of reference to focus time there.

Yup. WTF is a "focus assist"? It's more obscure and confusing than just calling it quiet hours. Bad move by MS.

I assume we are getting closer to the next release of W10, maybe March?? Is this build now pretty stable and usable?

Previous one would green-screen my surface once a day. Had issues starting apps regularly, especially OneNote. This version breaks the LastPass app.

"We fixed an issue that could result in Windows getting stuck on the rebooting screen for a long time." This cannot be understated.

Focus Assist is a horrible name.

They need to change back to Quiet Hours.
.
Plus even Google thinks that is such a good name that they are renaming their "Silent Mode" to that in the next version of Android.

"Starting with this build, we're taking Sets offline as we ready RS4 for release" As expected, Sets will only be released with RS5 (If it gets released)

Honestly, I purchased Groupy (software doing the same as Sets) and I'm not really using it so personally not bothered that Sets isn't scheduled for RS4...

I disabled it, because I never felt the need to use it, and wasn't going to keep the ugly UI for something I wasn't even using.

Yes, Android is getting a new version soon. And Apple will likely release something.
.
Blackberry is not selling phones anymore and Microsoft doesn't even care about Windows Mobile either.

Focus assist? What the heck? How will ordinary people understand this?

I'm sending feedback to return 'Focus Assist' to 'Quiet Hours', pretty sure I'll get upvoted to the skies if someone else hasn't done it already

I suggest the person that came up with the idea to rename Quiet Hours to Focus Assist to kill him/herself

There's also a TON of changes/improvements for WMR. I can't believe they didn't mention any of it. The things I immediately noticed are the new "Places" feature where you can change from "Cliff House" to "Mission Control". New settings option under Headset for "Performance Optimization" that allows you to force 90Hz and all visual improvements(which makes a -huge- difference in image quality). I'm so tired of MS wanting their great projects to fail by not pressing every improvement they make.