New Windows 10 Build 9879 improves OneDrive, adds native MKV support and more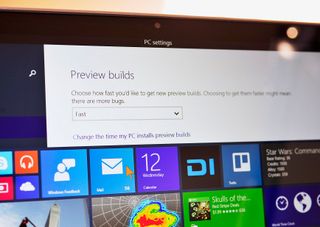 There's a new Windows 10 build available for those in the Windows Insider Program. Build 9879 is available and brings a handful of new features. You can now hide the Search button or Task View button, there are three new gestures and much more!
Here's what is new in today's Windows 10 build:
Ability to hide or show Task View button
Ability to hide or show Search button
New minimize and restore animations
Three dots in Windows chrome replaced by 'hamburger-style' icon
New Trackpad gestures: 3 finger up -> Task View, 3 finger down -> show Desktop, 3 finger flick to left or right -> switches to previous app, 3 finger move left or right -> Alt-Tab appears, 3 finger tap -> Search
Selective sync available in OneDrive, you pick what you want synced to your PC now
Interoperability focused Edge rendering engine in Internet Explorer available to 10% of Insiders
Native MKV support, including thumbnail and metadata support in File Explorer
Continued UI refinements, including some new icons
New Insider Hub app for those in the Windows Insider Program
This is a nice update to Windows 10 and all those using it via the Windows Insider Program. The new Insider Hub app will be a destination for you to get all the latest news and announcements regarding the program itself.
We're grabbing the update now. How about you?
Source: Blogging Windows
Please remark about the known bugs its introduced. See neowin's report, but among them: -Black screen while logging in requiring a reboot
-Can't connect to a distributed file system network
-Skype calls disconnect and music stops when minimized Just want to spread the word! Update with care!

For the first two, there will be an update from windows update very soon. For the other problem, no updates. Source: http://blogs.windows.com/bloggingwindows/2014/11/12/new-build-available-to-the-windows-insider-program/#comment-12271

This is a developer preview, it shouldn't be used on an everyday system. They did warn people of this.

Yes. I'm not complaining, and im well aware that there are issues. I don't have a problem with what is effectively an open alpha having bugs, I was simply asking Windows central to add something that I believe would be helpful for people to know before updating. They're obviously under no obligation to do so, but I imagine its good to know.

Well said! It is also good to confirm issues you discover. I mean, someone who is experiencing the issues you mention will probably feel good to see someone else has discovered the same thing, on either same or different hardware configurations. Even better is to report that back to Microsoft if you want it looked into.

DFS bug must be fixed before I deploy on my network, we use that extensively.

This is the last build for 2014!! No!

I want to see it on the Windows phone

Me too! But I truly wonder if my 1020 will be able to handle it! And while I understand why Microsoft is replacing the three dots with the hamburger style...I wish they didn't :/

Expecting equals for wp10 :)

Great update, except for that 'hamburger-style' button.

Yup. The hamburger icon blows.

Yet its been part of the Xbox One for a year now. No idea why everyone is suddenly bothered by it...

Wonder how much of the original Metro UI is going to remain by the time its done.

good point. the world didn't receive the minimalistic metro design with open arms. I wonder how much they will evolve it. They're prolly conducting hundreds of surveys right now on GUI alone. windows on our phones implements it much better than windows on the pc and tablets. We'll see what they come up with lol

Is it because it's a menu shortcut? Why are we thinking menus have no place in metro, would it look better in a circle perhaps, is that the problem? =/

Anyone have any idea how big the download is? I'd like to download it RIGHT NOW, but the bandwidth at work is...less than plentiful. I could just wait until I get home, but I'm an addict.

Took about 15 min on my 50/50 connection here at work

50/50? I have a slowly 7 mega adsl!

Just started downloading it and was about to come tip you guys ;-)

If the 1st update would've installed yes

What about back and forward gestures (i.e web pages) are they present?

Is it worth updating on a Surface Pro 3 yet?

I don't beleive it includes the Continuum feature yet so probably not. That's actually what I'm waiting for before installing on my Surface Pro (original, not the fancy 3 that you have) :-)

awesome, Final build will be super awesome

should've have left my laptop on before coming to work....

Whats up with Daniel and the hamburger Icon.... most people hate the menu, not the icon. I don´t get why he still insists that it is because of the icon, that people are flipping out. Apart from that, downloading!

I hate both. It's ugly and completely un-innovative. But whatever, people will just call my opinion complaining.
I still don't see a good reason why they would ditch the the dots...

Guess its part of their drive to appeal to ios and android users as its placed where they are used to.

iOS doesn't feature a hamburger menu. AFAIK it even is against the iOS7 Guidelines?

I'm ok with the Hamburger icon, but yeah I don't like the menu implementation of Charms. I suggested before that it should show the at least 3 Charms button, Share, Devices and Settings. The 3-dot button also needed to be shown for revealing command bar.
Another thing is to show the Fullscreen button beside Minimize button, I don't get it why they're hiding it.
For me they show always show the Charms button for discoverability, many people still don't know they existed on Windows 8.X so this the chance. They don't look clutter to look at anyways, its just more cleaner version of Quick Access toolbar in Office apps.

The Hamburger icon roll out continues

+10 - Hamburger button sucks ... Should be a down arrow (like the taskbar's up arrow)

And more... Microsoft should patent this headline along with Resuming

Hmm...says no new builds. Still stuck on 9841

You have to be "fast" to get it.

Hope they fixed some application compatbity problems. A few Windows Programs I have/use will not even run on WIndows 10....32 or 64... They run fine on 7 32/64 and same with WIndows 8.. That is why I have been holding off using Windows 10....I'll download the update and try my apps again..

Might I ask which ones won't work? I've got a few that don't work on Windows 8.1.1, not to even mention Windows 10. Mine are mostly old games built for 98 to XP though.

I cant even print on my HP, for the first time in years i actually downloaded drivers and even then, i still cant print. =(

What do you mean by "printing" and why do you need to "print"? Sounds very 1992 to me.

Looool comment of the century!

Hopefully this fixes the miracast issue with the last build

Could this be enough to use it as a daily driver? Posted via the Windows Phone Central App for Android

I wonder if this fixes my audio connection problems or my weird wireless issues. For some reason while I'm on WiFi it'll drop and switch the icon from WiFi to an ethernet connection even though I'm only using WiFi? As for the audio am I the only one whose audio randomly crashes and won't fix until I click troubleshoot?

My brother had the same problem, just make sure that your drivers are up to date as that fixed his problem.

The last build removed the resolution restriction for apps, they'll now open on my netbook which previously couldn't run metro apps. Very happy!

Selective OneDrive Folder Sync returns. Yey.

It was always selective. You can (could) just right-click any folder in your Onedrive and select "Make Available Offline". Now you only see the folders that are actually on your computer, and not the ones that are "only" in the cloud. A huge step backwards, in other words.

i agree with this - 8.1 was a great way to see all my files and quickly download one i would need once every now and then, it's a step backwards now! they should keep it as it was before and have an option to only see files that are available offline in explorer...

Yeah this is worse, ahhh why?!?!? It was perfect before. My wife would fill up her SSD and all she had to do was right click something in onedrive and temporarily set online only to get a little extra space without having to do major space management.

Still no changes to desktop ui/ features except a adding two buttons on taskbar. At least allow desktop icons to show notification number like WP/ios/Android. Ms is so slow. Not much of an improvement. Nothing much to be excited about windows 10 like lucky ios/mac or android users.

I'll download when I get home :D

No, no fu*king hamburger style button! That's horrible! Should be a down arrow (like the taskbar's up arrow)

I am not getting the new build. I am on the fast ring.

Why the freaking hell am I still not getting the update.

Hamburger icon/button is the new black

Now, I like all of these, don't get me wrong. But I thought the menu icon was moving to the 3x3 square grid. I think I'd like to see that more han the hamburger. But that's just chrome. Can't wait to give this a shot when I get in.

Question about OneDrive sync...can I have a "Photos" folder on my computer and a "Photos" folder on OneDrive and I can have them sync to have the same files?

I do this by routing my folders to OneDrive. Just right click on the folder and change the location to the OneDrive folder of your choice. Then, by default anything you save to that folder is really going to a OneDrive folder.

Will that work in reverse..if my photos from my phone are linked to my OneDrive photos folder will they be saved on my desktop?

If you choose to have the folder available offline they will.

Big update...MS is now using elephant ears to listen to users feedback

NOT MORE BLOODY HAMBURGER MENUS! PLEASE!

Hoping an enormous change comes to WP after the announcement Of windows 10 for phones , in market share and apps and games quantity and quality !

Anyone else have wierd issues with the wifi UI? I have been since the first first update to the preview. Instead of just opening the charms bar it opens in a window.

Uhm thats because they changed it in the last update.

Can you give a shot? I was waiting for it to be changed to window.

Installing now! Looks like some good additions, but I'm trying waiting for tablet friendly version. ​

Wasn't mkv support bundled in the previous build?

Yes, but it gave an error that it was not supported but played anyway.

​ As far s the hamburger button fires, we need to get over it. I view it as a positive change. We have all seen the comments from the trolls that "everyone hates the tiles." Not so. What spheres likely struggled with was a complete unfamiliarity with the UI. What Windows Phone needs is a little parity with the other platforms. No one can argue that the new interface for OneDrive on WP is a case in point. It is easier to navigate now, especially for someone moving from another platform. We can still have our Metro and that familiarity, too.

Can you be more specific how it is easier now? The hamburger menu in the OneDrive app on WP is useless. If the user wants to see the shared files, he would tap on "shared" or swipe to "shared". Why would he tap on the menu icon and than on "shared"? The problem that the current app introduced is that they replaced the word "shared" with a people icon. So the hamburger menu tries to solve a problem that it created in the first place! Please, someone explain it to me, I'm really curious how this is better.

I personally don't care one way or another, but I am a tried and true Windows Phone "fanboy" for lack of a more PC name. I actually found the old organization of the app slow and a little disjointed. It was easy to accidentally back out of the app completely and the heirary was not so obvious. But again, I had no problem with it. I just find the present form easier for ME to use and you won't change that by calling it worthless. My comment was more about those moving to WP from other platforms. We can sit here as WP purists and bitch and moan that we get no respect and that others don't realize how special our OS has become. However, there are those who find it difficult to move from their staid, boring, menu-oriented OS. Making it harder for new converts to love what is truly magical about WP (Live tiles, smooth operation even on entry level hardware, etc.) and focusing instead on our "hatred" of the hamburger button when the entire web is moving towards using that graphic (it is just a picture for crying outloud) makes us seem like the outliers we must truly want to be. I find it fascinating that everyone else has moved to more "flat" renderings by copying WP. The fact that someone who is mired in menus finds it difficutl to understand swiping is simply a fact. We can either adjust the platform to make its use more intuitive, or sit in our lonely corner telling the 97% that our UI is spectacular and they should lump it. Windows Phone goes beyond these elements, and like it or not (and I suspect the fair weather fans will not) with windows 10 likely much of this will all change, so buckle up and enjoy the ride. You know the "fans" I am talking about. The "If this doesn't change I have had it with WP and my next phone will be an Android/iPhone" fans.

I like hamburgers... Found Civil 3d and Revit slowing down one day and getting faster the next. Weird, anyone else testing CAD programs on Win 10? BTW this is on a test system and not my production machine.

I was able to play mkv on the last build, but I had to say the extension was safe.

This extends by adding "Play To" DLNA support on those media types.

MKV support, about freakin' time. What about .flac?

Typical Microsoft: As Google and rest of tech UX designers abandon hamburger-style menu buttons due to user confusion, Microsoft begins implementing them everywhere.

Exactly. And they don't solve the real issues yet in Windows 10 TP. I'm aware it is still a preview, but why bother to change an icon? Is this the solution to the Charms Bar on desktop? I can't believe this. And some apps like OneNote now have two hamburger menus. Good luck with that!

Yes. Google moves away from the hamburger and instead of copying more closely their own well thought out Windows Phone UI and improving it, they copy what Google is abandoning. Have they lost their minds?

The build download went quick enough - the forced download of my 700GB Onedrive, not so fast. Why on earth did they make THAT stupid change? The folders you don't select for sync are no longer visible in the File Explorer, forcing you to go to the website to download the files. Wow, what a huge step backwards. I hope they backtrack on this, or at least make the behaviour configurable... https://windows.uservoice.com/forums/265757-windows-feature-suggestions/...

Classic Microsoft move. One step forward, two steps back.

Native MKV support needs to come to Windows Phone.. very good update anyway

Please add native FLAC support

If the check is set to SLOW the checker does not discover the new build. Is it set to FAST it does. Download seems to be alright but when I try to install it/INSTALL NOW there is a error code - Cannot install - try again later. I decided to reset the checker to SLOW and wait until the next preview build.

Is there a keyboard shortcut for this Task View?! i want to use it without mouse as app/Desktop switcher. Or even an shortcut to switch to another Desktop?!

Isn't it Windows + Tab or ALT + Tab?

Exactly. I much appreciate the windows 8.1 explorer view on OneDrive where you always see all folders and files but can choose for each of them whether they are stored locally as well. I hope this will return to windows 10. Integration of version history to Windows 10 for OneDrive would have been a more welcome feature.

I have no caps, scroll, or num lock lights on my keyboard buttons work but no lights. I'm running a dual boot with 8.1. The buttons and lights work when I boot to 8.1.

You mean a borked OneDrive?

I'm gonna buck the trend and congratulate MS on releasing the is so quickly, providing an easy to use feedback interface and continuing to improve our

How is this an improvement to OneDrive? The cool thing about how it worked with the placeholders was that I saw *every* file before downloading or syncing it. It was brilliant! And now they totally killed it. I can't be the only one who thinks that Windows 10 is 2 steps back from 8.1.

can anyone tell me that how much of the memory the update takes...

I noticed a subtle change. There may be a few more but this is the 1st one i saw...There's a new battery icon on the lock screen.

The network fly out has too many steps to get to. Also, there is some lost functionality in UI apps if you have a touch screen. Whatever, the floor was so irritating that I uninstalled it.

Several steps in the wrong direction for Onedrive, but hopefully that'll be fixed in a future update. Being able to see every file - Online or Offline - is important I think. Other than that I am quite impressed with the overall quality of this technical preview. [EDIT] Typo

As far as OneDrive is concerned, this is not an improvement, but a major set-back. What is this, Windows 7 and we are in 2012???

My laptop sucks, it says it's missing stuff and goes back to the previous build... Oh, well =[

Improved OneDrive??!!?!? I completely lost my ability to save documents to OneDrive by default... That page in PC Settings says that some options are managed by your system administrator!!! The OneDrive app is completely gone! And when I do manage to find it, there is a message that your system administrator has blocked the use of OneDrive!!! I am the freakin' system administrator!!! When I get all of that to work through GPEdit and Regedit, I'm able to toggle the "Save to OneDrive by default" button to ON but it reverts back to off once I exit the settings page and the OneDrive app now says "This location can't be found. Please try again later"!!! What the hell????

"your system administrator has blocked the use of OneDrive" SAME THING HERE|!! WTF. usless build!

Yep I'm blocked too you guys figure it out?

Really hope Microsoft is reading these posts. The new OneDrive configuration is not working for us! If this has anything to do with MS's new support for DropBox and if this where they are going I am not happy...

btw does charmbar work now? it doesn't work for me since the initial preview, on the first preview update it still didn't work. (yes it's enabled by the checkmark in taskbar properties) but none of the edges brought that bar. keyboard shortcut to show the charmbar however works

It is availiable only with touchscreen.

Big problem after I update from fast. My laptop now can not start got error
2001: HDD0 (Hard disk drive) initialization error (3)
Press to continue Now I totally can't use. How to solve it?

I just rolled back. All of the new features are nice but I really dislike what they've done with OneDrive and have come to rely on that Smart Files feature. I hope this is not what they release in the final build of Windows 10 unless there's something to give us back the great features they just dumped. Being able to use OneDrive as a default storage location and have applications use it like native storage has been nice and something that I do not want to let go of.

improves OneDrive?? more like rpaes it and leaves it bleeding at the side of the road.

It does not improve OneDrive; it cripples it for people like me who keep everything in OneDrive for all my devices. Now I cannot see my files except by going to clunky web page nor can I attach to Microsoft Mail. It still works in Word but with unfriendly numbers for folder names. Very bad and totally unnecessary. I see no reason for the removal of the Modern App. At least I could have used it to see my files. It seems Microsoft is determined to destroy Modern Windows instead of just giving the dying Desktop Dinosaurs the features they need. I was all for that but why penalize the rest of us?

onedrive integration is horrible! I understand this ia dev preview. But onedrive as is currently on 8.1 is PERFECTION! Microsoft if you are reading this. Leave onedrive as is. Dont touch it.
Windows Central Newsletter
Thank you for signing up to Windows Central. You will receive a verification email shortly.
There was a problem. Please refresh the page and try again.