Windows 10 cumulative update build 14393.479 rolls out to production ring on PC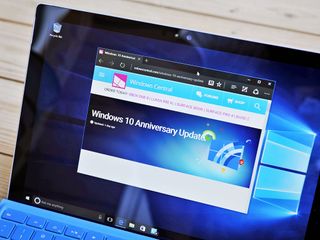 Microsoft is rolling out a new cumulative update (opens in new tab) for Windows 10 Anniversary Update users on the production ring that brings more bug fixes and under the hood improvements. The update is question is titled KB3201845, which when installed brings the build number up to 14393.479.
If that build number sounds familiar, that's because it is. This update rolled out to the Release Preview ring last week, and is now finally rolling out to the public. Here's the full changelog:
Improved the reliability of mobile device management (MDM) disenrollment, Distributed Component Object Model (DCOM), Peripheral Component Interface and PowerShell.
Addressed issue that causes excessive battery drain if you have a Chinese Input Method Editor installed and use Windows Hello to log in.
Addressed issue with OLE drag and drop that prevents users from downloading a SharePoint document library as a file.
Addressed issue with Super Floppy-formatted fixed media devices that are not recognized by Windows 10 Anniversary Update or accessible in Windows Explorer.
Addressed issue that causes the System Center Configuration Manager (SCCM) client to fail installation when a device is re-imaged using the SCCM task sequence.
Addressed issue that causes the loss of optional component (OC) state information, including all Hyper-V virtual machines, after upgrade.
Addressed issue that causes Windows Explorer to display information that's inconsistent with what's stored on the Floppy disk.
Addressed issue that, after connecting a shared CD/DVD-hosted drive with no media inserted, causes some of the commands, like DIR and NET USE, to hang.
Addressed issue where customers cannot use directory cache sizes greater than 64 KB.
Addressed issue where Windows Explorer sometimes does not prompt for credentials when a user logs on using a Microsoft account.
Addressed additional issues with application compatibility and Internet Explorer
The update is rolling out for the public on PC now, so make sure you check for updates if you're not part of the Insider Program!
Thanks for the tip, @A_Deerslayer!
Windows Central Newsletter
Get the best of Windows Central in in your inbox, every day!
Zac Bowden is a Senior Editor at Windows Central. Bringing you exclusive coverage into the world of Windows on PCs, tablets, phones, and more. Also an avid collector of rare Microsoft prototype devices! Keep in touch on Twitter: @zacbowden.
Super floppy disk - just about sums up this update. Seems this update is more or less based for Enterprise users.

Downloading it now in the UK. Let's see what it fixes.

Downloading it now in the UK. Let's see what it fixes.

There are some rather curious fixes in this release. I don't think some of these issues existed in previous versions of Windows, so I always wonder what underlying changes went in to Win10, like the CD/DVD and floppy issues. Also, Super Floppy Drive? Isn't that the old LS120 drive? I think I still have one of those sitting around, somewhere... probably next to my ZIP drive.

I still have a ZIP drive as well. I do wonder sometimes what they are really fixing.

I'm hoping it'll let me download Gears of War 4 from the store. I can't get past 40 GB.

Installed in Chicagoland but it doesn't appear that the stuff in the changelog applies to things that I do on my Surface 3. Not a complaint. It's nice to see the updates coming. Wonder if another is on the way this coming Tuesday.

I have installed this update on 6 PCs and it has gone fine, but it seems that this update killed my parents' wi-fi connectivity on their laptop, so they called me this morning freaking out after fighting the issue for a few hours unable to figure out how to fix it. It seems there are quite a few people impacted by this issue. The fix is pretty easy with an ipconfig /release command and ipconfig /renew command in the command prompt, as explained here: http://www.myce.com/news/users-around-world-lose-internet-connection-win....

Heh, I just walked my parents through the same problem. Windows Troubleshooter is basically useless and Command Prompt saves the day.

Edge is buggy sometimes. Tabs don't close, browser doesn't close, freezes sometimes etc. I don't see other very notable bugs at all.

Agree. They should address this ASAP.

Installed it. My floppy drive finally works without hiccups. Good update.

Agreed! Now I can finally get back to storing my movies on 3.5" disks.

On Friday? Where are these patch Tuesdays? 😛 Hehe great!!! Keep the updates coming!!!

Tuesday patch is for Public/Non insiders in most of cases but not this time.

I hope it fix the issue where the screen goes blank for few seconds like turning off, but not off and turn back on like screen flash and also connectivity problem with WiFi, because my have for some time now be misbehaving.

.57X build is for tuesday patch mobile

And this you know how? And .57X? Should be .47X I'd guess

Anyone else find it ridiculous that you can't download or update apps whilst Windows 10 is downloading a software update? I thought they fixed this pre-anniversary update or did they break it again? Give us the option of pausing and resuming these updates for a small set of time!

Issue with Skype UM. "Phone Not connected" WP 10 connected until update.....This stinks hope they fix soon, love this feature need it back.

Wow, I can't comment on the last time I saw a Floppy Disk and what's funny I am writing this (having just checked to see)with a Floppy Drive in my Dell XPS 600(Yep, it still work like a charm and is as heavy as a volkswagon) some folks are still hanging with it and to their credit they are getting support.

Freezing on ssd is back for me after this update :(

Recently updated, Edge Browser is amazingly faster than Mozilla & Chrome(which is slower than both)
but it crash once. [ off: Windows Central should have to make their site as same as CHROME/MOZILLA on EDGE BROWSER ]

Another year and it will be as stable as Windows 7 is... sigh, I sitll deal with minor bugs and crashes on my Windows 10 machine but, as I dual boot with 7, that OS is solid as a rock. It's nice to see progress tho..
Windows Central Newsletter
Thank you for signing up to Windows Central. You will receive a verification email shortly.
There was a problem. Please refresh the page and try again.