Windows 10 launch rolls through India: Everything you need to know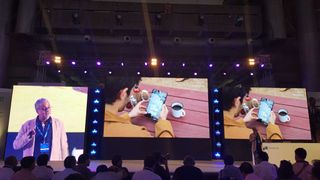 So, yes, it's here finally. Like in other cities across the world, Windows 10 was officially launched at a big fan event in New Delhi, India.
While Bhaskar Pramanik, Chairman, Microsoft India kicked off the celebration urging everyone to upgrade to 'Perfect 10', Vineet Durani, Director for Windows at Microsoft India, was high on energy through the day. Durani was talking to media persons, getting photos clicked with Windows Insiders, and presenting a fine demo of some of the new features in Windows 10.
All Microsoft employees, wearing blue 'Upgrade Your World' tees, were super excited and didn't miss out a chance to have quick chats with people like me asking for thoughts on Windows 10. Some of them also broke into a dance when the DJ prompted them to join in the celebration (Check out this Vine).
The event featured experience zones around different capabilities and facets of the operating system, and also showcased a lineup of upcoming Windows 10 devices in the market. You can check out some photos from the event here.
Availability
Of course, the Windows 10 upgrade has been trickling to the users since midnight on 7/28 for users who had reserved the upgrade in past few weeks. Tell us if you've upgraded already in our poll here.
According to Durani, the upgrade would roll out to all the users in the coming weeks. If you still don't have the prompt to upgrade, hang in there or use an ISO to install manually or this hack to manually trigger the update.
While Windows 10 is available as a free upgrade for all Windows 7 and Windows 8.1 users, there are a lot of users on Windows XP and some on Windows Vista who will need to buy a Windows 10 license. Add to this a lot of new machine builders as well as folks running pirated versions of Windows as yet, and now looking for setting things straight with a genuine license.
Microsoft has now announced the pricing for Windows 10 – full edition, not the upgrade. Available as Windows 10 Home and Windows 10 Pro, the editions can be purchased from the Microsoft Store (opens in new tab) for ₹7,999 ($125) and ₹14,999 ($234) respectively. The purchase allows you to download and install Windows 10. A boxed edition with Windows 10 on a USB drive is not available yet, and would come at a later date.
Windows Store
So, you've got Windows 10. The next step of course is getting your favorite apps. The new Windows Store in India got live yesterday along with the global launch, allowing you to download and buy your favorite apps and games. The new version of the Windows Store will allow you to buy apps and make in-app purchases via carrier billing later this year. Carrier billing is already available to Windows Phone users via 100 carriers across 57 markets representing a reach of 3 billion mobile subscribers. This is a pretty good news for a lot of users in India since the credit card penetration in the country is still pretty low, and of course would provide a big revenue boost for app developers.
While no official announcements were made yesterday, I've learnt that several partners in India will have their Windows 10 universal apps available soon. The list includes Saavn as we announced earlier, and Zomato, MobiKwik, BookMyShow, Jabong, and Gaana.
While Saavn is a great win and long awaited by Windows users in India, the others have warmed up to the Windows platform already. It's just a transition to a universal app with more Windows 10 features and/or integration. I did take a peek at the Saavn app on Windows 10, and look forward to its launch later next month.
Cortana
While Cortana is available for Windows 10 users immediately in China, France, Germany, Italy, Spain, United Kingdom, and United States, it will take some time for the digital assistant to make its way to India.
At the launch yesterday, Vineet Durani confirmed that Windows Insiders in India will get Cortana for Windows 10 in the coming weeks, and it will take another few weeks for regular consumers to experience Cortana on Windows 10.
Devices
At the event, there was also a showcase of Windows 10 devices. I've compiled a list of those on the show and few others. These Windows 10 machines would be available soon in the Indian market. Some of these are already available, and would now come packed with Windows 10, while some of these are variants of existing devices. It's pretty interesting, and I'm looking forward to several devices by Indian OEMs.
Usual disclaimers apply. Some of the specifications might change when the devices are released. Also, some of the stock images here have devices with Windows 8.1.
Indian OEMs
Globalspace Solt 10.1"
Processor: Intel Baytrail-T (Quad Core) Z3740D | RAM: 2GB | Storage: 32GB eMMC | Display Size: 10.1" 1280x800 IPS Screen
Connoi PalaceHill – TPH402
Processor: Intel Atom Z3740D Quad Core Processor | RAM: 2GB | Storage: 32GB eMMC | Display Size: 10.1″ 1366 X 768
Notion Ink Cain 8
Processor: Intel Bay Trail Quad Core Z3735F Processor | RAM: 1GB | Storage: 24GB eMMC | Display Size: 8" IPS 1280x800
Micromax Canvas Lapbook LT1161
Display: 11.6" | RAM: 2GB | Storage: 32GB
Lenovo
Lenovo Yoga 2 Any Pen
Processor: Intel Atom Z3745 Processor | RAM: 2GB | Storage: 32GB eMMC | Display Size: 8" Full HD (1920 x 1200) IPS display
Lenovo Yoga Tablet 2
Processor: Intel Atom Z3745 Processor | RAM: 2GB | Storage: 32GB eMMC | Display Size: 10.1" IPS LED LCD Touch (1920x1200)
Lenovo Yoga 300
Processor: Intel Pentium Quad Core | RAM: 4GB | Storage: 500GB Hybrid | Display Size: 11.6" HD 1366 x 768 anti-glare
Lenovo Miix 3
Processor: Intel Atom Processor Z3700 | RAM: 2GB | Storage: 32GB eMMC | Display Size: 10.1" IPS LED LCD Touch 1920x1200
HP
HP ElitePad 1000 G2
Processor: Intel Atom Z3795 Processor | RAM: 2GB |Storage: 128GB eMMC | Display Size: 10.1" WUXGA (1920 x 1200) with Corning Gorilla Glass 3
HP Pro Tablet 608 G1
Processor: Intel Atom x5-Z8500 | RAM: 2GB | Storage: 32GB eMMC | Display Size: 7.86" FHD QXGA display with Corning Gorilla Glass (2048 x 1536)
HP Elite x2 1011 G1
Processor: Intel Core M | RAM: 4GB | Storage: 128GB SSD | Display Size: 11.6" HD BrightView IPS ultra-slim LED-backlit touch screen
HP Stream 11
Processor: Intel Celeron N2840 processor | RAM: 2GB | Storage: 32GB eMMC | Display Size: 11.6" HD anti-glare WLED-backlit (1366 x 768)
Asus
Asus Transformer Book T100
Processor: Intel Bay Trail-T Quad Core Z3740 | RAM: 2GB | Storage: 32GB eMMC | Display Size: 10.1" 16:9 IPS HD (1366x768)
Asus Transformer Book T200TA
Processor: Intel Bay Trail-T Quad Core Z3775 Processor | RAM: 2GB | Storage: 64GB eMMC | Display Size: 11.6" 16:9 IPS HD (1366x768)
Acer
Acer Aspire One 10
Processor: Intel Atom Z3735F Quad-core | RAM: 2GB | Storage: 32GB eMMC | Display Size: 10.1" WXGA (1280 x 800)
Acer Iconia Tab 8 W
Processor: Intel Atom Z3735G Quad-core | RAM: 1GB | Storage: 32GB eMMC | Display Size: 8" WXGA (1280 x 800)
Summary
That's that! If you're still debating if you should upgrade or not, read this epic Windows 10 review by Daniel Rubino. Tell us how your upgrade went and your Windows 10 experience as yet.
Can't upgrade till NVIDIA updates the gefore430 drivers to be compatible with W10...

I would still download the .iso file from Microsoft. Should make the process sooner at the end when you can upgrade. Regarding the driver update, there should be a patch soon.

I have no problems with my nvdiA card, it's a geforce210. Windows 10 runs pretty much fantastic.

You sure Windows 8 drivers don't work on Windows 10?

The current Windows 8.1 drivers work with Windows 10 flawlessly on both my GeForce G105m and GT 520.

How about the geforce 920m. I can't find the compatibility report.

did you check the website, i was able to find drivers for GT540M

It's still downloading in the background...

My HP laptop is not awakening from sleep and also it is not shutting down completely after updating to windows 10.Please Help.I have posting this post whole day but nobody seems interested at me... Please help

My surface pro 2 wouldn't sleep either. I did a full refresh after, which might have worked :)

Update/re-download all the system driver provided by the manufacturer and try and run them in compatibility mode. If nothing works, just reset it and do a clean install.

Wen In Miami? Still waiting for Windows 10! :D

Is that HP Pro Tablet 608 G1 available in the states?

Wen? Now. In B4 "WEN WINDOWS 11 in EENDIA?"

Can we expect specific rollout news like this for other countries? "Why for India?"

I believe that since there was a launch event held in India, hence this news is covered.

Because Satya Nadella is Indian

Unable to fix the problem of start menu as critical error message @Abhishekbaxi

I show tray icon but update notification not see in window update....

Try the hack on the command prompt for manually triggering the update...it has been covered here recently in WC...search for it

If my FIFA 15 will still work on windows 10, I'll upgrade happily. Can anyone tell me if ur still work or not. There was an issue with windows 8.1.