How is Windows 10 on the Lenovo ThinkPad X1 Carbon (2015)?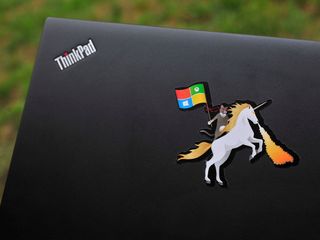 My go-to laptop these days is my Lenovo X1 Carbon (2015). Sure, I use the Surfaces (Pro 3, 3 LTE) and Dell XPS 13 often too but when I need to get work done, I go to the X1 for a few reasons.
First and foremost, the X1 Carbon has LTE built in, which I use on AT&T. Being able to work everywhere, anytime is kind of important for my needs. Next, it has probably the best keyboard and trackpad I have used on a laptop. Oh, and that fingerprint scanner is awesome. Finally, it is thin, light, and it just works. Having said that, I do wish the display was of higher quality. It works well enough, but it is on the dim side and I have seen better.
I have been running Windows 10 build 10240 on my X1 Carbon for a few weeks now. So, how is Lenovo fairing so far with drivers and performance?
Very good, actually. Starting a few weeks ago, I noticed they had a few Windows 10 drivers already on their site. Seeing as the OS was not yet released and their System Update app was not yet configured, I had to install manually these. However, last weekend, I noticed the System Update app starting detecting Windows 10 and over the next few days the computer began to add full Windows 10 drivers for all aspects of the hardware.
Since then, Lenovo has also updated their Lenovo Settings and Lenovo Companion apps. Both of these are Windows Store apps. Since they are not traditional x86 apps, they do not install under Startup, do not modify my registry, nor add any weight to the system. All in all, they are pretty good. If I do not like them, just a simple right-click, and they are gone.
Battery life for my X1 with Windows 10 has been pretty much the same as when it was on Windows 8.1. That is, it gets okay performance – maybe 6.5 hours. I wish battery life were better than that, but thankfully my trusty X1 can quick-charge by 50% in just 30 minutes. Plus, I can now toggle Battery Saver to squeeze a bit more juice when I need it.
Other than that, I have had almost no issues. The built-in fingerprint reader works flawlessly with Windows Hello (see our hands-on demo), and the OS sleeps and resumes with ease.
The one issue I have seen on occasion is the LTE option found under the Network Settings quick toggle sometimes disappears. This glitch prevents me from turning the LTE on or off directly from the Action Center. To fix it, I dive into the advanced settings for Cellular and 'Update settings' for Mobile Operator. This trick then brings back the toggle, and I can get online. It is a tad annoying, of course, but something I expect to be fixed shortly.
Overall, Lenovo has done well with their 2015 X1 Carbon. Of course, I presume this for a few reasons, including the fact it is a 2015 model and runs just shy of two grand. So far, from my experience newer, more expense hardware is getting the principal treatment from OEMs. I much prefer Windows 10 on it versus Windows 8.1 and could not be happier. You can manually install the X1 Carbon drivers from Lenovo's website:
Lenovo ThinkPad X1 Carbon drivers (Type 20BS, 20BT) (opens in new tab)
Are you using a Lenovo laptop? How has your Windows 10 update experience been? Let us know!
All this week, the Windows Central staff are sharing their Windows 10 update experiences. Expect other articles detailing the same for the Surface 3, Dell XPS 13, Dell XPS 27, Samsung ATIV Book 9, and more!
Daniel Rubino is the Editor-in-chief of Windows Central, head reviewer, podcast co-host, and analyst. He has been here covering Microsoft since 2007 when this site was called WMExperts (and later Windows Phone Central). His interests include Windows, Microsoft Surface, laptops, next-gen computing, and for some reason, watches. Before all this tech stuff, he worked on a Ph.D. in linguistics and ran the projectors at movie theaters, which has done absolutely nothing for his career.
No, but I'm running the same OS on a very old Samsung laptop that requires to be plug in order to run (lmao) and it works flawlessly ;)

I'd still back away from the new Auto-Scroll and On-Screen Display drivers. They killed my Start menu for a week.

What's the big deal with having LTE onboard a laptop when my phone works as a hotspot? I just don't see the need.

Simple. Integration and I do not need to kill my smartphone's battery. Nor do I need to tether it to charge. Personally, I hate (absolutely hate) using my phone as a hotspot. It's like just a crappy way to get on the internet as opposed to, I dunno, opening the lid on my laptop. Plus, I'm going to make a wild guess that throughput and bandwidth are better on an integrated modem than a wireless tether (less chance of interference). Sure, if you need to get online for a few minutes, a hotspot is fine. If you are working for a few hours? Nah, screw that. There's a reason why people buy these things.

I tether my Surface Pro 3, its just on click on internet sharing, and its 4G so it's quick. And it's secure against those shared internet connections (which always give warnings about lack of security). Yea, it's personal choice, but tethering is awesome. Just saying :)

Choice is good, which is why Lenovo is awesome. You want built in LTE? Add it. Don't want it, don't add it ;) I just dig how my X1 is configured exactly how I wanted. Although, I would have liked to try that $800 PCIe option O_o

Also, talking on a tethered phone while surfing the web is not the most desirable...as the phone melts in your hand. I think Data only devices get priority on networks as well. For example my Netgear Hotspot pulls in LTE where my phone only has 3g. Also nothing like a real laptop keyboard.

W10 (upgraded from W7) so far so good on my X1 gen 3 but not seamless. Good to see that Lenovo came out with Companion and Settings apps so fast, although it seems some Lenovo stuff has been doubled up (eg I have 2 screen overlays for Caps lock etc). LOVE the fact that I can swap Ctrl and Function key functions - always hitting the Fn key was a problem. Also love the USB charging port that works even when the machine is off. Great for the road and it actually puts out a decent charge. One question: There do not seem to be any drivers for an Ambient Light Sensor and nothing shows up under Devices, but the Lenovo app has a setting for auto screen brightness. I have this set to on but no brightness changes seem to happen automatically. Does this machine actually have an ALS?

Ok good argument. I guess choice is a good thing. On a side note my Lenovo T420s didn't go as smoothly and quick on the update to Windows10. It took a while for sound drivers and things to start working. But now its all good. I bet if it had an SSD it would have been much quicker. Haven't tried the fingerprint scanner on it for Windows Hello yet.

Hah, I have an old T420s that I need to upgrade. Could be interesting.

I'm not sure why someone wouldn't want LTE. Unless you never leave your house. It's great!

I love LTE, but being on Verizon, bandwith is slightly more valuable than gold. If I could get at least as good of coverage and the speed of my Verizon data from another carrier I would switch in a heartbeat. But so far, no one hase come close. One day, data will not be the overpriced mess it is in the States, but until then, I can only dream of just using LTE for all my data.

For me it's the other way round - I don't mind setting up my phone as a hotspot and plugging it in if I'm going to be online for a long time. It's just being able to quickly jump on for a few minutes throughout the day that makes built in 3G so much easier.

There is no need, it's more of a want as Daniel explained. It's just more convenient.

I agree, but I surely don't use laptops for extended period of time outside. In any case I always use my phone Hotspot to connect my tablets or laptops, for example when I travel my son is always connected to my hotspot most of the time for hrs at a time unless I don't have or will not have access to power during that time.

"I agree, but I surely don't use laptops for extended period of time outside."

Sure, but we're talking about

my

laptop here, lol. I do use it away from WiFi and need LTE often at events.

The problem is mainly of inconvience where the most is really the need of picking up the phone to enable internet share and then connect. Once you don't need to pick up the phone to establishe internmet share and a connection ... problem solved. Once MS solve nuisance like Apple did with the IPhone 6 and iOS/OSX the incovinence is pratically none. That is, open the lid and bang the PC automatically enables internet sharing on the phone if no wireless connection is found. I think Apple does this by having the Mac making a bluetooth "call" to the phone or something similar to enable internet share automatically or upon user command. No need to pick the phone up to get it done!

There's no need to wait for MS to solve this - Windows 8 pairing with WP8 already does what you describes. Once you paired a WP with Windows 8 for tethering, you can make it automatically connect when the computer wakes and you don't have to manually turn on tethering on the phone either. However this doesn't solve the problem of wanting your laptop to be always connected so that it syncs during standby. For people who work on the road a lot and relies on cloud services, an LTE enabled laptop where it does syncing in the background and/or while in standby is MUCH more convenient than tethering.

If your workflow depends heavily on the cloud, there's a great need and a huge convenience for having onboard LTE to keep your device synced. Say if I dump a file into my OneDrive on my desktop, and I was expecting it to sync to my laptop when I go to a client meeting, if the laptop wasn't always connected, then I'll have to turn on my phone and whatever and wait for the device to sync, that's a huge waste of time and is frankly quite embrassing at a meeting when you ask your client to wait for you to sync up. But if the laptop has build in LTE and connected standby, I don't have to worry about this, the laptop is all synced up when I'm travelling. If you fully believe in the whole cloud way and services independent of devices/screens, then your devices must be always connected to the internet, and relying on hotspots just doesn't cut it.

Installed 10 on my wife's Lenovo last night. Working great

I'm running W10 on my Thinkpad X1 gen1 and Yoga 13. Mostly just use the X1 to project to tv and watch things online, but haven't had any problems. Even set-up finger-print scanner with no problem. My daily driver, Yoga 13 seems for the most part running fine. Battery life, most apps, and drivers seem good to go. My only issue I am having is the annoying Activate Windows error with key getting blocked. All in all, liking the experience on both Lenovos.

My Lenovo Yoga 2 Pro with all latest drivers, apps and BIOS drain battery three times faster with Windows 10

I have no PC. And my girlfriend is so conservative when it comes to system update... So I have no machines to test out.

Using Lenovo 540 and all went perfect with upgrade to W10 from 8.1 except Cortana said she didnt recognize my microphone! So went to Devices/Audio and Updated Conexant HD driver from the web and all was fine. That is only driver issue I have had to date.

Test "Upgrade your girlfriend" ?

I'm running it on my Surface Pro 2, and the only problems so far a few processes that sometimes take up a lot of CPU (a Service Local Host and Windows Driver Foundation) which I can easily fix by restarting. Battery life is exactly the same as with Windows 8.1 (around 7 hours of BBC iPlayer and other basic browsing, with Power Cover).

Keyboard is good and there isn't even a numpad? Fingerprint scanners worked for win login since vista, unless you have a cheap no name sensor(which Lenovo likes a lot for cheap mid laptops) and you can add 4g to pretty much any laptop with a PCI-e slot or USB

I don't use a numpad, couldn't care less. Yes, the fingerprint scanner worked when it was an 8.1 device, quite aware and I've had Lenovo's going back years. The point is not saying it's a new feature, just that it's a great feature that worked well with Windows Hello. I'm sure as hell not wasting a USB port for 'yet another thing to carry around'. It may be good for you, but I know what I am doing and what I want. What I don't want is to tether my phone or plug in a dongle, blech.

​allow me first to tell you that I have upgraded all my 5 machines to windows 10. Three laptops and two tablets; slates. Two of my laptops are Lenovo 50 series with 4th-i3 & 5th-i7 Gen Intel processors, the two machines ram 8 GBs & 16 GBs with both running SSDs. Compared to other machines that I have upgraded to windows 10 either mine, for friends, or clients.....The Lenovos' were the best and fastest. Having Lenovo providing drivers ahead of time was really helpful. I didn't need to install any of the Lenovo downloaded drivers as whatever driver I have got updated by Windows 10 automatic updates.

> Overall, Lenovo has done with their 2015 X1 Carbon. You forgot a few words there.

Actually, just one, but thanks ;)

I got Windows 10 drivers for my Thinkpad 8.3 on the 29th. Releasing updated drivers for a +1 y\o device that is no longer being officially available in several big markets and sold heavily discounted, on Windows 10 release day is very impressive. Well done Lenovo.

My dell venue 8 pro has for some hilarious glitches since update: The screen seems to jiggle and jive whenever it wishes and it's display has just split in half and now the bottom is up top and vice versa, if I could have Cortana in 8.1 I'd roll back until these drivers or bugs are ironed out and optimised, windows 10 just doesn't seem..... Premium?

Yeah, I know what you mean about...Premium. Lots of plasticky eye candy....The biggest changes are under the hood. Windows 7 was a more pleasant suprise.

Since we are discussing Old Lenovos, my T530 upgraded fine but froze on login. I had to do a couple hard reboots before it would boot up right...then I had to uninstall the Lenovo toolbar overlays for Battery and Wireless because they did not look right. Also, needed to reinstall A/V and Nvidia drivers on some other machines.

Don't have a Lenovo laptop, just getting round to installing windows 10. Would love to have LTE on my laptop, beats carrying a dongle, dedicated mobile hotspot or tethering. But do have my aunts Lenovo laptop to fix, haven't looked at it. I might update that to 10 as neither she or her kids can stand 8 lol.

Running 10 on my HP G6 laptop works well now had a little trouble with display drivers been fixed thank fudge.

About your LTE issue, Daniel: As we're using build 240 now did you report it? If so which venue did you use? I'd like to properly report the issues I find every now and then and I don't trust the feedback tool inside the OS (it asked for a feedback on running Google Chrome on Win10 the other day. Ha!), but I trusted the whole Windows Insider's feedback process. It feels like I was really being taken into account. By the way, this could turn into an article: "Working, testing and reporting on a continuously evolving OS. Now and Future" (too long a title here?) :-)

I have the exact same setup Daniel. With AT&T lte built in and I'd never have another laptop without it. If I was just using it for play I probably wouldn't care so much about the LTE. But for work, it speeds up how fast I can respond to a customer. And I don't have to be in range of my phone. Very convenient. And Windows 10 is working great on it also.

Love my HP Spectre x360! Got the big boy model with 512gb and 4k screen!

I've been running 10240 on my Carbon X 2nd Gen for about an month now and I really love it. I use it with the USB 3 port replicator and 2 external monitors. I've honestly had no issues with the exception of getting Windows Hello to work properly with my RealSense camera. Battery life is the same however boot up time is much better.

meh, Lenovo solution center doesnt recognize windows update settings and constantly throws an error. The Windows 10 apps need a background update service that asks me to install every time I open it. The battery monitor servixe is not compatible with Windows 10. I'm not impressed. I have a late 2014 Thinkpad yoga and I would expect better driver support than this

That's why I prefer clean install of Windows.

On my Lenovo X220 ThinkPad Win10 look's ok anyway this is certified hardware/BIOS laptop for Linux if I like switch OS.

I'm not sure if you consider it a laptop but my Yoga 3 Pro didn't get all the required drivers. For example software for auto switching to tablet mode is missing and a few more exclamation marks in device manager.

I like integrated LTE , I hope Microsoft add that option to Surface Pro 4


Not buying another ThinkPad until they bring back the old keyboard. It's better than most, however the original was much more tactile.

Updated my Thinkpad X220 (yes, the last X-series model with the old much-better-than-the-new-chiclet-style keyboard) to Windows 10 Enterprise yesterday and it worked like a charm. No problems whatsoever so far, Lenovo System Update found new drivers to install right away and everything seems to be working great. At least I haven't found anything weird yet. The one thing I really don't like is the way Windows 10 handles a locked SIM card with PIN entry required prior to connecting. There seems to be no easy way to provide said PIN without more than half a dozen clicks around the system. I've had to disable the SIM PIN for now but would feel much better with the additional layer of security it provides in case of theft. Daniel, do you have a PIN enabled on your SIM card? If so how do you handle the tedious process of going online?

I have the the 2014 model (20A7) and have not been able to upgrade. It fails with SAFE_OS, something RECOVERY_ENVIRONMENT. Err 80004005 - 20005, or something like that. Anyone run into that?

I am using the first gen Carbon and had no problems upgrading from Win7. It actually seems to be running better with 10 on it then it did with 7 installed.

Windows 10 works like a dream on my Intel core duo CPU desktop computer and my intel i7 CPU Laptop. I think that Microsoft has a Winner with Windows 10. Most errors will be soon fixed and the big update coming in October should make Windows 10 even better. People should contact Microsoft and tell them their problems with Windows 10 so microsoft knows them and can make changes to Windows 10 to correct the the problem or problems.

the dino SL410 runs Windows 10 like a champ

Hi Daniel, I had a few problems with my 2015 X1 Carbon (Type 20BS) upgrade. The worst was WIFI disconnect/reconnect cycling that seemed to start after I installed Lenovo Settings -- have you had any issues with the WIFI location setting or WIFI in general? Did you perform a clean install or in place upgrade? I found the majority of the Lenovo W10 drivers were not discovered by System Update and had to download them manually. I WAS offered the Rapid Storage driver despite the notation that SSD devices should not install it. Are you using BitLocker and have you found a way to implement the Opal encryption? Finally, what are you using for virus protection? I initially just used MS Defender, but it seemed to use an inordinate amound of RAM so i installed McAfee Enterprise, but noticed Windows turns it on and off constantly and it didn't stop the Antimalware service from running (which was my ultimate goal.) Do you have any advice?
Windows Central Newsletter
Thank you for signing up to Windows Central. You will receive a verification email shortly.
There was a problem. Please refresh the page and try again.