Windows 10 Mobile build 15240 now rolling out for Insiders with new emoji
A new Insider Preview build for Mobile comes packing new emoji that match Windows 10 on PC.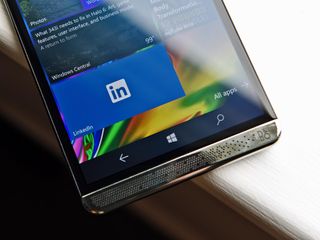 (Image credit: Windows Central)
Microsoft is today rolling out a brand new Insider Preview build for Windows 10 Mobile that's packing a few new changes that are worth noting for once. Today's build is 15240, and includes new emoji 5.0 that were introduced on the PC Insider builds version earlier this year.
Microsoft says availability of this build will be staggered for Insiders in the Fast ring. So if you don't see it just yet, be patient.
What's new for Mobile?
Emoji 5.0: Just like we did on PC, we have added support for the latest Unicode updates – including new snacks, actions, dinosaurs, and even fantasy characters like genies, fairies and zombies – to Windows 10 Mobile in this build. They're all accessible via both the touch keyboard and the Emoji Panel. We've tweaked some of our original emoji designs based on your feedback and to improve consistency with how the emoji is displayed on other platforms (while maintaining our Windows style).
Chinese Lunar Calendar: We have received questions about supporting the Chinese Lunar calendar on Windows 10 Mobile. The power of a Universal Windows Platform (UWP) app is that it can run on any Windows-based device. The Calendar UWP app supports the Chinese Lunar calendar on both PC and Mobile.
We fixed the issue where trying to update Windows Store apps saved to your SD card resulted in an 8007000B error. Apps installed on SD cards should update without any issue.
We fixed an issue where there was no icon shown for Windows Update for either new notifications or on the settings page under Settings > System > Notifications & actions.
Known issues for Mobile
Occasionally, Narrator speaks phrases in English rather than the chosen non-English language.
There is a problem with the HP Elite X3 with wired docks where the portrait orientation setting is lost when the external display is disconnected and reconnected. A workaround for this is to reboot the phone after tapping the "OK" button instead of disconnecting and reconnecting. This workaround must be performed every time you connect to an external display you want to use with Continuum in portrait orientation.
When installing or updating a Windows Store app, you may see error 80070057. As a workaround, you can get the latest app by uninstalling the older version of the app from your device and reinstall latest version from Store.
Build 15240 is rolling out now for Insiders in the Fast ring on Windows 10 Mobile. Will you be installing?
Get the Windows Central Newsletter
All the latest news, reviews, and guides for Windows and Xbox diehards.
Zac Bowden is a Senior Editor at Windows Central. Bringing you exclusive coverage into the world of Windows on PCs, tablets, phones, and more. Also an avid collector of rare Microsoft prototype devices! Keep in touch on Twitter: @zacbowden.
Woow new dinosaurs!!! I've been waiting these emojis for so long! Thank you Microsoft for making this finally real on windows 10 mobile

i see it but it's failing to download.

Still working on mobile elements for "Andromeda" obviously means we have plenty to be excited about for Windows on mobile devices in the near future.
......
This is a consumer related feature. End of story.

I think it's just that WinMo will benefit from a zombie emoj more than any other sku.

Now it's time for the COLORS to transfer over from pc to mobile...

Colors, as in Emoji skin colors? If so, that's on mobile and has been for a while.
Slide up on the people tab in the emoji panel. 😊 if not, mind elaborating?

No, I think he means, OS colors. W10 on desktop has many more color options as well as a custom color picker, w10m has only a few.

Yeh, Steve is correct. The colors used for Personalization in the Settings really need an upgrade! Pc colors are more settled and earthy in nature... I think MS can easilly implement this by just transferring from pc to mobile for now. Custom color picker can come later...

WOOOO HOOOO FANGIRL DOWNVOTES.....DOWN VOTING FOR WHEN I AM RIGHT....LOVE IT!!!!!!!!! Crybabies! thanks Netmann for confirming what I was thinking!!!

Just to clarify I didn't downvote. I have no idea who did...but it was definitely not necessary as I asked for clarification and got it. Downvotes around here seem so random.

The Calendar uwp app do support the Chinese lunar calendar as well as several other countries and religions...The issue is the events within the international calendars are skipped!

The events in the international calendars are important for the rest of the World outside US. MS should bring those to those calendars... calendars without events are useless....

Not showing up.on my 950xl yet.

Do we really need a CURLING emoji?????

People who enjoy and play curling would enjoy it IMO. much better than baseball or soccer emoji.

About 5 people playing curling own a wp.
We need apps, and first of all developers believing in WP, not this s###

AGREED 111100000000000% ventasoft! Developers are needed...however with the product that is available now, it's not going to happen.

Because we needed more mindless cartoon characters to replace actual communication.

You should look up the definition of communication. You might learn something new.

Yeah, like how anyone 30 or under has a serious lack of communication and verbal skills because of texting, emoji's and computers in general...Nothing new there!

How is it they've still failed to add a moose emoji?

Just got a W10M update yesterday on my L640 . Please continue the good work Microsoft.

Emojis should be last priority. I guess they couldnt think of anything to work on.

When are we going to get the country flag emojis!?

When Microsoft decides which countries are really countries, and which are just regions/provinces of larger countries, maybe?
Will there be a confederate flag one, you think?

useless update. emojis has nothing to do with my phone. in fact, i need an update for my applications to stop crashing and for my phone system update. all od your updates recently are all nonsense. microsoft are sticking to bug fixes and others useless stuff. on the other hand ios and android keeps onupdating their apps and system despite that we all know that microsoft has an advance technology but leaving behind their windows phone. what happen microsoft?

They are killing the W10M as we know today. It's in a support phase and that will cease too in a year or so. So don't expect much from them except few bug fixes.

I saw the LinkedIn image in the article pic and thought there was a new app released for mobile.

Same here bro, same here.

It is a new UWP app meant for W10 side loaded on mobile.

I wish I could chuck my 950 XL at Shatya's head

Tie it to a tomato when you do.

Emoji update doesn't work with Whatsapp or Telegram Messenger. New emojis still shown with blank squares. So what's the point of this emoji update?

Maybe The android devices dont have new emojis you can share it between windows devices

Can't comment on Telegram because I don't use it. But with WhatsApp it's because they replace the emoji with their own versions. They need to update the Windows Phone 8 app to convert them from the standard 5.0 Emoji to their alternative version. I guess maybe they already did this on Android and iOS, but to be fair to them this update only just released on W10M to fast so as far as they are concerned they aren't in WP anyway

i had that 80070057 error when trying to update two of my favorites games. Head Soccer and Pixel Gun. So i uninstalled them and tried to download them again. Alas they were nowhere to be found on the store! Have they been removed from Windows 10 Mobile?! :( :( :(

they say "Not Available" Hmmm. Maybe all of these negative Windows Phone articles by Windows websites are actually having an effect

Why were they being updated, if they are not on the store? It 'may' be worth more searching, since the function built-in to the app is utter rubbish - i sometimes find apps that are buried, lost, whatever, despite typing in the exact name.

wooow what an improvement, I want Windows Mobile again. NO.

All apps using 'GPS logging' seem to be broken on the latest builds and crash back to start screen ... eg Runtastic, Glympse, Caledos Runner, Runner+ etc ... tested on multiple phones ... all worked in version 15063.483 anything after that seems to be broken, including this latest release ... anyone else experiencing this issue and can confirm ? If so please add to feedback so MS can fix

I'm having this problem since i'm on release preview build 10563.502. Now i'm on release preview build 10563.540 and still have the problem. On a phone with production build 10563.483 there was no problem. Last night the production build is upgraded to 10563.540 and i'm seeing the same problem. So now all my phones have the problem. Have feedback added in the feedback hub. Subject: "Caledos runner app and runtastic app crash at startup". Cannot find feedback regarding 'GPS logging'? What subject have you used?

https://mspoweruser.com/latest-cumulative-update-for-windows-10-mobile-k...

Second new feature on win10m in last few weeks. Tis a positive sign. I look forward to the new keyboard.

I don't have any update on Lumia 830

Feature 2= only two features now im updating to this build on lumia 540

This proves Windows 10 mobile is not dead yet but Microsoft execs said it will have support in the feature2 group through 2018. so it has almost a year and 4 months of life. Mean while the New code named Andromeda Windows 10 OS devices may appear I think by mid 2018. a "Surface" smart Phone or Surface Mini Tablet Smart phone hybrid device should debut in the market Place. The Surface smart phone device must at least run all the Windows UWP Apps & Centennial Win32 programs that's in in the Windows 10 store to even have a chance of selling well in the market place because it must have a steady source of new Apps for it to be useful. Developers and Companies are submitting MS UWP-APPS-in the Windows 10 store so Good FOLKS a Surface smart phone must be able to access and use them to be useful and worth buying.

Centennial Win32 apps are all well and good when connected via Continuum on a big screen but they don't scale down to run on a phone screen most of the time (It's possible to create a WPF app that does scale, but they generally don't)

Will wait for official release in due time. Surprised that the fix list is so short. I could easily name a few more unadressed issues that need fixing.

There will always be bugs to squash. The benefit of the fast ring is you get them fixed faster where I'm on release preview and haven't seen an update, other than a cumulative update, in a long time. I would go to the fast ring, but I don't want a buggy build on my daily device.

Another fast ring only update. When will the features that have trickled down to slow ring go to release preview? This update seems like a no brainer to release for release preview and the other rings.

Come to FR why are you on RP

no. Nothing but troubles. Give some real functionality.

The fix for app update issue should come to everyone, not just the insiders.

Insider is pretty much like everyone. If you are having bugs in regular build then come to FR alot of bugs are fixed

The W10M app install/update to SD card problem was fixed with the August Patch Tuesday (15063.540) production release.

No it was not. I'm on the Fast Ring and still have the bug. I'm hoping this release actually fixes it.

I think the "new" features in the last couple of release previews have probably been in response to the outcry from remaining Windows Mobile 10 users. Don't get me wrong, the new features are appreciated (i.e. portrait mode in Continuum and now emojis, etc.). That said, this stuff feels like low hanging fruit for Microsoft, and not so much meaningful investment into added functionality that will really move the needle. I'm one of the Windows Mobile 10 users that isn't terribly effected by the "app gap". I'm primarily a business user. And, frankly, the ever growing list of UWP apps, that have been extended down to mobile, keep things interesting enough on the app front for me. If Microsoft really wants to impress me, they'll bring a more realistic desktop experience to Continuum (I know, I know, CShell ain't happening for existing phones, but surely they could improve the existing interface), and they'll allow non-UWP Windows Mobile apps to run in Continuum (even if just framed into a window w/ relevant pixel ratio for its intended phone form factor). It drives me bonkers that the same exact device powering non-UWP apps on the phone, won't let me open those apps in Continuum mode. Constantly switching b/w Continuum mode and looking at my phone for non-UWP apps doesn't fly for me. I've practically abandoned Continuum, UNLESS I'm using RDP client to remote into my work's datacenter, where I can work in a traditional desktop setting.

I've not waited for more Emoji's, I'm waiting for the possibility to use some Android-apps. on my Lumia 950 DS.

For what reason there's still an Insider Program for mobile? All this stuff could go out to regular branch. My 950 works flawless with this builds. Another thing, comments still don't work in windowscentral app. You working on it?

Oh great new emoji's, that doesn't fix the the misst call notification problem. If i miss a call or if I have a VM i'll have no idea until i open the phone app. Checking in Windows Feed back - this is a common problem. I've also reported and upvoted it. Still not fixed.

Does anyone know if this build can be applied to Lumia 1520?

it cannot, all the previous devices before the 950 i believe have been cut out. Essentailly anything made before Microsoft purchased Nokia's hardware devision is not getting updates.

You can download by registry hack

When you see the ugly default smilies of Android, this is another reason just to stay with Win10m.

Yeah, they're easy enough to change out, but I don't get the blobs at all...

I hasd no problems downloading it once I recharged by 950 which is my backup to my Iphone 6S+.

Since this update my phone works like a charm. Love you ms (lumia 540)

This build is causing Groove, voice directions and Podcasts to randomly just stop. I wish there was a way to revert back to the previous build.

Lumia 640, deleted all the pictures and video on my SD card, now unable to take pictures or screenshots. Gives error "Couldn't save screenshot" I'm devastated.