Windows 10 Mobile gets its own update history page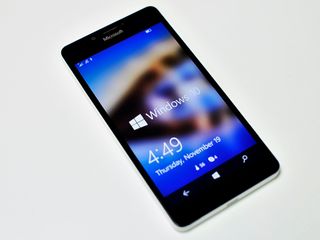 Microsoft has quietly added a new Windows 10 Mobile update history page to its web site. It joins the previously launched update page for Windows 10 PCs and tablets.
At the moment, Microsoft has yet to post a change log on the Windows 10 Mobile update history page, but that will change soon enough. Fast Ring members of the Windows Insider program just got a new 10586.107 build, so we should see a list of what's new and improved on that update soon.
Both this page and the Windows 10 update history page shows that Microsoft is making good on their plans to offer better communications with their customers on what's contained in the new versions of its operating systems.
Check out the Windows 10 Mobile update history page (opens in new tab)
Thanks to MohammadMSFT for the tip!
After so many years on this central station, this old young man is tasting the sweetness of being the first to throw a jab at you know who. Yeah baby, that's how we roll. U can't touch this, cuz its Hammer time.
Bring back the versatility of Pocket PC/Wndows Mobile, handwriting recognition... Somebody give a shout out to me Casio Cassiopeia and Compaq iPaq.

What are you talking about?

Looka u, youngsters, if you don't get what I'm talking about, go play in the sandbox.

What are you smoking over there?

The same thing yo grannies smoked. It's a good year ya know.

This guy needs serious medical attention

Not really, yo' mama need it mo' than I do.

It really strains one's brain trying to understand, don't it?

I used Bing Translator and what he's basically saying is: "I'm first!"

You're so intelligent. You will make impact. May your path continues to be nirvanally binged. BTW, you're only partly correct. I also want Microsoft to bring back the versatility of PPC/WM6.5 as well as handwriting recognition as we used to have way back.

Heh, what language? English (GetOffMyLawn)

GASP ! DONT FEED IT ! LOL

Would have been quite understandable if you were old enough to use smartphones before this times of the... so called smartphones that are in fact dumbphones in front of the smartphones of that times. Symbian, Windows mobile and other type of pocket pc's ;)

Good story
Never tell another one

Guy knows what he's talking about. MS is trying to come full circle and put a PC in your pocket. 16 years ago they had the Pocket PC.

Yup. Amazed at how many people blew him off as crazy. This was what a smartphone was before iPhone.

Hard to believe it's been that long since. I still have my HP iPAQ 1940 that I bought in 2003. Still works, but the backup battery is dead.

Well, i don't think you will see that back. I mean, sandboxed is here to remain. And probably is also more secure then old school. Anyway, nice enthusiasm:).

I had a Cassiopeia E-125 and later a Dell Axim X5 Pocket PC. The concept was way ahead of it's time.

Looks like we've got a live one here...

?? no idea what you are talking about.

Umm.. my HTC 8X is downloading 10586.107 update..

Seriously? Insider fast? Location?

Insider release preview circle but its not working. Update was downloaded but couldn't be opened. Error 801882c2.

I quit the windows insider because my Lumia 520 ..was running build 10536
It can't boot anymore just saying cannot find a bootable option...

Windows device recovery tool

It's a hardware problem. Motherboard issue.

If you didn't receive W10M in 2020 press like :'D

I just went ahead and pressed like now.

hi has anyone tried windows 10 on Lumia 535 if so does it work ok thanks

Yes, but please use the forums for off topic questions.

Aren't 90% of all comments off topic?

I have a 532 and a 1520 and both work a treat on Win10 best to do a phone reset after the install though, everything just works better.

Already using it ina 535 and runs pretty well. Still having touchscreen issues, but it's device's fault.

I don't have touch issues but some apps doesnt work properly.

Please let this be the one that fix battery issue on 1520....

A phone reset and going to BACKGROUND APPS and turning the superfluous ones off well and truly trebled my battery on my 1520.

Sounds like you did some serious attenuation

In win 8.1 page, 8.10.14234.375 doesn't shown.

Now, it is great if only this new policy extended to their very own apps =). Mainly in the app store, and a better intregration of the change log in the appstore it self.

Holy cow they're publicly acknowledging win10m! /babysteps

One small step for a tech giant, big thing for us.

This has been here since forever though

anybody tell me this build solved the phone message problem .in perevious build .71 my 640 xl msg notification not shown and no sound

Message notification sounds have been noticeably hit or miss on my L925. I want to say it seems more consistently miss after logging out of Skype, but unsure. MMS was noticably absent after I logged out of Skype. (Logging in again didn't fix, and after that I couldn't get to the correct settings page to logout again. Skype is probably punishing me.)

Try sending yourself a message using the message app that has yet to appear in notification settings. I've had similar problems after the past few builds but all notifications work after eventual hard reset. Outlook Calendar is my biggest culprit.

I don't know why my vomments are deleted, anyway. Turn on the background proccess, tgis is probavly what your problem is. To do that, enter battery saver/ battery use.

Speculating, but hopefully this means approved releases are coming for 950/XL owners plagued with issues, and W10 for legacy devices.

They should release an update for the "production" ring, that is, non-Insider updates. .29 is getting really old, like you say.

Is it just me, or does it seem like most articles here are templates. Everyone seems to use the same phrases and sentence structure. Sorry, go back to what you were doing.

Collaborated articles by the team. Kinda nice

quantity over quality - windows central just look at those "app update news" with same text over and over and all that tomb rider love

They do have good articles but it is for sure often quantity over quality.

Yet when they don't write stuff people complain. Like no news or such as short news day. They can't win it seems:(

Leave em alone man, they've been trying to believe in Windows way more than us. They deserve much more. Hopefullyafter a few good news they'll be back to their enthusiastic selves.

Microsoft keeps mistaking Insider Builds for updates, both for parity with Windows 10 desktop updates (which makes no sense) and for this. The last update released for Windows 10 Mobile is .29. Everything else is a Fast/Slow Insider build. This should be clarified or sorted, mainly by Microsoft.

Sweet, hopefully this means the WM10 is about to hit older phones pretty soon.

what this means is that w10m has feature freeze there will be only bug fixes until 10.1 or whatever it will be called

My lumia 1020 already got new build on fast ring...107

10586.107 caused BSOD on my Lumia Icon

Pocket PC's back in the day. #amazing

Strange that lumia 950 and XL in belgium not receive updates anymore. We have 10586.29 and are afraid that this is the last update.

Where is the damn comma *,* key in WP10 when searching in the browser?!

Long press on the period. I had to press alot of buttons before I found it.

Hello when come w10m officialy to lumia1320?

http://www.winbeta.org/news/windows-10-mobile-rolling-eligible-devices-w...

I have instaled wp10 tehnical preview and my lumia 1320 sometime don't work i turn off after on and gon ok

Ok guys, when will w10m come for us who are afraid to be part of insiders? I am nervous already, it should have been released in December for Lumia 535, and 2/2016 for my precious L925. What did I miss?
(maybe it really is that bad that I should not wait for it)

@maryalice39, hard to say especially since the Lumia 650 launch was pushed back slightly. If you don't want to join the insider programme; best guess would be sometime between MWC and Build 2016 for general availability for older phones.

Staycalm, win 10 for old devices is not finished yet. Hack, is not finished on the new ones. I mean, now after using the 950xl for 2 months and had the 1020 i can say you don't miss to much. Just stay happy with the 8.1 win 10 is not that much of a diference;)

So how the hell am i suppose to know whether im July or November update for my Computers? Didnt see a guide on the article. And John they didnt Quietly made the history thingy. It was after a lot of confusion between customer and technician - that the technician had know idea where the client's OS update stands; for him to give a solution.

Should add one for Xbox insiders too

Which phone is that in the pic in the initial of this article?? Posted via the Windows Central App for Android

When come orignal windows 10 update in 535

Yeah, WM 5, 6, 6.5 were all good with tons of apps...and it worked....
Windows Central Newsletter
Get the best of Windows Central in in your inbox, every day!
Thank you for signing up to Windows Central. You will receive a verification email shortly.
There was a problem. Please refresh the page and try again.