Verizon Lumia 735 is finally receiving its Windows 10 Mobile upgrade (Updated)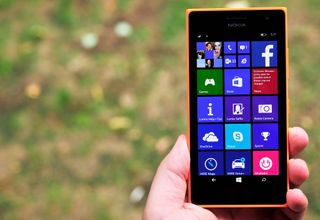 Verizon Wireless is offering an over-the-air update for owners of its Lumia 735 that brings Windows 10 Mobile to the smartphone.
The Verizon support page (opens in new tab) shows that the new software version number for the Lumia 735 is 02171.00002.15194.03084. The phone joins AT&T's Lumia 640 as the latest to be updated to Windows 10 Mobile via the standard over-the-air method.
The upgrade will bring the Lumia 735 up to Windows 10 Mobile build 10586.218 with a second over-the-air update to 10586.318.
Note: Owners of the Lumia 735 will have to download the Windows 10 Upgrade Advisor app in order to download the new OS on their phone.
Download Windows 10 Upgrade Advisor from the Windows Store (opens in new tab)
Windows Central Newsletter
Get the best of Windows Central in in your inbox, every day!
Lol my Lumia 735 Malaysian model received w10m upgrade as soon as its official already. I assumed this happen in other parts of the world except USA.

That might not be Verizon phone

Great to hear that! My dads Lumia 640 on t mobile is still waiting. Maybe that will be announced today too?

ah, carrier-locked/exclusive phones, the Achillies hill of Windows Phone

Achillies "Hill" indeed.... Posted from PornHub

Thats why god and the brilliant minds in Redmond gave us Windows 10 Mobile so that Microsoft has complete control over the update proces. Like they do on PC ;

8==========D :D Lol but seriously, this is pretty awesome. My dad has a 640 and my mom the 735, I guess both of them will be updating today. Now I just need the Lumia Icon to get the official build too.

For Lumina Icon signup for Windows Insider and then upgrade, Posted via Surface Pro 4 or Microsoft Halo Phone

It should come to te Icon soon :)

Honestly, at this point, I don't really care that the 928 will never get it officially - the Release Preview is seriously running great on it! It's actually smoother than my 640 on the current Fast Ring build. Of course, the slowness of the Messaging app remains a huge frustration, but hopefully that gets resolved if/when the Skype UWP trickles down 10586 (freeing up the leaner and meaner Messaging app)

It has been terrible on my 928. First, group messaging doesn't work. Not that I get group messages often. The Cortana app always crashes for me when I try to add a reminder the first time. Then I am able to go and add it. The phone has been buggy overall for me. Been really debating what to do. I don't want to go back to 8.1. I have been considering picking up an ICON since it is back getting Insider Builds. It may never get an official release though. Even looked into getting an Android and putting CyanogenMod on it.... However, now that the Lumia 735 is getting the official W10M release, might just go with it.

I'm debating too. Slow and crashes. I picked up a 640 for $40 a while back and it's way better. Im also debating on switching to AT&T. Fortunatly I have an option to change.

I have it on a 928 too and really don't see any reason for MS not to support it as it runs great. I got a 735 so I could get Redstone. My wife's Icon wasn't supposed to get Redstone but now it will. That means we stay on Verizon for now though they don't deserve us.

If Verizon can support L735 and ICON, they should be able to support all other W10M phones - L950/XL, X3 and Surface Phone.

They just don't want to put the effort in.... being that it took them almost 3 months just to release the update for the 735, I don't see them offering any new phones. But this is still a positive sign. I hope they do support the X3.

I just don't understand Verizon. Sure it might not be worth putting it in the stores, but they could sell a couple of Windows 10 phones online. Ultimately, I will switch to GSM and go with Cricket or T-Mobile.

Sorry, wrong comment. Posted from Windows Central App for Windows 10

Re: Stephen Michaels,
Yes. My family's Verizon Windows phones are due for replacement in a few months. We are thinking trying ATT, T-mobile, and Cricket, each for one month, to check reception.

Late posting this. Microsoft chose not to submit the Lumia 550, 650, 950 & 950XL for CDMA certification. The same holds true for HP for the Elite x3 and Alcatel for their new Windows Mobile phone. Verizon Wireless is in the process of updating it's network with a projected completion of 2019. The tiny marketshare of WM devices coupled with the high cost for CDMA certification/licensing and the pending closing-off of VZW's CDMA network make it hard to justify the expense of churning out a CDMA Windows Mobile device. I was hopeful that the Surface Phone will be CDMA compatible, but, seeing how other OEMs are staying strictly in the GSM camp, I have the eerie feeling that the Surface Phone will also be a GSM only device, and, that there most likely, won't be any WM devices for VZW and other current CDMA-based carriers, until their new networks are up and running.

The Lumia 822 is an unsupported device as per Microsoft. Nothing VZW can do about it.

No x2x phones are supported

Except the 1520, but that phone is a legend :D Posted with the Windows Central app for Windows 10 on Lumia 535

The Lumia 822 is a 3 and a half year old phone with at least 3 and a half year old internals. It's not geting updated.

My 822 was getting pretty pokey as the builds kept getting more and more advanced. The phone was great for its time as a tank, but it was getting quite long in the tooth. I could still see using it as a travel phone had I not bought the 950/950XL deal. Now I am dumping verizon and onto Consumer Cellular.

I've been running the Insider Release Preview on a Lumia 822 for months now. It works well. I upgraded from 8.1 and then hard reset. Posted from Windows Central App for Windows 10

My wife still uses her 822, and she will until the day it dies. She loves that thing. She won't upgrade because she doesn't want anything bigger, and everything else available on Windows Phone / Verizon is bigger.

Has she looked at the LG lancet? almost simular in size to the 822 .07 inches longer, a Longer Battery Life , Longer stand by time , Currently available at the Microsoft store for 79.95 and upgardable to windows 10.

The (verizon) Windows Phone 822 is a great, fully functional WP 8.1 phone that just works, every day. No problems.

Hopefully an official Icon with updated Firmware update may be in th works soon.

I wish the 928 could get the upgrade too!!!

What about Lumia 730?.....

This is specifically about the Verizon Microsoft Lumia 735. The normal Lumia 730 (at least the unlocked country variants) have had W10M for months. You just need to install the 'Upgrade Advisor' app to get it.

Did hell just freeze over at Verizon? Support for Windows 10 Mobile?

Hey Verizon remember that phone that look like the galaxy s4 yeah the Samsung ativ se guess what they are still around waiting on W10

Wow Verizon actually beat T-Mobile to the Windows 10 update

Shocker Sent from Lumia 950

And what about the LED notification lights?

Why don't they need to use upgrade advisor app?

What about the HTC one m8? 735, with garbage hardware gets the update, but a flagship doesn't. And people wonder why the market share is SO low... Respect your customers and they would more likely return :\

Couldn't agree more Posted via the Windows Central App for Android

Because HTC's non-support?

I dumped HTC when they didn't support their 8x.

Actually I really like my 735. I just wish it had a 5Ghz WiFi antene. They should release Windows 10 for the HTC M8 though. It is a great phone, but it sounds like HTC is uninterested in upgrading it.

I thought the HTC wasn't supported

Maybe htc doesnt even care anymore

Because HTC doesn't give a single f"ck about that phone. Sadly :/ Posted with the Windows Central app for Windows 10 on Lumia 535

No way! Verizon is on the bandwagon??? Did I miss Jesus coming back????

Will Windows Device Recovery Tool restore to WP 8.1 or W10M? Will Verizon Visual Voice Mail allow setup directly from W10? Hard reset from a W10M build would not allow setup of vvm app so I needed to roll back to 8.1, setup vvm and then install updates.

WDRT will take you back to 8.1

It'll take you back to 8.1 Posted from my Lumia 930 using the Windows Central App for Windows 10 Mobile

For now it'll take you back to 8.1 Sent from Lumia 950

In the UK once you have paid for the phone, either by finishing the contract or paying it off early, you can ask the carrier for a code to unlock the phone and they will do it for you. I only they hear bad things about carriers in the US

All Verizon 4G phones come factory unlocked now, and have for a year or more.

HTC One M8, a "flagshp"??? You're funny.

Verizon is iPhone, Droid owned.. Running Z30's now, one of the best devices we've had, waiting on the Surface phones to give them a go, wondering if we'll have to change carriers to have more flexibility to own them. Cannot wait for another carrier to have their coverage and leave them in the dust, so tired of VZW.

As in Blackberry Z30? Or something else? +950 XL DS NAM CV Windows 10 Mobile

Yes, BB Z30, very efficient device, and some of the 3rd party applications are very nice, as well as some of the built in OS features.

Verizon is in business to make money, they only cater to products that SELL, WP is not selling, no reason to take up valuable space and assets to push am item that no one wants, this goes with any retail business, or any business for that matter, apparently you have not heard, from India to Brazil the WP hotbeds, everyone is dropping WP, WP is irrelevant, it's DEAD, put a fork in it, Microsoft has, so should you. Posted via the Windows Central App for Android

Agree, may the upcoming Surface phone completely change that environment and mindset.

I'll put a fork in you if you say it just once more. You're annoying as hell. Why don't you get a life *********? :D Posted with the Windows Central app for Windows 10 on Lumia 535

well if is Dead why are you here. It's still works , so I will use it I like it more than my android tablet, & android phone. irrelevant, dead , OK...

The Lumia 950 was only a placeholder for the Surface Phone. Microsoft didnt bother to get CDMA certification so the FCC won't allow it on Verizon's network. Microsoft put in minimum effort on the 950 and only wanted something out there to run Windows 10 Mobile to keep if from being completely forgotten. The Surface Phone is slated to be released on ALL North American carriers, Verizon included.

Sure they are. Their more likely breeding unicorns in desert then that

What surface phone exactly are you talking about, the mythical unicorn, LMAO. Posted via the Windows Central App for Android

Apparently not live yet? Now Upgrade Adviser says it is not available for my phone (the 735).
WTH?

I am not a Lumia 735 owner. I just visited my local Microsoft store. We installed the Upgrade Advisor app, which reported that Windows Mobile 10 is not available for the phone. . Guess that I will stop by my Microsoft store again soon and try again.

Is there a OTA firmware update I might be missing by staying on the insider preview?

This has nothing to do with the 920 as its un supported like the 925 and 1020 Posted from Windows Central for Windows 10

Which software use for video

Software for multi video play

Does Anybody know wheather lumia 730supports wireless Charging as its 735 brother!

No need for carriers to wait as long as they do between updates.

Hey i know its not relevant to the topic but i wanted to know if lumia 640xl supports "hey cortana" feature and if it does how to activate it and which other phones support this feature too!

How about the Lumia 730 they have an update??

I've looked through these comments but wonder if someone can tell me if WP is alive or dead, is there a utensil I should put in it, and where the market share is. Sadly, without that information I just can't understand anything. Please help! Oops nm I see it now thank you.
Windows Central Newsletter
Thank you for signing up to Windows Central. You will receive a verification email shortly.
There was a problem. Please refresh the page and try again.