AT&T is now rolling out Windows 10 Mobile for the Lumia 640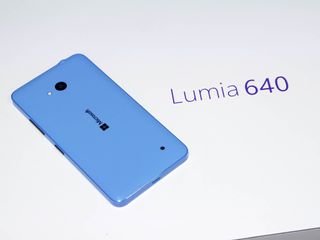 AT&T is now rolling out Windows 10 Mobile for the Lumia 640. Those with the handset should be able to download and update their device to the latest release of Microsoft's OS. Users have been reporting on the AT&T forum (opens in new tab) that they've now received the update on their smartphone.
Be sure to check with the Update Advisor to see if it's ready for yours. Owners of the Lumia 640 have also been sharing similar reports on our own forum, so be sure to join in the conversation if you're yet to receive the update or have some handy advice to get others on the Windows 10 Mobile train.
Have you received Windows 10 Mobile on your Lumia 640? Let us know in the comments.
Thanks to vedichymn for the tip!
Windows Central Newsletter
Get the best of Windows Central in your inbox, every day!
Rich Edmonds was formerly a Senior Editor of PC hardware at Windows Central, covering everything related to PC components and NAS. He's been involved in technology for more than a decade and knows a thing or two about the magic inside a PC chassis. You can follow him on Twitter at @RichEdmonds.
So is AT&T build .318 exactly the same as MS build .318? Or, AT&T did some tweaking of the OS?.......

Oooh, some W10M goodness for all those non-techies who snagged one for just $30.

Ehh techies or non-techies...$30 is an awesome deal for this phone.

I meant that techies would already be at least on the RP insider ring.
Agreed though. I wish I was in the US so I would upgrade my parents from their 630s. Posted from Bikini Bottom via my Pineapple PineBook XPS 13"

Yeah as soon as I got my 640 I went release preview to get W10M Posted via my $30 Lumia 640

Except they won't know they have to go to phone update again. At least that's what another user had to do since it's not the latest build. But could have been a one off, who knows. Maybe she's born with it, maybe it's Lumia 950xl

It's a two-jump thing, to .107 and then to .318. However, updates are automatic on W10M, so the second jump will eventually happen. Posted from Bikini Bottom via my Pineapple PineBook XPS 13"

Is it still that way? There were some errors that occurred with my phone that if I upgraded it to .107 some apps were missing their icons. I was really hoping we could jump to the latest. :/

Happened to me as well due to some problem with my micro SD . Transferred some apps to device , now ok

BREAKING NEWS: If you have a 640 on T-Mobile, you're gonna get the update sometime between unlikely and never.

PM, of course... I thought that was obvious. :)

LOL. That is a good one, hate that you are most likely right though.

But all the T-Mobile customers who jumped on the AT&T $30 640, unlocked it and stuffed their T-Mobile Sim in it are getting the update. Isn't it nice for AT&T to do something for T-Mobile customers, since it looks like the only way to get a 640 running W10M (Officially) if you're on the "UnCarrier". Windows Central App
Alcatel Fierce XL (Redstone)

They are the UnCaring about Windows Phone/Mobile carrier.

Ha it's probably true. Posted via the Windows Central App for Android... I'm sorry

I have Windows 10 officially on my T-Mobile model. When you're on the Windows 10 previews you can simply go back to Production Builds and whala! You're on Windows 10 #TeamLumia 950 XL

Didn't know about this. Do you have wi-fi calling?

And still, how gorgeous our lumia 640 looks in those pictures.... Long live windows phones

Yeah. I really like that glossy blue on lumia 640 than the matte blue on my 640 xl. Sent using lumia 640 xl dual sim w10m build 10586.318

My 640XL looks gorgeous in Black... 640 cant compare to it... It's enormous 5.7" screen, 3000mah ba3 and 13MP main camera.... The 640 cant stand close to its gorgeousness... Makay Chapulets | MTN Nigeria CCR
Posted from my Lumia 640XL running Windows 10.

My 640 XL is fugly in black. Wish I had white.

Get the cover on ebay, I bought glossy orange and blue for my 640 (which came in black)

And how much was the price

around US$10, authentic with MS logo and NFC, just not in the "original" package


Thanks a lot...
I just love these actionable notifications.. ;-)

Each and every Lumia looks gorgeous to me...

Hopefully the XL, 830 and 1520 are not far behind!

Anybody know if there is a firmware update to go along with this?

I was wondering the same thing. I just used Windows Insider last night to update my AT&T 640. Should I go back to 8.1 and then use the newly released update to get back to W10M?

Nope. Better post in the forums. There is a lot of discussion going around.

There is no firmware update, version is the same as if you are using insider. I don't see any reason to go through the hassle of reflashing and reinstall as both of my L640's seem to run fine as is.

Was going to ask about new firmware. Thanks for confirming. Posted from Windows Central App for Windows 10

www.iphone.com AT&T clearly doesn't care about other platforms when it comes to wifi calling. They only support the old person iPhone. Nice.

How is the 1520 not getting it yet? Craziness

What's the point of waiting for this when u could've joined the insider program and been had the update?

Stability Sent from Lumia 950

There really is no benefit. You could've joined the Release Preview ring and gotten a pretty stable build of Windows 10 Mobile months ago. The only thing you gain by waiting this long is now it's just MORE stable, but that's not because it's an official update...it's just because Windows 10 Mobile has had months to mature. Windows Central Universal Application for Windows 10

If I got Windows 10 via Windows Insider, how can I get back to the official version?

Switch to the Production ring and you'll start getting updates through the official channel. Windows Central for Windows 10-Nokia Lumia 830

If you are in Release Preview ring, don't switch because you will get the same thing in a few days. If you want to get out of Redstone builds in Slow or Fast ring, first confirm that Windows 10 is in the Windows Software Recovery Tool (I haven't checked yet) and then use it to reset your phone. Make sure all your phone settings and all your data are backed up first though. If you're not familiar with this tool, you can get it here (it's an official tool from Microsoft): http://go.microsoft.com/fwlink/p/?LinkId=522381

the only phones to have Windows 10 Mobile in WDRT are those that shipped with W10M. Phones that shipped with 8.1, will only get Windows Phone 8.1 through WDRT. I think Microsoft should build in an option to allow which OS to install, but since they want everyone on Windows 10, I can't see that happening

It's available for my wife's 640, nothing yet on my 640 XL.

Nothing special, just a software update to W10M, no firmware included. You can just get W10M on Release Preview months ago.

Verizon cut your crap and update the Samsung ativ se :(

i doubt Verizon will spend a penny to update any of their Windows phones ... Ativ is way past the end of life cycle on a phone anyways

The Lumia 735 on Verizon is getting the Windows 10 Mobile update today as well. Windows Central Universal Application for Windows 10

I've been patiently waiting for this announcement!!! So much good news this week. Cheers!

This would be great news for me.
...if I hadn't already jumped the gun months ago.

On a side note, RS1 is looking great on my Lumia 640. It actually feels more stable on my Lumia 640 than it does on my PC. Windows Central Universal Application for Windows 10

Last two times I tried the builds I ended up with a phone that was insanely slow and a phone that wouldn't send any texts so idk if I trust this. Posted via my $30 Lumia 640

Can anyone confirm if you need an active AT&T sim for this update to roll out? I hear that AT&T is fond of doing that sometimes.

i get update without any sim inserted

I confirm that you don't need that, I have the AT&T gophone, unlocked and have a different carrier SIM

I don't see update in my 640. Never mind, I was not checking Upgrade Advisor.

you may need to run upgrade advisor first. same thing happened to me

Lol, almost 1 year after Windows 10 was launched for desktops. This is an example that shows how far Windows 10 Mobile interest is behind Windows 10 desktop.

If laptops and the like were subject to the same carrier-flavored update limitations that smartphones are, the updates would take just as long. Have you actually looked at Android phones recently? The only company that gets away with immediate software updates on carriers is Apple, and that's because they can just threaten the carrier until the carrier does what they want. Windows Central Universal Application for Windows 10

Have a L640 (ATT gophone) activated on Cricket network. It is getting this update right now. It gets update without SIM card.

I'm waiting with my AT&T 830.

what is version of your L830?

actually.. my LUMIA 830 is also getting W10 !!

Really?! AT&T branded too? Edit: Saw your reply in another comment, never mind.

I am at work and can't check-does anybody know if the Windows Software Recovery Tool downloads Windows 10 for this phone now? Or will we have to wait a few days?

Unless things have changed, there's no plan to do that, so owners of these devices always can go back to 8.1 if they want. Posted from Windows Central for Windows 10

no, WDRT will use original image. http://www.windowscentral.com/windows-phone-81-owners-who-upgrade-window...

My 640 with 8.1 works way better than my 950 with Windows 10. I won't upgrade it,or should I say downgrade it to Windows 10.

I like Windows 10 on the 640 better than Windows 8.1. There's better functionality between my surface and Lumia 640.

Update to the latest release preview. It's really fast on my 640 plus all the W10 apps are really nice Posted via my $30 Lumia 640

My unlocked L830 RM985 is getting W10 !!!!

Did you also get a firmware update?

Actually I changed my mind and interruptedinstallation. So I don't know. I desided to play with w10 on l640 first.

10.0.10586.107, with an update to .318 after.

I just joined the insider program and got the release ring. Since I didn't know if I'd ever get it as I had the AT&T 640 that I unlocked and am using with T-Mobile.

I use a Lumia 640 LTE AT&T unlocked in India. Will I be get the Windows 10 update? And if you are in Windows Insider program, do we need to roll back to Windows 8.1 to get Windows 10?

Yes, doesn't matter where it's located. If you're on insider 10586, do nothing. You're already there. Posted from Windows Central for Windows 10

In other news today, Lucifer has been seen clearing the snow off of his driveway.

Lucifer would not be affected by 0.7%.

If the 640 has a cricket sim will they get the update? My grandmother has att 640 on cricket.

Someone in the comments above yours stated they have a Cricket SIM and it updated. It's called reading the comments. Many questions get answered that way.

Questions get answered in the comments because someone asked a question in the comments and it was answered by another person. You don't have to accompany that answer with rudeness. Windows Central Universal Application for Windows 10

Sorry using the mobile app and was showing comments oldest to last so I did not see the previous comment.

It should. It actually gets update even without sim. My Lumia did not have sim

My interest is depreciating in this platform. There's only two Low-Mid end phone models to buy in my country. 650 and 550 Then 950/XL which is way too expensive to buy almost $900

Normal update or semi-insider app required?

As the article states, you need to use the Upgrade Advisor in order to get the update.

Was hoping for a firmware update but at least thy have released it officially :)

"भारत वर्ष में कब आएगा अपडेट कृपया जानकारी दें कोई भी सज्जन....धन्यवाद."

भारत मे सारे अपदेट पहले से ही मौजूद है। आपका फोन कौंसा है? Sorry for any grammatical errors. My Hindi is a bit poor

Yes, got it, so far so good

IDK but I have had mine with W10M for a few months now. Used Insider for a few months then had to hard reset the device due to store problem and all od the sudden had an update ready notification.

Still don't have it on my daughter's 640 XL

Slow coaches. Saying that I had to download some MS app to check my phone and download the update for me. No idea with or if O2 have rolled it out or not

Download Upgrade Advisor. That way, you will get it if it is available.

I got the update on the go phone .

The only glitch for me when I updated to W10M was that my contacts are missing. Oddly my photos are good. Any one know how to recover them? TIA. (BTW, everything else works well. I like the update.)

Barstow . Yes you got to give it some time . Your contacts are stored on the cloud , so are not lost . Otherwise go to People/settings and see if you got outlook with your microsoft account if so touch continuous until you will see a menu synchronize just touch it , give it time to load ,your contacts should appear .

Yes. I figured out how to get them back. Last night I went through People and got them back when I CORRECTLY set up my Outlook account. Everything is there. Thanks for responding. I appreciate it. So far I'm liking very much the update. Cheers!

It's called *Upgrade Advisor on our 640. The update didn't show up though. Tried a restart. Guess it'll show up some time.

At this point MS would have to pay me to "upgrade" to W10M.

What about the 640XL? I have a customer with a 640XL.

I don't live in the US so AT&T not my concern but upgraded my 640 LTE dual sim to windows phone 10 . Works great !

Installed Windows 10 Upgrade Advisor app on 2 GoPhones phones running Windows 10 Preview and 2 GoPhones running Windows 8.1. The update to "official" Windows 10 worked smoothly regardless of which version of Windows was on the phone. I forgot to move apps from the SD card to the phone BEFORE updating, which I can fix later. It will be harder for Microsoft to sell the $200 Lumia 650 when the $30 Lumia 640 now has the "official" Windows 10.

I agree with you on the 640 vs 650. IMO, MSFT should have bumped up the storage to 16 GB and improved the camera just a bit more on the 650. Anyways, MSFT still wins by virtue of people updating to W10M.

If not mistaken , the 650 has 16gigs device storage and a much better front camera , main camera not sure ... Plus the amoled screen and the nicer casing . My next phone probably , unless the next surface phone is affordable .

I have a T-Mobile/MetroPcs Lumia 640. There is no "official" upgrade to Windows 10. I upgraded with the Insiders program and lost wifi calling. So I rolled it back to Windows 8.1. As of May, Windows 8.1 seems (to me, some folks may disagree) smoother and less buggy than Windows 10 so my T-Mobile/MetroPcs phone remains my primary phone.

What does it mean?
I have 640 and i had win10 before

Only very minor issue I found so far on windows phone 10 is that all email accounts have the same notification sound . Unlike WP 8.1 where they can be different . Hope MFST solve that .

And no 640XL? Seems odd...

Only 640, not also 640xl?

My dad has the 640 while my mom and sister have the 640XL, and the 640XL is still showing "update is coming" in Upgrade Advisor.

So it looks like AT&T didn't push Windows 10 out. It's just Microsoft putting these devices on the production build ring via the Upgrade Advisor.

Hi I was wondering if anyone would know when the lumia 640 for metro pcs would get the windows 10?