Windows 10 for phones preview could go live again for Lumia 520 devices on April 21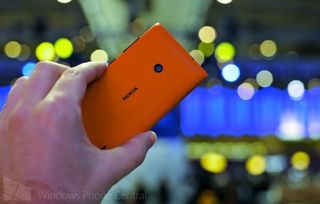 Owners of Lumia 520, 521. 525 and 526 smartphones who have wanted to get the Windows 10 for phone preview build should be able to download it again on Tuesday, April 21. Microsoft has now solved a problem with those devices when rolling back from the preview build back to Windows Phone 8.1.
Microsoft announced that the update had been pulled for Windows Insiders members who used those phones last week while the company investigated an issue with the Windows Phone Recovery Tool. Today, Windows Insider head Gabriel Aul posted this on his Twitter account:
This is obviously good news since the Lumia 520 family is by far the most popular Windows Phone device that can use the Windows 10 for phone preview.
Source: Gabriel Aul (Twitter)
Lets brick our phones one more time.. Yeaaaahhhhh :p

Mine is so slow after update it is unusable. What do I do? Posted via the Windows Central App for Android on my Oneplus One

It's simple, Just use Oneplus One

I love mine! I only have 520 as backup phone to play around with windows. Posted via the Windows Central App for Android on my Oneplus One

Buy and give me that oneplus one

Now why would he want to do that?

Cool. I want to try, send feedback and roll back if too unstable.

It's to unstable to use, but it's fun!

Seems to run fine on 1520 for me& it's fun as someone has said

Yes MS should phase out the ugly hamburger menus!

Hamburger is okay. But the icons? Grr... Uglier than what we have now.

Had it on my 1020 but rolled back to 8.1 due to some apps failing to update/install as the store thought my device was low memory class unit. Now rocking 8.1 gdr2 and will wait for expected tp update/bug fix reveal at build before re-installation.

To me happens the same on the 520

Windows 10 preview!!! Still waiting on DENIM!!!!!!!!!!!!! AT&T

Tech preview.. You don't need this..trust me.. Its better to Wait for the sweet denim

Maybe the Chinese variant of 525.

Thn what about those bricked phones,?

Yay I got a 520 lying around !!

will it be better optimised for low ram device or will it be same as the previous one?

With the cosmetic changes that got most likely will be 512 Mb ram unfriendly

520 owners please don't install yet the OS is not stable just yet, but u may do it at ur peril, just know that bbm wont function again till further notice

OMG BBM WONT WORK ?? *sarcastic yelp*

Hoping its in the next build, and a much better build too.

No Icon support yet..... Well, at least we know that MS is working on the 740, 840, 940, and 940 XL

I would not cry already because have serious problems with resolutions of display sometimes appears an side line and have troubles with resolution scaling also in the 520 that is so still waiting till gets the display resolution fixed

we have Bluetooth keyboard connectivity in gdr2 update...can we connect Bluetooth selfie stick ??

Icon would be nice to worry about too...smh

But thats none of your business...

Still no 930. Great, thanks MS

This has effected far more then just the 500 series. Still no fix either. http://answers.microsoft.com/en-us/insider/forum/insider_wintp-insider_r... A lot of very angry consumers stuck with bricked phones.

Well it is a use at your own risk deal...

NONONONONONONONONONOOOOO!!

i own a 521, and I'm not ready. I'll wait untill is almost 100% stable.

Still think I'll wait for the next build... office & data turn me away.

Rocking W10 on my 520 and I love where WP is headed, already provided many suggestions and me toos via the feedback app :)

My old Lumia 521 resulted in very poor perfomance with W10 TP and I had to flash WP 8.1 back using WPRT.


İ do not recommend the wp10 tp to a daily use phone. Even feedback app crashes a lot.

But basic things works perfectly.. rebooted not even once in my L625 backup

Lumia 930 the most powerful windowsphone still didn't get the fucking windows 10

dont do it 520/521 owners ... it's slow, unusable, and missing key features ... (looks sadly to the right and sees his bricked 521)

Good news......but...main my Lumia 520 not update. ...plzz ....

I accepted the challenge and rolled back my 520 before the fix was provided. Now I want to jump on WP10 again. Being it on!

It's already live in NZDT.

not too much problem on mine L520

Still waiting for it on the 930...

Is it safe to download, bcoz I am not having windows 7 or 8 for my PC,still using XP. For reverting back to 8.1.

Any one tell me win10 preview update available or not for Lumia 525

Last time when I installed the wp10 tp on my 520, I faced a strange issue. My settings menu was completely missing... From action center toggle the all settings button was also dead... Other than these unusual issue wp10 was clean and smooth. It did take 1-2secs to response on opening and closing of apps but overall it was quite nice ...

This preview is fixed or not ?.....mobile data on ...phone very slow..in L520....what about this..issues..??

phone is already bricked...the first version of your buggy tool killed

What do you mean by "bricked" phone?

dead from the 11th of april ...while using the windows recovery tool to revert it to 8.1 it has not come on since,doesn't even vibrate...the windows,nokia & lumia tools don't pick it up when i use USB cable on the desktop....some say i shouldn't have downloaded it but i've downloaded previous previews with no hiccups & now microsoft admits that there were bugs in their software...phone still dead

Any light on next build for phones?

What about data connection bug?

Fuck Win10tp! I want GDR2 Update!

The windows insider app is not getting updated.it's saying attention required.when tapping retry not working.what to do?how do i complaint?

Should I install windows 10 technical preview on L520? I only use limited apps. Ex. WhatsApp, wp central, 6tag, flipkart, uc browser.

Not getting updated in indonesia....

Guys don't you need to use recovery tool? I've download the preview last time but MS says it rolled back. Do I install it again? Or it's already installed in my cp.. I don't receive an update.

The update doesn't do anything for me. I select the preview build, but nothing works. It just reboots the device.

Best option: Wait for another build

When I have selected and Slow/Fast Version in Windows Insider App and hit OK arrow, Phone get rebooted and then nothing. Phone Update showing Installed latest update but it is only 8.1.. :(
I have tried so many times.
Is there any step I am missing???
Please help

I'm sticking on it with my 1520 but I'd highly say to stay away from this build! And I love living on the bleeding edje. It's more of a downgrade than an upgrade at this point. No Office, several apps do not work, attachments on sms can't be opened, frequent "loading ..." screens, downgraded people app, round profile pictures, keyboard problems, loss of existing functionality, etc. Also, MS has probably already processed the feedback on this build. I figure the rollback hastle was too much when a new build should be out by the end of the month.

I dont like the battery in the notification centre. Its the ugliest thing I've ever seen.

I have BIG problem,when i open windows insider app,go to get preview builds,then tried insider fast and slow,accept warning,and it shows "Your phone is ready to get updates from folowing previdew version" the on the bottom it shows "phone will reboot in 5,,4,3,2,1" After that it reboots and then one update was instaled it was Insider Configuration Update and nothing,it does the same thing again and again and again!!! HELP!

I would like to know about Lumia 520 update windows 10 technical it's runs smoothly

When will the final version release???...waiting eagerly....

they didnt fix anything. the new update for the tool does not fix my bricked device

I cant get it on Lumia 520 through Insider app, it says: no biulds. I dont want to install it cuz many people say it is so unstable right now but I feel something is wrong with my phone or something... Any help?

Still unusable windows phone 10 on lumia 520 (1 nov 2015)

Is stable to use win 10 in Lumia 525?
Windows Central Newsletter
Thank you for signing up to Windows Central. You will receive a verification email shortly.
There was a problem. Please refresh the page and try again.