Windows 10 Pro can't handle the AMD Threadripper 3990X's 128 threads
You'll have to run Windows 10 Pro for Workstations or Windows 10 Enterprise to get the most out of your Threadripper 3990X.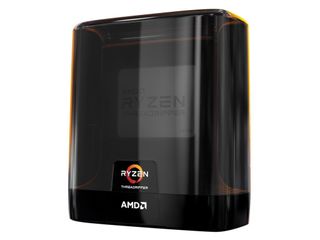 (Image credit: AMD)
What you need to know
The new AMD Threadripper 3990X has 128 threads, and Windows 10 Home and Pro can't make the most of them.
To get the most out of the card, you'll have to run Windows 10 Pro for Workstations or Windows 10 Enterprise.
The AMD Threadripper 3990X is available now for $3,990

(opens in new tab)

.
AMD recently released its monstrous Threadripper 3990X. It's a 128-thread CPU with a Max boost clock speed of 4.3GHz. It's an extremely powerful chip, but to get the most of that power, you'll need to upgrade to something above Windows 10 Pro. In Anandtech's review of the Threadripper 3990X, they noticed that systems running Windows 10 Pro split the CPU into two groups of 64 threads.
When split into two groups, a PC can still use all 128 threads, but a single program cannot. When a program runs, it goes into one of the processor groups. The system places the program in the group that's less busy to avoid congestion. A program can only use the threads within the group it's placed in, meaning that it's capped at 64 threads. Developers can make programs processor group aware, which gets around this issue, but if a program isn't built for this type of setup, it can only access 64 threads.
You can also somewhat get around this issue by disabling simultaneous multithreading. This will make it so your system only has one processor group with 64 cores. The downside of this is that some performance is lost, according to Anandtech's benchmarks.
The real way to get around this is to run an operating system built to handle this many threads. Microsoft didn't build Windows 10 Home or Windows 10 Pro to handle 128 threads. That's reasonable considering the vast majority of systems running those two versions of Windows will never see anywhere near 128 threads.
If you want to utilize the full power of all 128 threads while running Windows, you can run Windows 10 Pro for Workstations (opens in new tab) or Windows 10 for Enterprise.
There's a chance that the issue could go away, however. According to comments on Ars Technica (via TechRader), Windows 10 Pro has an update that allows it to see the 3990x's 128 threads correctly.
(opens in new tab)
AMD Ryzen Threadripper 3990x
This processor packs 64 cores, 128 threads, and has a max base clock of 4.3GHz. It also supports NVMe RAID so you can combine up to six NVMe disks.
News Writer and apps editor
Sean Endicott brings nearly a decade of experience covering Microsoft and Windows news to Windows Central. He joined our team in 2017 as an app reviewer and now heads up our day-to-day news coverage. If you have a news tip or an app to review, hit him up at sean.endicott@futurenet.com (opens in new tab).
Anybody who pays $4000 for a CPU alone (plus the massive amount of memory required to take advantage of all those threads, PS, storage, 10GB Nics, expensive MB, etc.) and then puts Windows Pro on it is an idiot.
Windows Enterprise is required to support 128 Threads.
Better yet, Windows Server Enterprise 2019 (then you can use TWO of them in a dual-motherboard) Or, just run Linux on it. After all, if you NEED that much threading power, you probably require HPC apps and the systems that can support them, and that means Server-class OSes.

Buy a 64-core Threadripper then use it with Linux. Nahhhhhhhhh ;-)

This is not for regular users.

It turns out -- despite all the blustering by some (you know who you are) -- that this is a false report, as it is based on outdated information. AMD says that "that the "higher editions" do not offer any additional performance benefits." More: "Microsoft's latest update Windows 10 Pro has already resolved this issue since the operating system is technically able to support 128 cores. The Windows 10 Pro build 18362.592 (or later) is officially recommended by AMD for benchmarking Threadripper 3990X. The earlier reviews may have been conducted on build 18362.476 or earlier, resulting in slowdowns." Ref: See the wccftech story "AMD Says Reviews Are Wrong – Windows 10 Pro (and Linux) Is Good Enough for Threadripper 3990X"
Windows Central Newsletter
Thank you for signing up to Windows Central. You will receive a verification email shortly.
There was a problem. Please refresh the page and try again.