Windows 10 has reportedly exceeded 100 million PC installs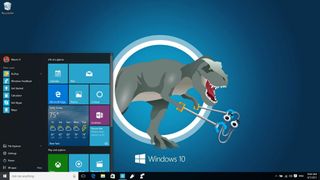 It's been just under two months since Windows 10 for PCs and tablets officially launched on July 29. Now a new, but still unconfirmed report, claims that the amount of installs for Microsoft's latest OS has exceeded the 100 million milestone.
The report comes from Petri, citing unnamed sources. Microsoft officially confirmed that it had 75 million installs for Windows 10, covering over 90,000 unique PC and tablet models, on August 26. If this new report is indeed accurate, it means that the OS has seen 25 million more installs in just one month.
Source: Petri
Windows Central Newsletter
Get the best of Windows Central in your inbox, every day!
Windows 10 beats Mac OS and Chromebooks in 2 months.....

Iphone 6s just sold 13 million in 3 days :P

Let's compare a hardware sale with a software update over a different time period. M&M sold 50 billion blue M&M's in 3 years.

Expensive hardware is harder to sell than free windows 10. Point is that iphone keeps gaining more and more traction.

@ ppopyfinger No. Point is that one is a phone and the other an OS. Are you st*** or something? Windows 10 compares to desktop/laptop/talets only for now (phone not available) . So with Linux, OSX only. That wasn't hard was it?

Do you not understand why Microsoft wants to get into mobile? Because EVERYONE has a phone. PC's are dying. The world is going mobile. This is why they want to shift the paradigm of the PC to make your phone a PC. Man get with the times. I simply gave some recent stats on the iphone, accept it.

@ poopyfinger - You clearly don't work in IT. If you do, try performing all your actions on a phone and see how that works out for you.

This has nothing to do with the enterprise. And even today I've seen modern work places don't have PC's rather laptops/hybrids. This is why Surface pro line is being targeted at businesses. It is why MS has gotten these units into many businesses. And the future would be even better if you had a fully functional PC that is also a phone which is what MS is aiming for. Then you just dock it at work. Certain tasks will always require heavy computing power but honestly a lot of those places have specialized equipment like SGI onyx etc.. But from a consumer perspective you don't really need a PC unless you're doing heavy gaming. And even then you could technically have docking stations that extend the GPU of the phone. And even Nvidia is focusing on mobile chipsets and this of course includes laptops/hybrids. There is some pretty crazy gaming laptops coming out.

As an IT Specialist. iPhones are nice for a secondary device, but thats it.

@pooppyfinger. "PC's are dying"... You mean like the iPad is dying because sales have slow down?

@poopyfinger. "PC's are dying"... You mean like 'iPads are dying' because sales have slow down?

My god, your logic...it's...it's perfect! Hey let's also ask Apple how many iPhones, iPods and iPads have upgraded to iOS9 while they're at it huh? Cause surely if hardware was harder to sell for them, then a lot more than 13 million people would have upgraded for FREE to iOS 9 am I right?! FFS NO! Software and hardware are two completely different things. I guarantee you, don't take my word for it if you must but there is no doubt, that iOS 9 upgrades are SIGNIFICANTLY slower than that of Windows 10 while hardware sales isn't a thing to talk about until the 950 and it's XL releases. Please refrain from fanboyishly lashing out at everyone like they're incompetent, PCs aren't dying Lord they're not even close ever! They'll be around for a very long time, the Oculus Rift, Hololens and Continuum simply prove my point that technology will still be reliant upon PCs even if the Mobile Device space is expanding. Microsoft doesn't need to become Apple. I personally hate Apple not because of their products (I think they're great little things and I personally own some too) but because of their ludicrous business practices and uppity attitude to the market and its consumers. Absolutely distasteful and should the day Microsoft pull that on its customers, I would simply regard technology businesses collectively as exploiters of the time (forget politicians). tl;dr: Don't be an ass and compare software adoptions and hardware sales and not between a company rebuilding from great losses and another that exploits its consumers to a sheepful existance.

I was replying to someone saying "beats Macbook Os and chromebooks". There was no macbook os upgrade or anything. We already knew there were more windows machines out in the field than the others, so why would they mention this? So all that means is everyone is taking a free upgrade. Yah I know people who took the free upgrade and never use their computers. Maybe once in a blue moon while they use their phones/tablets mostly. I'm a fanboy? I run Windows and prefer it. I simply mentioned the adoption rate for Apple is insane and gave a recent stat I read in reply to macbook os comment. It's actually the fan boys who start attacking if you really think about it. And the sales figures themselves show that traditional PC shipments have been dropping while laptop/tablets/hybrids have been soaring, the paradigm is shifting. There's always going to be the small audience that builds their own pcs but it's never going to be as mass adopted as it once was in the consumer market. Even I only built a PC for gaming, had a laptop the whole time. But now laptops are coming out that will run games better than my gtx 670. We really know who the fan boys are. I'm quite open to anything and just mention the realities. I'm not in denial. I have all 3 mobile os's and prefer mobile 10. MS does have a lot of work ahead of them though.

And I was responding to your mentioning of iPhone sales in a comment section about PC Software adoption rates! Yeah I get why he mentioned those devices out of nowhere but they had more relevance than the topic of friggin mobile! MacBooks (or simple the Mac OS altogether) ALWAYS have a certain cycle of upgrading as well but strangely enough don't bother to mention it: wanna me to give you a hint? It's an incredible feat to have this many adopting a software released in such a small window and that in itself deserves praise especially if it's bet two of its competitors which took years to evolve. A fanboy doesn't have to be someone that owns a singular device, they can own all devices, advocate for one, but be a complete fanboy for another(overly and deceitfully critical person). Wanna save yourself the trouble? Don't mention hardware sales in a software discussion page, don't mention phone sales and compare it to software adoptions and although it's okay and usually just for fun, don't bother mentioning Apple superiority in any sense on a Windows Central article. Not my rules, just a universal understanding I'm quite use to. Also I think you've confused the term PC. If you're on about PCs then your arguments are completely contradictory. I think you mean DESKTOP PCs. If so, then of course Desktop PCs are dropping...wanna know why? (I'll tell you for free). Because society these days are all about convenience, that's why we're seeing a rise in the phone market, and a rise in the portable PC markets. No one is going to bother buying a factory built PC because A, you're forced to buy over proprietary products with it, and B, everyone knows you're being ripped off compared to the guy that custom builds which I suspect every desktop user would prefer anyway. PCs will never be dead, it'll never drop in sales radically as the need for it becomes overwhelmingly obvious everyday in a technology driven world. Desktop PCs are not exception, although All-in-One PCs are trying to replace it, it will also live for a VERY long time. There is no other way to obtain a fully customised (and customisable) piece of hardware built according to your needs (usually games) and overclockable to godly powers. No laptop or All-in-One PCs will ever reach that. So yeah, of course factory built Desktops will die, but that in itself is a display of a move towards the future: one where Desktop PCs are exclusively for those that custom built it investing thousands of dollars into their system. Not even the new ASUS laptops can reach that sort of power.

Yes well when I say mobile this includes laptops/hybrids. They are considered mobile. And Remember that Computers used to be huge. And so the idea that we can get the same computing power into something smaller is not so far fetched. There's a lot of interesting research happening with quantum computing. Even Samsungs new 3d V-Nand tech just shows how you can drastically change the landscape of storage. And they are in the process of mass producing.

Em, look just want you to know you can admit a mistake, no one's gonna crucify you. When you mention Mobile it is without doubt in reference to Windows Mobile and iOS as our chat and basically all your other posts are about. To be specific, you've always regarded Laptops/tablets and phones as seperate things...if you're trying to cover your own ass sorry to call you out. That said, Computers in general have always and will always be huge, especially with furthering technologies. Moreover please get your facts straight, hybrid is too vague a term, if you're referring to the All in Ones, those sure as hell ain't portable. Laptops and Two-in-Ones however are considered portable PC devices but by no means mobile, a point where moving about with it everywhere is possible. (I.e: Phones and tablets) Yes in a discussion of devices and technology, these terms matter.

Hololens is a stand-alone device, but your right about PCs not dying. They're certainly getting fewer in numbers but far from dying

It's not so much that what you said is ignorant. It's your username that is ignorant. Who could possibly take you seriously? I immediately pictured a 22 year old loser in his mothers basement.

The point is iPhone is apple while W10 is orange.

That & whose just purely using wi for a valid license

And we're comparing a desktop and tablet centric operating system with a phone because...?

Because windows 10 is Microsoft's mobile strategy,their last hope, and Apple is their competitor. So it's interesting that apple can sell 13 million super expensive pieces of hardware like it's nothing.

@poopyfinger No. Try again. What's your name about? Does it realy smell bad? Like your posts do. You know there's iMore? Move your finger :)

Not sure why the comment above is downvoted, it's perfectly valid...

Windows 10 was installed over 14 millions on the first day

Most, if not all, of which are to current iPhone users. It's not an easy ecosystem to get out of once you've invested a lot into it.

Iphone 6s just sold 13 million in 3 days :P Just goes to show how many gullible fools there are in the world :-)

Yes, well MS needs to become the Apple brand and steal the gullible fools. I was at the Apple store and guy was talking about all the great new features and I kept saying how they are all features that have existed for ages. His rebuttle was "well you know, apple just does it better, they may not always invent things, but they redefine them and make them better to use". It's great marketing and that's what MS needs. Look at their recent phones. They say Microsoft. That ruins it. A great brand only needs a logo. The Logo at the back would suffice.

"well you know, apple just does it better" That's because Carlsberg don't do Apple products, but if they did then they would probably be the best in the world.

Look, your talking to some one inside an apple store generally they aren't going to be that open minded. I'm surprised just by uttering the "Microsoft" the guy didn't go "we don't use such language here" and kick you out off the store :P. Joking aside, I'd have prefered if they had just stuck with logo on the back however I get why "Microsoft" is written on the front. Not because it's the norm but Microsoft is the brand. Not Lumia, Not Windows But Microsoft. I'd be surprised if the Surface Pro 4 doesn't have Microsoft written on the kick stand. Personally I'd prefer it if they keep as it is on the Surface Pro 3 or just the logo as in the Surface 3.

But Microsoft does so many different things from cloud, enterprise solutions and many others. For the consumer market they should just stick with the Windows brand. Because really that is what their mobile/hybrids are. It just becomes more stylish that way. Even just call it Lumia and design a logo. Some people see the word Microsoft and they back away. They think about Internet explorer issues and Windows Millenium haha.

Windows 10 had 14million installs first day.

Dont think thats a fair comparison but since you are making a comparison so I dont think Apple will sell 100 million iPhones in 2 months.

"IPhone 6s just sold 13 million in 3 days"
And will not be in use after 3 years. However, Windows 10 would still be selling. Your point?

You have to compare apple to apple. It took Apple 30 years to build up a 80-million user base for Mac/OSX.

Also 20 million pizzas were sold in those 3 days :P

Pretty sure they passed the Chromebook install base within the first hour.

"Pretty sure they passed the Chromebook install base within the first 3 minutes." There. Fixed it for you.

Indeed :) with this speed they'll reach their target in March 2017 :)

Keep in mind the growth has slowed down considerably, first it was 75 million in less than a month, now it's been another 25 million in a month.

Yes, but keep in mind that sales of new Windows 10 machines haven't really picked up yet. On average, 25 million new Windows machines are sold a month. If all those were Windows 10 machines going forward (which not all, but the vast majority will be), that is 900M Windows devices in 36 months. Then when you add in the upgrades, you can see how they will get to the 1B number. Still might take until 2018 to get there though.

Shouldn't the number of PC sales be lower than 25 million per month at this point? And if it is indeed that high, shouldn't that mean that the majority or at least a large portion of Windows 10 install base growth comes from new PCs and not actually upgrades (which could be a worrysome conclusion for MS)?

For the past two months and probably for at least 6-months going forward, you will still a large number of Windows 7 & 8.1 machines being sold to companies, so right now if 25M more machines are running Windows 10 over last month, the large majority of those are from upgrades. Sales of Windows 10 machines will really take off when companies start migrating to Windows 10 in 2017. Still, I expect 200M+ Windows 10 devices in use by the end of the year, which is a big number and well on the way to 1B

With ppl now using hybrid devices iPads and shitty android tablets only windows 10 mobile can bring change. Legacy users will still stick to using win 32 applications or maybe Linux.

You really think the average consumer will be using Linux?

That's bitter truth. But also keep in mind that touch enabled 2-in 1 devices are on rise. So people will gradually use the store apps. Will adopt very slowly but will.

Windows devices will also include phones, and possibly xbox and hololens sets.

Also keep in mind that they will add Xbox Ones and Windows Phones as Windows 10 devices somewhere in the near future which will give the numbers a firm bump of a few million installs. Add to that most companies are a little hesitant to update so close after the initial release. There will probably be an increase in installs coming from businesses somewhere in 2016.

Not everyone is getting the upgrade yet. I know my friends parents haven't gotten prompted to install yet. Either they are still waiting to do the second wave or it's broken.

The adoption growth will probably see a small uptick when the November update is released and another at the holidays.

I'd say its broken. The "Where's my Windows 10 upgrade? Its coming!) notice is gone from the Microsoft answers sites

Why do you even read the articles about Windows? Red​920

Dude, go to some sh*thole instead of arguing here. Your logic is fked up by isheep's just like your finger!

Also, in November all (internet connected) Xbox One consoles will be upgrading to Windows 10 and will provide a sizeable bump to the number of devices with Windows 10 installed. Almost all Windows Phones will be eligible for the upgrade around the same time, although that will be a significantly lower bump.

That's to be expected. After all the upgrades you are then relying on new purchases.

I imagine the monthly activation numbers will varying depending on the time of year, Black Friday, Christmas , January sales,...all will contribute something to the total of Windows 10. And then there are businesses, many of which have yet to make a transition. I have been in several offices lately and many of them are running Windows 7 or 8, not a single one is on 10 yet, but give it time. Also, the installs have yet to come from the Xbox One or the mobile platform and that's about 120 million potential installs right there.

Also keep in mind that a vast number of people are waiting for Threshold 2 to make the upgrade to Windows 10.

Considering the vast majority of people don't even know about Threshold 2, no. What we don't know is whether MS has slowed down the rollout themselves to increase the speed once again when Threshold 2 is released.

I didn't say vast majority. I said vast number. This includes the savvy Enterprise customers that will be upgrading millions. Those IT departments know very much about Threshold 2. It also includes many, many consumers who know nothing about the name of Threshold 2, but are waiting as usual for Microsoft to issue their first Service Pack of bug fixes before they jump on board, because it is what Microsoft has always done in the past. 9 out of 10 people I talk to say they are waiting a few more months to give Microsoft time to work out the kinks before they install.

No, 75 millions in 2 months, July and August.

Link to the background please?

"its been just over 2 months"
September 28th is over 2 months after July 29th? Learn something new every day I guess. Edit: Fixed. I love it when articles are changed based on comment feedback. It's why I rarely go to websites that turn the comments off.

Lol. But that could be neglected.

Oh no John made a mistake! How could he! Kill him and burn his corps!

the original line is true if one considers a month to be 4 weeks / 28 days though :)

He wrote it in the future. He went back to the past and changed the article.

Brilliant strategy to release Windows 10 for free.

Yup, so that they could earn by data mining legally.....

It's a shame we can't block other users. Aman2901, you'd be at the top of the list!
Wally

Touché
Get some knowledge on the topic and then criticize someone.

Do you mean Android and ChromeOS don't? I don't following OSX or iOS but most likely they do too.

I don't know about OSX, but iOS does.

Yes they do, and just like iOS, Windows 10, Windows Phone and Mobile (that has many of the same Windows 10 privacy settings to check and uncheck), and Linux, and Android, etc etc... they can be turned off, and they are used to gather data to improve services or features without users having to do anything. but anything can be usually turn off, and Windows 10 is not an exception.

Yes they do, but Microsoft didn't and that's what made em different.

So we get mad at the company that decides to do it last? Shouldn't it be the first company who started it all? I believe that would be google.

Who's getting mad here..?
Dunno why folks here react so badly.....

MS didn't do it last, they were just not as clear about it before. They said they removed the Start-menu in W8 because the mined data told them people weren't using it.

If they want to do data mining on windows 10 they better do on those who have installed windows10 from non genuine windows 7 copies.

why? when you use a "known good activator" it will act as original, it uses legal and real OEM keys to do the activation. Microsoft could never really block that, only with patch KB71033 could do it and it could be easily hidden. but then, Windows 10 only needs to know if you have a legal key to do the upgrade, and then the Windows 10 key they add you it's a generic one becuase it's based on your hardware, so they can't really tell if you upgraded from a legal or not legal source anymore, especially if you clean install and there shouldn't be any windows 7 key to trace, because your computer is being automatically activated with the generic Windows 10 key.

and here we go again, with clueless idiots talking crap about "data mining" just turn it off and stop being ignorant about what you talk about, especially when others OS do the same. it's called feedback and telemetry to fix any problem without the user having to do anything.
It's not even only done o​n Operating Systems, I do have many software that let's you join their "anonymous", "community" or "whatever name they want to add" program to give feedback and statistics about your usage and problems you may have. again stop being ignorant and bring crap to the comment section that has NOTHING to do with the article. if you don't like it, stop using technology and internet, because everything is gathering data from you. even non internet related stuff like banks, etc etc.

Had you read the 11th point (and onwards) in the T&C while installing Windows 10 you wouldn't've opened your crap. Get some knowledge on the topic first. And yes there is a difference between data mining and feedback. Microsoft didn't do it earlier and that's what made em different, now they're doing it, and yes I have a problem with that.

First, it's the telemetry data, which in no way could say that this data is from Aman2901 or spazinvader or this x or y. It will have data like this application is being used this number of times on these days and crashed these many times. These data are based on apps/softwares/drivers and might extend to hardware too. Data mining on these, in no way, affects your privacy. Okay to an extent wont affect your privacy. Data mining on you(within an app or software or portal login, etc) does affect your privacy directly. Based on the login info and others, they can identify from whom a data is extracted. Also the retention time, up to which the data could live with the company also matters. And what will happen to the data after the retention time also matters. Microsoft and Apple actually stays on the white zone(you can say grey zone and it is still correct) whereas the online marketing companies, ad based companies, etc need the second type of data to survive. So you can understand now that "your data" from Microsoft means data about you on how you use the OS rather than your personal data like name, age, etc. And if you have read the EULA, as you seem to have done, you might also have read that the software has no warranty or guarantee and installing and using that is at your own risk. Which is moot(kind of) as we usually get updates for a period of time. The purpose of any EULA or T&A is that no one should just call out the provider to the court on any smaller matters. So the words might be big and might mean a thousand things but essentially just a shield for Microsoft.

You say about the collection of app information, it's already available to devs in many ways. Even in Dev Center I can view these things....

Third party apps. Yes. It will be available. But what about Microsoft's own apps? Like phone, etc? For them, they need data from the OS only. And our timing for the discussion is really good. Terry Myerson added a blog post explaining what data they take and how they use the data. Windows central did add the info. You can check it out :-) You will get to know the details from the horse's mouth directly :-)

Oh they read our conversations certainly. Lol.

You say about the collection of app information, it's already available to devs in many ways. Even in Dev Center I can view these things....

do you have any evidence to support that ? does anybody have any evidence to support what you are saying ? No ?.....

@Jagar Tharn, analytics is not new.... it's used any sector, field, industry... How on earth do you think products get designed, implemented and reiterated. Not to mention how is market research conducted? Do you see everyone running around with pens, paper and clipboards? Think about it. In the event you can't even comprehend the above, I'll give you an example the photos app was changed based on telemetry "we noticed people were going to their albums after opening the app, so we bought albums to the forefront".

Do you have a valid point to speak..? No..?

Another ironic Google user?

First year free upgrade working....
1billion in one year is easy but they should concentrate on Mobile from now...with native .exe run on handheld.

1 billion in one year is easy?? It's not gonna happen in one year, even Microsoft is not aiming for that

Exactly... it was something like their 5-year plan. The number of installs should dramatically increase next year as a) enterprise users likely haven't even started contemplating installing W10 yet and b) veteran users will wait 6-12 months until more bugs have been ironed out, as is the tradition for all new Windows releases (typically after SP1 or SP2 are rolled out)

It is a 3-year plan... mid 2018 target.

Plus, most of the privacy trash talk has been forgotten.

Judging by the StatCounter numbers, the growth has slowed down to that of Windows 7 at its time, which is a solid number but could be better considering Windows 10 is free and 7 was not. Microsoft may wait for the October 6th event to release this number officially or we may get to see it today if it's true, let's see.

When has StatCounter ever been accurate?

If only the mobile segment is that exciting...

75 million in 1st month and 25 million in the next month. Slowed down terribly. Expected at least 125 million Windows 10 users in first 2 months.

Not sure what you were expecting, honestly. I think it was clear from the beginning that the growth would slow down considerably at some point. This said, it's at about the same growth as Windows 7 had at the time, which is a solid number but could be better. Let's see how the numbers keep growing over the next months.

Don't forget Windows 7 was not free. The pace of Windows 10 is a little better than Windows 8 considering it is free and Microsoft aggressively marketing it.

That's exactly why I said it could be better. Still, tt's more than a "little better" than 8 because if the general consensus was that it was horrible (as was the case with Windows 8) people wouldn't install it even for free.

You know enterprises haven't gone full steam adoption yet, right?

Most is an understatement........id say that enterprise pc's ripe for upgrade number in the billions, but a lot of them won't be upgraded due to lazy IT staff worldwide.

Because making sure all of your in-house software works with a NEW OS before triggering upgrades is a sign of "laziness."

Well that's one problem however most of these corps are still running legacy software, why fix something that's not broken? Windows 10 has compatibility support for Windows 95 applications, at least on the Pro and Enterprise versions.

Compatibility in my experience usually means it runs, but doesn't necessarily mean it runs as it's intended to. Even when something is compatible there are bugs that need to be worked out. When companies purchase 3rd party software from other vendors (that is usually further customized to meet the customer's needs) it's generally wise to wait for the green light from those vendors before you go installing upgrades.

Well, you have to test it against your legacy applications or you'll have scores of angry users.

Probably in the 110-120 million now since the milestone had been reached last week according to the original article at Petri.com

I very strongly doubt they would reach 10-20 million in less than a week at this point.

I wonder if this number includes the number of reinstalls.

All things considered, I think the number of reinstalls should be negligible.

How do you know? Another thing to consider is if installs are counted even if shortly later the owner rolled back to the previous OS, which many have done.

The number of rollbacks should be negligible. Statcounter statistics seem to imply that at the very least, more devices stay on Windows 10 or join it than leave it.

"which many have done" I'm fascinated to know where you found this insider info. Please share.

I would think that these numbers are generated through counting licenses. Reinstalls wouldn't calculate, because the licenses in these instances are already accounted for.

I think it is based on activated key.

What's the status if enterprise adoption of windows10?

Considering MS themselves recommended to hold off enterprise upgrades before the November update, I doubt the enterprise adoption has reached significant numbers.

The only number we know is that 1 million enterprise PCs are already on 10, but that data was relased a while back.

I would think it would be slower. I know our IT shop needs time to compatibility test it against our legacy applications. We are usually one OS behind the current verison. Although, I'm sure will probably skip Windows 8 and go to 10 at some point.

Growing in big numbers is something awesome! It just have to meet the utmost basic system requirements. Why I'm saying this is because, it just sucks on my 3GB RAM computer as it is said it'll run good on a 2GB RAM.
P.S. I'm not even in a insider mode.

I'm soo freaky glad that my PC is one of the millions... And I wonder what number it is on their server? I guess #85,199,635.

Well thats more than 19 installations every seconds. Not bad :)

Well this was expected, sooner or later, but it's cool to hear they exceeded 100 million in 2 months. hopefully this will make some stupid developers sstop being lazy and work for universal apps.

almost: http://www.windowscentral.com/sites/wpcentral.com/files/styles/xlarge_wm... but I hope John will update on that ;)

Whilst it looks very nice. It still has a few bugs. I had to reset my pc last week, and that re installs windows. Because Windows Explorer ie the Desktop just kept restating in a loop making it unusable. And for minor bugs, still get problems, with tiles not working properly especially on wide or large sizes. My mail app worked before the reset. But has since stopped working.

Interesting, I had the explorer restart loop as well, about two weeks ago. Applying a system restore point (which is always the first thing you should do when you have issues like that imo) fixed it without a reinstall.

System Restore and backup from a image neither of them worked.

How will i get the t rex Windows 10 wallpaper

This would be a more impressive figure if MS wasn't forcing W10 on peoples computers who didn't even ask for it. That is pretty slimy of MS.

Except they aren't, you still need to trigger the installation manually.

I guess you accept everything you see without thinking about it. Are you still waiting for your payout from the prince of Nigeria?

Hey I want those wallpapers please tell me how to get em.

Everyboday wants the wallpaper, we must have the wallpaper!!!! Gimmie wallpaper now!!

How many went back to 8.1 after downloading 10? I did.

I did initially on my Surface 3 due to missing swipe gestures. But I have since found a work around.

I am not happy at all with W10. My wife is pissed about what a pain in the ass my PC is to use now, and I agree. VERY slow and buggy. Not liking it at all.

You should try resetting it after the upgrade.

How does the math shake out to 75 mil with 90k devices? Honest question. Are the 90k "NEW" devices while the rest are upgrades?

UNIQUE! devices. @drunkenscholar
Win 10 on three dell venue tablets = 1 unique device(dell venue tablet)

Gotcha. So unique to model. Makes a lot more sense now.

Some sites now have Windows 10 tracking above all versions of OSX combined. :D

Wonder why it seems delaying the W10 mobile release and hope M$ will give more attention to basic but essential features as the really poor dialer and old bugs as low mic audio when calling through GSM network with some devices as the Lumias 820, 830, 920, 930.

it will easily reach 1 billion win 10 devices goal....1/10th has come from PC industry only......sure win 10 mobiles/laptops will add significantly to the no

Still not a 3rd of the us population.

I know that this stat will never be released but I am curious as to how many people have rolled back to Windows 8.1 and 7.