Windows 10 Store Collection: Fall TV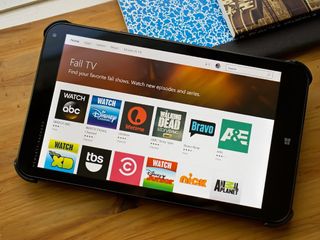 The Windows 10 and Windows Phone Stores have a series of app collections that pull together a small sampling of apps and games that fall into distinct categories. These collections are a great place to start looking for a particular type of app. For example, if you are searching for apps to help you shop, there's a collection full of shopping apps available.
One of the collections in the Windows 10 Store is Fall TV. This is a collection of apps designed to bring the boob tube to your Windows 10 device. There are a few TV apps that focus on entire television networks and a few that focus on specific broadcast channels.
This week's Windows Central Roundup will pluck a few of these apps from the Fall TV Collection to highlight. While the Collection doesn't include my favorite television app, Watch ESPN, the Collection does have a nice, broad range of television viewing options. These apps can come in handy while you are on the go or when the wife or kids take over the family television set.
Keep in mind that this roundup focuses solely on apps in the Fall TV Collection from the Windows 10 Store. Should a Windows Phone version be available, we will include links to that version as well. Also, if your favorite television app is not mentioned, feel free to toss out your recommendation in the comments below.
Watch Disney XD
There are several Disney Channel apps available in the Windows 10 Store and Watch Disney XD is one of the higher rated offerings. The channel focuses on television shows aimed at the pre-teen aged child but some of the programming is well suited for older viewing audiences.
The app does require you to log into your cable or satellite service account. Once logged in, you will have access to full episodes of the most popular Disney XD shows. These include Lab Rats, Ultimate Spiderman, Star Wars Rebels and Droid Tales. You can also catch live broadcasts of shows.
While Watch Disney XD doesn't have the most attractive layout, the content makes up for it. Streaming was smooth with a few ads mixed in to help pay the bills. While some of the Disney Shows will include behind the scene shorts, the descriptions of the videos or episodes are rather brief.
Watch Disney XD is available from both the Windows Phone and Windows 10 Stores. Ratings range from 4 Stars in the Windows 10 Store to just under 3 Stars in the Windows Phone Store. The most popular complaint from Windows Phone users is because their cable/satellite provider wasn't available.
Lifetime
While Lifetime may not be my first choice of television channels to watch, it is a popular channel for many. A member of the A&E Television network family, Lifetime delivers a wide range of programming that includes reality shows, drama series and full-length movies.
The Windows 10 app gives you access to over twenty-five full-length movies and dramatic series. You will also have access to full episodes of Lifetime series such as Project Runway, Dance Moms, Army Wives and Abby's Studio Rescue. You will also have access to behind the scene clips and previews of upcoming shows.
While Lifetime isn't my cup of tea, the design of the app is user-friendly and the viewing selection spans a broad range of topics. Series and movie selections are displayed on the app's main page in panoramic fashion. Individual show or movie pages include a brief description and listing of any episodes available.
There is a Watchlist area on Lifetime's main page. Here you will find any unfinished videos will be listed for easy access and any favorites you have tagged for future viewing. There are periodic commercial breaks throughout the streaming videos, as well as at the beginning of the stream.
Lifetime scores a 4 Star rating in the Windows 10 Store and 3 Stars in the Windows Phone Store. The most common complaint amongst reviewers is that the app freezes up often, but I did not experience any performance issues in testing out the Lifetime app. The Lifetime app is a free app, available from both the Windows 10 and Windows Phone Store. The app does require you to log into your cable provider account to access all of the content and the Lifetime content is only available to stream in the U.S.
Syfy Now
I can remember when the Syfy Channel launched, delivering all your favorite science fiction shows to your television. The channel has grown considerably since the early days offering a respectable collection of original programming. The Syfy Now app delivers this programming to your Windows 10 computer or Windows Phone.
Syfy Now lists a nice collection of the popular television shows and movies on the main pages. You can then view the complete show listings off a secondary menu. You will also find the current on-air lineup off the main page of Syfy Now.
The app does require you to log into your cable provider account to gain access to the full range of content. If your cable provider isn't set up for the Syfy Channel, there is still plenty of content to enjoy. This includes selected full episodes of Syfy original content and behind the scenes interviews.
The app is rating at slightly over 3 Stars in the Windows 10 Store with the most common complaint being stability issues during playback and certain providers not being available. In tinkering with Syfy for a short time, I did find that episodes did begin streaming a little on the slow side but once they began playing, no complaints.
If you have tried Syfy Now, let us know what you think of things in the comments below.
AMC Story Sync - The Walking Dead
Zombies have become a staple in the entertainment industry. From movies to video games to television series, the undead seem to be everywhere. The AMC television series The Walking Dead may be one of the most popular places to find Zombies these days and the AMC Story Sync app helps you keep up with all the drama the show offers.
Available from the Windows 10 Store, AMC Story Sync is an interactive app that allows you to connect with fellow fans via snap polls, trivia games and exclusive videos. Story Sync is available with the broadcast of each episode of The Walking Dead and you can view previous sync episodes of the show from the archives. While you may not have the full audience participation experience with the archives, you can compare your polling and trivia responses with those that were made during the broadcast.
While AMC Story Sync does not provide streaming of previous episodes of The Walking Dead, it is a nice companion app to have handy during the broadcast of the show. You will need to log into your Facebook page to participate in the social networking features of the app.
The Windows 10 app currently synchronizes with The Walking Dead television series. Our guess more AMC shows will be added to the mix in the future depending on the success of things.
AMC Story Sync - The Walking Dead is scored at 4 Stars in the Windows 10 Store and adds a new aspect to being a couch potato. Let us know in the comments if you've tried the AMC Story Sync app and what you think of things. It is a free app for Windows 10 and is not available for Windows Phones.
Download AMC Story Sync - The Walking Dead from the Windows 10 Store (Free) (opens in new tab)
George is the Reviews Editor at Windows Central, concentrating on Windows 10 PC and Mobile apps. He's been a supporter of the platform since the days of Windows CE and uses his current Windows 10 Mobile phone daily to keep up with life and enjoy a game during down time.
Microsoft needs to stop pulling third party TV apps until these networks get onboard. I get ABC and others complaining, but FX and HBO for example can stick it. I pay just as much for those channels as iOS users do. They are helping the other two shlub OS's develop a monopoly. If they dont want to make in house apps, then they need to shut the front door.

All of them are not available in my country:(

Same here. I bet its US only. That's what annoys me.

Dear Windows Central, There are other countries in the world too. America is only 1 of 193. How about you concentrate of the other 192 as well?

One article talks about US specific apps and you all go nuts.

its should be on Title not on article

Hate to break it to you but this isn't the only article talking about US only stuff

205 actually.
That's the number of FIFA federations.

We are both wrong, you more than me. 195 Sovereign States According to the UN (as of 2015)

FIFA Breaks up the UK into England, Wales, Scotland and I believe N. Ireland. Though they're all technically "ruled" by the queen, they just have their own seperate football leagues. Guess there's a similar country elsewhere that's similarly broken up.

Well as I recall Palestine was country #194 in the U.N ✌

Dear Non-Americans, Windows Central provides "Windows 10 Store Collection" reviews. Windows Central is located in the US. Which Collections do you think they have access to and can therefore provide reviews for? They provide reviews for what they are given access to. So, your lack of understanding this doesn't help anything.

USA only apps, nothing to see here guys.

Also in canada theres cravetv, ctv go, city video(appears to be broken), the movie network go, & tsn go
Windows Central Newsletter
Get the best of Windows Central in in your inbox, every day!
Thank you for signing up to Windows Central. You will receive a verification email shortly.
There was a problem. Please refresh the page and try again.