Windows 10 Technical Preview now available for download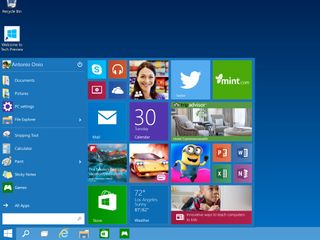 As promised Tuesday, Microsoft has released the Windows 10 Technical Preview for Enterprise, allowing PC enthusiasts to try out a very early version of the company's next OS release.
Microsoft is making the Technical Preview available through their Windows Insider Program, which lets users download and try the new OS prior to its release sometime in mid-2015.
To sign up, simply navigate to the address below and sign in with your Microsoft Account. Once completed, you will see a welcome message similar to the one above. From there, a download link will be generated to get started. Estimated files sizes are a few gigabytes and the install may take some time, so make sure you do not have anything pressing. Like all software previews, please be aware that they may be risks associated with participating, so it may be better to use a secondary machine, or run in VM.
Sign up for the Windows Insider Program and download Windows 10 now! insider.windows.com.
For those folks who want to get the preview version via the ISO files, those links are also live (opens in new tab). There are 32-bit and 64-bit versions in English, English UK, Chinese, and Portuguese.
This preview is targeting desktop PC users specifically, so they can try out and offer feedback on features like the new Start menu, the multi-desktop functionality and more. A preview made for consumers that will add features like the "Continuum" touchscreen mode will be released in early 2015.
Are you happy to get your hands on this first public preview of Windows 10?
Windows Central Newsletter
Get the best of Windows Central in your inbox, every day!
Started download 5 minutes ago. It's flying. Nice touch editing out the key in the screen shot but I think it is universal.

not lucky, it just happened

Can you dual boot W10 from 8.1 using vhd? I am trying to but when I try to boot W10 it just loads forever on Toshiba screen

Downloaded exe and installing but will wait for both iso files to download also. Will install on all but my main desktop.

what is the difference between downloading the .exe or downloading the .iso files?

EXe will upgrade over your existing computer. ISO allows much more flexibility..I prefer VHD booting to dul boot on my existing laptop..look for my guide on VHD here

I know right. 9 minutes. Ridiculous.

Guess it must be same as win8 was

Are you able to choose what drive to install it on? I tried but don't get an option.

Use ISO and you can install it to any partition I just tried dual boot and it's working

So installing on virtual machine is possible? Downloading now...

Yes with ISO same concept as windows xp-8

Yes. I have it running in VMware 9 now. Installed using the ISO.

Can the download act as an upgrade or just fresh install. Might try it if it will migrate my apps and data over.

You can do either, but this is beta software we're talking about, you really don't want to be using it as your main OS unless you don't mind the possibility of having to re-install everything if it goes wrong.

If you have a spare hard drive / partition and want to experience it as an upgrade, you could do what I'm doing and clone your current installation onto the second drive, activate dual boot so you can get to it, then upgrade this clone instead of your original. That way you keep all your data and installed software, but can still switch back to your previous install if needed.

In addition to my normal backups, I use a 60gb SSD once weekly as the source for a Macrium Reflect clone (I'm backup obsessive!). Could/would I use this for the method you described. If so, I may need some step by step guidence! Thank you!

Wonder how it would work on my venue 8 pro... I may risk it

Same here specially since mine it's basicly full (HD)

How about Surface 2? and Lumia 520?

This technology preview is for x86 hardware only.

I am about 65% done downloading to my Dell Venue 8 pro. I will let you know how it goes.

Were you able to get it installed by chance?

It's working really well on mine.

I downloaded it with almost 1.7 mb/ sec. :D

It's "available" but not actually available. I keep refreshing the page :s

No, it's available ;) I'm done downloading it.

Will the preview users get the 10 for free after the final release of the os or they have to buy it.

Well if you are running Windows 8 it will be a free upgrade. They haven't told us what the upgrade cost will before Windows 7 and XP users. Honestly it will probably be VERY resonabily priced to drive adoption.

Bear in mind that the free upgrade is a rumour for now, but looking quite likely.

Rumors are it will be a free upgrade for windows 8/8.1 and for 7 they might charge $30

From what the requirements are I could see vista users paying as they require a clean install.

This is all unconfirmed speculation.

Do you know what are the System requirements for windows 10 if I upgrade from 7. Will it run good on my Dell XPS L502X? And if I didn't like it will I be able to use my previously owned windows ie. 7.

The requirements are the same as 7, but there are certain older 64 bit processors that will not work. I'm not certain as to which nor does it say. It just says that some will not work. I believe this is the same change they put in windows 8.1 vs windows 8.

They haven't told us ANY pricing, even from 8. All we have are rumors.

Early Previews typically have expiration dates & won't be upgradable to RTM.

Ohh! As its a preview. How will the updates be delivered. Do I have to re download the whole OS when there is a new update or will they be delivered through windows update.

Updates get delivered in the usual way on Windows preview versions.

can it be installed new machine?
I mean with no Windows 8 or 7 installed??

Is there a chance the track could bend?

Not on your life my Hindu friend

The ring came off my pudding can.

Downloading slowly now lol 600kb/s on a 50mbps line

Downloading quickly lol 100kb/s on 1Mbs

Odd, I was downloading it at about the same time you posted and it was maxing out my 160mbps connection.

Just leeched on my exobit space station connection :)

Same here, Hyper-V VM is just waiting for the download to finish.

Can I install in a new partition in a PC with W8?

Yes but use ISO and you would need to setup partition manually using diskpart, etc. Did it and it's working on dual boot.

Can you explain more on that please?

To be honest if you don't understand what JCerna said then I wouldn't recommend you trying it, especially with a preview version of Windows. If you get something wrong re-partitioning your drive you could end up completely wiping it.

If you don't already have a partition available you will have to create one. If you are not very technical you can use partition magic or other programs to resize your windows 8 partition (make smaller). Once you have done that then use the ISO download to burn DVD. Boot from it and select custom install instead of upgrade. Then select unallocated space as the drive to install. Here are some links to help with resize of windows 8 partition http://www.tweakhound.com/2013/01/02/how-to-resize-your-windows-8-partit... http://www.partition-tool.com/resource/windows-8-partition-manager/windo... I usually use diskpart in command line but that can really mess things up for you if you don't know what you're doing.

I guess I lost you at "diskpart". I know how to partition drives, and I have partitions already. I just thought it was something else.
Thanks

I use a macbook pro with Windows installed... I guess i'll be making my 3rd partition, which will subsequently devide my 512gb hdd into 3 pieces...

You don't have to use diskpart. W7 and W8 already have a built in partition manager (disk manager).

yes i provided link with those instructions but diskpart is more natural for me.

Diskpart is the command line disk utility built into windows. It's far more capable than disk manager, but it's command line only.

I read somewhere that you won't be able to reclaim the hd space used as a partition when you want to rid of the preview and revert to one os utilizing the entire hdd capacity... If you CAN merge a partition with the original os again after deleting / formatting the windows 10 partition then I'll get it. Otherwise I'll consider using hyper-v or similar. Don't wanna see screw up my sp3 so vm probably the best easy for me I guess.

Well it may create a small system reserved partition for the dual booting. Usually 500mb so you wont loose much. However deleting the windows 10 partition will not delete the system reserved. So you will need to use windows 8 or 10 disk and using the command line use disk part to delete system reserve and then extend the windows 8 partition. Finally use bcdboot to reset the windows 8 boot. Not for a novice if this sounds complicated use hyperv or another machine.

There won't be any Windows Phone 9. The next OS on Windows Phone will actually be Windows 10, the same OS for PCs and tablets. There are rumors that it will be available for Developer Preview on your phone in January or February.

Thanx foe the information!!

just edit your previous comment :p

download at 36%. I am excited like a child at Christmas...

Already downloaded now burning it to DVD :)

Tell me file size please..

Can it be run on a virtual machine Using virtual box ?

Yaa you can run it on virtual box

What about in a partition in a PC with Windows 8?

Yes, you can do that too. I'm cloning my current partition so I can upgrade rather than fresh install.

Can I install with windows 7?

yes you can, well that´s what I read

Yes upgrade or clean install. You can also dual boot if you get ISO

Wondering the same thing, anybody?

I really don't mean to sound like a dick, but it's kind of unavoidable: If you have to ask any questions about whether you "can" or "should" install it, you probably shouldn't.


You did mean to sound like a dick. Thank you.

Everyone has to do something for the first time.

Sure, but if you're updating your OS for the first time, it's safer to be updating your OS to a stable build than a preview and you should go do that at least once before fooling around with betas and alphas.


Woo! Can't wait to get this installed!

Do anybody know...when the Developer preview will b available for Windows Phone 10

Its called Windows 10 for the next version for phone, btw. Anyway, they have announced nothing for phone yet. So you have to wait until next year until they announce anything for phone

14th February - worldwide roll out.

Not soon enough for my taste haha

great im on 10 % have been waiting the whole day for this

Can i install it to window 7?

Should I upgrade my Windows 7 laptop.. I use it mostly for entertainment and social stuff only..

Only if you are willing to accept that something may go wrong and that you may lose some/all functionality and some/all your data. It most likely won't happen but you have to be willing to accept that with this kind of release.

I recommend you to upgrade to 10 when final version came out cause it'll be on completley new uder the hood.Upgraded kernel and stuff...Worth waiting for if you asked me:)

No - there won't be any chance in kernel.

Speaking as an IT consultant, I wouldn't recommend anyone updating Windows 7 or 8 to 10, especially on your main PC. This is beta software and as such will have bugs in it which could mess up your entire build and leave you needing to do a full re-install.

Agreed. Also, there may not be a direct upgrade path from this version of the OS to a final version of the OS. Therefore, you might end up having to wipe your system and reinstall from scratch when the final version is released. This OS should only be used on an environment that you don't mind wiping clean when the preview is over.

I would love to have it....but wouldn't take risk by downloading a preview version bcoz I don't think so that its as reliable as WP's developer's preview.

Unless you use a virtual machine

5% downloaded, can't wait!

I'll wait for final version:) I am curently on 8.1 and I lovin it. Is possible that 10 version will be upgradable for free?

Extremely likely. First the Indonesia rep accidentally outed the free upgrade, and then the team remained tight-lipped when asked about it at the Win10 reveal, only to say that they would talk about pricing later. I think that's pretty clear - if Win10 isn't going to be free for Win8.1 users, they would surely have corrected the rumour.

It's not the size that matters; it's how you use it.

That's what she never said.

Time to get a fresh hard disk!

do i havw to clean my pc for that. please reply?

Cleaning and backup is suggested for EVERYTHING ON HDD.

If you're asking that sort of question then you probably shouldn't be trying out a beta version on an operating system. It'll be buggy and is really designed for those of us who don't mind things going wrong and occasionally having to wipe our hard drives.

Sitting over at starbucks at 11%, common Google sponsered Wi-Fi! Get me Windows 10! :DDD

Do we need new drivers for Win10?

It will take 10 years to download.... Posted via Windows Phone Central App

Pulled it down at 7MB/sec in less than 20 minutes.

That's nice. I only get several mb (megabits) per second. If only I had several mB (megabytes) per second. Posted via Windows Phone Central App

Well not all people have fast internet. Posted via Windows Phone Central App

Then why post and complain when its your own problem hah makes no sense that's all.

Because a lot of people in the world have slow internet? Hah that makes total sense.

Indeed, downloading with fast DSL at 47kb/s

I don't understand how kilobits are fast for downloading several gigabytes. But if you mean kB instead of kb I see how that's faster. Posted via Windows Phone Central App

Downloaded @178Mb/sec on virgin 47K fast????

Jey, 7 hours of downloading.. :D

Ok Going for it on both my new desktop AIO & my yoga 2 13. Like living on the cutting edge!

I wouldn't recommend that you upgrade everything images do it on a secondary PC in case something goes wrong

I have backup of both, so no worries! Plus I love resetting so no problem there also. Yes. I admit I am a geek!:-)

Lol whatever suits you Posted via Windows Phone Central App

For those who may know... If you remember in the past, when you installed a beta product, there was no way to upgrade from a alpha / beta / release candidate to the RTM product. Now, based on what is happening with the windows phone preview, you are still able to receive the final product without any problems. Will it be the same for Windows if you go ahead with the preview program or if upon release of the RTM product will you have to reinstall everything all over? Does anyone know?

Nobody knows yet. Don't install it over your standard install.

Exactly the reason why I asked. I have no problem installing something with new features even in alpha stage on my personal machine, however, if I do have to install windows from scratch when RTM hits, then I will only do this on a virtual machine.

Most likely you will have fresh install with RTM. It is always the case. Nothing different here.

I don't think anyone knows for sure because it wasn't talked about so we have to assume that as it was the case with past releases you will not be able to go to final from this. Always assume the worst, hehe. :D

I was hoping someone might have heard something from somewhere but, you are right.. Without an official statement, assume the worst case scenario ;-)

Its a bad idea. I did this with windows 8 and I regretted it. Never upgrade windows. Only fresh installs.

Ineed, I upgraded from Windows 7 to Windows 8 and opted for the clean install just a few days later.

As far as I know, this version of Windows is different from W8. So every update will be pushed as "Windows update" and not as new "iso" file.

I would go into it assuming that you won't be able to. that probably won't be the case, but you never know. With the WP 8.1 preview not everyone could do the update to the final version, I had to wipe my phone to get it on there becuase of a bug. When using beta software (especially a beta OS) always assume the worst. So if you're installing this on a HDD rather than a VM I would expect to have to wipe it at some point. If you go into it with that attitude then you won't get stung if it does go wrong, and will be pleasantly surprised if it doesn't!

Microsoft said that if you install the preview you have to install the bi monthly updates for it, at the end the bits should be the same as the RTM bits

Downloading.... waiting in anticipation.....

Downloading! I wonder how dangerous could be if I install it in a partition of my HD, they recomend to install it in another PC.

Just use a virtual machine

There shouldn't be any problems. You'll just have to deal with a boot manager. A better idea would be to dual boot from another harddrive. Or if you want to spare yourself all the trouble, just VM it.

It's beta software, always assume the worst. That way if you do have a problem and have to start all over again from a blank drive you'll be ready for it.

Wish I had a throwaway computer to download this on

A virtual machine would solve your problem

Time to get out my old Core 2 Duo based Dell Precision to run this on. This is why it's great to keep old machines.

Download is flying bro. Awesome!

So I shouldn't put this on my tablet then?

How much it has in size ?

About 4gb for 64 bit and a little over 3gb for 32

Yes but Microsoft recommend 60Gb free for the installation

Aaah wish I had a spare laptop / PC to try this on. Not sure I should install it on my surface 3...

Use a virtual machine if possible on the surface

Can I download this onto a pc running XP?

Waiting to finish my download !!!

I Wont download it, I have to many stuff on my Pc, Plus, I want to see what happens so Please share your feelings

I won a lottery after installig it and I feel super tired.

Going to download on my 8" Lenovo tablet. Should be interesting to see how desktop and touch are managed.

i've same tablet ;) can u say me if is correct the process of upgrade el OS?

I goning to try it on my old Nokia Booklet 3G. Wondering if it will go. Windows 7 Starter is dying.

Touch isn't great on it yet but it will get better with updates, remember this is aimed at Enterprise at the moment

Downloading from Dominican Republic :

Cool! Let me know when it's safe to install on my Surface Pro 3!

I installed it on my Surface Pro 3 as its not my main computer and it runs fine, just be aware touch isn't too great yet but it will become better with updates.

Not there for under 18 :( it should be there if I can get a dev account why can't I get this? Posted via Windows Phone Central App

Yeah... kind of odd. I'm 14, and have a developer unlocked phone and app studio account for developer preview on my phone... don't really understand why it would be much different for desktop OS preview.

Downloading both 32 & 64 bit now


Downloading as I type. I'm planning on installing it on a new partition for Dual boot? Would that be wise? Or would it be better to install on a external HDD?

Or use a virtual machine it is much safer

I don't have Windows 8.1 Pro. So i don't have any VM, right?

I believe Hyper-V was on Windows 7 Pro but I would have to double check. Cant recall as the Windows Phone 8+ stuff all required Hyper-V for the emulators and dont recall if I was on 7 or 8 at that time.

I'm not sure but I think you can use VirtualBox.

Oracle's VirtualBox is free to download and will work fine on anything from XP onwards.

You can download free Windows VM Player

Can it be Installed as 3rd option on multiboot.

Technical Preview is focused for the enterprise and desktop. RT preview won't happen until a consumer focused preview is released, which won't happen until Spring 2015 most likely.

Waiting for the version for the phones

Is it okay to install this preview on a separate partition so I can dual boot with my W8.1 pc?

Why? Just fire up Hyper-V and create a virtual machine and install it on that.

What is you don't have Hyper-V available? I have Windows 8.1, not Pro. So Hyper-V isn't an option. Any other suggestions?

VMware workstation is free I believe or has a trial and worked for windows 8/8.1 might work for 10 as well would be worth a try

I am planning to use Oracle VirtualBox

Can't wait to get this on my secondary and tertiary devices this afternoon :)

Cue the idiots who download this "preview" then complain when they find a bug or issue.

I just installed the Techincal Preview on my fourth comuter, which is a Win 7 ASUS laptop with 6 GBs of ram, a 500 GB HDD, and an Nidia 360 gpu. It installed flawlessly in an hour and I'm using it to write this on a 27" monitor with various external drives, mouse and keyboard, and several other peripherals. So far everything works well. I didn't want to try to use dual booting, since the machine already dual boots into Linux, which still works fine. I'm also new at virtual machines, so I bypassed that route as well. My initial impression is that the os seems stable enough to install on my Surface Pro 1, but I'm going to hold off on that step until further experience justifies it.

Cho thuê phòng Đinh bộ lĩnh quận bình thạnh
phòng cho thuê giá 2,3tr/tháng, không chung chủ , tự do thời gian- thoải mái giờ giấc
• Phòng ngay nhà mặt tiền sang trọng, kiến trúc đẹp - tự hào khi người thân, bạn bè đến chơi • Có camera bảo vệ 24/24 trông giữ xe - yên tâm về xe cộ • Cho bạn sắp xếp không gian nấu ăn ngay trong phòng, tiện lợi - ngon miệng
• Trang bị đầy đủ hệ thống PCCC - Camera, thang thoát hiểm - tăng cường tính năng an toàn cho ngôi nhà.
• Được hổ trợ đăng kí tạm trú-tạm vắng, cho bạn yên tâm không phiền hà
• Ưu tiên phòng ở từ 1-2 người, người có thu nhập, lịch sự - mọi người sống vui vẻ, hài hòa.
• Hợp đồng đảm bảo dài hạn, yên tâm định cư lâu dài.
• Gần các trung tâm mua sắm CitiMart, vui chơi giải trí, khu dân trí cao. Thuận lợi đi lại cách Q1,4,7,Bình Chánh...
• Ngoài ra chúng tôi còn quản lý nhà ở các Quận 1,3,5,7,10, PN, TB, GV và linh hoạt chuyển phòng theo nhu cầu của bạn.
• Chính chủ cho thuê nên bạn yên tâm về tìm phong tro và đến xem phòng miễn phí nhe. chúng tôi luôn sẵng sàng đón tiếp để giúp bạn tìm được phòng ưng ý nhất

Just wondering if the ISO file is 4gb itself do I need a 8gb bootable drive then ?

On the website it stated something around 16GB of free space.

Iso file is 4gb for 64bit and 3gb for 32bit you will need a 8gb bootable pendrive or you can burn iso to dvd and install it.
After installing 32bit will take around 16gb of your hdd space whereas 64bit will take around 20gb of space

installing now - be back later

will downloading delete all my data?

Downloading it won't, but installing it might. It is a beta version and while MS will have tested it as much as possible, it's simply not possible for them to test what will happen with every hardware/software configuration out there so it could all go wrong if you try updating. And if the thought of wiping your hard drive worries you, then you probably shouldn't be testing the beta version of an OS.

Fired right up in a Hyper-v Instance on my Windows 8.1 machine and installed without any issues .. Highly recommend anyone thinking to install it to do the same .. no reason to install this on a dedicated machine imo. 40gb vhd with 2gb of ram for the specs.

i've been reading "Hyper-v" non-stop since yesterday, i'm so curious and going to investigate a little :3

I'm trying to determine if this is any better than 8.1. From the demo it feels like a capitulation to the desktop users who couldn't adapt to the touch screen first feel of Windows 8. I'm on a Samsung ATIV Smart PC and I'm loving 8.1 as it is. Hmmmm....my inner geek is tempting but I'm not very sure about ISO files and HDD segmentation. I think I'll wait.

Download Oracle VirtualBox, it's free. Install the ISO as a virtual machine.

Thanks! I'll check it out and report back.

At the moment it is aimed at ENTERPRISE USERS BUT WILL BECOME MORE PUBLIC FRIENDLY AS UPDATES COME (sorry my shift key got stuck and didn't want to type it all again)

So I have this older Windows 7 laptop I want to install the preview on but the laptop screen is broken...I still use the laptop - kind of in desktop mode - but I'm afraid of upgrading it because I don't know if during the process it will require some input from me and I not be able to see it in order to be able to respond...Does anybody know if I will be able to use my external monitors throughout the process?

I'll install on my secondary drive using dual boot.... will it make problems? what do you think?

I'll do the same. It may remove your windows on other drive (you can't see your previous windows on boot menu) but it doesn't delete windows files and you can easily bring it back using EasyBCD

internet is very slow.anybody bother to upload it on torrent for fast speed.

Doing upgrade on work PC, going nicely.

Just change your birthday at account.live.com

I really don't understand why people are so insistent on installing this over their current OS on their primary machines. Virtual Machine is the best way to go -- especially if you have a capable machine. I personally have Core i5 Sandy Bridge processor & 16 GB RAM. I'll be able running it in full screen mode with 8GB allocated to it. I'll have the same experience as running it on the physical machine.

What virtual machine technology are you using? I have VMWare at work, but not at home and it's expensive I believe.

OMFG... Its avaliable in portuguese... Finally they discovered Brazil!!!!! Nice job Microsoft

yes but they ignored France and french language :(

Portuguese from Brazil :O I was not waiting for it.

Installation not as fast as 8.1 :(

Still nearly an hour before I can get home and install it. Bummer!
Oh, and the website said 'not available for Windows phone' when I logged in to register lol

I'm remoted into my home desktop using TeamViewer. Will have it installed to a VirtualBox virutal machine so when I get home I can get to testing!

I've had 2 failed attempts of downloading, so hopefully it's third time lucky for me. I won't be using this as my main until it's been ironed out, but it will go on a partition for messing around with. :D

The question nobody seems to be asking: Can you upgrade a Windows 8.1 computer to Windows 10 Preview? Or do you have to repave?

This is Microsoft's answer to that question. It says you can upgrade while keeping Files, Settings, and most apps. In my experience with previous Windows upgrades, you will have to go through the hassle of reinstalling some of your major desktop apps. I wouldn't do this on your primary machine unless you're okay with having to reinstall the software you use most. That's a no for me, because I don't want to lose my progress in a few games I have installed.

I haven't had to reinstall *anything*. All Steam games, Fifa 15, Nvidia drivers, you name it is all intact. It's exactly as I suspected; if you've got an up to date 8.1 install you're mainly getting some UI tweaks. Will roll it out onto my Fiancee's studio PC (again OTT) tomorrow and test with more potentially problematic hardware/software. Weirdly, I don't anticipate any issues.

You can, but I wouldn't recommend doing it with this beta version. Upgrading from one version of Windows to another without wiping you machine has always been a bit of a hit and miss affair, but with a beta version you're just asking for trouble. If you really want to install this then I'd either go with a clean install or stick it on a virtual machine.

So I'm downloading it and will install it into a VM with hyper-v. I've never done this before though so how do I boot up into the VM?

This goes on my HP Omni 27. Not my main PC (that would be the SP2), but a PC I do use quite frequently, so I should be able to give it a decent test run.

here is the torrent link https://kickass.to/windows-10-technical-preview-x64-en-us-t9650888.html

Try to download it on a Windows phone. It says "Sorry, the preview for Windows phone isn't available yet". Cool.

Will i b able to juz upgrade to technical preview from windows 8.1??

You might be able to, but then again this is beta software and so it could all go wrong. I would highly recommend against updating, especially on your main PC.

This is not the Enterprise version John =)

Suddenly win 10 dwnld option removed :'(

can anyone tell me its safe or not

Nobody can tell you if it's safe for you. It's beta software and as such will have lots of bugs in it, but whether any of them would affect you is another matter. You could find some of your hardware doesn't work due to driver problems or perhaps some software won't work for one reason or another, finding these things out is the whole point of a beta release.

Question: Will i regret if i install this? Why do i ask: Because i am a natural gamer, so according to previous TP/DP's gaming was not that good at first. Thanks in advance.


yes you will this is not even in beta, it's to early to tell you but I don't see all games working well. I would not install it if it's going to be your veryday machine. I might change my view after a week or so of using it. You can setup dual boot so you can try it but it does requier for you to be a bit technical for that.

Dual boot is not problem at all, yet i'll rather save some time and wait for it. 8.1 still my fav anyways. I might give it a look in a VM or so. Thanks for the reply.

please note that this vesion expires on April 15, 2015!

That confirms the date on the next Preview, most likely a "Consumer Preview". Which should shown Metro 2.0, Cortana, more touch features & a even more refined desktop. And of course this will happen during Build 2015.

I'm at school right now, gotta wait til I get home D:

tell me first its safe or not

It works but remmember this is for technical people and a problem can happen while installing.

Its official but it's not a completed os so it may be buggy at the start don't install in primary system

It is giving me no option to install on my second partition. Does anyone see that option during the download process?

Reading through the comments on here I find it quite disturbing that so many are downloading this, yet are asking very basic questions about installing a new OS. This is a piece of beta software and as such you should expect it to be unreliable and will probably require a decent level of knowledge to get it working properly. It is not for your average user. If you don't mind having to wipe your hard drive when it goes wrong and can accept some software (and perhaps even hardware) won't work then by all means intall this beta version, for everyone else I would suggest you wait for the final version next year. Or just install it on a virtual machine.

As long as they back up their data and/or use an extra machine I think its a good learning experience. But yeah

I'm downloading too! Can't wait to dual boot this.

so we will wait for consumer preview

If I upgrade my windows 8.1 machine to windows 10, after releasing the final version, will I be able to upgrade the current windows 10 with apps and other to stuff to final version ?

Probably, but I wouldn't count on it as this is beta software and it could all go horribly wrong. If you want to be a beta tester then you have to go into it expecting the worst to happen, and not mind having to wipe everything and start again if/when it does all go wrong.

Downloading both the 32 & 64 bit versions (iso), can't decide wether or not to put some of the free space on my 1TB HDD to use as a dual boot or just to use Virtualbox and VM a copy. Roland

I am going to wait for two month. Then I am thing going to download it and install. Because it will be better than what we are getting now.

I'll try to put it on my virtual machine. Posted via Windows Phone Central App

"There are 32-bit and 64-bit versions in English, English UK, Chinese, and Portuguese." BRAZILIAN Portuguese. Big difference.

Don't bother! We're brazilian now, apparently!

29% and 12 minutes to go... :D

Signed in, downloading the iso now....Thanks for the update !

Installed it in VirtualBox, posting from it now :) i'm loving the new start menu and windowed metro apps. the new alt-tab screen rocks too...nothing negative so far

This is a good idea. Good Job Microsoft

Soo..... When they say you can keep "some apps," what does that mean? Will it leave my normal programs like iTunes, Chrome, etc installed or will i have to put everything back together from scratch?

Whats the difference with Technical Preview and Enterprise Preview? I downloaded both.

well, ive just installed it. It's actually quite good for a technical preview. quite smooth but it doesnt have all the drivers for my old Sony laptop, oh well. Just looking forward to the complete product now

So what's the difference between Windows 9 (they decided to keep that for themselves, right?) and this preview version of Windows 10? What will they add to W10 that wasn't part of the supposedly perfect W9 build?

keep saying : Coming soon The Windows 10 Technical Preview and Windows 10 Technical Preview for phones are almost ready. Please check back.

I really would like to recommend everyone to sign up for this program. Thus we can contribute for the next MS' OS, we are about to use in the next several years. Just install VMware Workstation and load Win10 Preview' image. Peace!

I need to download window 10 in my Lumia 520

Trying to install this on my Asus Zenbook but get a message saying that I cannot install it because my operating system is compressed? Anyone know of a workaround for this?