Windows 11 event: What to expect on April 5
Microsoft is holding a Windows event for commercial customers next week.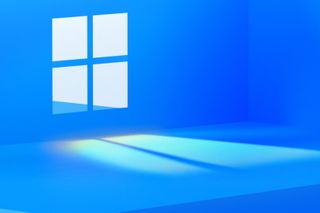 (Image credit: Microsoft)
Microsoft's next Windows 11 event is happening next week. This time, Microsoft is expected to discuss Windows 11 for commercial customers, highlighting how the OS was built for hybrid work scenarios. Microsoft CEO Satya Nadella and chief product officer Panos Panay are set to take the stage, along with a handful of other presenters, touching on Windows 11 and Microsoft 365.
The event is happening on the Microsoft website on April 5 at 8AM PT (opens in new tab). So, what should we expect to see at this event? Let's put our thinking caps on.
An overview of the first big Windows 11 feature update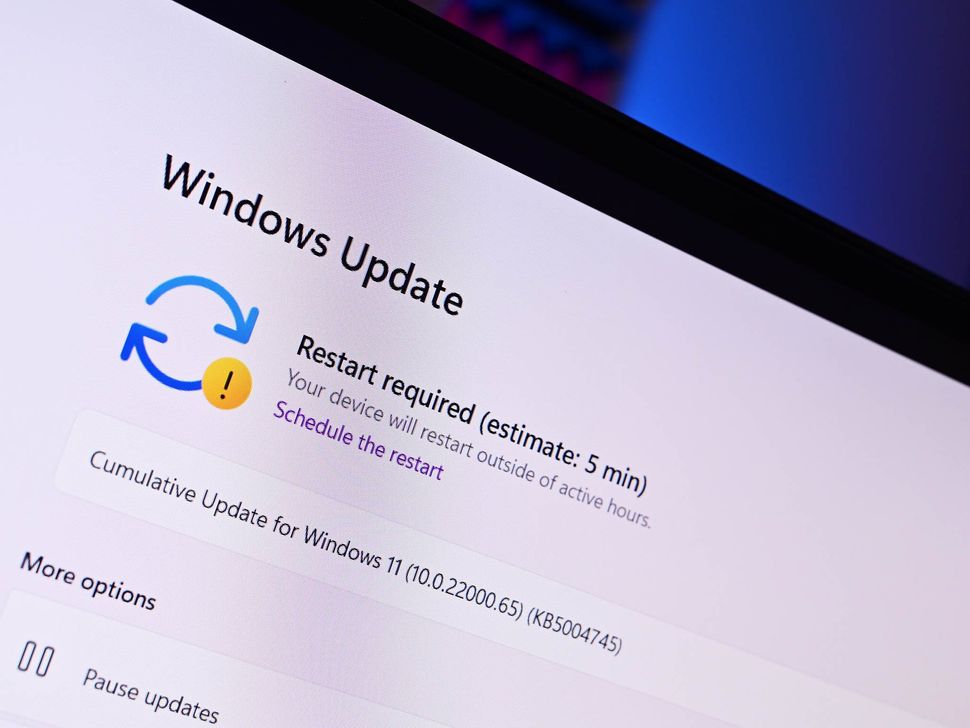 Microsoft is currently testing the next release (version 22H2) of Windows 11 in the Insider Dev and Beta Channels, but it hasn't "formally" announced the next version of its OS yet. This event will be a suitable place for Microsoft to do that, highlighting new that are already features in testing, including improvements to File Explorer, Action Center, touch gestures, productivity enhancements, and under the hood improvements around security, performance, and more.
This event is designed for Microsoft to be able to sit down with commercial customers and essentially "sell" the Windows 11 vision to them. Expect lots of talk about how Windows 11 is great for the enterprise with enhanced security features and group policy additions. Plus, we also expect to hear more about Windows 365, and how Windows 11 can enhance businesses around the world via the cloud.
Additionally, we may see Microsoft talk about a small handful of new Windows 11 features that we haven't yet seen in the Insider Program officially. Let's break down what those could be.
Suggested Actions
Microsoft has been working on a new smart feature called "Suggested Actions" that will present quick access to common tasks when copying dates, times, and phone numbers to your clipboard. For example, copying a date or time from a Microsoft Word document or website will present a quick action for creating an event using those details in the Calendar app. Copying a phone number will also present a quick action for creating a new contact in Outlook.
A new Outlook email app
It's possible that Microsoft will take the wraps off its new desktop Outlook email client, known internally as "Project Monarch" or "One Outlook." This email client is expected to eventually replace the built-in Mail and Calendar apps on Windows 11, though we don't expect that to happen right now. Instead, the new app will be pre-loaded in Windows 11 alongside the existing client for those who aren't ready to make the switch right away.
The new Outlook client is based on web tech, offering a lightweight, fast, email experience that can be deployed across Windows, Mac, and Outlook Web. The app is expected to launch in preview in the coming weeks, so an announcement on April 5 looks likely.
Tabs in File Explorer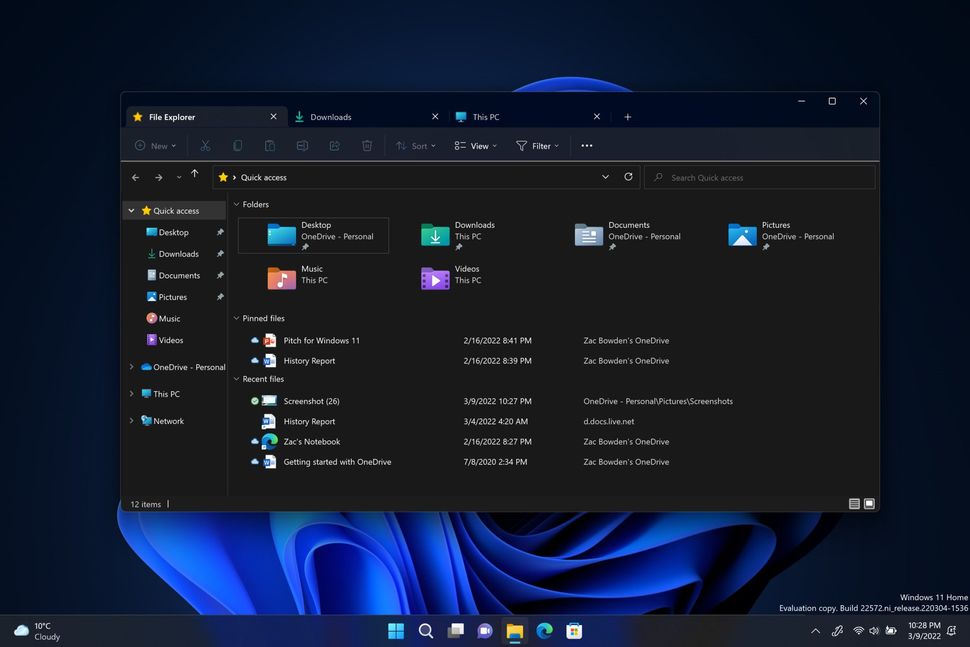 It's an open secret that Microsoft is finally bringing tabs to File Explorer. We've already seen an early version in recent Windows Insider builds, so Microsoft might officially unveil the feature on April 5. It's designed to make it easier to manage and organize files in File Explorer, making it possible to group different folders under one File Explorer window.
It's a feature that users have requested for a long time, and given its presence on macOS and some Linux distributions, it's about time Microsoft brought it to Windows as well. The question now is whether Microsoft is ready to talk about it on April 5, or if tabs in File Explorer are planned for next year, instead.
Third party widgets?
We're filing this one under unlikely given this event's intended audience, but Microsoft could detail its plans around allowing third-party developers to build and submit widgets for use in the Widgets panel. So far, the Widgets panel has been limited to a very small subset of first-party Widgets built by Microsoft, most of which aren't commercial customers.
Opening up the platform to all developers could allow businesses to build their own widgets for use within the company and with employees. Again, this is a bit of a stretch, but you never know. If this isn't announced here, I assume it'll be announced at Build instead.
Microsoft 365 news and announcements
It wouldn't be a Microsoft commercial event without some announcements around Microsoft 365. I've heard Microsoft is planning to bring features such as Play My Emails to Outlook Web, and there's been an internal redesign of Office Online in the works for well over a year. Perhaps we'll see those officially announced at this event as well.
I'd also be shocked if we don't see Microsoft talk more about Microsoft Loop, its new app that combines a powerful canvas with portable components that stay in sync across different Microsoft 365 apps.
Microsoft will likely highlight how Microsoft 365 is designed for hybrid work scenarios, with integrations on Windows 11 that enhance your productivity flow thanks to built-in features such as Focus Assist and Do Not Disturb, improvements to docking, multiple monitor settings, and more.
New hardware?
We're also filing this one under unlikely, but Microsoft could opt to announce new hardware at this event too. I hear Microsoft only has one new Surface on the agenda for this spring, that being the Surface Laptop Go 2. There's some argument that could be made for it being announced on April 5, especially if the first version was a hit with commercial customers. But again, we think it's unlikely.
Surface Laptop Go 2 is expected to be a relatively minor upgrade, with Intel 11th-gen chips on the inside and not much else in the way of new additions. If it's not announced on April 5, we expect its announcement to follow in the coming weeks as I hear it's pretty much ready to go.
We'll have all the announcements…
That's a rundown of what we're expecting and hoping to see Microsoft talk about on April 5. Of course, we'll know for sure what Microsoft is planning to talk about on the day, and there could be some surprises, so be sure to check back here for live coverage of all the announcements coming out of Microsoft's Windows 11 and Hybrid Work event.
Windows Central Newsletter
Get the best of Windows Central in in your inbox, every day!
Zac Bowden is a Senior Editor at Windows Central. Bringing you exclusive coverage into the world of Windows on PCs, tablets, phones, and more. Also an avid collector of rare Microsoft prototype devices! Keep in touch on Twitter: @zacbowden.
"This email client is expected to eventually replace the built-in Mail and Calendar apps on Windows 11" Isn't it also expected to eventually replace the Desktop Outlook 365 too?

Assuming people respond positively to the new client, yeah. But, that's a long way out.

Yes, it needs more feedbacks for that before to happen, and of course refinements and features that it may have been missing. Outlook Desktop is too powerful to be easily replaced, tbh what it needs is more of a UI modernisation or at least follows the new Fluent Design without having to rethink the UI navigation as a whole. We have to take account the training it needs for its users in the industry, which depends how drastic or actually objectively better than the current UI (not talking about aesthetics).

Thanks guys. Yeah a very long way off but it'll go through a similar process of both existing and users gradually moving to it as it adds old features back. It's long overdue, Outlook Desktop is way to bloated. Things like being able to customise the email for layout almost no one does and customising your Inbox View so granularly most users just end up cocking it up somehow. Customisation is good but Outlook takes it to far.

Zac, are you not expecting anything around Microsoft Loop? Maybe make the app downloadable in preview form?

Good point. Definitely seems likely that they'll talk about it.

Hmm, I now like the idea of focus assist if your boss can get a notification you are trying to concentrate and leave you be. However, it's never stopped them when they walk up as I was obviously head-down coding and they ignored the fact staring them in the face and blathered on about something inconsequential anyway.

You're asking software to fix a human problem?

In a roundabout way, I stated an attempted software solution is not going to fix the real underlying problem in the workplace.

They should just announced the discontinuation of that abortion that is Windows 11, a return to Windows 10 and the beginning of the work on Windows 12 where NOTHING from Windows 11 will be seen (not the dumb Grey Themes, not the dumb rounded corners, nor the useless Start menu, or the Apple-copied centred and useless taskbar, or the Microsoft bloatware, or the lack of customisations).

Was going to say the same thing. Windows 11 needs to go away

Nothing I've seen in W11 is business-critical. Even the app grouping is essentially worthless as session security times out and cancels for good reason. Consistent UI screens and revamped setup isn't a game changer for IT. The HW requirements will impact rollout and IT dislikes supporting multiple OS due to app testing/certification and there is always some crusty app that has enough pull in a corp to throw a wrench into plans. Best of luck with this new Y2K-like forced 2025 migration.

Look harder. Multi-monitor improvement whilst not business critical absolutely benefit business. I'd have paid for Windows 11 to get that feature it's so seamless and just works. 64-Bit emulation in Windows on ARM is business critical and you ignore how much time is spent in business due to unintuitive UX. Windows 11 is a lot easier to use in several areas. Settings particularly. "Consistent UI screens and revamped setup isn't a game changer for IT." It should be, you support users, if it's affecting them it's affecting you. "The HW requirements will impact rollout" True but IT also hate the security issues not enforcing it brings too. "Best of luck with this new Y2K-like forced 2025 migration." It's not like forced migration is new to Windows. It'll happen in 2025 just like it did in 2020 with Windows 7 and Windows XP in 2014.

I've been successfully used multiple monitors for years. The capabilities didn't just spring up in Win11. Changes in the UX frequently have nothing to do with intuition. It takes unproductive time to get used to new changes. Every few years MS changes gears on their API du jour, causing no end of headache trying to run older HW on newer OSs now compatible. The "Modern" design will be abandoned for the new silver bullet in a few years, no? Changing fonts and background colors don't make things easier when the fix is setup -> applications -> repair for instance, or searching for the lost file. It won't reduce or reallocate any significant headcount. The security issues addressed do nothing to impact the real security issues in front of us i.e. network security, failure to implement patching on a timely basis, etc. RE the forced migration, I've already said that. Depending on what MS sees from the business community, it may be pushed back for Win12 or "we heard you loud and clear". Business is focused on cloud redeployments and making them pay off, not an OS upgrade with dubious value.

Disagree. Windows 11 is fine and works well for the most part

businesses invest their capital based on a return on that investment. What is the compelling ROI for Windows 11 today? There are more downsides than upsides and the capital will be better invested elsewhere until 2H2023/2024.

Yeah it's just people hating change. Ultimately they'll end up using it too, like they did Windows XP and Windows 10 before it.

People embrace real change when it brings obvious value.

Sorry but you just sound like those people who hated Windows 10 when it was released because it was different to Windows 7. The problems are minor and already getting fixed. Much of the dislike, not all, is people hate change. Abortion, really you used that word? p.s. You realise Windows 10 is EOL in 3 years right? If you're not onboard by then you may want to consider MacOS or ChromeOS.

I think it's good time for Surface Laptop Go 2. My personal wishes:
13.3" 2160x1440 pxls
Snapdragon 8cx gen 3
Fanless metal chassis with some nice camera for windows hello and Skype. 24h battery-life would be lovely
Windows Central Newsletter
Thank you for signing up to Windows Central. You will receive a verification email shortly.
There was a problem. Please refresh the page and try again.