Microsoft is finally bringing tabs to File Explorer on Windows 11
A hidden feature in the latest Insider build has revealed tabs are coming to File Explorer.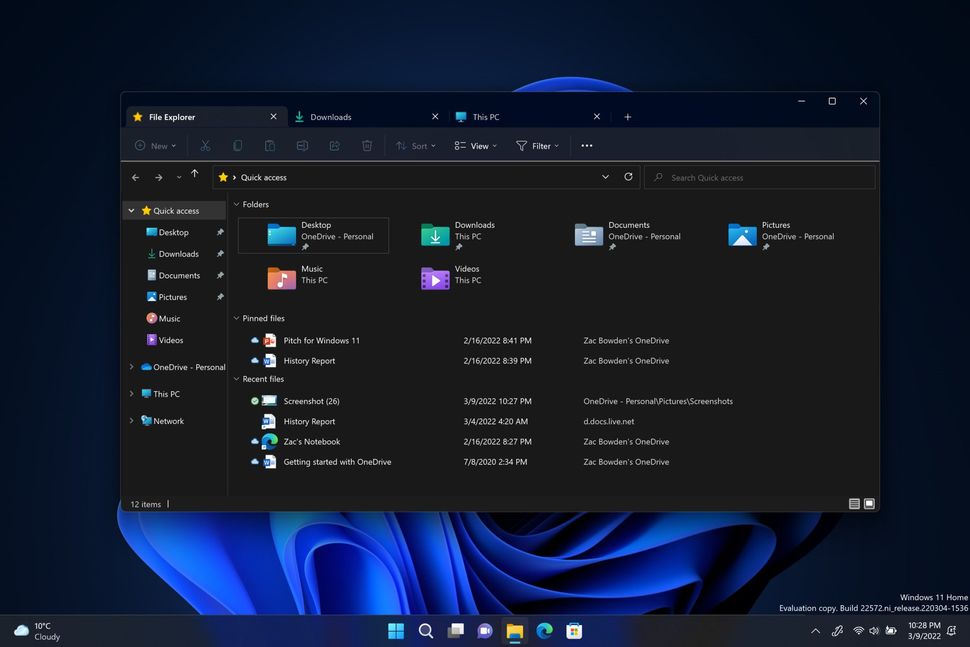 What you need to know
Microsoft is experimenting with a new tabbed interface for File Explorer.
It's hidden in the latest Windows 11 preview builds.
The feature enables tabs along the top of the File Explorer app window.
It's finally happening! Microsoft appears to be adding a tabbed interface to the top of File Explorer, as Insiders testing the latest Windows 11 preview build have discovered the feature in a hidden state. First spotted by Windows Insider Rafael Rivera on Twitter, once enabled, tabs will appear along the top of the File Explorer app, allowing users to have multiple folders open in one window.
Tabs in File Explorer has been a highly requested feature among the Windows community for years at this point. Microsoft almost delivered the feature via its canceled "Sets" UX, which saw the introduction of tabs in every app window, including File Explorer. But when Sets was killed off, so was the idea of tabs in File Explorer.
But now, Tabs in File Explorer appears to be making a return, and it works exactly like you'd expect. This feature is yet to be officially announced by Microsoft, and since this is currently only in the Dev Channel, it's possible that Microsoft could cancel the feature before it ships, though we think that's unlikely.
We'll have a hands-on look at the new tabbed File Explorer interface soon. For now, it looks like Microsoft is finally shaping up the next major release of Windows 11. Insiders recently received two new builds with a bunch of improvements for touch users, among other general improvements and changes over the last handful of months.
Microsoft's next major feature update for Windows 11 is expected to ship in the second half of this year as "version 22H2."
Windows Central Newsletter
Get the best of Windows Central in in your inbox, every day!
Zac Bowden is a Senior Editor at Windows Central. Bringing you exclusive coverage into the world of Windows on PCs, tablets, phones, and more. Also an avid collector of rare Microsoft prototype devices! Keep in touch on Twitter: @zacbowden.
Great news. I hope this happens. Then, I'd like something like Edge's Collections feature so I can pop open several tabs for related folders all at once. In fact, absent something like that, I'm not sure how useful the tabbed feature would be to me personally (but I don't doubt that it would still be very useful to others).

This would be so useful!! Something like a saved state of open folders would be awesome.

You can already have Windows re-open all your closed Explorer windows when you log in, it's an option in Folder Options. I know it's not exactly what you're saying, but basically when you log out or restart, your opened folders reopen.

That's a nice feature. I have that turned on.

Yeah that would be great to have Collection's for File Explorer as well that syncs between devices. What I also want to see is that new Snapping feature where it suggest to snap tabs on Edge, I hope to see that for File Explorer as well.

"I'd like something like Edge's Collections feature so I can pop open several tabs for related folders all at once." Totally agree. I'd also like it if Collections respected grouping.

There goes drag and drop across windows. After ending drag to taskbar icon to focus the application, Microsoft finally killing drag and drop off. I guess this is it, Windows final transformation into a mobile OS.

sagum, drag and drop to the Taskbar is already back in Windows 11 insider builds, as reported here on Windows Central. It will almost certainly be back in Windows 11 for everyone by the fall update, if not sooner. This was just one of several features that didn't make the cut when MS rewrote the Taskbar and Start menu from scratch for Windows 11. The ability to treat Explorer windows as tabs in a single window in no way prevents you from still having separate windows. There is ZERO loss of function from this. It's purely a win for users who want to be able to group related Explorer windows. Assuming it works like Edge's tabs, it's also trivial to just drag and drop a tab outside its original window to have it be back in its own separate window.

Ugh... Browser tabs didn't kill off browser windows and neither will this.

Even back in Windows 95, I always used CTRL+X, CTRL+V. Drag-and-drop was too MacOS for me.

Hey Zac, Dan! Ever since the Windows Insider team got new leadership, it seems the floodgates opened and new features are coming at a steady pace. Was there some internal problem at Microsoft maybe you know about that got resolved? Hope they keep it up, it's great to see the changelogs every week for the Dev builds with tons of features and fixes every time.

Totally agree with this. It's exciting to see progress. It's amazing how huge a difference it makes just to know that MS is working on improving and enhancing the Windows UI again.

This looks great! This is just what I need in my line of work...

That's an awesome feature to have. It would be cool to pin folders as tabs, but the same functionality can be fine with the "recents" part of file explorer.

So far Stardock has been my saving's grace.

If true, this would be awesome! Something to actually get excited about in Windows 11. It may even bring over more converts from Windows 10.

Not until they bring all the lost taskbar and start features back.

What exactly do you miss?

Everything. Try right click the taskbar in win 10 and then do the same in 11. I miss that and it is absurd it can take them this long to implement a right click context menu. Absurd. I dont use, but many do, the ability to move the taskbar to the top/side.

I don't yet know what I'd be missing by moving over to W11. These things are about feel and flow, not explicit mental processes that you'd remember. That's part of what makes them so important. Though jumplists was certainly one that had me worried (though included in recent builds IIRC).

For me, I have only been running Windows 11 on one laptop (not one of my heavy working systems), because of the missing ability to organize the Start menu (with 80+ apps pinned into 8 groups, I rely on the layout to find apps, often don't even know the name of an app I need to run, so can't find quickly by typing the name). Start 11 helps with this, but it's terribly slow to open Start compared with native Start. Once MS releases to public builds folders in the Start menu, while not as efficient for me as Windows 10's ability to position my icons (because I'll have to go through the added step of opening a folder to get to the icons), this will then be good enough and I'll convert all my systems to Windows 11. That's an example for one user (me) of how some of those changes to Windows 11 prevented me from making the jump from 10 to 11. For me, other than that deficiency, I mostly like Windows 11 better than Windows 10. Tabs in Explorer will be one more strength of Windows 11 over 10.

The open source file explorer replacement named Files already does this and more and works on Win 10 and Win 11 so there is no need to wait for MS to catch up.

Doesn't like tabbed explorer, less productivity. Hope there is s switch to turn off

That switch is in your head. Just don't use it if you don't like it. Oh wait! You mean, what if new explorer windows open as a tab in an already open window by default, instead of its own new window by default? Yeah, I agree, then there should be an option to turn it off.

Then use multiple windows instead, why do people always think it's only one or the other? It's not like browser tabs killed off browser windows lol.

Maybe there is an option to switch off, or just not use it. Typically file managers with tabs don't open on new tabs when you open another folder outside that window, at least by default. I bet the default for Windows remains the same as if tabs don't exist, only visually its there.

Ok Microsoft. Don't forget to bring Vertical Tabs like on Edge browser.

I opened this article in a new tab.

So when will the lower portion of the File Explorer get into 2022 design-wise?

I tried it, didn't like it, reverted back.
Too much empty space up top, looks awful.

Do you mean just the thickened title bar to make vertical room for the tabs? From the photo above, that looks like it's only about 1 character's height add thickness. That seems negligible to me (but maybe my perspective is skewed because I work mostly on 4k or 16:10 screens), Is that the empty space you're referring to, or something else?

I think that empty space is probably just because they havent done to move that Tabs where the titlebar is, just like on Web browsers do.

It's almost like it's not finished yet. The feature is not even yet in preview so expecting it to be production-quality is a bit much.
Windows Central Newsletter
Thank you for signing up to Windows Central. You will receive a verification email shortly.
There was a problem. Please refresh the page and try again.