Windows 11 preview bits are now available in the Insider Beta Channel
Windows 11 has now entered beta, one step closer to a final release!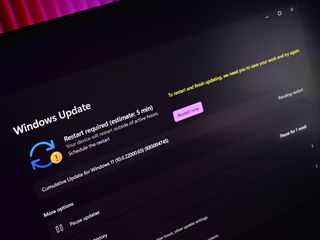 (Image credit: Daniel Rubino / Windows Central)
What you need to know
Microsoft has promoted the Windows 11 preview to the Insider Beta Channel.
Build 22000.100 is rolling out now.
Dev and Beta are now on the same preview bits.
Microsoft has today promoted the Windows 11 preview to the Windows Insider Beta Channel, meaning even more Windows Insiders can now download and test Windows 11 if they weren't already in the Dev Channel. The build rolling out to Beta Channel is the same one that's in the Dev Channel currently, build 22000.100, meaning Dev and Beta Channel testers are now on the same bits.
Insiders currently opted in the Dev Channel should switch to the Beta Channel if they wish to remain on the shipping build of Windows 11 once development wraps. Microsoft says that the Dev Channel will likely move onto the next Windows feature update in the coming weeks and months, so don't forget to switch if you don't want to test the next version of Windows right away.
Windows 11 features a new UI, including a centered Start menu and Taskbar design, rounded corners, new sounds, and much more. The only things still missing from the preview at this point are many of the new in-box app experiences and Android app support, which Microsoft says will go into testing soon.
What are your thoughts on Windows 11 entering beta? Will you try it out now that it's in a lower Insider channel? Let us know in the comments.
Windows Central Newsletter
Get the best of Windows Central in in your inbox, every day!
Zac Bowden is a Senior Editor at Windows Central. Bringing you exclusive coverage into the world of Windows on PCs, tablets, phones, and more. Also an avid collector of rare Microsoft prototype devices! Keep in touch on Twitter: @zacbowden.
I really hope they change the context menu UI when you're deleting a file from the trash or when you're transferring a file from one place to another when you're using a dark theme.

The only thing still missing on windows 11 is the option for Windows 11 users to keep Microsoft Iconic Live Tiles or not. For 6 years nobody complaint about them or asked them to be removed. I wished the new centered menu, would have stayed ONLY for those Windows 10X technical users about a new OS look that very few ordinary users wanted. Sure rounded corners, new sounds is all fine. But why throw away what makes Windows, Windows. Again, it seems a repetition of the Start Button fiasco of Windows 8. Or at least, Microsoft, gave your Windows 11 users the CHOICE to select which start menu that without asking those who don't like the new menu to stay on Windows 10 for 5 years, we deserve better then this.

This update means newness. What makes Windows to be Windows changes, and this is it.
I love Live Tiles but they're ages old, from the W8 era. I'm okay with things refreshing.

Agreed and goodbye live tiles. I loved them too, but the OS needs to move on. Also, folders and a choice over more or less icons/recommendations/recent apps is more important to me than live tiles. Get W11's Core features polished and perfect

The store, settings, quick settings, notifications an file explorer are ok by me, but the start is still too ugly in my opinion.

Was just checking updates this morning on my Surface and was surprised to get it, something told me a Win11 build would finally make it to the Beta channel today!

What's that about "bits"? That's confusing.

Bit: A computing term denoting a unit of data. 1 Byte = 8 Bits. It's saying the Beta build is the same build as the Dev channel's build.

Ok, I knew that, but the wording for the title stroke me as odd, they could have just said it in a simpler way.

For the first time since 3.0 I would not recommend updating as long as functionality to organize app icons on Start is missing.

Do you mean folders? You can move the apps where you want. I would like control over how many rows of icons I have and be able to turn off all recommended/recent space at the bottom. I like the simplicity of the new start. I would also like the all apps portion to show more icons at once

I installed on an old HP 360 and it was very laggy so I bought a new Asus vivobook and enrolled the official way and it runs line a dream, I love windows again lol

Just got mine on my Surface Pro 6 and so far I'm impressed.

Dope. Going to update tomorrow

Does anyone know, was the virtual trackpad removed in Windows 11?

Dev channel Insiders being able to hop over to Beta channel means the current Dev and Beta builds are the same. They'll start diverging next week and it could be a few months before both channels sync up again. I've had bad experiences with Dev channel builds becoming extremely buggy near a RTM release date so I would hop off that channel now if you intend to use Win11 on a daily driver. If you want a decent look at the new Win11 UX and x64 emulation for Windows on ARM, I would suggest checking out this Beta build.

I just noticed something interesting regarding compatibility: I installed Windows 11 on my Surface Pro 2017 (which is currently deemed not eligible for the final release due to its CPU generation) through the Dev channel and thus fully expected to be forced to reinstall Win 10 at some point in the future. However, since Win 11 went to the Beta channel, I was not only able to switch to the Beta channel (as is already mentioned in this article), but I also could elect to "unenroll this device when the next version of Windows releases". It would seem illogical to offer this possibility if I *was* actually being forced to go back to Win 10. Unless I misunderstand the purpose of this unenrollment option, this could mean that my device - and many other older PC - might still have a chance to get the stable release...?

Great question, I have the same problem of not being supported with my old as heck SP4.
What you're saying is that we could get to the final version anyway?

Windows 11 at the moment is a complete mess... As much as I love the new themes, sounds and effects, many, and I mean MANY aspects of the OS are still from W7, W8... For starters, many windows will open with a white background, despite being in Dark theme. The Control Panel has been the same since pretty much windows XP. This update compels me in absolutely zero ways to move to W11 from W10.
Windows Central Newsletter
Thank you for signing up to Windows Central. You will receive a verification email shortly.
There was a problem. Please refresh the page and try again.