Windows 7 'nearly ubiquitous' at large companies despite end of support, study finds
Windows 7's ubiquity could represent a security risk if companies and organizations don't pay for extended security updates.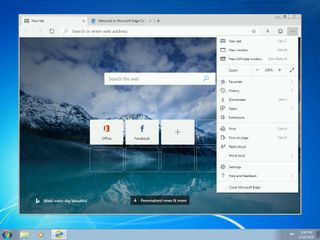 (Image credit: Microsoft)
What you need to know
Windows 7 is still 'nearly ubiquitous' at large companies, and has a large presence in the education and government sectors, according to a new study.
That's despite Windows 7 reaching end of support on January 14.
Windows 7's prevelance represents a potential security threat for many organizations unless they migrate to Windows 10 or pay for extended security updates.
Windows 7 reached its end of support date on January 14, but it's still heavily relied upon by a large number of organizations, according to a new study. BitSight, a company that runs a security ratings platform, found that almost 90 percent of large companies with more than 10,000 employees still run Windows 7. That's compared to 61 percent of companies with fewer than 1,000 employees, the company said in a press release today.
The overall picture is similar for education and government sectors. BitSight found that both verticals have a Windows 7 deployment rate above 80 percent (84 percent for education and 82 percent for government). Expanding to retail, transportation, manufacturing, and healthcare industries shows that just above 40 percent of all PCs in each runs Windows 7.
BitSight obtained its data by analyzing data from around 60,000 organizations over the past 60 days. Overall, BitSight says, nearly 70 percent of those 60,000 organizations were running Windows 7 "in some capacity." Though reliance on Windows 7 isn't evenly spread across all of these organizations, BitSight found that 51 percent of those in the study had Windows 7 running on more than one in 10 machines.
Because Microsoft will no longer provide security updates for Windows 7 going forward, its presence across all sectors is an area of concern. Microsoft offers extended security updates for organizations that pay for them, and it has vowed to protect election systems with further security updates through 2020. However, it's unlikely that every organization that uses Windows 7 in some capacity will opt to purchase paid security updates.
The obvious solution, BitSight points out, is to upgrade machines to a newer operating system. However, upgrading and patching PCs across an entire organization takes time, and there are numerous reasons to delay such a rollout. The process can become even more complicated for companies that rely on bespoke software that doesn't play nice with Windows 10 for one reason or another as well.
"Any organization relying on [Windows 7] moving forward could be susceptible to a security issue, attack or data breach unless they purchased extended support from Microsoft," BitSight said in its press release.
The high-profile "WannaCry" ransomware outbreak that impacted Britain's National Health Service in 2017 showed how a lapse in security can disturb large organizations. With Windows 7 still in wide circulation without guaranteed security updates, attacks like "WannaCry" are a threat that looms large.
Dan Thorp-Lancaster is the former Editor-in-Chief of Windows Central. He began working with Windows Central, Android Central, and iMore as a news writer in 2014 and is obsessed with tech of all sorts. You can follow Dan on Twitter @DthorpL and Instagram @heyitsdtl.
Those companies want to play the game, let them.

Let them get a virus or ransomware. They'll think twice about being so irresponsible.

They're not irresponsible.
Large corporations pay annual agreements with MS.
They'll just pay more for extended, out-of-band support. When it starts costing more to maintain the old OS than upgrade, they'll upgrade.

Depends on who you're referring to as "they". I guarantee there are a lot of small business around too that just couldn't be bothered.

This article is about "large" companies.

Still using Windows 7 here with esu. Hopefully Windows 10 will be fixed in 3 years.

Wow, I've just seen a 4 years old comment.

Not really, and it wasn't even really back then either

Forget windows 7, I still keep seeing Windows XP everywhere. I think the doctor group that I use still runs windows xp, I was at a popular restaurant yesterday and their POS system was running windows xp, and i've seen it at other restaurants too. Apparently no one wants to spend money to upgrade their 15 year old POS systems.

My bank finally upgraded their ATM machines to Windows 7 not too long ago. I guess they're just going to have to do it all over again. This is one of the larger banks too. I can't even imagine how many ATM machines they have across the country or the world or however far they reach.

The company I work for they were suppose to upgrade all our PCs with W10 by the end of 2019, but didn't happen and here we are still running W7. I don't think this company will pay for extended support, since we are still using MS Office 2016.
Windows Central Newsletter
Thank you for signing up to Windows Central. You will receive a verification email shortly.
There was a problem. Please refresh the page and try again.