Windows 8 apps you need to install right away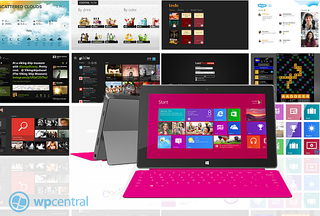 Microsoft unveiled Windows 8 yesterday and shops opened at midnight to serve up those sleek Surface tablets to hoards of people. From today you can also grab an inexpensive upgrade to Windows 8, no need to feel left out of the festivities.
We have been using and monitoring the Windows 8 store since it first became available, we thought it would be good to give you some pointers to get you up and running.
Windows 8 versions of your favourite Windows Phone apps
If you're a Windows Phone user then you're going to feel a little at home with some of the apps you'll be able to find, here are some Windows Phone apps you shouldn't miss. It's not a complete list of apps, and we'd recommend you search for your Windows Phone app if there is something you love, but this collection will at least get you started. If it's not in the Store, you need to mail your friendly local dev and get them on the case!
Rowi - Free
Rowi on Windows Phone it's one of the highest rated Twitter clients and now it's on Windows 8 too. They have taken a different approach to the user interface that should make it a joy to use on tablet devices. Its free and well worth a look. Download Link (opens in new tab)
glƏƏk! Paid - check local Store price
Taking a fairly radical approach to social discovery glƏƏk! Has garnered many fans on Windows Phone. Coming from publisher Liquid Daffodil, you'll get a really nice UI, tons of features and we're sure lots of updates over time. One to check! Download Link (opens in new tab)
Pepper - Free
A real favourite on Windows Phone, this app melds music discovery, gig finder and social networking into one awesome whole. The developers are just about to unleash a massive update to this app which will no doubt blow us away. They have been quick to get their app onto Windows 8, the app is free and so you really don't have many excuses for not giving it a bash. Note this service is only currently available in select markets. Download Link (opens in new tab)
Cocktail Flow - Free
This is one of the longest standing Windows Phone apps and receives great reviews. The Windows 8 version is visually stunning with smooth transitions and really helps with cocktail discovery. It's a tired phrase but this personifies what "fast and fluid" should look and work like. Go and get it! Download Link (opens in new tab)
WeatherFlow - Free
This one has just gone into the Store and well worth installing on your Windows 8 machine. Super clean weather information. Going for the minimal look it ticks the boxes for what a Metro style app should look like. Check it out. Download Link (opens in new tab)
Words By Post – Free
Yes, another Windows Phone favourite, now available on Windows 8 too. This one is cross platform so if your friends are using iOS or Android phones and tablets you can challenge them too. Very good fun and highly addictive. Download Link (opens in new tab)
Wait! There's More!
Here are some of the apps you shouldn't be without in on your new machine, they are simply essential.
OneNote MX - Free
If you are using Windows Phone then you might already be a avid user of this uber-notetaking app. If you have just bought a Surface this weekend then you'll have the traditional desktop version of the application installed but the MX version is for the new interface. OneNote is cloud connected using your SkyDrive storage so you're notes are available wherever you are, web, desktop, tablet and phone.
OneNote MX is FREE to all and really shows off how a Windows 8 should work. It's clean and and a joy to use. Make sure to try it out. Download Link (opens in new tab)
Skype - Free
Release the day before Windows 8 was announced Skype have done a superb job with their Windows 8 app. It runs in the background and takes full advantage of a clean Metro design aesthetic. You can call your Skype contacts and also access all your contacts in the People hub too. Essential! Download Link (opens in new tab)
Google Search - Free
We know that Google haven't shown much love for Windows Phone but many still use their search and web applications. They have an app for Windows 8 which provides voice searching and access to all their wed based apps like reader. If you're living in a Google world then this is a must have. Download Link (opens in new tab)
LastPass - Free
Password fatigue is a real problem and just remembering them is a major pain, well if you haven't tried LastPass now is the time. If you're going to be using the tablet a lot then this could take the pain away from typing out passwords on that glass screen. A very simple interface it provides a super secure way to store your passwords. There are browser plugins for normal desktop browsers and a mobile client for Windows Phone. Download Link (opens in new tab)
Kindle - Free
One of the top things to do on a tablet is read and it's good to see Amazons Kindle app is here for Windows 8. It has all the syncing and cloud connected book features you have come to expect and its free, so go and grab it. Download Link (opens in new tab)
Netflix – Free
Netflix has been around for Windows Phone since launch and we're stoked to see them turn up so quickly on Windows 8. You'll obviously need to get your Netflix subscription but if you have never tried it there's normally an offer to try it out. We suggest you get downloading and checking this app out. Nice that it works on all your devices. Xbox, Windows Phone and Windows 8. Three screens baby! Download Link (opens in new tab)
Hulu – Free
Popular US-only streaming service Hulu has been a big hit, and the Windows 8 app has just recently hit the store and it's looking great. You require a subscription but like Netflix there's always a deal floating about to try it for free for a while. Download Link (opens in new tab)
There are tons of apps in the store waiting to be installed, many of them are free and our list is by no means extensive. We'd really like to hear your honest recommendations for apps you have found and are using for Windows 8. We'll be checking the comments bellow and look forward to hearing from you. Its early days for the Store so we'll likely revisit this again down the road. In fact we already have a games feature coming, just for you!
Windows Central Newsletter
Get the best of Windows Central in in your inbox, every day!
Still waiting on the definitive review from WPCentral, too many apple and android shills on those other sites

It may be some time as we had plans which have been delayed now...

That's the 1st app I looked for in my new Surface RT :)

as someone who was first in line for one today, I can say just go read Anadtech's review. It is everything Anand said and then some. All those hacks like Gizmodo and The Verge missed it badly this time....BADLY.

nice to see the app development coming for win8 and WP8.

Try something funny and interesting. When you have time go on the store and type the asterisk. Then hit enter. You will see the number of available apps growing by the hour. Thumbs up!

It's coming, not long now... RB

You you be more specific please?

Surface review, I believe, is what he's referring to.

I cant be more specific, we're going to have a Surface review, likley next week. We're in for a busy time. RB

Busy time!!?? Who care? This is one of the biggest tech stories of the year; not to mention a first for Microsoft, and you're sitting on the review? Other sites have had their reviews out for a few days now.
Note: if you want to be taken seriously, and not just by readers but by the likes of Microsoft, Nokia, Samsung, you need to be a little more proactive. Take a look at Crackberry and how RIM gives them inside info, breaking news, units for review, etc. It's time to grow up as a site and make WPCentral a name brand and the place to go for for anything Windows phone and tablet related. Just my .02...

Nick, please remember that we are a windows phone site, not a general tech site. Therefore we did not get review units of the Surface. Once we have units to review, we will post reviews

@NickA It's WP Central, not WP&TCentral, not MSCentral. This is a site about mobile phones... Any other news is a bonus

+1 get that shit off my system

LOL - I knew that one would get some traction, seriously, people use Google, the app is going to serve them. I didnt say it was better than Bing did I? :) RB

I used to use google. I dont trust them anymore. I look at it as spyware mostly because of their attitude towards privacy. I think Gmail, youtube and android are fine products, but they do not seem to care about privacy.. As far as search is concerned i prefer Bing on te desktop but google sadly is better in mobile. I dont understand why Bing doesn't work as well on WP.

It's funny you should say that cause the very reason why I stopped using most google products is because of the suspicous behaviour of some of their products. For example, I used to use chrome because I thought it was so much faster than other browsers, but I kept getting these notifications from my anti-virus software saying that "this google program or that google program was acting in a suspicious manner and do I want to give them access to blank". At first I ignored it, but then i got to thinking, what the hell is google doing that's freaking my anti-virus software out? Once I did some research into them as a company, I realized they weren't the company for me. The only service of theirs that I still use because there is no alternative is youtube.

I find Bing really bad on WP7. It was my first real exposure to Bing (I tried it once or twice before), so I have no desire to switch to using it on my PC. In Google searches I rarely have to refine the search or go to the second page. In Bing I'm forever refining, scanning results, refining more... then give up and go to Google.

Anything is better than Bing.

+1. When i saw it in the store i just said to myself "fuck it. they dont support wp7! die google"

There is a google search app for WP7..But I hear you. I hear you. They could (but wont) do better until the platform is firmly established. RB

Can't do my chemistry homework without adobe!

Taptiles! Really fun game and it will be one of those games you can pause and resume on you phone.

Just picked one up and it's nice

one of my "must-haves" is Teamviewer Touch - awesome utility for remoting into computers
http://apps.microsoft.com/webpdp/app/417cca6d-744d-4770-b168-12171f73ed37

Here come more http://www.addictivetips.com/windows-tips/top-windows-store-apps-to-supe...

I just got my Surface. At first I was excited that it had an RDP client, but then I saw that there's a Teamviewer app. For me, this tablet now officially trumps the iPad and Android tablets.

Eh I wouldn't reccomend Rowi over Metrotwit or Tweetro.

definately. Metrotwit is the best hands-down :)

"TWEETRO" is not only the most most beautiful and functional Twitter Windows 8 App, it is the best I've ever used hands down. Perfect example of what a "Metro" App should look and work like. (I know, we aren't supposed to call it Metro ;-)

It is early days, the first section of apps was geared toward apps that us Windows Phone users would be familiar with. Rowi fits that bill. Very early days for Twitter clients for Windows 8, everything is to play for and nobody is "owning" it right now. We look forward to seeing a Twitter client for Windows 8 that is on par with some of the best on Windows Phone. RB

apparently my surface "doesnt meet system requirments" for google search...

Well that's because they fail to support ARM with it, only x86 and x64. Must be their way of putting down the Surface.

I wonder if it would have been wise to not have different windows and made them all the same

Windows will remain the firmly in the land of Intel for the time being. If the ARM devices can get some traction, Google will be all over it, like everyone else. Windows 8 is not confined to Surface and ARM now. RB

I'm looking forward to a touch-based version of Visio. I've always felt the mouse was inadequate and slow for this program.

Hmm, that could be really good, scale that up on a big screen with multi touch (whats that thing in Ballmers office?) and we're talking! RB

There's Grapholite in the app store.. pretty dang nice. Expensive though at $26.99. But it does have a trial. It's basically visio with touch.

Tweetro is awesome! I've been using it for months now with the pre-release builds of Win 8.
Also (shameless plug), I ported my popular Windows Phone game Brain App to Windows 8 / RT, it's pretty neat and can sync profile data between the Windows 8 and Windows Phone versions.

I'll be sure to check that out. :)

Don't keep this sort of news for the comments, please tip us with your app's progress. I will check that out, send us the link when you can. I'm @groovepoint on twitter, get in touch. RB

Angry Birds Space popped up last night as well. Noticed LOTS of 'desktop' apps showing up in the store, too. Will be fun to watch the apps pour in. :)

Have W8 ready to install,but don't want to lose my antivirus program,any suggestions?

If you bought the antivirus...it should have ability to be installed on another device, unless it specifically says only for one pc. If not, download Microsoft security essentials. Its free

correction. Dont download MS Essentials, wont even install. It's built-in in Windows8. You dont need to install anything unless you want a third-party one like kaspersky. You wont notice Essentials is there unless a threat to you system happens. In case you install any other AV, Essentials is automatically disabled.

Microsoft Security Essentials is awesome. Just use that.

+1 Security in Windows 8 os awesome and there is no need for aditional antiviruses

Windows 8 comes with built in Anti Virus and Malware protection, Save your money for some fine apps. Dont worry about anti virus updates, they come built into Windows update. Chillax dude. RB

Ok, OneNote, Netflix, Skype and Kindle are spot on. The rest of those Apps, no thank you..... Well maybe Hulu someday.
You need to add,
1. Xbox SmartGlass
2. PinBall FX2 Live
3. Solitare Live
4. Popular Science
5. AllRecipes
6. Mahjong Live
7. Fruit Ninja

All should be in your top 20.


Smartglass definitely, but the rest of your suggestions are just, meh.

A games roundup is coming, no fear. Decided to concentrate on most 3rd part apps rather than things like SmartGlass. Thanks for your suggestions though. RB

i agree - if you play games all day.
there's actually a really cool twitter client called CowLick! and looks good on the surface too...use it - you might like it.

Lol @ pinball, solitaire & mahjong

Question, If I purchase something on my phone (fruit ninja), can I download for free on Win8? I ask because there is a price difference between the two.

Yea same question I bought quite a few games on my windows phone that are available on windows 8 but don't wanna pay twice

This is the same scenario for games also available on XBox. You gotta pay for each app on each platform (Windows, Phone, XBox). Taking a stab here, but I bet the Windows Store doesn't (yet) even have a way to pay once, run everywhere.

Lost my anti virus too=[ what shall i install now?

Microsoft has security essentials for free on their website

Windows Defender is built-in to the OS. The Windows 8 version of Defender has Security Essentials' virus-scanning built in.

But also, completely unnecessary on a Windows RT tablet anyway.

Is that a serious question?

It is a fair question, Microsoft is making itself very busy selling Metro UI and Surface but the underlying Windows 8 core now has some amazing new features. One of those is the addition of Microsoft Security Essentials – gone is the need to install other "Security" suites unless you or others using your machine are prone to venture to the dark places on the web. I have been using Security Essentials since it was released years ago and have been very happy with it. Enjoy windows 8, it comes with virus protection built in. Take that Apple! RB

You shall enjoy a faster OS! 3rd party antivirus only slows everything down. MS Security Essentials is great and doesn't lag anything.

I heard angry birds space is out as well

My list includes Freshpaint too :)

What? No WPCentral app yet? ;)

Any good games available like unreal 3 engine types

Oh and for those asking, a WPCentral app will be some time away, still working out how it's going to exist in a tablet environment :)

I am a coder willing to help out if you need it. PM me if you would like some help.

Call me a pessimist if you will but i have a funny feeling that this will be a repeat of windows phone 7 where the apps look good but not fully as functional as their PC counterparts or other platforms.

i pray am wrong



Well, the apps that are available so far are quite awesome, and maybe even MORE functional given the use of touch and the don't-call-it-metro design interface and goals. I'm already not really missing Win32 apps....

Smartphone apps that are "not as good as their PC counterparts"? Are you talking about how you interact with the touch screen UI, Metro interface or simple functionality? RB

why i can not download skype app ? i can not find skype when i search it on windows store .

No mention of Armed? You guys suck!

Armed! Is awesome, it will be covered, we're doing games later.... RB

Skype has a huge error
check this -> http://prntscr.com/i80hl

Both apps are made by microsoft u_u
how did they screw this up?

I believe what you are seeing is FB chat integration into the messaging and Skype apps. If I am on messaging, and also have FB open in a browser, I see chat happening on both screen.

I love win8 so far but they are really going to have to find a way to better categorize or breakdown the store...already some of those categories have over 500 apps to try and look through and it is just the beginning!

I suppose it's a good problem to have :)

I have a Samsung Series 7 Slate. I have been working with the Release Preview for awhile now, and put Windows 8 on it way late last night (morning, however you want to look at it). It seems great!
Maybe I'm branching off here a bit off-topic, but I'll put in some apps I want to see soon!!!
It's all about the "Official" apps for me. Not third-party.
So, just some obvious omissions so far:
Official YouTube (need not make a mention of Google here)
(at least we got official Netflix, that's nice)
Facebook
Twitter
Amazon
TVGuide would be nice...
I'm sure there's at least 100 more..... but still, it's all about "official" to me.

Love the way Nate&Frenchy's translator app looks too - cool!


Freda e-book reader is in the store in a preview form. The developer is working on it but it does work for reading those ePub books you have lying around.

As a high school student, which Surface should I buy? I really need to know this. :)

it depends. I would bet the fully functional pro would be best. It isnt out yet so just a shot in the dark

Most likely surface RT will be enough for you because it has office for school projects and apps for entertainment. However if installing x86 programs is a must for you ( normal windows programs) then it will have to be a surface pro

The first thing I did was grab Fhotoroom. It's my go to photo editing app on WP7 and now it's my quick editor on Win8

I have brought my TV Shows and Movies onto the Surface. Anyone firgure out how to organize the Movies into the Movie section, the TV shows into the TV shows, then associate all the episodes with their show? I like everything but this XBox Music and Video thing. It is making an orginizational disaster of my library. The Zune did such a nice job.

I laugh at all the poorly written reviews that said the Windows 8 store was a "wasteland." Now they have to eat crow because most apps were released on launch day.

People complaining about the lack of apps in the store should be reminded that the iPad only had a few thousand apps available within 5 days of launch...http://www.macobserver.com/tmo/article/over_3500_ipad_apps_available_only_days_after_ipad_launch/

"Discourse" is a great RSS News Reader. The game "Armed" has to be on this list and "Tweetro" is the best Twitter app. All of these are unique and show off W8 to its fullest IMHO.

The problem with Windows 8 apps desktop wise is, well, I have yet to find use for them when I can just go to the website. Unless its a game of course.
Great for tablets but nto so much the desktop, imo.

A useful app for new Win8 users: 'Learn Windows8' app http://apps.microsoft.com/webpdp/en-US/app/learn-windows8/0d963fce-682a-4408-a0d5-ee9ad8f21b48

I'm going to plug my own app:
Check out Modern Reader.
http://apps.microsoft.com/webpdp/en-us/app/modern-reader/32341570-8307-4797-8d98-089e34d32eb0/m/ROW
It is a Google Reader client for Windows 8.
I believe it is one of the top apps for Windows 8.
Windows Central Newsletter
Thank you for signing up to Windows Central. You will receive a verification email shortly.
There was a problem. Please refresh the page and try again.