The Windows 8.1 Store - improvements and refinements galore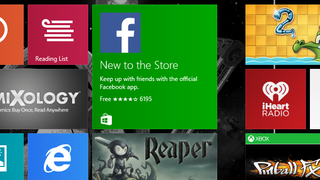 When it comes to Windows 8 devices, there is no doubt with the unit's ability to multitask or the ability to be productive and get stuff done. The Achilles heel of the Windows 8 platform at the moment, is its own app store, but as we know, Microsoft has been working hard to deliver key applications like Facebook and Flipboard (coming soon). With the release of Windows 8.1 however, an update was pushed for the app store that makes it easier to navigate and also help you discover some great apps you may have missed.
Let's start with the Start Screen. The new Windows Store for Windows 8.1 provides a live tile on your start screen and can now be sized as "large". The tile itself will be able to display new releases, special deals, and recently released app collections for special events.
Upon opening the Windows Store in Windows 8.1, you will also discover a selection of scrolling apps on the left hand side. These listed applications are a collection of featured apps that will show what is currently trending within the store, new applications that have been recently published and are gaining traction, top paid apps, top free apps, and lastly, personalized recommendations based on your previous purchases. If the Store recommends something to you that you don't like, you can even choose the "Not Interested" option and improve your experience.
Navigating the store has also become easier. Simply swipe down to access a list of categories to browse by – want to just browse Games or Sports apps? No problem. In addition, a home button will always be available when swiping down, this creates a fast way to get back to the main screen without hitting the back button half a dozen times. And lastly, the search within the app store now includes a smart search box that will automatically begin to list applications as you type.
If you have upgraded to Windows 8.1 yet, the updated Windows Store is one great reason to download that free update!
Have questions about upgrading to Windows 8.1? Click here!
Source: Microsoft
Aww, I got all excited for a second and thought Microsoft had rolled out a big update to the store. The new 8.1 experience is miles ahead of the old one but there's still a lot of work to be done, it's certainly much faster than the old one but it still feels slow and I still occasionally get the 'no internet connection' error which plagued the 8.0 store. The live tile is rather cool though. I do like how my 8.1 start screen feels an order of magnitude more alive than it did in 8.0.

I don't know whether am I the only lucky guy in the planet or the only one who knows how to use devices but every time someone says there is bug, an error, some lag, or whatever, it never happens to me. I do have some other problems that are hardly ever mentioned in any article, but... I have never ever had that 'no Internet connection' error. And I haven't even upgraded to 8.1.

Nah, you are not alone. I am with you. But, the only different is, I've upgraded to Windows 8.1. Never encountered any serious bug since the installation. It's awesome but still need alot of work to be done to the OS.

You should upgrade. W8.1 is a thousand times better than W8! I couldn't use W8 modern interface on my laptop because it just lacked functionality. This has changed with W8.1. Now I can do almost everything just by using the modern interface (yes, with mouse and keyboard)!

I actually don't care for the update. I cna't figure out how to filter only Xbox-branded games into my searches.

Why do you filter for "only Xbox-branded games"?? Man, you should "filter" for Games which make Fun and forget this childish Archivements.

Maybe they should get rid of them from the Xbox too?

If all you want are Xbox Games, just open the Games app and go to the Windows Games Store section there.

I think you make a great point. Searching will give you many results for XBox live ones if you type "Xbox Games" in the search box. However why aren't games sorted into subcategories or even other categories could have some subcats. Games especially thought should be able to be sorted by Action, Card, Sports, things like that.

True. I don't know why haven't they just used the Windows Phone store scheme on 8.1. It's much better than both W8 solutions so far.

One issue I found is that Microsoft's own weather app live tile doesn't update instantly or ever do, and keeps setting back my location to Washington, D.C.

Yeah. The live tile for Bing Weather hasn't been updating for me. It worked initially. I like app interface a lot more than I did the Weather Channel app.

Ya Bing weather has broken. I replaced it with another weather app.

My weather tile showed DC initially, but it's been working properly for the past couple weeks.

I think that the store update has in many ways made things worse. New & Rising is updated infrequently, so it's hard to see what's actually new. Old tricks for seeing all apps in the Store (using an * as your search term) and then sorting by newest don't work any more. There's been plenty of apps (such as, Uno & Friends) that I've been interested in that have been out for weeks before they showed up in New & Rising. It makes it really difficult to discover new apps you might want to use when you can't actually see what's new.

I wouldn't say it's made it worse, the old store could be static for weeks before it showed anything new, at least the new store goes days which is still not enough. I've also never seen it show any high profile apps on day of release. They need to take hints from the Windows Phone store that works well and us updated frequently, even the same day.

Its still missing a "Related" feature, though. Cant tell you how many times Ive found what I was looking for by looking at the "related" apps of a similar app in the WP store.

What irks me no end with the store on Xbox, is that you cannot sort by price. Poor show. Is this one any better?

Yes, the store got much better and has more useful categories. However the detail view of the apps is still quite confusing and now it seems they're hiding changelogs and needed permissions much better. And yet even the best store sucks if there're only few very good products in it surrounded by gobs of rubbish.

What has always happened to me is I will search for an app, it'll say no such app can be found, but then I backspace the last letter of the app and lo-&-behold, the app shows up as a suggestion. I experienced that on multiple machines running both 8 Pro and 8.1 Pro. #shenanigans

To Pacs_R_Us it does have a Related section now, but its quite far to the right when it should be right at the beginning below in the app or somewhere easy to see. The store is improved, but still difficult to find new content, though I do like that the "junk" is hidden, it makes more difficult to find those hidden gems that are out there. The app is still quite slow at times. Its nice to have a list of apps I've tried but no longer have installed but you don't see that reference when looking at that item again in the store (not that Android does this either). But strangely many of the apps I have listed under "installed on my pc" are not in fact installed. Lots of work still needed in it, so hope they keep improving the store. Oh and I wish they put back the option to have apps install automatically on the Start Screen. If is stupid to have an app I just installed not be there and I have to manually add it to the Start Screen. It is far easier to unpin if I don't want it there as it takes longer to locate it and pin it, THEN move it where I want it.

Youre right! I was looking at Disney apps last night and the Disney apps I looked at didn't have the related apps section, just the "other apps by Disney" but looking at other apps, the related section does exist. Thanks for pointing that out.

Windows Store search function sucks. Type Facebook, and it returns lots of useless apps but except the Facebook official app.

Exactly, the need public tagging or a this isn't an entertainment app, some devs are pushing out spam apps categorized in the top categories to get noticed.

Everyone already new this did they not. This is old news is it not. This came out with the release of 8.1 did it not?

I love Windows 8.1 except for one big issue. IE 11 doesn't work with almost all MS sites including SharePoint, TFS, MSN, TechNet and msdn... One has to wonder... I've got them all working in backward compatibility mode but its getting old having to constantly add sites to that, and I'm now using Chrome more than IE.

I like the new store design...but I HATE the new tile always publicizing some app. I just had to turn it off.

One huge issue is the recommendations. And the "top" lists, please I am asking if you use an app, please rate it. The store will only get better if its used right. Currently most apps that are worth using, have terrible rating numbers. So they aren't the top. I I want a great video streaming app, I should have to see "my little pony story board" at the top....its a shame.

Some apps are useful, but I've never understood the need for apps on a PC or tablet. Since the screens are large enough, just use the browser for websites like before and set your favorites. Microsoft should push this in its marketing until the store grows with official apps

tougher rules, better search resaults (official stuff first) thats what the store needs
Windows Central Newsletter
Thank you for signing up to Windows Central. You will receive a verification email shortly.
There was a problem. Please refresh the page and try again.