Windows 8.1 will start to roll out to the world tomorrow – are you ready to grab it?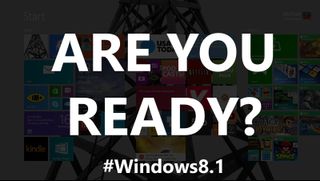 Microsoft's latest upgrade to their Windows 8 operating system will begin to hit user machines within the next 12 hours – and it is ready to pack a punch.
Are you ready for the upgrade? Do you have a few questions on how to get it? No worries, check below for a crash course in Windows 8.1 then be sure to tune in as we release our full Windows 8.1 review in the coming week.
How do I get Windows 8.1 onto my machine?
If you are already running Windows 8, then all you need to do is sit back and relax. The update can be picked up free of charge via the Windows Store.
If you aren't already running Windows 8, you have two options as of now. You can grab a copy of Windows 8 at your favorite retail store and wait for the update to hit shortly, or you can preorder a copy of Windows 8.1 and then receive it October 18th (a day after everyone else). Currently, Amazon.com offers a preorder of Windows 8.1 for $119.99.
How will logging into my machine change?
The only difference you will notice when logging into your Windows 8.1 machine, is that you now have the option to swipe down to quickly access the camera. Besides that – all is the same.
How will my Windows Start screen change?
The biggest change to the Windows Start screen will be the ability to easily resize and organize your tiles. Program tiles now have a various selection of sizes including small, medium, wide, and large. Not all apps support being pinned in "large" mode, but some apps like Microsoft's Weather app make great use of it. Overall, the small tiles should allow you to create a cleaner Start screen experience.
Microsoft has also introduced more personalization for the Start screen including a collection of new background with two color scheme adjustment and the ability to show your current desktop wallpaper for a less jarring experience when switching between the legacy desktop and the Windows 8.1 Start screen. These settings can be adjusted by opening the charms bar while on the Start screen and selecting "settings". Users also have the option to display their tiles in large or smaller columns – this setting can also be accessed via the charms bar.
One last addition to the Start screen now includes the ability to swipe up and reveal the list of all currently installed programs on your PC – both Windows 8 and Windows legacy software.
How will my legacy desktop change?
The desktop will stay the same for the most part. Microsoft has returned a Start button to the lower left hand corner of the screen (where it has sat for ages), but it no longer brings up a menu with access to your favorite files and programs. Instead, the Start button now brings users to the Start screen (AKA: Windows 8 mode).
Users now have the option to boot directly to the desktop and bypass seeing the Start screen. The first time Windows 8.1 starts up it will check to see if you have a touchscreen device – if not, you will be asked if you want to bypass the Start screen. If you accidently clicked the wrong box or if you do have a touch screen, but still want to boot directly to the desktop, you can right click the Windows taskbar, select properties, and then make the adjustments you desire.
You also have the ability to have the Start button bring you directly to your list of Installed Software, instead of the Start screen; this adjustment can also be made by right clicking the Windows taskbar and selecting properties.
How will using my Windows 8.1 PC change?
For the most part, your day to day use of your PC will stay the same. Microsoft has included the ability to go beyond snapping two applications 50/50 next to each other, but developers must take advantage of this capability (many already have). This is a great step up and we are excited for those with a need to multitask.
Search has also been enhanced greatly and now features a way to universally search across your PC and the web at the same time. In Windows 8.1, simply start typing on the Start screen and hit "Enter"; you will be immersed in a "deep search" experience that pulls data from every corner of your PC. No more selecting the individual app and then starting your search. And of course, the web search is powered by no other service than Microsoft's Bing.
One of the last and most important new integrated features is built in SkyDrive. You will now have the option to save your files to your computers own local storage or save to Microsoft's cloud. We, at Windows Phone Central, love and highly recommend SkyDrive to our readers. I currently pay $50 a year for 57 GB of online storage (you get 7 GB free) and there is no better solution because SkyDrive is tied into Windows at the operating system level. Those of you who have not yet tried SkyDrive should give it a go – those of you already using SkyDrive will welcome the deep integration that Windows 8.1 brings to the table.
Will I get any new applications with my upgrade?
Windows 8.1 offers a collection of new apps from Microsoft including a Bing cooking application which can easily switch between pages of a recipe by seeing the flick of your hand in the air.
Microsoft is also offering other small pieces of software including an improved calculator, new "Read It Later" app for keeping stories you find on the web, a new alarm app, and a new app to record sound.
On a larger scale, Microsoft has launched and improved upon four new applications: Camera, Photos, Movie Moments, and Fresh Paint. These four applications will allow you to easily manage your media and create new content. For a more detailed look at Microsoft's reveal of these applications, check out our reporting from earlier today.
Microsoft has also included a new help and support application to get new users more comfortable with using the new operating system (via touch or mouse). This is a welcomed addition that should have been present in the original launch of Windows 8.
Lastly, Skype will be coming preinstalled on Windows 8.1 installs – there is no running away from what Microsoft hopes to be a main stream of communication for the future. That being said, the application works nicely and we are quite happy with it (although, conference call features can be improved upon).
Anything else?
Windows 8.1 will of course include a collection of new drivers, new hardware compatibility, and expanded wireless communication. One feature we all won't all be able to use, but is present within Windows 8.1, is the operating system's native ability to print to 3D printers.
We'll keep an eye on things and report any surprises that may come to light with the 8.1 update. Feel free to visit the Windows 8 forums to chat it up and share your update experiences.
Alright everyone, get to bed and leave your PC on. If you don't fall asleep, Steve Ballmer won't be able to come in the middle of the night and install Windows 8.1. Also, don't forget to leave out cookies and milk.
Get the Windows Central Newsletter
All the latest news, reviews, and guides for Windows and Xbox diehards.