Windows 8.1 Update 1 rumored release date gets more specific, no mini-Start Menu in sight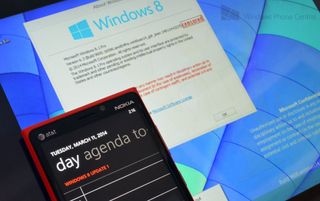 The first minor update heading to Windows 8.1, known as Update 1, is suspected to be bringing more unity between the legacy desktop and newer Windows 8 application environment. In recently leaked screenshots by hacker WZor, we were able to take a brief look at the ability to pin Windows Store applications to your taskbar. The update previously rumored to be coming out this March, has received more confirmation – including an exact date.
According to technology journalist, Marry Jo Foley and her sources, the Windows 8.1 Update 1 will be released as part of a Patch Tuesday update through Windows Update. The exact date, said to be provided by her "accurate and trusted sources," is March 11. Between WZor confirming March for the launch month and Marry Jo Foley now confirming the date – we believe the information is highly accurate.
In addition to being able to pin Windows 8 applications to your desktop's taskbar, additional screenshots have begun to show the ability to display thumbnail previews of the running application along with the ability to close the apps directly from the desktop via a "close box".
For fans of the Windows Phone operating system (essentially, everyone reading this article), the date of March 11 places the Windows desktop update only a few weeks before the Windows Phone 8.1 update is supposed to kick off. While the times are still possibly weeks apart, we are beginning to see a unification of update release dates between the two operating systems.
For those of you who are excited that a closer releases date might mean the two operating systems are closer together in terms of programmer aspects, Mary Jo Foley reports that her sources make it sounds as if "there won't be application programming interface changes made to Windows 8.1 Update 1 to bring it into closer alignment with Windows Phone 8.1". It doesn't take rocket scientists from NASA to figure out that the two separate operating systems are beginning to catch up and converge, but we still won't be there this March.
In regards to what is being called the "Mini Start Menu", which is rumored to appear in a future Windows update, Mary Jo Foley states that she heard nothing on the topic and believes it to "show up some time in the next 12 months" – possibly as Windows 8.1 Update 2 or Windows 9.
Windows 8.1 Update 1 should be just around the corner, so sit tight and it will be here soon.
Source: ZDNet
Get the Windows Central Newsletter
All the latest news, reviews, and guides for Windows and Xbox diehards.