Windows 8.1 Update 1 screenshots leaked - shows the ability to pin Windows 8 apps to the legacy taskbar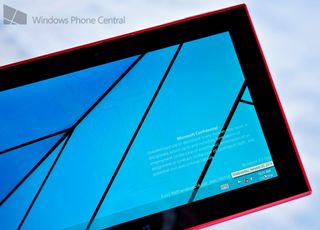 Microsoft's 2014 update for Windows 8.1 is aimed to land this April, and as usual, screenshots have begun to leak a few months early. Prominent hacker, WZor, has released a collection of screenshots from the latest build that reveal what may be in store for the future of Windows.
Known internally as "Windows Build 6.3.9600.16596.WINBLUES14_GDR_LEAN.140114-0237", the leaked build is an internal development variation that is considered "Microsoft Confidential". The screenshots depicted are from a Windows 8.1 Pro version of the operating system and at this time we aren't aware of what slight changes there could be between the leaked professional version and the currently unseen consumer version of the operating system.
Taking a closer look at the system registry and "About" window captures do reveal Windows 8.1 Pro with the April "Update 1". The most fascinating part of the screenshots though, is the Windows Store button pinned to the taskbar. This is the first time we have ever seen the ability to interact with Windows 8 applications from the legacy desktop.
Looking within the Taskbar and Navigation properties window, we also see an option titled "Show Store apps on the taskbar". This confirms that Windows Store applications can in fact be pinned to the taskbar for fast access, but there doesn't seem to be evidence of the ability to run the Windows 8 applications on the desktop itself – just the ability to pin them.
In many of the currently leaked screenshots, we can see that the "Windows Store" icon is highlighted as if it is open, but there is no sign of the application itself running. It appears Windows 8.1 Update 1 will allow users to pin their favorite apps and keep track of what is running, but will not allow the ability to run said applications in windows on the legacy desktop.
These screenshots take us closer to rumors and leaks we are beginning to hear about Windows 9, an operating system where legacy applications and Windows 8 applications can run on the desktop together. Windows 8.1 Update 1 is due out later this April and a leak is said to be on the way – we will keep you updated as news develops.
What do you think of the noted improvements to Windows 8.1 Update 1?
Source: WZor
Get the Windows Central Newsletter
All the latest news, reviews, and guides for Windows and Xbox diehards.