Windows Central App for Windows 10 grabs QR code switch and article loading indicator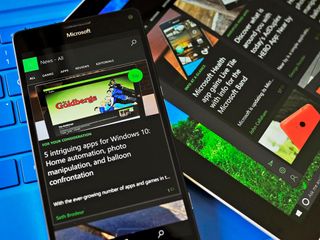 Build 19 of the Windows Central App for Windows 10 and Mobile is now live in the Store. This update is yet another small patch with just a few, but welcomed, improvements as we can continue to build out the app.
Windows Central App 1.1.19 (build 19)
Loading indicators for articles
Hide QR code in articles
The latest version addresses one of my pet peeves, which was the lack of a loading article indicator aka 'the spinny dots'. There is also a new option under Settings > Reading for our QR codes that appear in app and game articles. Simply put, if you do not wish to see those in the article just throw the 'Show app QR Code in Articles' option to off, and they'll vanish (you'll likely need to restart the app for the change to take effect).
There are still many more things we'll take a look at going forward, so don't forget to use our Windows Central UserVoice page lets us track issues and feature requests. So if you want your vote to count go there instead (please don't use the 'tip' email function for this as those are just ignored).
Leave a review?
Finally, we kindly ask if you left a negative review of our app after it was initially released to consider revising that review if you think we have made improvements and addressed your concerns. If you haven't yet left a review for our app either on mobile or for PC, we ask that you take the few minutes to do so. It greatly helps our visibility in the store and rankings so that others can experience our app, the site, and great community. Thanks!
Download Windows Central for Windows 10 and Mobile (opens in new tab)
Daniel Rubino is the Executive Editor of Windows Central, head reviewer, podcast co-host, and analyst. He has been covering Microsoft here since 2007, back when this site was called WMExperts (and later Windows Phone Central). His interests include Windows, Microsoft Surface, laptops, next-gen computing, and arguing with people on the internet.
Automatically picking the accent from system ? Coming soon ? Posted from Windows Central for Windows 10 Mobile.

And, as requested in User voice 2.5 million times.... Pull down to refresh article for comments. Via WC For WM10 ☣
Arlington, TX (Most Beautiful City) ♛
Lumia 152☺️ (Best Lumia $ Can Buy) ツ

I buy things using ₹! (just for fun, no offence intended)

But, is that a fact? Via WC For WM10 ☣
Arlington, TX (Most Beautiful City) ♛
Lumia 152☺️ (Best Lumia $ Can Buy) ツ

You are absolutely correct. When I approached the developer, he said that he is in a "paid contract" and never stated when new features and bug fixes are coming. Horrible support from developer.

Still not loving the app fonts. I've even reduced the size. Needs to be spread out. BioResearch & Games.

Hopefully the force closes when posting comments are fixed.. Great app, just a few things need to be sorted out. Overall I have to say good job, and I'm super critical. This app has huge potential...
.....
I just can't keep it open.. Lol Via WC For WM10 ☣
Arlington, TX (Most Beautiful City) ♛
Lumia 152☺️ (Best Lumia $ Can Buy) ツ

Why not make app loading time faster

It is,, now.. This update is a huge improved in performance. First thing I noticed.. Back button works. Didn't crash on comment load. It's getting there fast. Via WC For WM10 ☣
Arlington, TX (Most Beautiful City) ♛
Lumia 152☺️ (Best Lumia $ Can Buy) ツ

Damn, spoke too soon. Just crashed. Lol. SMDH. Via WC For WM10 ☣
Arlington, TX (Most Beautiful City) ♛
Lumia 152☺️ (Best Lumia $ Can Buy) ツ

Just grabbed the update, and the loading indicator is a nice touch. Still having crashing issues though. The Windows Central Universal Application for Windows 10 Mobile on a Nokia Lumia 830

Crashing seems like the biggest issue left.. They fix that and we're ready to roll! Via WC For WM10 ☣
Arlington, TX (Most Beautiful City) ♛
Lumia 152☺️ (Best Lumia $ Can Buy) ツ

Well there's a few more issues I'd like to see revolved as well. The Dark and Light themes still aren't consistent (the hamburger menu remains Dark when the Light theme is chosen, and the "add comment" window is also Light even when Dark theme is chosen). Also the pivot design in both Settings and Home are great but not perfect. You have to slowly scroll through several pages to get to a page that you can't see on the page title thingy on the top of the screen. I wish you could scroll through that separately from the actual pages themselves so you can quickly access a specific page even if you can't immediately see it. I'd also like to use my system accent. And actionable notifications could use some work.

Great! Glad you mentioned those.. Hopefully they see your comment here, and in UV.. Via WC For WM10 ☣
Arlington, TX (Most Beautiful City) ♛
Lumia 152☺️ (Best Lumia $ Can Buy) ツ

I doubt they'll take my comment into consideration, but I'll pop back onto UserVoice to do some upvoting and make sure my feedback is heard. At least, I'll do that later, haha.

That's all I did.. All the issues, and request, are already laid out... All you have to do is vote. Via WC For WM10 ☣
Arlington, TX (Most Beautiful City) ♛
Lumia 152☺️ (Best Lumia $ Can Buy) ツ

I would have already done that if I wasn't being lazy and watching Bones instead of being productive.

If I can be honest and share my opinion, MSPoweruser's upcoming app looks 10 times better than this app.

Ugh no. Yeah of course you're entitled to your opinion but the MSPowerUser application looks absolutely terrible. I absolutely hate the hamburger menu and how it just pushes everything to the side, I hate the ad banners spanning the bottom, and I hate how absolutely nothing is animated whatsoever. Also, everything is broken. Comments rarely, if ever, work, the app constantly crashes (more so than this application), things consistently just don't work, and through all of this the application has barely been updated since its release. This application, at least, gets constant updates to add features and fix bugs, while the MSPowerUser app has gotten like three updates since its release long before Windows Central, and one of those was just to change the name (which, by the way, did not change the name of the Live Tile).
You're still perfectly entitled to your opinion, I just massively disagree with you. This application is better designed, better built, and better supported.

I am talking about the upcoming app. I have a few contacts in their team and I learnt that it is 10x better than their old app. It loads in 5 secs on a 2Mbps down WiFi. Comments work and it is fully universal. It easily loads articles and according to the developer, it has never run out of memory on a 512MB device. I have great hopes for this app. For the time being, the tables have turned. WC app is terrible and MSPU app is much better. Cant wait to play around with it.

If they're planning to release a new app, why on earth did they already release a Windows 10 application? That's a drastic waste of resources. Besides, I can't say I have faith in them anyways, seeing as both of the last two apps were terrible.

Third times a charm. Let us wait and see.

They shouldn't need a third time, but yes, we shall see.

When they released the app, the terrible feedback led to the developer working hard for an entire month to rewrite the app from scratch.

Ah, well here's hoping it's actually good this time. In my opinion, the Windows Central application sets the bar for how a Windows 10 application should be built.

"Loading indicators for articles" also refreshes the comments?

Its only 4 lines of code that does nothing but shows that the app is loading

It won't install on my W10 pc. Wrong W10 Version, WTF?

Can you post a screenshot showing the exact error message?

It does require the Fall update (version 1511) to be installed. When I got my new desktop with W10 on it, I was not able to install the app until I picked up that update. No biggie, the update is all good anyway so why not? :)

Your right. Got it now. Thanks

Needs 1511. Got that and installed the WPCentral app.

Awesome! Keep up the good work guys!

Buttons cut off at the top when commenting, live tile stops working, lock screen and tile count stops working, forum navigation blank page.... All posted in the feedback page. Just not sure why they are concerned about new features when the ones they have are broken. Good effort so far though...

Good effort is features only. Developer has taken no initiative in fixing bugs

Loving the regular Updates.

I miss the iconic live tile from 8.1

The live tile doesn't work at all like the old app.so many times informed in user voice but no effect.the problem continues Sent from Windows Central on Windows 10 Mobile

Anyone else with both apps pinned side by side? Article count and forum access efficiency make the oldie still a goodie.

Should notifications be taking us to the specific comment at the moment? I thought I read that had been added a while back but it hasn't worked for me. I'll check on UserVoice when I get a chance, but somebody here may be able to shed some light before I get a chance

The feature is planned. It will take some time to get the deep links working.

Crashes immediately when opening any article (like this one) from the main list. Also takes like 10 seconds to open. The old 8.1 one is still much better than this sorry app. Also, even if I can't use them now for obvious reasons, the comment and forum views should be improved, especially a go-to-latest-post function. At least I couldn't find such function when I tried it once.

Works again after reinstalling. Btw thanks for downvoting for reporting bugs...

Daniel and gang should be made in charge of windows 10 mobile development.... They know how to please the fans Posted from my Lumia 1520 high on Windows 10 Mobile

Still the live tile not working, crashes when opening the app, crashes when trying to submit comments, no jump to last option in comments.old one better than this. Sent from Windows Central on Windows 10 Mobile

Kindly use the user voice to submit ur comment pls we all need this app to be great Posted from Windows Central for Windows 10 mobile

He's stated elsewhere that he already has submitted to user voice, multiple times.

Not at all! This app has the worst UX and UI design. I appreciate the number of updates but the UX of the app is better than Cortana but below 90% of the apps. The developer has taken no time to maintain the quality of the app and is just adding new stuff while the old stuff never works. Microsoft would be in loss if he developed the first-party apps

Now clean up the UserVoice feedbacks. But don't close unimplemented ideas like the live tile counter badge. It's still not working.

Seconded on the iconic live tile. Makes UserVoice feel pointless when Daniel G. closes a request as completed even though it doesn't work, and then ignores comments in it and here saying it doesn't work.

A couple of immediate things: It's a bit strange that tapping on the radio button/shifter won't change the on/off, but tapping the text next to it will. Also, the "(requires restart)" should be preceded by a blank space.

there is a strange issue with the app on my phone - when i click on the article, it shows the latest article content is very small fonts, then loads the selected articles content, then resizes the font to the set size. just a bit annoying .. is it me or is this a known issue? running L1520 on win10 dev preview

Yea that's how ot behaves, it's a bug I have send a feedback too on that plus it even takes time to load content. I understand its still work in progress, hopefully dan will fix that asap Posted from Windows Central for Windows 10 mobile

It's not just you. I'm missing the "+" to add new comments in most articles but have no problem replying. Pressing the ellipses up top and trying to swipe the bar to see if a new comment button is hidden swipes the page to a different article :\

Hi, this is definitely an issue because a WebView is used to display the articles and it bugs out.

Daniel, please tell the developer that I'm willing to donate my design services to help in polish the graphical elements. Typography and visual heirarchy are often overlooked or rushed aspects of app development. I'd love to help out with respect to this. I currently much prefer the old app's grouping of visual elements and typographical formatting over the new version.

Seriously, this app takes a dump in the UX and UI department.

How about opening the store directly instead o first going trough edge, or this is OS level stuff?

They go through edge to analyse how many times outgoing links are clicked. I think going straight to the store is possible but hey..

I tried the new app. I couldn't uninstall it off my phone fast enough. I'll stick with the original for now.

There are pros and cons to both. I recommend giving the new app another try. It is lacking in forum navigation.

Since they removed Bing vision lens, how do people scan QR codes on W10M now? This was so convenient for me WP8.1. Scan a code from my PC monitor and install app on my phone. I wish we could do the same in W10M.

Still possible, though you now need a seperate app to do that.Personally I use "QR Scanner RS" and put a small tile on the mainscreen. This app is very fast with scanning, sometimes it already scanned the code during starting of the app.

Thanks. I will try it out.

I am not able to install in my Windows 10 machine. Displaying message as system needs update, but no updates are available

Hi guys, is the "blank page" problem fixed too? I often get a black page with no articles no categories when I launch the app and the only way I have to make it work again is to force close it and start it again.
Thanks for all these updates. :)

Push notifications?! Still not working. Please make it work soon once i enable it, Exit the app and open it again. Gets Disabled again

Build 19 is not showing up in the store for me. Still listing build 18 as the latest update.
Windows Central Newsletter
Get the best of Windows Central in in your inbox, every day!
Thank you for signing up to Windows Central. You will receive a verification email shortly.
There was a problem. Please refresh the page and try again.