Windows Central Podcast 20: HP on making the Elite x3
This week on the Windows Central Podcast: Interview with HP's Michael Park about the Elite x3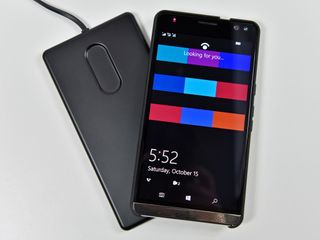 We're interviewing HP's Vice President & General Manager, Commercial Mobility & Software, Michael Park, talking about the Elite x3 on this week's podcast. Before we dive in, who exactly is Michael Park?
A shorter version is Mr. Park oversaw the development of the entire Elite x3 program.
Mr. Park was an outstanding guest answering many questions you have about the Elite x3 (yes, we read your comments): Why did HP make this device? Who is it for? What about BYOD? Why is the speaker grill not "real" metal? Why not Android?
All of these questions and more are discussed on this very special and exclusive podcast. If you ever wanted to hear from HP directly about why the Elite x3 happened, now is your chance!
Speaking of the HP Elite x3 make sure you read our full review and deep dive into HP Workspace for even more context!
Help us make this show the best Microsoft podcast in the world. Tell your friends, share it on social media using the hashtag #wcpodcast, and give us a five-star rating wherever you download your podcasts! Thank you so much for listening!
Subscribe to the podcast
Hosts
And Special Guest Michael Park
Make this show great by participating!
Send in your comments, questions, and feedback to:
Windows Central Newsletter
Get the best of Windows Central in your inbox, every day!
Zac Bowden is a Senior Editor at Windows Central. Bringing you exclusive coverage into the world of Windows on PCs, tablets, phones, and more. Also an avid collector of rare Microsoft prototype devices! Keep in touch on Twitter: @zacbowden.
I think if you have a lot of questions/concerns about the Elite x3 and what the heck HP is thinking, you should listen to this. It should answer many of your questions. I think you'll get a feel for why HP is putting a lot of effort into this device and why it's not some shot in the dark strategy. Hope you enjoy it and let me know what you thought of Mr. Park's answers.

Can we also have a text version of this interview posted as an article?

With HP doing this pioneering work, does this give the Surface team information to advance their cause?

I actually saw two Elite ads on USA network last night. So it seems they are intent on pushing the device.

Kind of makes MS canning all the Nokia infrastructure sound silly, especially the comments on HP and MS working together, yet dealing with difficulties in being separate companies. That was supposed to be one of the advantages in buying Nokia where hardware and software teams could work together seamlessly. Seems like MS could have done all of this in house already. In some respects though, working with HP gives more weight to Continuum, where outside partners are seeing the value in it, and it's not just an MS-only vision and effort.

I think your last sentence is the key here. I get the sense Microsoft really wants OEMs to pick up the mantle. A company like HP is in a great position to advance W10M in the enterprise. Their business is much more organized around hardware than is Microsoft's, and they have the infrastructure and manufacturing in place, as well as the contacts and relationships with enterprises, to deliver on all aspects of Windows 10. MS does not want to be oriented around selling devices; their strength (and preference for high margins) points them back to software and services.

Thanks Daniel for a very informative - and enlightening - discussion with HP! VERY ENCOURAGING ! Of course, the "what about Verizon" was probably NOT appropriate but I sure hope that someone at Michael's "level" chose to UPDATE us all over time !

It'll be interesting to see if this vision works out. I also really hope that negotiations with Microsoft about utilizing Glace Screen are successful.

With HP doing this pioneering work, does this give the Surface team information to advance their cause?

Excellent, thanks, Daniel!

Here's a question I've never seen a definitive answer on...when will WordFlow/Swype be made available on Windows 10 for PC??

Seriously; this was a highly requested feature back when Windows 8 tablets were introduced and it still hasn't happened. Their iOS keyboard app has an optional mode that is oriented in a circle around your thumb; this would be brilliant for W10 tablets.

Good podcast, Daniel. As I said elsewhere, I think your review of the device was on-point, and this interview sheds some light on HP's plan, which I found interesting. On a side note, I have noticed a significant performance improvement on w10m (compared to the 950xl). You and Zac both seem to be more circumspect in that regard. Granted, I haven't run objective performance tests (and perhaps you have). Perhaps on factor that enhances my impression of speed/fluidity is the excellent haptic feedback. Anyway, I think this is a great device.

Loved the podcast. It actually helped me make a decision in buying this phone for or organizations next budget period. The case study involving authentication for SharePoint is really important! Thank you, thank you, thank you!!

Nice, keep us posted on your experience with it. Very curious for real-world examples.

Thanks for the time and effort to give a very informed review and back up interview with HP. I hope Microsoft fully support HP 100%

Great podcast, but I'm still very skeptical. Some of the major caveats of this model are: You still have to charge two devices (phone + lapdock) All your data is on a single device, so if it's lost or stolen you're SOL. Some workflows work better on paper since A) paper can't break (and there are certain grades of paper/pen for field use) and B) paper doesn't need a charge. Continuum + UWP are still just a wasted effort to catch up to what laptops have been able to do for decades. There are rugged laptops for those that need that, something that HP doesn't offer. A subscription fee to access the same software that companies can already access for free on a real laptop isn't going to go over well with companies. It may look nice for HP's shareholders, but not so much for IT managers with limited annual budgets.
The DOD deploys iPhones and Samsung Galaxies (the most popular Android brand), so any comments about those not being secure don't hold water. BYOD already has a hold, and leads to happier (and therefore more productive) employees. Get your employees a laptop if they need it, and work over Email/Cloud storage if need be.

Data solely on a single device? No - "the cloud", sorry. This is no different than a laptop, a tablet or phone... data isn't stored on a single device, it's in the cloud, and if it's not - it's just as bad as your statement that it's only on that phone. ​Continuum + UWP do not exist on any other platform as it's designed, there is not catching up there. There have been other versions of similar concepts and still continue to be the case today, but it is a unique concept and done so with excellence. ​You're statement on BYOD is misplaced, and irrelevant to the point of this device. As stated, email and such is fine under BYOD, but more advanced features and needs are a security concession under BYOD. BYOD is fine for a mom and pop shop, but not necessarily the case for an commercial enterprise or government environment.

Not to mention if you lose your company-issued device and made no backups you're an incompetent idiot, end of story.

I will concede however that HP's "Workspace" app subscription price point isn't necessarily overly appealing

It may seem high, but it works out to less than $50/month/worker on the 10-hour plan. That's not that much money for what it offers.

You have to charge two devices? Seriously? That's a major caveat? Please explain. Your data will be in the cloud. Anyway, what does someone do now if their laptop is stolen? Is that not a "major caveat" of keeping all your data on a laptop? What laptops haven't been able to do is fit in your pocket, or stay in your car or at home when not needed. The lapdock and desktop dock are just ways to bring the ergonomic benefits of laptop/desktop (larger screen, keyboard, trackpad/mousepad, battery) to a "mobile" computing experience (and by "mobile" I just mean relatively lower-power, less complex, easier to manage). Lots of people will not need a rugged laptop; a rugged phone will suffice for the field- then they have the option of using a lapdock or desktop dock in the office or at home. If they do need a lapdock in the field, will there not be a rugged case available anywhere? Some workflows are better on paper??? Roughly how big is the paper-first market? And wouldn't that be an indictment of computers in general, and not the Elite X3 in particular? And don't these notes get digitized at some point? How long are these people in the field that they can't count on charging up a few times a week? Can you please expand upon this whole point? I'm honestly curious who wouldn't be able to use some kind of digital workflow. There is nothing free in business. If you're accessing software on a laptop, it's because you've purchased a laptop and a seat license. If you're talking about RDP, then you're going to pay for that too. Anyway, HP isn't pushing a one-size fits all approach here. The most expensive option they said is for businesses that don't have infrastructure in place to do this stuff themselves. Not all companies are the DOD and can afford to build the infrastructure or modify the OS to suit their needs. Is it not possible that for some companies, W10M will provide an easier path to security? "Get them a laptop if they need it, and work over email/cloud storage if need be"? That's it? The answer to the myriad needs of HP's enterprise and SMB customers around the globe is email and cloud storage? Well, excluding those in the field for a week with pencil and paper, I guess?

Loved the podcast! I look forward to them each week. Any idea when Mr. Mobile will be back on? Always enjoy hearing Fisher's perspective on things. Thanks for the great content!

Great podcast......i used contiuum for the first time yesterday......i totally get it now. Funny how you have to see to believe. Always thought it was a gimmick......very much not so. This is totally a productivity solution I could see my company being intrigued by.

I will concede however that HP's "Workspace" app subscription price point isn't necessarily overly appealing

A key point that Mr. Park makes, and that many people fail to understand, is how incredibly diverse the "enterprise" market is (not to mention SMB). A company's needs and use cases will vary tremendously depending on market, size, industry, even business unit. There is no "silver bullet", which is why HP went directly to their customers to understand what needs to be done and where the opportunity is. HP didn't just make this all up because they had a soft spot for Windows Phone. A condensed, bullet-point version of this interview should be required reading for anyone who wants to comment on the X3.

Bring on the glance screen and I would have to consider the x3 as an option. A very enjoyable podcast.

So if the HP Elite x3 satisfied the enterprise customer, what need is there for a Surface Phone?