Windows Central turns nine years old today!
Time sure does pass quickly when you're kicking ass. Case in point: Windows Central turns nine years old today, but we don't feel a day over … three?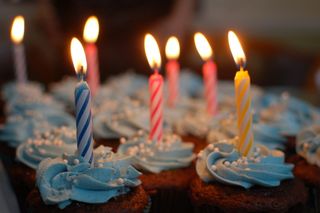 In the context of human years, nine isn't a big number. Nine-year-old people are still "kids" to most of us except, well, nine-year-old people. But nine years in the blog world? That's an eternity. Today's blogs don't even really resemble blogs from 2009 — the web doesn't look like the web of nine years ago, either. Take a look at our very first post, from January 3, 2009, when the site was called "WMExperts.com," for "Windows Mobile Experts:"
Now take a look at our end of year "best of Windows" roundup:
Windows Central best of 2017
A little bit different, huh?
Our site has since undergone all kinds of changes, including other name tweaks, such as "Windows Phone Central," but today we proudly bear the plain ol' moniker "Windows Central." We're (much) better looking than ever, thanks to the hard work of tech and design teams. And even though I personally only joined Windows Central a year ago, I've been a Mobile Nations reader for a decade, and I remember the early days of Windows Central well.
Anyway, we could go on (and on) and get more nostalgic, but nobody wants that. We're grateful to have made it this far — that's not an easy thing to do in the modern blog world. And we're thankful to all of you who read our site, whether you joined us nine years ago, in 2009, or nine seconds ago.
We look forward to nine more years of kicking ass in the wonderful world of Windows. And we hope you'll stick around for the ride.
Windows Central Newsletter
Get the best of Windows Central in your inbox, every day!
Al Sacco is content director of Future PLC's Mobile Technology Vertical, which includes AndroidCentral.com, iMore.com and WindowsCentral.com. He is a veteran reporter, writer, reviewer and editor who has professionally covered and evaluated IT and mobile technology, and countless associated gadgets and accessories, for more than a decade. You can keep up with Al on Twitter and Instagram.
Wow! Happy birthday Windows Central, more happy years ahead🍀🎂🎆🎇🎉🎊

Wait, where was my invite to the company birthday party?

being delivered by drone ;-)

Remember that story that was due yesterday that I was still waiting for this morning ... ? No meet deadlines, no get invite to El Party.

Fine. I'll sit in my office and drink alone again!

Happy birthday to you, happy birthday to you, happy birth dear Windows Central, happy birthday to you! 🎂😁

Hello and greetings from Portugal! Happy Birthday!!!
I'm a Windows Central reader for about 3 or 4 years now and...yes....there were a lot of changes (mostly for the better) and this website, podcast, feed, youtube channel, news site, etc) it's my number one source for all Windows related news so...please...keep up the good work!

Congratulations guys. We've seen you guys grow and evolve over the years.

Happy birthday 🎂 from Russia! I've been reading only for about a year or so. I've learned a lot! Thanks guys!

Happy birthday you lovely site with an app that shall not be named!

Happy birthday.long live windows central

Happy Birthday and thanks for all the awesome work you all did for us over the past 9 years... Off to the next 9..

I've been reading since the beginning.

I have been a follower of this website for so long, might be almost around 9 years as well. My name was once mentioned in one of the articles....which i have to say, made me happy :) Great website, keep up the good work.

Wow, happy birthday Windows Central! I'm amazed that this site has been around for nine years! This site has been part of my day and life for over 2 years, so I can only imagine the impact it has had for all of this time. May it conrtinue to go on strong! Great job team :)

Happy Birthday, People!! Here's to many more years!!! 🍻

Wow, really 9 years? I've always thought WMExperts was around for at least a year before I joined towards the end of 2009. Anyway happy birthday.

Technically, 2007. We started off only as forums ;) 2009 we went with the site blog/news.

Happy B-day WindowsCentral.

Well done team! Happy birthday🎂

Happy birthday Windows Phone Central.
From Johannesburg with love.

Happy birthday WC i only started on here reading just before i got my Lumia 710 some few years back and even before then on AC and crackberry

Congrats, looking forward for 2018

Thanks for the link for the first post. I posted my comment in that post just now.

Happy birthday. Here's hoping the word Windows would stick around for another 9 years.

Happy Birthday! http://www.birthdaynights.com/wp-content/uploads/2015/07/meme-22.jpg

Happy (belated) Birthday, Windows Central!