Windows Maps now lets Insiders set multiple stops when getting directions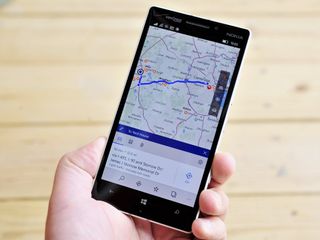 Windows Insiders on the Slow ring are getting early access to a small, but nifty feature in the latest update to the stock Windows Maps app on Windows 10 PC and Mobile. Now you can set multiple stops when getting directions, making it easier to plan out a trip in full.
To get started with multiple stops, you simply press the "+" button to add a stop or right-click the map and click "Add Destination." You should then see all of your planned stops on the map, which are also available to check out in segments or print out. Not too shabby.
Other prominent mapping apps support this feature already, and it's been pretty highly requested from Windows Maps users, so it's good to see it hit the app. If you want to try it out for yourself, you'll want to make sure you're in the Slow ring and on app version number 5.1703.707.0. And if you're not an Insider, this should make its way to production before too long.
Download Windows Maps from the Windows Store (opens in new tab)
Windows Central Newsletter
Get the best of Windows Central in your inbox, every day!
Dan Thorp-Lancaster is the former Editor-in-Chief of Windows Central. He began working with Windows Central, Android Central, and iMore as a news writer in 2014 and is obsessed with tech of all sorts. You can follow Dan on Twitter @DthorpL and Instagram @heyitsdtl.
I hate this "slow ring first" but I do understand they want to make it fast to production build for creators update

Even more highly requested: Live rerouting.

I'm on slow ring, but ... nothing yet!

So Fast Ring doesn't have it?

The Store is broken for the latest FR build, no point publishing it before they fix it.

Store seems fine on 15058 PC. Already got a few updates since I've installed this build. Maybe they're waiting for Mobile to follow up before they retarget the Fast ring?

Not quite. Brandon LeBlanc has publically stated that they want to test the inbox versions on Fast Ring, and new app versions in the Slow Ring. I find that quite ass backwards IMO. If MS wants to really take that path, then seems to me they need to have a Store Slow and Fast Rings Insiders can subscribe to. I would have love to test the app overlay for Groove, Movies and TV and even Skype Preview but cannot unless I put my PC into the Slow Ring. That takes about 36hrs to then get those app updates. MS is so close to releasing RS2 that It doesn't make sense to switch to Slow Ring at this point.

I switched to Slow ring last Friday to avoid 15055, and I've got the app updates in a few hours. Switched back to Fast ring this week and got 15058 right away. That said I see where you're at. There's no point in limiting tests at this point, specially as PIP is a huge RS2 feature and it depends on certain APIs. Also they need to change the installation process so core apps get installed/updated thru the finishing part if you're already connected, instead of waiting for another hour or requiring manual check.

Well, it's bee more than 12 hours since I changed to Slow Ring on my PC, and yet no update to Skype, Groove or Movies & TV. It really is a hit and miss on how quickly you'll get those app updates when switching from Fast to Slow and back.

Yeah that's a bummer. Still didn't get the new Maps update either despite my phone being on the Slow ring for days.

Yep, which is what I hate about this process. IF MS really wants to test inbox versions, then provide a feature in the store for users who are insiders to switch between app rings, instead of that tied to the OS. I want to test out the newer versions and provide feedback. But I can't at this point because it is a pain to get those updates with the current "ring" management.

Hopefully they fixed gps lost signal on phone issues too

Sure, the map orientation and what is on the ground differ, The compass doesn't correctly orient to the correct north even if you rotate, it would be way off with around 30 degrees such that you wont get the correct direction of a point you would be searching for. what i mean is, lets say i am standing in the middle of the road going west and i am holding my phone pointing west, the road on the phone look as if it towards south west. I once thought its my phone, so i tested this using someone's lumia 950 and its still found the same behaviour (bug).
Test this guys.
This Windows Map application must have a Drive mode where you just click/touch and it would get you into drive mode where you would be shown the usual speed, direction etc, without first having to chose destination.

Finally after all those years...!

Is the term Waypoints trademarked? That's what multiple stops are called, Microsoft.

Slowly but surely we are getting there.

Has anybody tried asking Cortana to help find an unspecified gas station along the way to a specific destination - you know, stopping just ANYWHERE along the way for gas?

No luck. Every time I try it gives me closest, not an the way, meaning I have to backtrack to get to locations. Would love to see ability to find points of interest along established route.

Oh man, Waypoints have been on the top of my wishlist in navigation apps, for a LONG time. To quote the Star Craft 2 trailer: 'Hell, Its about time.'

I had some huge issues with maps the other day and im on insiders. It found the wrong road west instead of east even though I said east specifically. Then It kept trying to force me on the highway when I was driving on the road. The re-routes were simply u-turns to get back on the highway. Ugh disaster. Eventually had to pull over and turn off highways. Then it got into some stuck state where it did nothing. I just gave up and used the ol nogging.

I wanna the fcki ng metropolitan maps first :)

HERE Maps was way way too ahead. They removed it early, wish they would bring those two applications back.

All HERE apps were absolutely brilliant 😕
I believe we have some android/iOS users here, have they changed since Nokia sold them?

Very nice! I never got why Nokia had slashed it from the Here Maps app. Even old Symbians could do that.

Now we should get the ability to load a speed camera database like on the old Gamin XT.

They are concetrating on cosmetic issues instead of correcting the real issues that makes this application usable, Correct Map orientation is very important on a map. it only shows the correct direction when you are in drive mode, ie after providing start & destination points

I wouldn't call waypoints cosmetic

Maps never worked on my Lumia 650. Also, it can't find most places I search for. Gmaps is better. I'm so disappointed. On Windows phone 8.1 I had the best maps experience and all my friends were jealous.

Yes, this is great news. Only, microsoft missed two major opportunities to complete the experience, possibly brmefore Creators update release:1. No support for multistop routes with windows ink. It is easier to draw a multstop route on a windows tablet device. 2. Multistop route does not support live tile pinning.

Wishing it had crowd sourced live traffic updates like Waze. I depend on it too much. The difference in routing for me can be 2hr vs 45min for my commute home.

That would be awesome. I don't know if we have enough users to make it work tge same way. There are other companies that have that kind of data, from built-in GPS systems and fleets. MS can license that data,like CoPilot does.

Sygic is quite close (but costs money). It uses data from TomTom, and users can provide real time feedback such as heavy traffic, accidents, police spotted, etc (and it can automatically reroute you in case of better routes found).

You'd think this would have been built in from the start since ms street and trips had it.