4 wicked Windows Mixed Reality accessories you can 3D print
It has never been easier to 3D print.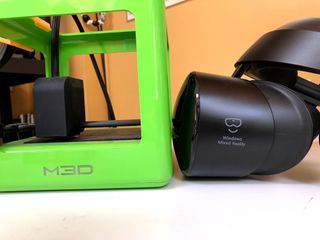 With the advent of affordable 3D printing, hobbyists now have an easier time modding their devices, as well as creating accessories to make their lives easier. I am a huge fan of 3D printing, I own three different printers and it takes up a fair amount of my hobby time.
For just a few hundred dollars, you could be making awesome things for yourself too. Good printers, like the Monoprice Select Mini v2 (opens in new tab), are only $220 and can get you printing gadgets for your Windows Mixed Reality (WMR) headset in no time.
If you don't want to buy a 3D printer, sites like Shapeways will allow you to buy a 3D-printed model with a markup for profit. All you need is to check out Thingiverse for the file you want and send it to Shapeways, and they will then send you the finished product.
We compiled a short list of helpful 3D prints you can use to improve your WMR experience.
Find 3D Printers at Amazon (opens in new tab)
Rear door cover
With the release of the ridiculously fun Beat Saber, many WMR users have found the rear cover of their controllers are a little looser than they might like. When swinging your controller at full speed, there is a good chance of the controller slipping from your hand, so of course, the 3D printing community made a replacement cover that fits more firmly into the back case.
Now all these modifications should be done at your own risk, but with a little care and attention, they should work as intended. I would print this at 100 percent for extra rigidity and print it flat on its back to reduce the need for supports.
More: Everything we know about Beat Saber
Wall mount for WMR
Space is always at a premium when you use VR. Even the smallest headsets are bulky, and having somewhere to store them safely is hugely helpful. This hook can be used with multiple WMR headsets and is held firm with two screws into your wall. With the ability of WMR headsets to lift the faceplate, this hook allows them to sit fairly flush with the wall reducing the overall footprint of the headset at rest.
This design was originally made for resin printers, most of which are at the top end of the price range for hobbyists. If you are going to print this using a normal FDM printer, I suggest turning it 90 degrees so it prints on its side. That way it will increase its strength while decreasing the need for supports.
Ergonomic grips
With VR being such a new technology, a lot of the peripherals can be pretty uncomfortable. With these 3D printed grips, you can modify them to the point where they can be used for longer with less discomfort.
I would definitely print these upright with a brim. It shouldn't need supports as it's hollow and printing upright will orientate the print for maximum strength. You could also print it at 101 percent and put a thin piece of cloth on the inside to stop the plastic from scratching the WMR controller
Fan cooler attachment
This is a little more advanced than the previous prints. The print itself is easy enough but it also requires you to add a fan and battery pack to your headband. Having a fan on a WMR makes a lot of sense, as any VR headset can be very hot. This mount seems to work with most WMR headsets as long as the front has a flat piece to attach it to. I would recommend attaching with some tape rather than anything permanent, after all, you might want to sell it one day.
I would print this one on its side and although the designer says it should print without supports, some cheap printers will struggle to print over the gap. I would add a little support if you are unsure how well your printer deals with bridges. And make sure you follow the instructions on Thingiverse for attaching the fans.
Over to you
Most 3D designers love to create small, simple things to make their lives easier. Have you seen anything out there that makes your WMR journey a little easier? Let us know in the comments.
Windows Central Newsletter
Get the best of Windows Central in in your inbox, every day!
James built his first PC when he was 13 and has never looked back. He can be found on Windows Central, usually in the corner where all the 3D printers are, or huddled around the Xbox playing the latest games.
These are so cool. Thanks for sharing. On my way to print now.

I 3d printed the ergonomic grips. But they were no good, unfortunately. They are very bulky and the design is wrong overall. Instead of reducing discomfort, it does the exact opposite. I liked the idea, and I also printed a set for a friend. But we both agreed that this design is wrong and not actually usable. I will suggest that you remove the grips from the article, so that nobody else makes the same mistake as I did.

I will look in to that for sure. When I printed them it was to see if they printed well. Thanks for the heads up
Windows Central Newsletter
Thank you for signing up to Windows Central. You will receive a verification email shortly.
There was a problem. Please refresh the page and try again.