Windows Mobile 6.5 available for Samsung Jack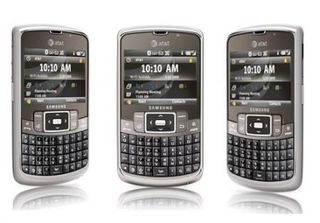 Still rocking the Samsung Jack with Windows Mobile 6.1? No longer. The Windows Mobile 6.5 upgrade is now available. And with it you get full (official) access to Windows Marketplace for Mobile, IE6, automatic access to AT&T WiFi, and Vlingo, among all the other WM6.5 goodies. Get the update here. (opens in new tab) [via Techcrunch]
Windows Central Newsletter
Get the best of Windows Central in your inbox, every day!
Phil is the father of two beautiful girls and is the Dad behind Modern Dad. Before that he spent seven years at the helm of Android Central. Before that he spent a decade in a newsroom of a two-time Pulitzer Prize-finalist newspaper. Before that — well, we don't talk much about those days. Subscribe to the Modern Dad newsletter!
Oh c'mon Sammy, how come this needs a 32bit XP machine to work flawlessly? Couldn't you test this out on a 64 bit Win7 Machine? The few of us that actually own a Jack actually are nerdy enough to own the latest and greatest AND care/bother about upgrading. I'm ashamed to say that the iPhone would have made their upgrades relatively flawless for the end users.

That's ridiculous. I too have a 64 bit Windows 7 machine and am seeing I won't be able to upgrade if they even release an upgrade for my Samung Propel Pro. Not fair.

Any news on the Epix update?

what about the Samsung SAGA? one of the most underappreciated phones of all time. I got an email reply from Samsung stating they were not working on a 6.5 update for the Saga. Why is the EPIX, its cousin, which was released before the SAGA getting an update? We in front facing touch screen QWERTY land are getting ignored already with all the sliders and black slabs coming out, and now no update for the SAGA? i love the SAGA b/c of the form factor, and I'm on verizon which I dont want to change, but I feel like I have a phone no verizon doesnt care about...no advertising, not carried in stores, HECK NO CASE FOR IT, and now no upgrade? please, hope someone has better news for me...

I can't install this update on vista 32bit.. It states i need the (Qualcomm CDMA Technologies MSM) driver. I tried everything possible to find it .Modem? drivers,The disc. ect.. I can only find it on driver detective.I For $29.99. I contacted samsung & they don't have a clue about what i'm talking about.Please help!!!

It's a little confusing and Samsung did a poor job of walking you through the update process. I had to use an XP machine to do my update and here's how it went for me. The first step of the update requires the Active Sync/Mobile Device Center connection. Once that is complete (a matter of seconds) the screen on the Jack goes black, the connection is terminated and a "Start"/update progress windows appears on your computer. From there the "Found New Hardware" message pops up and you have to re-establish the connection with another driver. Walk through the driver installation wizard (choosing the automatic search options) and once that connection is established, the "start" button on the update/progress windows lights up and you can start the actual update. I updated my Jack around midnight after several failed attempts while using Windows 7 (then read the FAQ saying the installer wasn't compatible) and I honestly can't remember where the driver is located. I think it's in the updater itself. Granted VISTA may be throwing a few more curve balls at you than XP did but once I re-established the connection with the Windows Phone, the update only took a few minutes to accomplish.

did you see QUALCOMM CDMA? IF SO HOW TO YOU BI PASS IT? i am using vista and i am having trouble updating
please please help ,
i noticed at some point of the install that it said press the j key.
and i did , and nothing happened .
it said i need : QUALCOMM CDMA DRIVERS?
what should i do?
thank you
john

I tried installing the update on two different computers, one with vista 32 bit and one with xp. Neither worked properly. On the vista 32 bit installation, it said it couldn't find the qualcomm drivers. On xp, it found the drivers but failed after pressing the start button. There was an error about something not being an image file or something like that. It really sucks that samsung didn't pull through with this one. I feel like I've been cheated.

SOLUTION:: DOUBLE CLICK ON THE FILE Jack_Windows_Mobile_6_5_Upgrad e.exe ONCE DOWNLOADED..
THEN RIGHT? CLICK ON THE APPLICATION
Jack_Windows_Mobile_6_5_Upgrad e.exe
THEN CLICK RUN AS ADMINISTATOR ON WINDOWS VISTA 32BIT..IT WORKED AWESOME!!

Worked perfectly with this tip... Thanks! No thanks to Samsung.

Thanks to anonymous running the download like administrator hint worked like a charm using vista 32 bit

When I right click on the application I just get the basic options of right click menu. I looked in properties for "run as administrator" but didn't have luck finding it. Where is this option you are referring to located?

the run as administrator worked perfectly thank man/woman lol

I have tried to download the file on my computer but it will not let me open up the file it says CEUTIL.dl cannot be found. Can someone please help me

After having 6.5 on my phone for about a week, I can say it does not work very good. There are too many bugs, but the worst is the inability of the WiFi to automatically connect to previously found encrypted access points. 6.1 worked perfect, 6.5 is a major hassle.

I download the new 6.5 update to my Jack last night and am disappointed. My mobile web will not launch either from the shortcut button or the menus. I have to use the internet explorer option to access the web. I even contacted Samsung without any luck. As far as the tech could figure out is that it should work but did not understand why it did not. She wanted me to send the phone to Samsung so that a tech could inspect it. Decided against that.

That's ridculous. I too hve a 64 bit Wndws 7 machne and am seeing I won't be able to upgrde if thy even release an upgrde for my Samung Prpel Pro. Not fair.

If you are using a 64-bit version of Win7 Ultimate or Professional you can run XP-Mode and install ActiveSync on there and install the update. You have to remember to link your USB ports at the top. Turn off all connections in Windows Mobile Device Center on the Win7 side. You have to fiddle a little bit, but it works!!!!

my phone said i didnt have enough space to download

the run as administrator worked perfectly thank man/woman lol

You have to remember to link your USB ports at the top..Thanks!