Windows Phone 8 allows Lock-screen notifications and wallpaper for 3rd party apps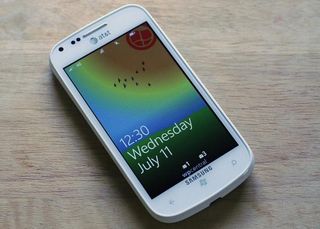 We've hinted at this before and the leak of the Windows Phone 8 SDK is validating our claim that "Apollo" will allow richer notification support for 3rd party developers.
Developers will now be able to have their app send notifications to the Lock Screen with the content reflecting the app's Live Tile:
An app can provide content for the following four items on the lock screen:
The background image. This image is unrelated to lock screen notifications, and is documented at Lock screen background for Windows Phone.
An app icon
An app count
App text
The other part is just as interesting. Developers can create wallpapers that can be pushed to the Lockscreen. For instance, our Windows Phone Central app could send a Wallpaper to the Lock Screen for a custom look—perhaps even allowing a "Wallpaper of the day" type function:
While not a notification center per se, this should go a long way in making sure we never miss a Toast notification from a 3rd party app in the future. The app-to-wallpaper feature is also a unique addition that should allow some very creative content from devs once Windows Phone 8 hits the shelves this fall.
Windows Central Newsletter
Get the best of Windows Central in your inbox, every day!
Daniel Rubino is the Editor-in-chief of Windows Central, head reviewer, podcast co-host, and analyst. He has been covering Microsoft since 2007 when this site was called WMExperts (and later Windows Phone Central). His interests include Windows, laptops, next-gen computing, and for some reason, watches. Before all this tech stuff, he worked on a Ph.D. in linguistics, watched people sleep (for medical purposes!), and ran the projectors at movie theaters because it was fun.
that's all crap that could and should come to 7.8...you don't need a multi-core NFC thingamajig to pull that off.

You obviously know nothing of coding and re-writing APIs for different kernels...

The amount of work depends on the way they implemeted this. There will still be a lot of code that can be easily coded. I hope Nokia can use their influence to get some features like backups into WP7 as well.

dude... will u relax... they haven't even announced exactly what features will be included in 7.8...

I expect to see all the stuff from the SDK appear in ios 6.1 and android jelly babies.....

That's coo and all... But where are the options for customized colors/images for live tiles and backgrounds?? This 'dark & light' is getting a tad stale..

Aye bro... It was a simple question. If you don't like it, don't respond. And Venetasoft, what apps do this?

Well that's not needed since most app tiles have there own colors and the whole screen in wWP8 will be covered with tiles.
But also why do we need wallpapers?

Lot of apps offer this feature just now.

I bet Bing will be one of the first apps to take advantage of the custom backgrounds feature (using it's daily pictures).

That alone would make me want to switch to Windows Phone 8! My computer is already set to syn it's wallpaper with Bing.

Yer the Bing artwork/photos are the main reason I put up with slightly worse results than Google :) Today for example (in the UK at least) is a great Photo of the London Olympic Park, a view of our Canary Warf financial center. wonderful, makes me proud to be British. I hope the Olympic games are wonderful, and globally everyone enjoys what we put on as a nation. Perhaps all of us can take a break from gadget wars, economic uncertainty and other problems and just have a great time watching sport.
Good luck everyone!

Is this only for windows phone 8 or is windows phone 7.8 getting it to ??

I would love a "wallpaper of the day" app.

Still want notification history.....

No, this is perfect. The notification center ideology is antiquated. A notification count on the lock screen and a live tile is very modern and minimalist, which is what windows phone is all about. I'm super excited about it, my question is can I enable multiple 3rd party apps to display a background on my lockscreen?

I agree with you. There's no need for a notification center now that apps will be allowed to display notifications on the lock screen..

Agreed, would be nice if I could make the phone beep every X minutes for an X amount of times, for those occasions where I leave the phone in another room and miss a call,txt,email,etc..

As long as the notifications STAY there if you unlock the phone and re-lock it without checking that app, then this is an acceptable solution to a notification center. I would just hate to check a text real quick, put the phone away, and then lose all my notifications from earlier because I looked at a text message at one point.

that's a good point, but the tiles don't get wiped on sleep/awake so I don't know why that would be an issue.

Notifications on the lock screen stay there until you check the app now, right? Just checked a text message, re-locked my phone, then saw that my voice mail/missed call notification remained.

Here here. I always thought a simple list of the previous 10 or so notifications should be available to the left of the start screen.

Hmmm... I'm a little disapointed. From the original tease, I was hoping to see advanced functionality such as using GPS location to change the lock screen wallpaper, showing nearby transit schedules for example. Perhaps this can still be accomplised with an app that converts data to jpg?
Also, I fail to see how this implementation adequately replaces a notification centre. Seeing the alert means you still have to spend time searching for the app, open it, get to the section of the app that needs your attention, rather than just clicking on a toast notification.

EDIT: actually, it's written that the lock screen will support text from the live tile.. So perhaps my scenario isn't impossible. Can't wait to find out what developers do with this!

I imagine that apps that keep track of the time of day can also switch wallpaper based on the time of day. I like your "GPS location wallpaper" example and it does sound plausible - probably a bit complicated to actually implement though (from my viewpoint)

I'm not so sure the wallpaper aspect is a good thing... assuming it works the way everyone here is describing it. Just imagine if some app "pushed" advertisements to your wallpaper screen. Oh, yeah, suddenly it's not such a cool thing. No, I actually imagine it working more like the music artist images on the lock screen which would only really work for the application running directly under the lock.

From what I'm reading, the wallpaper is assigned to a specific app through the Settings page. This also seems to hint that only one app can have access to the wallpaper. If you're not happy with the wallpaper choices as in the scenario you're describing, you could just assign it to a different app, or to an image as we currently do. Because of this, it's in the developer's interest to provide interesting wallpapers that make users want to keep it there.

i would like for my wallpaper to cycle through my family pictures daily. LIke Bing

I'd be surprised if this isn't a built-in option for the photo hub.

Like, deffo the wallpaper thing

Anybody remember A-C_S2 from the WM days? Would love to see a WP8 version of S2U.

Another way to take advantage of the wallpaper change could be from a weather app to display current/upcoming weather conditions.

What if it was a moving wallpaper we need stuff like that

Lock screen notifications and functionality are great improvements, but, what I would love implemented to the new UI is, a continuously, scrolling home screen. This up and down stuff is tedious.

I am looking forward to get my hands on this one. It is just like a windows based computer and I am fascinated that it has the mobility I need.

Well, that's neat, but I hope MS figures out some sort of notification center. That's what I need more on Windows Phone.