Windows Phone 8 Bing Translator App now available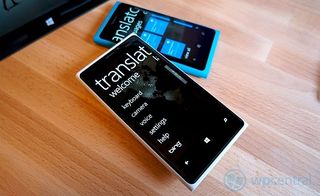 There are some apps that really stand out for being genuinely useful and Bing Translator is one of them. The app was released some time back on Windows Phone 7 and has rightly proved to be incredibly popular due to its slick operation and advanced features.
The app has been updated to support Windows Phone 8 and you can now initiate the augmented translation mode by using the new lenses feature.
Recently I used the app extensively whilst in France as I honestly cannot speak a word of French and it proved invaluable for my trip. You'll get options to translate text by using keyboard input but you'll also be able to speak directly into the app and get speech to text translation too. While there is much made of the uses of "augmented reality" Bing Translate uses it to great effect, allowing you to point your camera at things you see to view a live translation of the image. The team over at Bing are doing some amazing work to bring all this together so you should check that out.
Along with that you can also opt to download full offline translation packs for Simplified Chinese, English, French, German and Italian. Grab the packs you need for your trip and you don't have to worry about a data connection and the associated charges while you're away. On my last trip I found the app worked brilliantly with the offline translation I threw at it.
If you're keen on improving your own skills you can enable the live tile to show you a word of the day so you can keep in the game. The Windows Phone 7 version was a top performer anyway and the Windows Phone 8 version is likewise slick and well designed. The only issue I can see is that my offline language packs are taking forever to download at the moment and I am seeing a "Sorry, can't download that right now, try again later" message. I'll keep trying, if you folks are seeing the same issue be sure to let us know in the comments.
You can grab the app from the Windows Phone Store
Windows Central Newsletter
Get the best of Windows Central in in your inbox, every day!
At last! I was missing this app. I've used this in the past when traveling to Spain. Very impressive app.

Where all the "awesome" WP8 games that were promised in WP deve event?

Yes, where is Temple Run!?!? :P

Where are those awesome gameloft games?

once dec 9 (one month) rolls through, then we can start complaining about no games again :)

Yessssss!!!! I honestly was pissed off for 2 days I thought something was wrong with my phone......downloading now!!

Thank God its back. I work for dish and In my area we have alot of Hispanics because we have the best Latino packages of course. Anyways I used this app alot on wp7 as in still learning it through rooseta stone.

Just watch telemundo or Univision with CC3 enabled

Yes! now i miss only photosynth yet :-)

That's quite the comment but I agree. One of the first apps I wanted to download on my 8X. Can't wait for Photosynth!

Glad to see this is back for WP8. Was sad when l couldn't re-download it.

Pretty happy, definitely my favorite translator app but por qué I can't download the Spanish language, but can download the less used French German and Italian?

Interesting. I'm in the US and just downloaded the offline Spanish pack.

Not available in Canada. WTF.

Really? I just downloaded it. Maybe don't use the QR code posted in the article, and instead do a search of the Marketplace for "Bing Translator" on your phone?
I'm in Toronto, and was able to download the app and use it 10 mins ago...

Did they take it down already? Its not showing up for the Lumia 822.

Great app, definitely noticed it missing after upgrading to WP8. Glad to see it arrive pretty quickly. I just hope they add more languages to the camera function, love the usefulness of that.

Could come in quite handy. Hopefully Vietnamese is high on the list, would come in handy in my neighborhood (South Philly).

I must be a dunce but what is the exact name of this app? I saw a Bing translator for 0.99 cents, is that the one?

No. This app is just called Translator, it's free, and published by Microsoft. There is also a link to it in the article.

Thanks, I will take a look.

:( can't wait for WP 7.8!

For those who has it on the phone already, can you download offline language packs? For some reason my L920 + WP8 won't download it. The status bar just doesn't move at all. I can use the feature with data connection just fine. Thanks!

I seem to be having the same problem.

I was able to download Spanish, works great! I have no luck with the other packs...i am guessing the servers are overwhelmed with the response.

Hi Robert, the translator app seems to have some of the awesome features. Would love to try this app. Check out SpeechTrans for some of the interesting apps.
Windows Central Newsletter
Thank you for signing up to Windows Central. You will receive a verification email shortly.
There was a problem. Please refresh the page and try again.