Windows Phone 8 Quick Tip: Audible Caller ID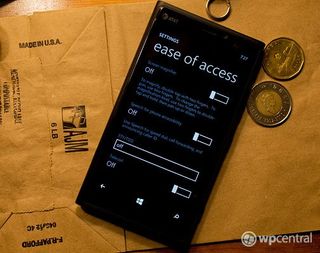 One of the new renovated features of Windows Phone 8 is the audible Caller ID. But not everyone wants their Windows Phone to announce incoming calls. Sure it's a neat feature but can be annoying and not really appropriate in certain situations. But how do you disable this feature?
You might think the audible Caller ID would be found under the Speech settings as audio confirmations but it's actually under the Ease of Access settings. The Ease of Access covers settings for text size, a high contrast screen, a screen magnifier and speech for phone accessibility.
If you're not too keen on incoming calls being announced, just turn the speech for phone accessibility option off. This will disable audible Caller ID, call forwarding and speed dialing. I could see the need for separating these three features but for now, I'll use Voice Commands for speed dialing and live without Caller ID announcements.
George is the Reviews Editor at Windows Central, concentrating on Windows 10 PC and Mobile apps. He's been a supporter of the platform since the days of Windows CE and uses his current Windows 10 Mobile phone daily to keep up with life and enjoy a game during down time.
This feature is baked into windows phone 7.5. HTC Trophy.

It also came with Voice Command for Pocket PC 2003, along with the ability to turn it off for just Caller ID announce.

What is Telecoil (right under that)?

Unless you have a hearing aid, you should have it turned off as you won't need it.

I could have sworn my HTC Titan had this feature. But I agree, I wouldn't want people around me knowing who's calling me.


Also, the 920 (at least mine) has this feature off by default. But it's still good to know where its at for those times when you're alone and don't mind hearing something different.

Is this exclusive to the Nokia, or region specific? Can't find the setting on my 8x in the UK

Its not Nokia exclusive as its not on my 920. Just another feature unavailable non-US users by the look of it.

Same here in continental Europe - no such setting.

I just tried this on my HTC HD7 and it's there also. (7.5).

I ain't going to use it. I don't like having the phone ringing!

Okay... so lets call it a renovated feature. Of all the Windows Phones that I've used, the 920 was the first to announce calls. It may be a case that with other phones this feature was turned off by default. Skeet.. it may be a regional feature. My 8X has the feature as well but by default it is turned off.

My dev 920 has it off by default too

My AT&T 920 has it defaulted to off.

Can't find it anywhere on my Rogers Lumia 920 :(

Same here:( But the announce caller ID feature, I had that on my HTC Radar when I turned on TTY/TDD to full.

Same here. Using Nokia Lumia 920 GDR2 and that option is not available ... Speacially when using Jabra Stone2 I am missing that. Since it is not allowed to post URL here just search for "Jabra Stone2" at http://Answers.Microsoft.Com.

Loved this in 7.5 on my Samsung Focus. One of the first things I did was turn it on for my 920. the only time I turn this off is when I am at my girlfriends, don't want the phone announcing my wife is calling.

Easy fix, change your wife's name to Roger and your girlfriend's name to Carl.

Wtf dude are you serious?

Please tell me you're joking. *-*

I am definitly joking.

My wife thought it was funny.

Get a second phone. A pay as you go is best for the girlfriend, no tracking!

Me too...what I've noticed though is the caller ID is not coming through my bluetooth unless I'm already on a call...what about you?

I enjoyed this feature on my Focus too...especially the fact that calls were announced through my bluetooth, which doesn't seem to be working on my Lumia 920...suggestions are welcomed

I've been using the text to voice for a long time. Very useful for hands free.

i never had it working on Lumia 710. The option was disabled. Hope they do something about it.
Faisal, Australia

UUrrghh...thank you so much for posting this!! I turned it on and couldnt figure out where it was again haha


Had this both on my AT&T HTC Titan and HD7S

I think it's a great feature. If I don't have my Bluetooth on me and the phone isn't on my body, it's convenient to hear who is calling. People that hear my phone get a kick out of it because they don't hear it on other OS'.

I don't get it. What exactly does it do? Does it Show on the display who is calling? And you can turn it off, so it does only say 'unknown caller'?

It seems this feature is only available in US as my Samsung Omnia W does not have 'ease of access' option under settings

This is NOT a new windows 8 feature. I turned it on a long time ago on my HD7 and couldn't figure out why it was announcing who was calling. I wanted to hear my ringtone not the phone's voice. I finally figured out what setting it was that I had turned on, and turned it off.

This feature is missing in the german version of the NL 920. It is also unavailable on the NL 800 and the HD7 (german versions).
There's only font size, high contrast mode, screen magnifier and TTY/TDD. Does anyone know what TTY/TDD is???

Also missing on my Sim free UK HTC 8x. Wouldn't use it anyway so no big deal.

I don't know what it is but I do remember on my HTC Radar that every time I turned it on, my phone would then announce who's calling.

TTY/TDD devices (Telecommunications Devices for the Deaf) - no I had no idea either :)

FYI to all. This feature is only present if you go "settings , speech" and under "speech language" select or download and select "english (United States)". I use English (United Kingdom) to be diffrent and this option goes away under "ease of access".

Actually this feature is present if you change your Country/Region under language+region to United States for those of you who are not seeing this feature listed under ease of access. Your phone will require a restart. Just tried it and it worked, am using a Rogers lumia 920.

As mentioned by some, I don't see this option with my Lumia 920 configured for Canada. However, under the Speech setting, I can choose to limit the speech response to off, or limited to when I have my headset on, or to only when Bluetooth-connected - the latter being very useful in conjunction with my car stereo to make "hands free" operation very effective.

I have recenyly bought a Nokia Lumia 520 with Windows 8. I want to enable talking caller ID. But under ease of access-> I am not finding the option " speech for Phone accessibility".
Please help to resolve this issue. In my previous phone Nokia C6-01, talking caller ID was working perfectly.

Even I don't have that "speech for phone" option on my Nokia Lumia 620 India

To get English US audible caller name announcement, Talking caller ID or speak aloud caller ID feature, usable and visible on my Nokia Lumia 620 Windows Phone 8, locked on 3 mobile UK I had too.... 1. Update my firmware and other software in... SETTINGS > system: phone update. (You may need to switch all setting to English (United States) in speech, a,b,c,d & keyboard before you do an update update for best results). and do any store updated too, then.... 2. Install and select English (United States) in... SETTINGS > system: speech. 3. Select in, SETTINGS > system: language+region... a. Phone language = English (United States)
b. Country/Region = United States
c. Regional format = United Kingdom (English).(Probably not essential)
d. Browser & search language = United Kingdom (English). (Probably not essential) Im using English (United Kingdom) keyboard setting too.(Probably not essential) This is as close to United Kingdom English as i can get and still have the SETTINGS > system: ease of access >Speech for phone accessibility, option usable and visible on my Nokia Lumia 620 phone locked on three mobile UK. Please pay attention to what the settings say as changing one will automatically set the rest to "United States" throughout the phone, you will need to double check them. Hope this helps, all the best Paul

I am not finding that option of "speech for phone accessibility" in my Lumia 640 xl (rest of the options are available), it showing TTY/TDD settings, pl suggest
Windows Central Newsletter
Get the best of Windows Central in in your inbox, every day!
Thank you for signing up to Windows Central. You will receive a verification email shortly.
There was a problem. Please refresh the page and try again.