Windows Phone App Review: Fhotoroom version 2.0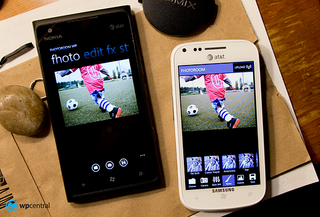 Fhotoroom v2 brings a new look to the photo editing app
Fhotoroom is a popular photo editing app for your Windows Phone that includes a Photo Sharing Network that throws a social networking twist into the pot. We mentioned over the weekend that the app was recently updated to version 2 which brings a new menu and user interface layout to table.
It's not as if the old layout of Fhotoroom sucked wind but the new version moves away from the multiple page editor to a single page layout. The results is a larger preview image and one stop editing. The Photo Sharing Network may not appeal to everyone but if you're looking for a straight forward photo editor with plenty of filters, Fhotoroom is worth consideration.
As with the previous version, Fhotoroom launches to a thumbnail page that is populated with images submitted by other Fhotoroom users. You can refresh the thumbnail page to see more images, pull up an individual image, and comment on the image. Below you have options to pull up an existing images from your Pictures Hub or launch the in-house camera app to capture/edit a new image.
The three dot menu pulls up options related to your Fhotoroom membership (profile, messaging, uploaded photos, etc.). Up above the thumbnails are three control buttons that will launch the Fhotoroom news blog that includes the about and help screens, pull up your favorite images, and refresh the thumbnails.
In a nutshell, the update brings these changes to the photo editor:
Updated all filter for faster performance
Updated Tilt Shift for easier use and better quality with boundless borders
Updated Tsar, Classic Pro, Tinge. Herc, Velvia X
Added New Style Filters Rain, Kapla, Copa, Haze, Adele and Ansel
Light FX has been completed rewritten and added new light leaks
Textures has been completely rewritten from the ground up
Version 2.0 throws a new user interface into the mix. Instead of swiping back and forth between your preview page, the effects page, the frames pages, and styles page you know have your preview image with buttons at the bottom of the screen to toggle between the editing tools. The new layout makes previewing the effects easier because you never leave the preview image. To help you gauge the edits, a before/after button will appear in the title bar once an edit is applied. Or if you prefer, you can double tap the image to toggle between the before/after views.
Depending on the editing tool, all you options are laid out beneath the preview image with thumbnail examples and an application bar to let you apply the effect anywhere from 0% to 100%.
Once you're done editing images can be saved to your phone or uploaded to your Skydrive account. If you're a Fhotoroom member, an upload button is in the upper right corner to allow you to upload and share your images on the network. Improvements on the Photo Sharing includes:
Merged Profile Page with Main Page
Reorganized Main page with new menu icons
Profile name at the top now is also direct link to your profile
Like and commenting system have been updated
Photo loading is faster
Photo liking is almost instant
Profile can now link directly to personal website, twitter page, facebook page etc. for better self promotion
Added extra profile support to turn on/off emailing
Over each photo now has the option to tweet other peoples photo to your twitter account if setup
I won't say the Photo Sharing Network is a bad idea but I wouldn't mind being able to turn it off in the settings so you could go straight to the editing pages. Membership in the Fhotoroom network is free but not everyone will see the appeal of the sharing network.
As far as the in-house camera app is concerned, there have been a few performance boosts and the layout has been tweaked a little to be more user friendly. Only if your shooting in Manual will you see the additional settings for flash control, exposure control (looks like a spot meter) and a grid overlay. When you are shooting in one of the four program modes (action, night, landscape, or portrait) these controls are... well... controlled by the automatically.
Overall the update improves the performance of Fhotoroom, makes it a little more efficient in navigating around the editing tools, and increases the social network capabilities. I like having the preview image in front of you while edits are being applied as opposed to going to a different page to choose the edits, then swing back to the preview page. Again, the sharing network isn't going to be for everyone but the improvements add to the social experience.
If you've used Fhotoroom in the past and are upgrading from v1.19, look for the update alert in your Marketplace app. If you're looking for an easy to use photo editor that has a decent amount of editing tools, Fhotoroom is worth at least a try. Fhotoroom is a free app for your Windows Phone that you can grab here at the (opens in new tab) Windows Phone Marketplace.
George is the Reviews Editor at Windows Central, concentrating on Windows 10 PC and Mobile apps. He's been a supporter of the platform since the days of Windows CE and uses his current Windows 10 Mobile phone daily to keep up with life and enjoy a game during down time.
I love the new update! Major props to the developers! Follow me on Fhotoroom (webkaiser).

Can someone save the pic you shared?

Not in the app, but you can through internet explorer.

Damn one minute too late. Lol I was checking it.

Through the app, doesn't appear so. Through the desktop, or mobile web browser, yes.

This app does what but share pics. I have it and the UI looks good but it's nothing but filters and sharing so not sure why folks are making this seem like instagram. I'll get excited when an official instagram app is released.

I never used instagram, so tell me what the difference is. Isn't it just sharing pictures and commenting on them?

The difference is its not instagram. See if your friends on ios and android have fhotoroom. Right!

Uhh, it's exactly like instagram, which itself is just filters and photo sharing. In fact, I'd say Fhotoroom is a better product because you can access content from a web browser and you can send private messages; but at the core fhotoroom and instagram are exactly the same.

So it seems that Fhotoroom>instagram. Because of the desktop application. Agreed.

Right so share with the rest of the world or platforms. Right you can't because it's not instagram.

Well share with your friends on ios, android? Oh you can't because it's just for windows phone.

I sure can, through the app, I can auto-upload to Facebook, Twitter, Flickr & Tumblr (exactly like Instagram). I can also save to Skydrive and share from there or save to phone and send through email & sms. How many more ways do you want to share your pics?

Yes it is pretty much. So and ok.

is it not available in india? i cant search for it in the marketplace and when i try desktop installation it says "app not found".

I only have one problem with Fhotoroom and I'm not sure wether its me doing something wrong or what? I don't really care for the Fhotoroom sharing service or whatever but I'd like the pictures that I share on Twitter to come up as if I'm actually sharing a picture as opposed to just sharing a link to the Fhotoroom site. That way my followers could acess my photo in the timeline instead of being redirected to Fototroom's site.... Is there a way to change that or am I just going to be sad for ever? :(

I think that's something that Fhotoroom and Twitter would have to work out to allow Fhotoroom pictures to be rendered inline inside of a tweet.

This app is not available in the Philippines. :(

Love the update!!! Great job to the developers! Starting to see more and more non WP users, but oh well, at least the app is getting popular.

I agree, but it's up to whoever built the app. They have to include support for that site so it will pull up the image. Some of my twitter apps support instagram pics so you see the thumbnail preview. Some don't and it redirects me to the instagram webpage with the pic. So it's all up to the app dev to decide whether to include this feature or not. We need to start bugging the twitter app devs on this.

Sorry this was supposed to be a response to Guakala.
Windows Central Newsletter
Thank you for signing up to Windows Central. You will receive a verification email shortly.
There was a problem. Please refresh the page and try again.