Fhotoroom updated, major layout overhaul and new features added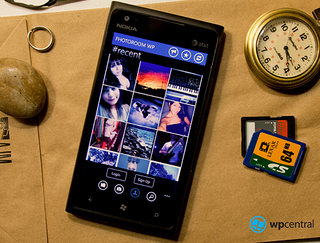 Fhotoroom is a popular photo editing app for your Windows Phone that not only allows you to edit your images but also has a social networking aspect to it. Editing includes basic tools such as cropping, exposure edits, and rotating the image as well as filters and frames. Edited images can be saved to your SkyDrive account, Windows Phone as well as shared on the Fhotoroom Photo Sharing Network (free registration required). The network will let you show off your images with other Fhotoroom users, get and give feedback and message other members.
Fhotoroom was recently updated to version 2.0 which brings a major overhaul to the photography app. The update not only brings new features to the editor, social network and in-house camera but also brings a new layout and user interface to the app. You also have the routine bug fixes and performance tweaks.
According to the Fhotoroom development team,
The Fhotoroom team put a lot of effort into this update and here's a breakdown of the version 2.0 changes.
Photo Editor:
New Menu and UI update
Preview Image size almost 10% larger than previously
Filters now shown below Preview Image on the same page
Updated all filter for faster performance
Updated Tilt Shift for easier use and better quality with boundless borders
Updated Tsar, Classic Pro, Tinge. Herc, Velvia X
Added New Style Filters Rain, Kapla, Copa, Haze, Adele and Ansel
Light FX has been completed rewritten and added new light leaks
Textures has been completely rewritten from the ground up.
Photo Sharing:
Whole UI now better supports the Modern UI design language
Merged Profile Page with Main Page
Reorganized Main page with new menu icons
Profile name at the top now is also direct link to your profile
Like and commenting system have been updated
Photo loading is faster
Photo liking is almost instant
Profile can now link directly to personal website, twitter page, Facebook page etc. for better self promotion
Over each photo now has the option to tweet other peoples photo to your twitter account if setup.
The Camera update makes things a little easier for casual user by hiding flash controls, exposure controls, and grid patterns when your using the automatic modes.
We've only tinkered with the updated version of Fhotoroom for a short bit but our first impressions is that version 2.0 brings some nice improvements to the photo editor. It's nice to be able to apply edits and have the preview image in front of you. The old version had you bouncing back and forth between edit pages to preview pages. Version 2.0 seems to be more efficiently laid out.
We'll take Fhotoroom version 2.0 out this weekend and get a full review up on Monday. Until then, if you haven't tried Fhotoroom it is a free app that you can download here at the (opens in new tab) Windows Phone Marketplace. If you are already running Fhotoroom, look for the upload to be pushed out anytime now.
George is the Reviews Editor at Windows Central, concentrating on Windows 10 PC and Mobile apps. He's been a supporter of the platform since the days of Windows CE and uses his current Windows 10 Mobile phone daily to keep up with life and enjoy a game during down time.
One of my most used apps. Great editing tools.

I'm fine with instacam. Especially since I look at the pics not post them

I've been contacting my favorite windows phone apps and have been asking them if they are planning on porting it to Windows 8 RT. Fhotoroom got hold of me yesterday and said they will there on launch day if not before. So far every app is trying to port to Windows 8 RT which is great news.

"Whole UI now better supports the Modern UI design language." Is that from the developers themselves? If so, then they must be very updated.

I just installed this app this week. Great that there's an update now.

Just download and this is now my favourite camera app (supassed my previous favourite, Thumba Cam).

Just 2 things I think can be improved:

1) In the camera mode, I have no idea what some of the icons mean, so maybe a help section that provides a legend for the icons would be nice.

2) I want the ability to choose my favourite/most used filters so that I can easily select them. This is a feature available on Thumba Cam which I really like. Espcially now that there are so many filters it's a pain to scoll through to find the the one you use most often.

Website Explain in Detail what the Icons are
FhotoRoom Tutorial
Which are Manual, Timer, Action,Night,Scenic Portrait

Been Using since 1.12 and NEW UI Rocks
The Camera App take incredible shots

I have looked at instagram and frankly don't get it.. The app does three things which all is built into wp7.
1. Takes photos. (of course this is built in to wp7 with the integrated photo button on the phone)
2. Applies filters (built into wp7 as you for every photo can access ALL filters from ALL installed photo apps via the "apps..." menu choice on the menu)
3. Share to a few selected social networks (are you kidding us... Wp7 can share any photo to ALL installed apps with connections to social networks) So not only would instagram on wp7 give you FEWER filters, it would be able to share to FEWER social networks! Am I missing something here?

It's not instagram. :) I agree with you %100. Some people just want what other people have even if what you have is better. I use Fhotoroom, and I just share it to Facebook, and twitter. You can also share to tumblr, and Flickr. The only thing instagram has going for it is (I think) it was there first? Or that it has so many installs on phones, saw the android version has over 5M downloads.

Still not Instagram = a good thing. I think Fhotoroom is so much better with so many more options.

I think when some say its not Instagram, its not so much in the features (as Fhotoroom certainly has more over Instagram) but in mind share and availability. Its just the fact of numbers that Instagram is in the hands of more people. Chances are people in your circle have Instagram. So it might be a case for some in "wanting what your friends have". But I use Instagram on my wife's iPhone. Many of my friends and acquaintances use the service. Its nice to see (along with posting pics on Facebook) what my friends and acquaintances think is interesting from their POV. So its nice to be able to share those things. I can sit here and honestly tell you I can count on one hand the number of people I've seen with a WP since owning one starting in Jan '11. None of those are people I know.

Yeah, thats why I have a Facebook, and a Twitter, and a Flickr account. Instagram is cool, but you can only share to people that have that app. When I use fhotoroom its the same thing. Thats the downside to any of these apps. Yes fhotoroom is no instagram, and I like it because of that.

Nice update, runs way faster on my focus than previously. The one thing I wish they'd fix though has to do with browsing photos- if someone has more than one page of photos and you look at a photo on one of those extra pages, when you go back to their feed you are back on the first page and have to reload all the pages to get back to where you were. That was kind of long winded, but I think it makes sense.

Agreed. When browsing through peoples photos I've wanted to and have swiped to the left or right.. Damn you windows phones getting me into that habit. That's something I'd like to swipe l/r to view more pictures.

Ooh, good idea, swiping would be nice.

Can't download app in India :(

yea now after the update they removed it from Indian marketplace

Fantastic update.
Very slick.
Great app.

This app actually have some nice editing tools. I use it for editing not for "socializing".

Anyone else getting a marketplace error when trying to update. It did it to me last night and again this morning. Very weird.

I already loved Fhotoroom & this update makes it even better. It's easily my most used photo app and one of my most used apps, overall.

The New UI Rocks, Edit, Filter, All in One Screen..

Why do people LOVE or like this app so much its boring..

Ability to check out other people's photos and socialize. It's also a windows phone exclusive app and most likely everyone that uses it uses a windows phone. Makes you feel special.

It's pretty high level editing on a phone. Its use of the camera for taking pics is better than the stock camera app. It has its own social/sharing network, plus lets you post to Facebook, Twitter, Flickr and Tumblr. To each their own, but I consider all of that exciting, not boring.

Would like the ability to save photo to phone from the app, unlike photos and also swipe to next photo.

There is save to phone. Click the disk bottom right. Save to phone or SkyDrive.

Taking a picture with this app is way too slow but better quality

The developer should learn from fantasia painter and follow his coding advise to speed up the process. Watch the video in not a developer and I learned.

Love the update. Made an already great app even better. Little slower on loading pictures but I'm sure next update will clean that right up

Its saying not available.....:(
I m using lumia 800....from whr can I download...??

Although,I m using fantasia....and already in love wiz that app....but want to take direct pics from cam using this app....how to download...??

WTF after this huge update app is not available in India..earlier it was :(

" It has tons of features, works great and it is totally free."
Sums it up.
I love this app.

This is not done......it must b available in India also.......:(

Love this app :) better than instragram.

This app has been a revelation for me and reignited my love of photography. On top of that, you get all the great filters and featues. Well done fhotoroom and keep up the good work.

okay ive been trying to use the app for about 5 hours now and its not working and i cant get to it on my computer as well its really starting to annoy me please help me

I think it is a reliable photo editor for windows phone. It is good enough actually. My cousin download this one yesterday. - Peter F. Spittler
Windows Central Newsletter
Thank you for signing up to Windows Central. You will receive a verification email shortly.
There was a problem. Please refresh the page and try again.