Windows Phone App Review: TWiT (Updated)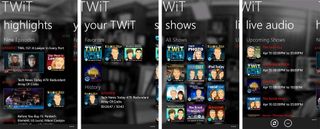 TWiT.tv (opens in new tab) is a network of technology shows ranging from Windows Weekly to TWiT Photo to Tech News Today. TWiT, the Windows Phone app, brings all the goodness of TWiT.tv to your Windows Phone.
TWiT, the app, is well laid out and covers twenty nine TWiT.tv network shows. And each of those shows have dozens of episodes. All of which means that TWiT has plenty of tech talk to satisfy the geekiest of appetites.
The main pages of TWiT covers highlights from new episodes, a Your TWiT page that shows your favorite shows and viewing history, a Shows page listing all the TWiT.tv shows, and a Live Audio page where any upcoming audio shows will appear to allow you to listen in live.
At the bottom of the main pages of TWiT is a three dot menu that will pull up options to:
Rate the app
View the settings/about pages
Submit feedback/report problems
Visit TWiT.tv via Internet Explorer
The TWiT settings cover clearing the image cache and turning on/off Home Tile Updates.
Once you find a show to your liking, you can drill down to that particular TWiT.tv show's pages that cover the show's episode listing (in chronological order) and details on what the show is all about. From the three dot menu on these pages you can send feedback to the show via email or voicemail. Button controls are available to tag a show as a favorite or refresh the screen.
Last but not least, each episode will have a series of pages that cover the details on that particular episode and any comments on that episode. From these screens you have the option to view the audio cast or video of that particular episode.
Button controls are present to let you share the episode by email or through your social networking sites. You also have the option from the three dot menu to play the video through your Zune Player. Speaking of Zune, TWiT is meshed with your Windows Phone Zune in that episodes will show up in your Zune history and the play/pause controls appear on your lock screen for episodes.
A couple of observations on video/audio playback. First, play back was smooth, sound/video quality good and load times weren't too shabby. Second, TWiT will remember where you left off and pick things back up at that point. A nice touch to eliminate the need to spend time hunting for that point in the broadcast where you left.
All in all, TWiT is a well presented app for your Windows Phone. Navigation is straight forward and simple and there is a lot of content. And it may be a small feature but I like that you have the ability to send feedback directly to the show.
The only downside to the app is that TWiT is always refreshing. When you launch the app, it refreshes. When you go to view a show's episode, it refreshes. It felt as if the app refreshed at every opportunity imaginable. I wouldn't mind seeing a setting to turn off the automatic refresh to speed things up. If you're returning to TWiT to finish an episode or hunt an older episode, you may not need to refresh the content. The automatic refresh does insure that TWiT is current but if you have a slow connection, these refreshes can take a while to complete.
Again, all in all, TWiT is a very nice app for your Windows Phone with tons of tech content. If you're a fan of Leo Laporte, Paul Thurrott, Catherine Hall or any of the other hosts at TWiT.tv, TWiT is worth a try.
There is a trial version available but you can only play content through your Zune Player (no internal player support). The full version of TWiT is running $2.99 and you can find TWiT here (opens in new tab) at the Windows Phone Marketplace.
Update: TWiT developer Dmitry Lyalin informs us that the trial version should not have any limitations. Unfortunately, there was a bug in the trial version in which the ad banners overlayed and hid the audio/video play buttons. The bug gave users (and myself) the impression that the trial version was limited. The paid version of TWiT did not have this bug and we were able to see all the playback controls.
An updated version of TWiT, v2.1, has already been submitted to the Marketplace for certification that should address this bug. The result will be an ad-supported, free version of TWiT that has the same functionality and goodness as the paid version. The paid version will still be available for those wanting to eliminate the banner ads.
Windows Central Newsletter
Get the best of Windows Central in in your inbox, every day!
George is the Reviews Editor at Windows Central, concentrating on Windows 10 PC and Mobile apps. He's been a supporter of the platform since the days of Windows CE and uses his current Windows 10 Mobile phone daily to keep up with life and enjoy a game during down time.
I like twit. Does the app only stream or can you dl for offline view?

Their shows are available for download from the Zune marketplace on your phone. Windows Weekly is the best of them.

The app itself is great. The TWiT network shows however usually fall into the San Francisco Bay Area same-think of many tech bloggers and podcasts. Wish there was more diversity of viewpoints and opinions.

This used to be on the Swedish marketplace also, but it never worked and are now removed. Works great with podcasts at least. But I almost stoles listening to TWiT, im so tired of there iPhone mentality. Even in Windows Weekly there is no app feedback from Leo who only uses Mac and are a self admited fan, and he constantly moves the focus from WP or Windows back to talks about Mac. Paul even mentioned this in a recent episode. The show have been kind of dull and its getting worse. I love the rant with Paul ans Andrew over at GFQ Network with What the tech. Also The Metro Developer Show as its named now puts TWiT to shame. If your a Android or iPhone lover you like TWiT. On the other hand, if you like any Microsoft product you will have to put up with Leo the Tech guy moving people to Apple in 99% of the calls, or This week in tech made for Dworak and Leo trashing Microsoft most of the times or talk down other makers that's not Apple. Then there is the really good Tom Merit stuck with Android and iPhone panel in Tech News To Day who embodies the frase " - Microsoft can never do it right." It sad to se such a great potential TV network sell products and form the opinions people "should" have.

Glad to hear I'm not the only one frustrated by TWiT. Someone, I forget who, pointed out that John Dvorak doesn't believe most of what he says. He just says it to kick the hornets nest and walk away. Once I realized his schtick I got really irritated by it.

Agreed about John Dvorak. I've followed the guy for years until it seems he became more of a gossip hound than the technical analyst he used to be.

Although I love the shows, I see no benefit of paying $2.99 for it when I can get the podcasts for free anyway. This app should be free.

" If you're a fan of Leo Laporte, Paul Thurrott, Catherine Hall or any of the other hosts at TWiT.tv, TWiT is worth a try"
The key word here is "try". Like another commentor already wrote, the TWiT app should be FREE. Try it but don't pay for it! Also, as an iOS app it is only 99 cents which would be more reasonable.

This App was available shortly after WP7 first came out and at the time it was free.

I can't seem to find it in the Marketplace. 'twit'

Try searching for "This Week in Tech" in the app marketplace. Or use the QR code on the WPCentral webpage from Bing Visual Search.
Windows Central Newsletter
Thank you for signing up to Windows Central. You will receive a verification email shortly.
There was a problem. Please refresh the page and try again.