Windows Phone App Review: Weather26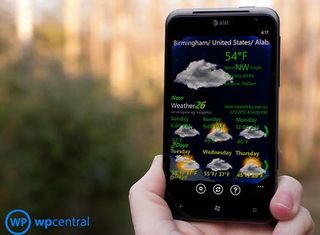 The Windows Phone app Weather26 (pronounced Weather two six) provides you with a quick option to view the two and six day forecasts from your phone. The weather data is provided by met.no and Weather26 covers a healthy number of international locations. While Weather26 lacks all the weather bells and whistles of Accuweather or The Weather Channel, it's a decent basic weather app for your Windows Phone.
The layout of Weather26 rests with two pages. First you have the main page that displays all your weather information. Your forecast city name and current conditions rests at the top of the screen and just below that is your two day and six day forecasts. The two day forecast is broken down in three hour increments that are side swipable. The six day forecast picks up where the two day forecast ends and is also side swipable. The six day projections are broken down into 24 hour increments.
Weather26's forecast information is limited to the forecasted temperature and a weather icon illustrating what the weather conditions should be like. The current conditions breaks things down a little further by showing the wind speed/direction, humidity levels, barometric pressure, current temperature and the weather icon.
At the bottom of the screen you will find button controls that send you to the settings, refresh the weather information and access the about screen for the app. The settings page is where you add forecast cities, choose your city to view upon startup and choose your units of measurement (metric/imperial). To add a forecast city just tap on the "+" button and a keyword field will appear. Type in the city, town, country and then select the city of choice from the search results.
Weather26 will only display one city forecast at a time and to switch between cities you'll need to return to the settings page and choose which city you want to view. Tap the check mark at the bottom of the screen and you will be taken back to the main page to view the forecast information for that particular city.
Weather26 is a very basic weather app for your Windows Phone. It lacks live tile support and while the layout is nice, it would have been nicer if you could swipe between forecast cities on the main page. Overall, I found Weather26 to be a nice, basic weather app for your Windows Phone.
While I liked Weather26 I couldn't help but think it needed something more. Something to give the app a little more pop such as animated icons, the ability to pull up more information for a particular day, a weather radar option or live tile support. Weather26 has been updated a few times since it's release back in December and maybe more is in the works for this weather app.
Weather26 is a free application that you can grab here (opens in new tab) at the Windows Phone Marketplace.
George is the Reviews Editor at Windows Central, concentrating on Windows 10 PC and Mobile apps. He's been a supporter of the platform since the days of Windows CE and uses his current Windows 10 Mobile phone daily to keep up with life and enjoy a game during down time.
Argh, stop being so neutral. From the screenshots it is evident that it looks awful.

I actually like the way it looks.

Looks horrendous. Too crowded, ugly/conflicting colors, no attention to contrast. Font sizes/styles are all over the place. Why does it seem like so many developers don't pay any attention to the design guidelines at all?

After I got AccuWeather, I stopped looking for weather apps.

Still prefer WeatherMaster... ;)

No live tile...that pretty much says it all -_-

Weather View is the absolute best looking and accurate weather app for me!

I will never understand Fahrenheit, it's so strange. Just sayin'.

while it may not be based on a valid reference like Celsius, someone described it recently in a way that makes sense enough to me:

0 and 100 F are good reference points for when the temperature becomes absolutely unbearable. Under 0F is too effing cold, and above 100F is too effing hot. =)

I've always been told that less than 0C is cold and greater than 50C is hot. But it really depends on where you grew up. Where I grew up, the temperature fluctuates between 20C-45C all year. Even though it has crossed 45C more than a couple of times, i've never experienced a less than 20C weather when i grew up and so the celsius scale made great sense then and still for many others.

Not to be confused with Zero is freezing literally and 100 is boiling literally. Wins over Fahrenheit every time.
It is similar to having a month before a day and a day before a year, thats Chinese to me, oh wait they are the only other people that use it ;)
. I cannot complain to much as I still prefer Miles, Pounds, Stones and Ounces. Although I will defer to the logic of Metric.

Well for me its look good, nice keep it up.
<a href="http://www.fooviral.com" hreflang="en">Viral Stuff and Trending News</a>
Windows Central Newsletter
Get the best of Windows Central in in your inbox, every day!
Thank you for signing up to Windows Central. You will receive a verification email shortly.
There was a problem. Please refresh the page and try again.