Windows Phone Central Game Roundup: Shooters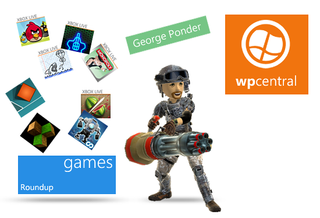 Windows Phone Central's Roundup of the top Shooter games
For this week's Windows Phone Central Roundup we're focusing on Shooter Games for your Windows Phone. More specifically, the top five, paid, non-Xbox Windows Phone Game shooter games for your Windows Phone.
Xbox Windows Phone games fill the top seven spots on the Windows Phone Store list so we thought we'd shine the light on the little guy. The independent developer that is giving the Xbox Windows Phone titles a run for their money.
While we're focusing on the top five titles on the list, we know there are other worthy titles in the Windows Phone Store. If you've got a favorite shooter game, feel free to share in the comments.
Amazing Zombie Defense (trial/$.99): Still kinda curious where all the zombies came from but Amazing Zombie Defense is a shooter game with a little tower defense thrown into the mix.
Dual control sticks sit at the bottom of the screen to control movement and direction of fire. The goal, kill the zombies before they eat your brains.
The game is played in stages with the zombie attack becoming more intense, the longer you survive. As you wipe out the zombies you can collect cash and power up items. The cash can be used to purchase new weapons, build fencing and stationary weapons (the tower defense aspect of things).
Graphics are decent but because of the small size of the players, it's really hard to make out any details. Controls are responsive but your aim isn't really precise. You do a lot of running around and shooting to avoid getting mauled by the zombies.
There is a free trial version available for Amazing Zombie Defense with the full version running $.99. You can grab it all here (opens in new tab) at the Windows Phone Store.
CoastDefense (trial/$2.99): CoastDefense is a military shooter game where you have to defend a beach head from an enemy invasion. Armed with your machine gun you also have access to air support and TNT to help defeat the surges in enemy troops.
Gaming controls are nicely laid out with a fire button in the lower right corner and you tilt your Windows Phone to scan left or right. Aiming is done by touching the screen. Air support and bomb buttons are also present. Game play is conducted in waves and after surviving each wave you are awarded gold that can be used at the weapons depot. The depot appears in between waves.
There is a total of sixty waves that you have to defeat. As you move through the levels, you'll have to contend with enemy troops and enemy vehicles (troop transports, light armor, tanks, etc.). The vehicles will require multiple hits to take out. If the enemies break through and get to your bunker, game over.
Graphics are nice but again you have the same issue that is present with Amazing Zombie Defense. Characters are so small you can't make much detail. Still, game play is challenging, sound effects nice and CoastDefense isn't too shabby of a game. One item of note on CoastDefense is that the game is 46mb in size.
There is a trial version of Coast Defense available to let you try things out before buying. The full version will run you $2.99 and you can grab it here (opens in new tab) at the Windows Phone Store.
Zombie Madness Pro (trial/$2.49): The zombie hordes make another appearance amongst the top paid (non-Xbox) shooter games with Zombie Madness Pro.
Zombie Madness Pro has you defending your position from the obligatory onslaught of zombies. The goal, again simple, is to defend your position and destroy the zombies. If the zombies reach your bunker they will start destroying it and if they break through, they eat your brains and the game is over.
You do have three character professions to choose from before you start wiping out the zombies. Rifleman, BattleEngineer and Commander each have special skill sets for various weapons and tasks.
Controls have your aiming done by sliding your finger up/down the right side of the screen and a fire button rests in the lower left corner. A guide will appear on the screen to help steady your aim. Along the top of the screen is your rank (based on experience or survival) an animated weapons bolt, your ammo count and any hand grenades you have available. While you have unlimited ammo, your fire rate is dictated by the weapon type.
As you survive each wave (described as days in the game) you earn cash that can be used to buy more powerful weapons, repair your bunker and hire soldiers to fight the zombies with you.
Graphics are nice, the pace is quick, the weapon choices are interesting (mostly World War II era weapons) and Zombie Madness Pro is a fairly challenging game. Just in case you're not sure, there is a trial version available for Zombie Madness Pro to let you try things out before buying.
The full version of Zombie Madness Pro is currently running $2.49 and you can find it all here (opens in new tab) at the Windows Phone Store.
Rooster Shooter (trial/$1.49): Rooster Shooter is an odd sort of shooter game for your Windows Phone. Odd because of the controls and in that you don't see roosters fly so well.
Your job is to shoot down roosters that fly across the screen. Not all roosters are fair game though. The rooster with the Police Hat will shoot back if shot, costing you a life. Lose all five lives and the game is over.
Rooster Shooter has three game modes, timed, reload and endless. The Timed Mode is as you would think, shoot down as many roosters in a minute. Reload Mode adds a bit of challenge to the mix requiring you to reload and Endless lacks the time restriction. Each mode has ten levels that simply increase the number of roosters, basically raising your potential high score.
Game play is a little challenging in that your cross hairs are moved by tilting your Windows Phone. You fire your weapon by tapping on the screen. The challenging being that you really can't play Rooster Shooter holding the phone upright. You've either have to look at the screen at an angle or from overhead to manipulate the cross-hairs with efficiency.
Animations and graphics are rather nice, game play challenging but the controls can be frustrating. Rooster Shooter is worth a try but take advantage of the trial version first to make sure you don't start pulling out your hair because of the control layout.
The full version of Rooster Shooter is currently running $1.49 and you can find it here (opens in new tab) at the Windows Phone Store.
Fierce Game Hunting(trial/$.99): Fierce Game Hunting is a Windows Phone shooter game that takes you to the woods in search of Bambi (or any other deer you can find).
But instead of hunting the deer as game (as you do in Deer Hunter 3D), you play the role of the Wildlife Ranger who is trying to tag the deer. However, in order to tag a deer you have to shoot them with a hefty tranquilizer with your trusty rifle.
Fierce Game Hunting is a multi-stage game and you advance through the levels by shooting a set number of deer. Sound easy, right? Except when you shoot your first deer, the remaining deer go into a frenzy making them very difficult to shoot.
Game controls couldn't be easier. Tap the rifle scope in the lower right corner to pull up the scope view. Touch and slide the screen to line up your shot and tap the screen to fire. Each round lasts about a minute and if you tag the required deer, you can advance to the next stage.
Graphics are alright (animated pictures) and while the first shot is fairly easy, the remaining shots can be challenging. There is a trial version to let you try Fierce Game Hunting before buying and the full version will run you $.99.
You can find Fierce Game Hunting here at the (opens in new tab) Windows Phone Store.
There you have it. The top five, paid, non-Xbox shooter games for your Windows Phone. Of the five, CoastDefense caught my attention the most. They may not be your cup of tea but worth at least a try.
Again, this only scratches the surface on shooter games for your Windows Phones. You have Xbox titles such as Extraction, Shoot1Up, and Toy Soldiers along with other independent titles such as Impossible Shoota, Battle Sub, and SniperBoy. Plenty of choices and if your favorite shooter isn't in the top five, feel free to share in the comments.
We just need Wolfenstein (opens in new tab) to find its way to the Windows Phone Store.
Windows Central Newsletter
Get the best of Windows Central in in your inbox, every day!
George is the Reviews Editor at Windows Central, concentrating on Windows 10 PC and Mobile apps. He's been a supporter of the platform since the days of Windows CE and uses his current Windows 10 Mobile phone daily to keep up with life and enjoy a game during down time.
I'll be the first to say it. We have glu mobile making games for windows phone now, and they just recently created the Call of Duty: Black Ops Zombies game for iOS and android. I don't see it being that hard to bring to windows phone, and if Microsoft could work with it and make it an Xbox live game, I'm positive it would be a hit. The problem I see is they don't see the demand, so if anyone else is onboard, with WPCentral being the largest windows phone community, I'm sure we could show the demand is high.
Windows Central Newsletter
Thank you for signing up to Windows Central. You will receive a verification email shortly.
There was a problem. Please refresh the page and try again.