Windows Phone demo for other platforms to try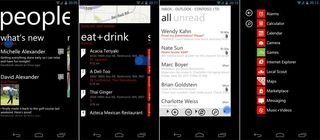 Microsoft has set up a demo for iPhone and Android owners to hit up on their mobile web browsers. This demo will allow the visitor to witness what Windows Phone has to offer. The above screenshots were taken on a Samsung Galaxy Nexus and as you can see the demo looks as it should on a mobile browser, taking up the screen and showcasing the Metro UI. There are also visual guides that show where to swipe and tap.
Windows Phone isn't supported (along with Safari on the Mac), which is no surprise as those who already own a handset shouldn't need to run through a demo. Check out the demo at the source link below.
Source: Microsoft WP Demo, thanks for everyone who tipped us, and to Richard for the pics!
Windows Central Newsletter
Get the best of Windows Central in in your inbox, every day!
Rich Edmonds was formerly a Senior Editor of PC hardware at Windows Central, covering everything related to PC components and NAS. He's been involved in technology for more than a decade and knows a thing or two about the magic inside a PC chassis. You can follow him on Twitter at @RichEdmonds.
It's actually really cool. it's a little slow but gives you a good impression of how the UI is build and how it could feel to use a WP7.5 device. As an android user, I learned a lot about how the calendar works (important feature for me) and how the people hub is designed (heared about it but never saw it in action). still considering WP7 as my next OS.

*still considering WP7 as my next OS.*
great choice :) hehe but what are you waiting for? :P run to store!!!

Nice demo (ran it on a HTC Thunderbolt). Now if only we'd get an LTE Windows Phone on Verizon...

Microsoft isnt adding Lte until late next year because Lte currently drains the battery as fast as it loads a youtube video (like the simile :) ) and microsoft wants to wait until Lte gets more efficient because they dont want to ruin the battery life.
*off topic* actually what a lot of people dont get is why microsoft doesnt put in features- because of speed, battery, and user-friendliness. No high-res screens because it takes up too much processor (and battery) to process those extra 307,200 pixels (actual numbers based off iphone screen res).
*still off topic* oh and it probably wont be Verizon because verizon doesnt really like Windows Phone for some reason and the only thing they will have is an HTC Trophy for about another year or so (which btw i have a Trophy and i love it - camera is bad in any low-light and battery is tiny 1300 mAh (lasted me 2 days off the plug with just some texts and calls) but there is a 1800 mAh upgrade with no extended case or a 2200 mAh battery with extended case but otherwise its good and Very well built (i dropped it a couple of times and only a scuff mark))


Well I hope you're wrong because without LTE and without Verizon the platform will not grow in the US. Big Red is the largest carrier and has the best network both in terms of coverage and in terms of performance. And LTE is the "future is now" technology that is bringing people in.
The barrier with Verizon is that their Windows Mobile business underperformed while they vaulted to the top of the smartphone heap by going all in for Android. Note that they may carry iPhones but they don't go out of their way to promote or sell them - their in store people even steer customers who are on the fence to Android over Apple. So the challenge is to get Verizon to buy in on Windows Phone, and that will take MS doing the legwork to make the OS properly support Verizon's platforms and also very aggressive incentive programs to get those floor reps to actually look at Windows Phone.

"your browser is not supported"
Fuck off im using IE9!

It seems to only be for mobile browsers (and specifically non-IE mobile browsers). I tried accessing the site using Firefox on my desktop and got the same message.

This damn site won't work on my families mytouch devices either.

Ok, Space Monkeys, commence operation Browser Thunder. Your mission is to enter a retail cell phone store and open this link in all of the Android and iOS phones.
You are not your cell phone. You are not a unique snowflake.
-TD

Doesn't work on my Droid Eris(Android 2.1, webkit 3.1). That's kind of a shame because a lot of tail end 1st gen droid users like myself are likely to be looking at upgrades soon. This looks to be a very effective tool to learn the OS in your own hands without a sales person jumping down your throat.

The link above is wrong, that may be why you're getting the unsupported site.
Try this:
http://m.microsoft.com/windowsphone/en-us/demo

Have to say i love it, what a good demo, playing with it on my old htc wildfire :)

I think this is a brilliant way to show what our OS has to offer. My only question is do ios and android users know about it? What kind of advertising is out there? I've only seen it talked about on WP sites.
Windows Central Newsletter
Thank you for signing up to Windows Central. You will receive a verification email shortly.
There was a problem. Please refresh the page and try again.