Windows Phone Developer Spotlight: Sago Sago Games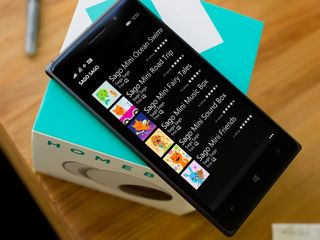 The Windows Phone Store has a broad selection of children's games that are a great way for your kids to pass the time with. As a bonus, these Windows Phone games also hold an educational value to teach them a few things as they play the games.
Sago Sago is a developer who has a nice collection of gaming titles in both the Windows Phone and Windows 10 Store that are simply designed, entertaining and educational games for our younger audience. The gaming collection is structured more for toddlers (ages 2-5) with colorful graphics and simple controls. They seem to focus more on social skills and life lessons than a scholastic lesson, with plenty of opportunities to interact with your child and expand on the game's lessons.
The developer caught our attention this week by offering their entire collection free from both Stores and for this week's roundup, we'll focus on a few of Sago Sago's offerings from the Windows Phone Store. At the time of this posting, the titles are still listed as free. However, we do not know how long this promotion will last so if anything catches your eye, now is a good time to pick up a few children's games and save a little along the way.
Sago Mini Friends
Sago Mini Friends is a colorful game where you send your character on a wide variety of play dates. You have the choice of five characters that appear throughout the Sago series of games. You have a pink bird, purple mouse (or is it a gerbil?), an orange cat, blue bunny and a brown dog.
With Mini Friends, you choose your character and travel from house to house visiting your friends for play dates. You ring the doorbell and transition to the activity that particular friend has in store for you.
Some activities are more free-form by design while others have defined tasks. For example, one activity is helping a friend fix a birdhouse. You have a number of nails to drive into play with a hammer. Tap the nails, drive them all into place and the activity is complete. In contrast, you have a dress-up play date with the cat where you can dress up your characters or a stuffed panda bear with hats, glasses, hats and other items.
It is a simple game for your children that exposes them to the importance of playing with others. As with all of Sago Sago's games, Mini Friends has nice graphics and simple gaming controls for your children to pick up on. The game also offers you the opportunity to interact with your children, not only to teach them how to use the game but also explain the life lessons these game focus on.
Sago Mini Ocean Swimmer
Mini Ocean Swimmer has your child playing the role of a deep sea explorer. You play the role of Fins the fish and tap the screen to swim around the deep blue sea visiting friends and exploring the mysteries of the deep.
The game includes over thirty animated discoveries that include a surprise birthday party for Fin, a yellow submarine to visit the ocean's surface and visiting a cat that will feed Fin a few jalapeño peppers.
Sound effects and animations are amusing, graphics bright and colorful and the interaction very open to the wandering mind of a toddler. Mini Ocean Swimmer appears to lack any structure but as your child discovers one activity, the game seems to encourage them to search for more.
Sago Mini Road Trip
Mini Road Trip is a fun game of exploration where you play the role of Jinja the Cat who is visiting her friends who live in six, unique destinations. The interactive game takes you through the steps of packing for a trip, choosing your car, loading it up and hitting the road.
Mini Road Trip has ten cars that range from a Pickle-Mobile to a 4x4 Pickup Truck. Destinations include mountain scenery to traveling in the Big City.
There are no rules to the game and gaming controls are super-simple. Tap either side of the screen to have Jinja travel in that direction. There are gas stations and car washes positioned along the trip that provide further interaction.
Once you reach your destination and meet your friend, the game will take a quick snapshot of the meeting and send you back to the main menu to plan your next trip.
Sound effects are great and the facial animations that Jinja makes during the trip will bring a smile to your child's face (probably yours too). All in all, I found Mini Road Trip to be a fun game that should appeal to most toddlers and even parents may find themselves spending some time with this game.
Sago Mini Sound Box
While toddlers will get a kick out of Mini Sound Box, it is a gaming title that may drive their parents crazy. As you might guess from the title, Mini Sound Box is a musical box. The game include nine different sound sets that include musical instruments, farm animal sounds and city sounds.
Just tap on the icon and one of the five Sago characters will deliver a colored ball to the sound screen. From there, all your child needs to do is tap the screen to generate the sounds. As they do, additional balls will begin to fill the screen.
Musical instrument sounds will be consistent while other categories such as the barnyard animals will vary between the assortment of animals present. One tap may generate a cow moo sound while the next a chicken cluck sound.
As you move the screen around, the collection of balls will shift with the screen movement and make sounds as they bounce about the display. You can tap or swipe at the screen to generate a sound and Mini Sound Box supports multi-touch to let your toddler use both hands or invite a friend to create the sounds.
The only downside to Mini Sound Box is that navigating away from the sound generating screen back to the sound menu isn't that simple. You do have a Home button to send you the game's main menu and hitting the Back Button will do the same. There needs to be a way to exit the sound screen and return to the sound menu easier.
Sago Mini Sound Box is a colorful game filled with a nice range of sound effects. I can see toddlers having fun with Mini Sound Box and it will likely be an opportunity for parents to introduce their toddlers to headphones.
George is the Reviews Editor at Windows Central, concentrating on Windows 10 PC and Mobile apps. He's been a supporter of the platform since the days of Windows CE and uses his current Windows 10 Mobile phone daily to keep up with life and enjoy a game during down time.
Very nice games for kids. Well done.

Am very delighted the developer has dedicated his time to Windows Phone. These apps are really quality apps

Got them on my 8x a few days ago. My boy enjoys them.

My kids has been completely addicted to them.

Keep spotlighting windows central!

These are good apps, also great to pre load on a windows tablet for long drives.

Nice. I'll need to check these out.

They have a fantastic set of games. I'd happily pay full price for them to support them bringing more to the platform. High quality, well designed, my kid loves them.

Sago Sago has done great on all these apps. I have them on every Windows device we own. Attention to detail is spot on. There are thing they add in that make not only my child laugh, but I get a few good laughs as well. I would fully recommend these games worth it at full price. Free? if you have kids you need to jump on this ASAP! Well honestly you dont need kids to enjoy. :) Keep the games coming Sago Sago!!!!!!! Thanks for the support of Windows Phone!! Can't wait to try the Friends app. Oh and thanks Windows Central for reviewing childrens apps. :)
Windows Central Newsletter
Get the best of Windows Central in in your inbox, every day!
Thank you for signing up to Windows Central. You will receive a verification email shortly.
There was a problem. Please refresh the page and try again.