Windows Phone games suitable for the zombie hunter in all of us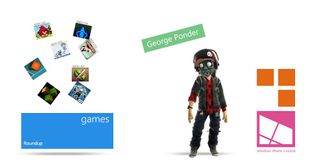 Windows Phone Central Game Roundup: Zombie Games
Zombies. A pesky bunch of creatures that have had a presence in movies and television of years. They also seem to have a strong presence in our Windows Phone Store. These brain hungry monsters can be found in a ton of Windows Phone games from Zombies Ate My Pizzas! (opens in new tab) to Zombies, Run (opens in new tab)!.
For this week's roundup we picked three popular Zombie games along with one game that had a unique approach to taking out the Zombies.
With so many Zombie games available, it was tough picking just a few of the gaming titles. If we've overlooked your favorite Zombie game, feel free to shout out your recommendation in the comments below.
Dredd vs. Zombies (free): Dredd vs. Zombies is a Windows Phone 8 game that has you playing the role of Judge Dredd. Your mission in life is to protect Mega-City One from the zombie hordes.
Dredd vs. Zombies has great graphics and animations with game play that spans thirty levels in the Story Line game mode. You also have an Arena Mode, which is basically a free for all/survival mode, and a PSI Mode which has you trying to prevent future crimes. Add upgradeable weapons and equipment with four deadly zombie archetypes and Dredd vs. Zombies becomes a hard to resist zombie game for your Windows Phone.
The on-screen joystick controls are nice and responsive and the zombies aren't exactly a push-over. Dredd vs. Zombies is a free game for your Windows Phone 8 device. You can find Dredd vs. Zombies here in the (opens in new tab) Windows Phone Store.
Zombies!!! (trial/$4.99): Zombies!!! is a Xbox Live gaming title for our Windows Phones that is adapted from the popular board game of the same name. It is a turned based board game that throws you in the middle of a city that has been infested with zombies.
The goal is to be the first player to reach the heliport and escape the zombie's wrath. You can play Zombies!!! solo taking on the computer or in "pass and play" fashion. Game play is very similar to the board game with dice throws dictating movement and combat. Zombies!!! supports up to five players (human or computer).
Animations are great, sound effects are cool, graphics keep things interesting and overall Zombies!!! is a challenging, fun game for your Windows Phone 7.x and 8 devices. There is a trial version available for Zombies!!! with the full version running $4.99. You can find it all here (opens in new tab) in the Windows Phone Store.
Farts vs. Zombies(trial/$1.29): Farts vs. Zombies may be the strangest game available in the Windows Phone Store. As the title suggests, you are armed with your appetite, a steady stream of food and your farts to defeat wave upon wave of zombies.
You play the role of Colonel John Farter who has returned from the war to find his town full of zombies led by an evil unicorn. His mission, save the town and a group of Japanese schoolgirls by wiping out the zombies and defeating the evil unicorn.
The Colonel is positioned in front of a conveyor line that delivers a wide assortment of food items that produces an equally wide variety of farts. As the Colonel lets them rip, you draw a path for the fart cloud to take out the zombies. At some point (and I never made it that far) vomiting becomes available as a bonus weapon of sorts.
There are two games modes with Farts v. Zombies, Story Mode and Survival. The Story Mode is a multi-level game that leads you to the final battle with the evil unicorn. The Survival Mode is a test to see how long you can survive against waves of zombies. The longer you last, the more persistent the zombies become.
Farts vs. Zombies is an acquired taste and does have a trial version to let you feel things out before paying $1.29 for the unlocked version. You can find Farts vs. Zombies here in the (opens in new tab) Windows Phone Store.
ByeByeBrain Lite (free): ByeByeBrain Lite is a Windows Phone gaming title that has been around for some time now. It's a tower defense styled game where you have a variety of characters to put into place to wipe out the zombie incursion.
Each of the five characters have individual weapons specialties that can be upgraded. For example, you have The Cleaner who's moves from an aerosol can blow torch to a military flame thrower and a Police Officer that goes from a handgun to an assault rifle.
Graphics were very impressive when ByeByeBrain first landed in the Windows Phone Store and still makes for a great gaming experience. You can rotate the screen and zoom in to take full advantage of the 3D graphics. You also have a few mini-games in between levels to keep things interesting. All totaled, ByeByeBrain may be an oldie but it's still a goodie.
ByeByeBrain Lite is a free game for your Windows Phone and you can snatch it up here (opens in new tab) in the Windows Phone Store.
Oh... and if you really like ByeByeBrain Lite, there's a sequel. BBB: App-ocalypse follows the same story line and is another great zombie tower defense game. BBB: App-ocalypse is also a free game for your Windows Phone that you can find here (opens in new tab) in the Store.
So there you have it... four solid zombie games for your Windows Phone and one unique offering. If you're a zombie fan, there are even more zombie oriented games in the Windows Phone Store. You have Plants vs. Zombies (opens in new tab), Zombies Attack Free (opens in new tab), Cradle to the Grave (opens in new tab), and many, many, more. Most are outstanding games for our Windows Phone while others we are thankful that they offer trial versions.
If we skipped over your favorite zombie game, feel free to share in the comments below.
Windows Central Newsletter
Get the best of Windows Central in in your inbox, every day!
George is the Reviews Editor at Windows Central, concentrating on Windows 10 PC and Mobile apps. He's been a supporter of the platform since the days of Windows CE and uses his current Windows 10 Mobile phone daily to keep up with life and enjoy a game during down time.
Plants vs. Zombies is a good game!

"Z0MB1ES (on teh ph0ne)" is my favorite zombie game on WP8! :)
http://www.windowsphone.com/da-dk/store/app/z0mb1es-on-teh-ph0ne/eb52de0...

I enjoy that game, I just hate the music lol.

I have an idea for a Zombie game and i think i may try my hand at making an APP. Just have to ttake the time to do it. ;)

I really would like "the walking dead" type game on WP 7/8. Something like they have online.

No mention of the card-based zombie game Shelter? It's one that is definitely worth trying out.

I would really like to see Zombie Gunship, Zombieville, and Zombieville 2 ported over to WP8 from iOS.

Zombies!!! is a great game. Got it when it was on sale a while ago. Well worth the full price, IMO.

Am i only here who's laughing at pic where a wild avatar using anti bio mask?
#sorry bad english....

I'm playing Dredd now but made a few mistakes in upgrading items. Is there a way to erase the game data and start over?

Where can I zombie my avatar?

How about Undead Carnage Redemption? Here http://www.windowsphone.com/en-us/store/app/undead-carnage-redemption/f226a7ae-e075-4bc9-bd1f-01f92c645e22

zombie evil nya dunk untuk windowsphone n BBM,,??
Windows Central Newsletter
Thank you for signing up to Windows Central. You will receive a verification email shortly.
There was a problem. Please refresh the page and try again.