Windows Phone launches Business Hub, an online portal for IT pros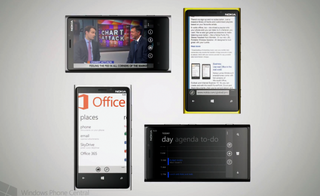 Windows Phone has always had the foundation to excel in every market. For example, with Xbox on board it could be the killer mobile gaming device – once they work out a few kinks. Same could be said for business, every device has the best Office experience built-in, but it's not exactly taking over the corporate world by storm yet.
It's not that the platform doesn't have the chops, it could just be a lack of communication about what it can do. So Microsoft has gone and set up the Windows Phone business hub (www.windowsphone.com/business (opens in new tab)) – a place where you can learn all about business features of the operating system.
The business hub is meant to be a place where IT professionals can stay up to date and learn technical information on Windows Phone. Stuff that probably might be a bit too technical for most of us, but I'm sure there is a few of you out there that will find this invaluable.
Right off the bat, you can learn about:
Outlook, Lync and other Office mobile apps - With familiar Office Mobile apps built-in, Windows Phone offers everything you need to get up and running right out of the box.
Office 365, SharePoint, and Exchange - Collaborate and keep connected to important information while on the move. Download Office documents from SharePoint or Office 365.
Windows Phone security and encryption - Robust security to help protect your business information and guard against malware.
Windows Phone and app management - Rich phone management capabilities make it easy to integrate Windows Phone into your Windows infrastructure.
Line of business apps and Company Hubs - LOB apps are under your control. You can develop, package, sign, distribute, and maintain your apps end-to-end.
Any of you folks working for the man happy with your Windows Phone in the corporate world? If you read the comments of any business post on Windows Phone Central you'll be sure to find at least ten comments shouting "VPN! VPN!" The good news is that VPN support is rumored to be coming with the Apollo + update to Windows Phone 8.
Back on point, the business hub will have new topics over the coming months as it covers topics that you IT pros will find interesting.
Source: Windows Phone Blog
We test and review VPN services in the context of legal recreational uses. For example:
1. Accessing a service from another country (subject to the terms and conditions of that service).
2. Protecting your online security and strengthening your online privacy when abroad.
We do not support or condone the illegal or malicious use of VPN services. Consuming pirated content that is paid-for is neither endorsed nor approved by Future Publishing.
Windows Central Newsletter
Get the best of Windows Central in in your inbox, every day!
The link is wrong should be this:
http://www.windowsphone.com/business

Biggest omission in this discussion is Enterprise WiFi.

This is a great move, something that Microsoft should have done long ago. WP is fantastic in the Business world. We have some 12 units spread out in the company Right now I wouldn't use anything else. the ability to use office have it all linked.

Agreed!!! Must in our business too.

Fntastic... I do not think so, not yet at least:
The calendar app is basic to say the least
The "Linked inbox" should allow to link accounts not only visually but also in functionalities
Color coded categories are not supported
And just to close my partial list: what about a decent password? Six numeric characters is a joke.
Said that is surely better than WP7 but vastly inferior to the venerand WM 6.5.


Well, to be fair from a features stand point nothing touches Windows Mobile. Android looks at it though...

No, it's not fantastic. They didn't implement some of the exchange policies which my company uses. Their calendar and todo is so basic. Update on the phone will not be automatically pushed to server. And sometimes it refuse to connect to our WiFi....

The only fuss I have is the inability to attach more than one document to an email, and lack of PDF attachment. If they can fix it, I can push WP to be my company's mobile OS.

They also need to desperately fix password protected PDFs. No reason why that shouldn't work.

WP works for me for business purposes because it has pretty good Exchange support. "Office" on the phone is pretty much a joke yet it has come in handy a handful of times for viewing attachments. Better PDF support would be nice too.

I don't think anyone else in my company has even heard of WP let alone has one. It's iPhone, iPhone, iPhone. The few who hold a grudge against Apple go with Android. And I still see some clunky looking BB here and there.

What more do you want from PDF support?

I agree. They call it great and I tell my friends that, but in reality, it isn't as good as pages mobile because two basic things aren't there, changing font style (example: from cambia to times new roman) and font size. Besides that, it is pretty good.

Office365 has been missing on my Trophy since the last update. Also...VPN. Exchange works real well though.

They should also fix the Wi-Fi connectivity issues as I still can't at work. Just like the PDF reader, they must have only tested on a few variations of Wi-Fi. MS' better move fast or BB will be taking over in the Enterprise.

What brand of WAPs do you have? I've probably connected to 100 different locations and the only problems I ever had were with my trophy before the 7.5 update

Thanks for posting this, Sam. I was talking to Daniel about the lack of info about the IT management side of windows phone. I keep meaning to loom into the integration with InTune and hopefully the hub site will cover it.

Honestly, I don't care about VPN. In fact, WP has made me interested in SharePoint as a VPN replacement. I'm hoping to use it as a way of showing how much cooler WP is, and I have no VPN access for any platform.

Do that SharePoint is so well worth it, It's being used a lot more lest in our company. I do agree with another poster that being able to color code would be fantastic.

Unfortunately, I'm finding that the fuctionality in mobile Office is surprisingly poor - particularly Excel.
It isn't even possible to insert columns or rows, or copy and paste cells. I don't understand why all of this fuctionality (which is a basic requirement of a spreadsheet application) has been available on alternative mobile products such as Quick Office or Polaris for years and yet isn't even in the Microsoft original.



The same is true with the calendar. It still can't be zoomed on the monthly view, not to mention there is no weekly view.

Whenever I read the rumours that Microsoft are working on a Surface phone, I can't help thinking that they've got their priorities confused.

As an IT guy, no VPN is quite embarassing to say the least...

And I'm still not sure how well it will work with Active Directory. Then again, without VPN, what's it matter?

Does anyone know if there is documents to really learn about this ? Is there a test version available so I can setup a few basic "hellow world" apps to see how this works on a test domain ?

I would love to learn the ins and outs of this to offer it to my customers...

Add VPN and file manager. Fix Adobe Reader.

Also I can't listen to .wav voicemails from office phone system (Cisco), even tho my Lumia 800 could. Embarrassing.
Windows Central Newsletter
Thank you for signing up to Windows Central. You will receive a verification email shortly.
There was a problem. Please refresh the page and try again.