Windows Phone launches in Kuwait, seemingly sells well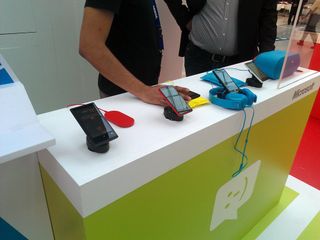 With the continued push by Microsoft into old and new markets for the combo of Windows 8 and Windows Phone 8, it's nice to see one country get some attention too: Kuwait.
Reader of the site Mansoor B, who resides there, has sent us his report of the launch occurring this last week. Although the main focus was Windows 8 in the mall kiosk (which has a prime spot right in the middle of the place), Windows Phone 8 was represented too specifically with the Lumia 820 and 920.
The bad news is like most places around the world, actually being able to buy the Lumia 920 is a challenge with stock being very low at all locations. On the upswing, as Mansoor reminds us Windows Phone hasn't had really any attention in Kuwait since 2010. Contrast that to having numerous roadside billboards advertising the 920, electronic shops selling the new phones and that kiosk at the Avenues mall and things are looking much better for Kuwaitis this time.
We're told that the Nokia Lumia 920 prices at 190KD (674$) and the Nokia Lumia 820 145KD (514$). Both are factory unlocked allowing them to work on any carrier. The HTC 8X is reported as "coming soon" as well.
Thanks, Mansoor, for the report!
Daniel Rubino is the Executive Editor of Windows Central, head reviewer, podcast co-host, and analyst. He has been covering Microsoft here since 2007, back when this site was called WMExperts (and later Windows Phone Central). His interests include Windows, Microsoft Surface, laptops, next-gen computing, and arguing with people on the internet.
I guess someone really wants a 920, they Kuwait a while longer. Ok... that was lame. I couldn't help it.

That was funny dude. WINNING. lol

I live in kuwait and bought one two weeks ago from Eurika. HA IN YOUR FACE :p

what color did u get? cuz i pre-ordered first day (white) and im still waiting!

I got the black one. There avaiable in Eurika salmiya as of yesterday

Talked to the cellphone guys at Saturn Rostock, while getting my gfs Lumia 820 and they told me the wp8 sold very well (not as good as SGIII but better than Iphone 5) I think that's pretty decent

Nice to know that wp8 sells very well....wp8 rocks!!!

That is the coolest kiosk in the world

Buying a WP8 in Kuwait is a HUGE mistake for two simple reasons:
1- everyone here uses Instagram and Whatsapp NON STOP and since both are missing in action...you know the rest.
Of course, not having Twitter in the Kuwaiti Store among many, many others apps is another blow to the OS.

2- NO XBOX GAMES SUPPORT. Yup, you choose Kuwait store in the settings then you will be stuck with free and indie games only. Must change to US store or any supported Xbox region otherwise no Xbox for you!
They launched in Saudia and UAE so I dunno what's the hold up...slow MS as usual.

Apps though is the biggest blow to the OS. I showed my Lumia to my coworkers and friends and while they loved the look and features (DAT KILLER CAMERA!) no one will ever buy it with no apps, especially the awful and atricious Kuwaiti store/marketplace.

If MS will not change their slow and old ways of everything AMERIKA then they can kiss this mobile OS goodbye as the world will no longer wait for them to catch up.


yes good talk, I can feel ur pain . hope Microsoft is listening.
About the app, I think developers too can decide the region(s) their app should be launched. again the country laws determine which app should and shouldn't especially GAMES and what have you.

Dude people buy phones for what they need it for.. Not everybody uses instagram,what's app...people face book,text,mms,take pics and call..although yr comments are true,but ur wrong to say the os is a bad choice... So STFU!!!

no he is not. you do not know how the kuwait demographic works. litterlly you need those two apps to be succeffull in any GCC country. Dont be ignorant and hating on the truth

1. for the instagram issue you are correct and i had to make the move deciding that i will no longer use it.
Whatsapp i have it and use it. not sure why you cant.
Also to solve your app store issue all you have to do is in settings change to usa. Device will restart and you will have full access :) (no vpn required)

2. also works fine for me. I even managed to subscribe to xbox music which is awesome. again all without a vpn

Before buying it you should have known there was no instagram. But now that they are owned by facebook im sure we will see an app for it sooner than you think ;)

izzy, I know about the all of these steps but the issue still stands: you cannot expect everyone to switch their store to USA or the knowledge of such thing. It launched officially in kuwait, so why should we wait for MS to enable Xbox games in the Kuwaiti store?
And honestly, I am getting tired of telling folks how X app is coming soon or how Y app is is only temporarily pulled.
I know I sounded as a hater with my earlier post but I am tired and sick of this waiting game. I love this OS and I want it to succeed but MS is unwilling to make it so.
Oh well...at least I can send SMS and browse in Arabic now! lol

P.S Whatsapp was pulled from the store so you better don't delete it or you will never get it back till they release the WP8 version.



Dude you really sound bitter and upset.. Instagram is not the only ting that will make an os successful..wp8 is already a success...if u can't wait for all this things in Kuwait then move to America,and enjoy all the fine things...now you can always enjoy the iPhone for all this apps ur talking about.do you think msft cares about your concern,do you think msft dont know all this complaints that you mentioned???
CHINA is the no.1 priority ryt now UAE is just a fraction..

Dude
dont try to sell the device to anyone. the apps will come you just gotta be patient. enjoy the device as it is right now.
Its the price every tech enthuist early adopter pays ;)

Good to know about the whatsapp but now im worried a bit

Do people over there don't use Facebook at all?? What's so special about instagram is beyond me. Facebook have more user base and you can upload, comment, troll, and share your picture like instagram but you can also IM within Facebook! Lol

Facebook (and Twitter) are blocked in most middle east countries. Though I don't know about Kuwait.

Facebook & Twitter are not blocked in Kuwait

I really don't understand why Instagram is even slightly important. There are lots of apps to add crap filters & effects to ruin your photos. What is so essential about it in Kuwait?

I don't understand this either... Every time I see an instagram photo I think "that was probably a nice photo before they butchered it.". Why does anyone even want that app, much less make os purchasing decisions on it???

Instagram is a joke ND isn't what app in the marketplace cause installed it a while back

I dnt know y people think Microsoft can catch up so easly to google ND apple both of those OS have at least a 4 year advantage to Microsoft ND if the app developers dnt want to create an app for WP Microsoft can't really do anything


People generally and in the tech world especially don't have that much of a patient. It is a fast moving era and everything must happen now. You really can't blame them :)

MS had a 7-year advantage on Apple and they still managed to overtake them ;)
Windows Central Newsletter
Get the best of Windows Central in in your inbox, every day!
Thank you for signing up to Windows Central. You will receive a verification email shortly.
There was a problem. Please refresh the page and try again.