Windows Phone won't get Angry Birds Space on March 22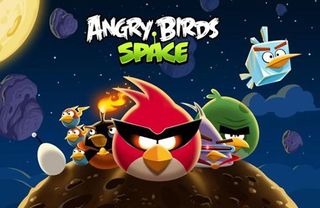 Sad news from the outskirts of space: Windows Phone won't be getting Angry Birds Space on March 22 when Android and iOS do. An email from Rovio, developer of the mega-popular phenomenon, told DailyMobile that while they are "working day and night to get the game to all relevant devices," they do not have the resources to get deliver to all platforms at once. Having been wait-listed for the first installment of Angry Birds, only to be missing 105 levels when it finally did arrive, this comes as another heavy blow from Rovio. Being that Android and iOS dominate mobile market, it makes sense that Windows Phone takes a back seat, but it doesn't sting any less.
Rovio declined to share any information about specific features of the newest add-on to the Angry Birds franchise. However, the game was previewed at SXSW on Samsung's Galaxy Note, which benefits from Samsung's partnership with Rovio by getting exclusive in-game content. For now, you can get a small taste from the teaser below.
Source: DailyMobile; Via: PhoneMantra
I think I remember reading an article somewhere in which rovio said they had "no plans" for wp7 :(

in other news the sky is blue

Exactly. Rovio doesn't even acknowledge that WindowsPhone exists outside of a dropdown list on their support form. All other mention of WindowsPhone is absent from their website.
They are now in Google's pocket. This suprises no one.


Game is overrated anyhow, just like iOS. Good riddance.

Hell we still don't have Rio or seasons.....so what made anyone think this one was coming our way

F---ck Rovio. Ones wp7 takes off here in U.S.A they gonna regret. Then they gonna try crawling back...ha!

The thing is Rovio is probably tired of hearing "Once WP takes off..." over and over. Let's face it: WP is still a joke when it comes to marketshare. I know WP will get big, just not anytime soon.

Big Shocker here... *rolls eyes*

Rovio is playing with fire-- see Microsoft promoting Zepto Labs Cut the Rope for Windows 8 and for Internet Explorer. Not smart to piss off the company that controls Xbox, IE, and the Windows store.

Lol people will learn won't they XBOX, WINDOWS, ZUNE the best in business lol

Yea, Cut the Rope for IE9, Windows 8, etc but, where is the Windows Phone 7 version??
Personally, I rather play Cut the Rope than any of the 400 versions of Angry Birds....

I don't get the big deal about this game. I was bored after 3 levels.

So Rovio is from Finland. And Nokia is from Finland...

What is wrong with this picture?? How come that Nokia missed this opportunity to get an exclusive? It would had cost them. But they only needed the exclusive for a week. That would have been enough to get the iOS and Android users nuts and really pace the Nokia Phones on the map for many that has no clue about Windows Phone.

I cant believe that Nokia let this slip out of their fingers.

So if Rovio dont want to give us first class treatment, I for one are giving them no-class treatment. They will not get a penny from me...

Ok, enough ranting. Back to the wonderful Pinball FX2 on Windows 8. Those guys are definitely getting some pennies from me :-)

Lol! Great rant. I remember Rovio's attitude towards WP from way back in 2010, and as a result I determined that I would not purchase the app even if it came to WP. Well, I bought a N8, and all of the AB games are in the Nokia Store, but I still refuse to purchase their games.

Coincidentally, Nokia gave the AB game to users as a free gift; I will say this: I almost didn't download it, but I did anyway and it is certainly worth $1.99 - the gameplay is terrific given that there are so many levels (Symbian). Fortunately, I didn't have to pay for it (Thanks, Nokia)

Still, when I purchase a Nokia WP, I'm still not going to purchase AB - their attitude is just so, well, angry :)

Nah, screw 'em. If they don't want to support Windows Phone there are others who will. Microsoft said they would make sure by mid-year they'll have all the top 25 apps from the App Store and Android Market and for those they can't get, they will spend tens or millions promoting alternatives. So they'll come, or it will just be their loss.

Who cares ???? Its only a game !! And who is rovio ?

Who cares about angry birds

I couldn't wait to get the original one... I wasn't all that impressed. I completed it but never went back to replay it much. Many other physics type games are better, if you ask me. It just sucks that it seems to be one of those apps you have to have to be a real mobile OS.

Or is that words with friends now... or draw something . . . ?

It changes every couples of months. :)

It would be nice if WP had all of them, IMO.

Meh, I've never been a big angry birds fan, but space looks kind of interesting. Oh well, I'll just get it on my iPod.

They already have a working WP game. Adding new levels would be a piece of cake. They would make shitloads of money on selling sequels to al those recent new Lumia users.
However, those motherlovers decided to give us the middle finger and didn't even update the original AB for Mango fast app switching.
Now I regret giving them my $3 a few months back. I'm gonna go change my rating on the Marketplace and give AB a proper review.

One thing I don't quite understand. WP doesn't have Seasons or Rio. An OS made by a big company like Microsoft (even with Nokia switching to it) isn't important enough. Yet my Roku 2 boxes come with a copy designed for their streaming box and Wii-like remote and shortly after, Seasons and Rio come out for it, all in HD. Even though most people have never even heard of Roku. I know it is a different market and Roku is considered a big contender in the streaming box market, but they are going up against some major competition as well. Apple TV, Google TV, not to mention what a lot of people use, their smartTVs or blue ray players. Roku is still a small company. I love my roku boxes and wouldn't give them up for anything. I am just wondering if this just comes down to Microsoft and bad marketing yet again? I don't know, just speculation. And I agree, Angry birds is overrated.

Oh and 1 other thing. I wasn't defending Rovio. Problems with Microsoft, WP, or whatever else, there is no excuse to not update your product while giving other platforms more. That is just screwing your customers.

Is anyone actually reading the article? No where does it say it aint ever coming to WP. Just that it won't come to WP March 22nd.
Now, my beef with Rovio and MS is the issue with the OG Angry Birds not receiving any updates. I don't know who to blame for that to be honest. It could be Rovio. Maybe its the whole Xbox Live certification thing. Could it be achievements holding up any updates? If so, screw 'em and just deliver more levels.

People still play angry birds?

Angry birds had their 15 min

Yup, honestly I don't even know why this is posted on a WP7 site. They abandoned their original game, they didn't even develop it themselves. We will never see Angry Birds again. Sad but true.

Yawn...give me real news please... Angry Birds is so last year....

I don't have a crazy addiction over this game.. So eh... Two, I had read this somewhere else way earlier than today, but thank you for making it known out there :)

angry birds is over rated. i'd much rather have zombies on the phone and dodonpachi maximum.

Couldn't care less...seriously, thats like the worst, most overrated game ever...

But now they are coming on Xbox so am happy :)
Angry Birds rocks
Windows Central Newsletter
Thank you for signing up to Windows Central. You will receive a verification email shortly.
There was a problem. Please refresh the page and try again.